Alton James Ryan R149115
September 20, 1920 - June 24, 1944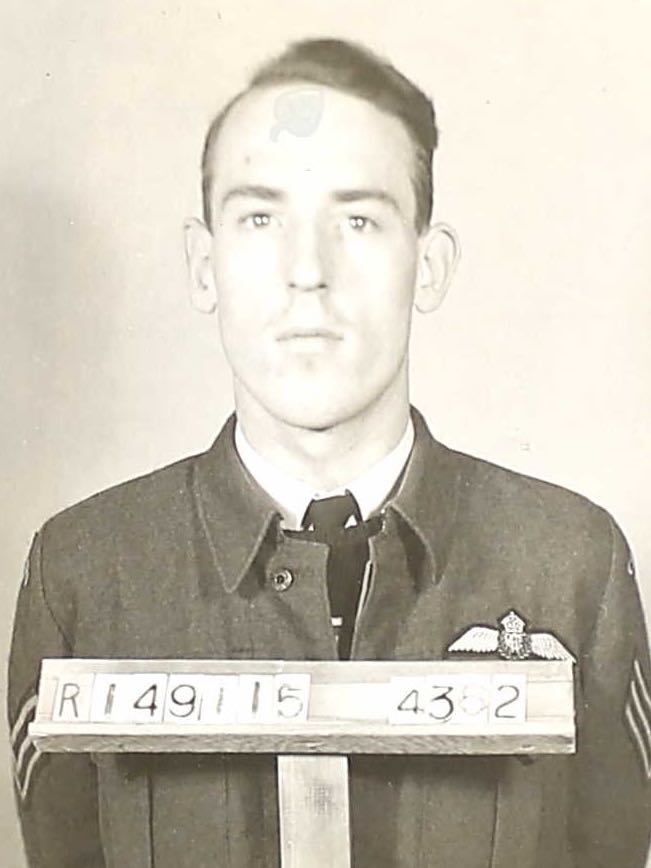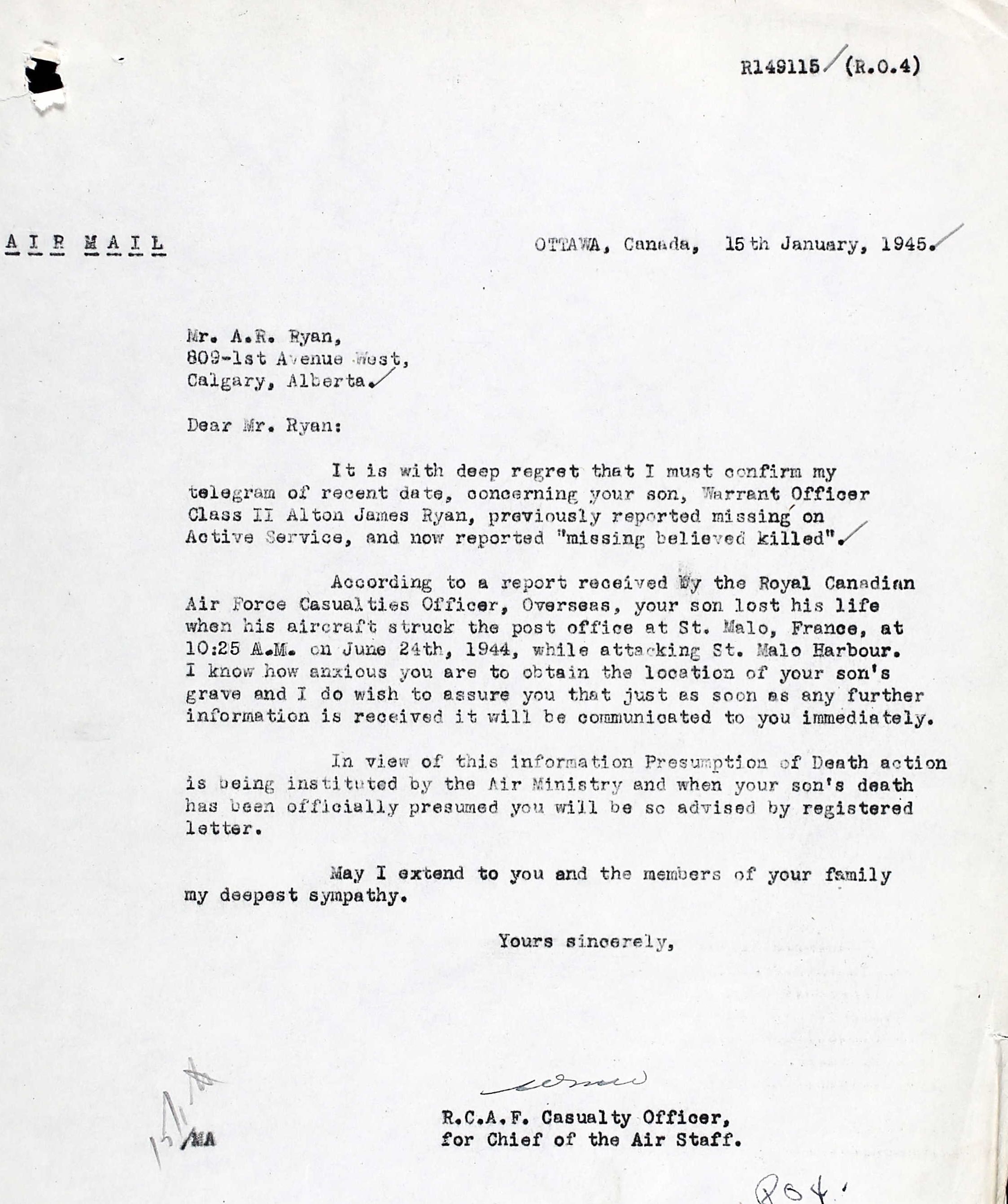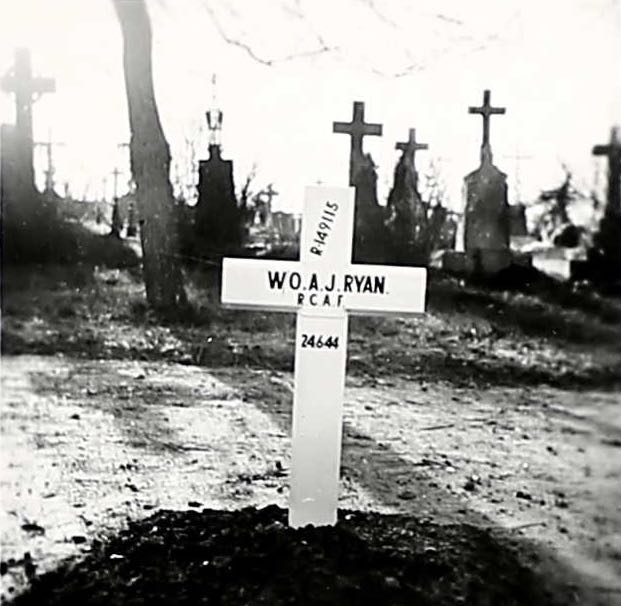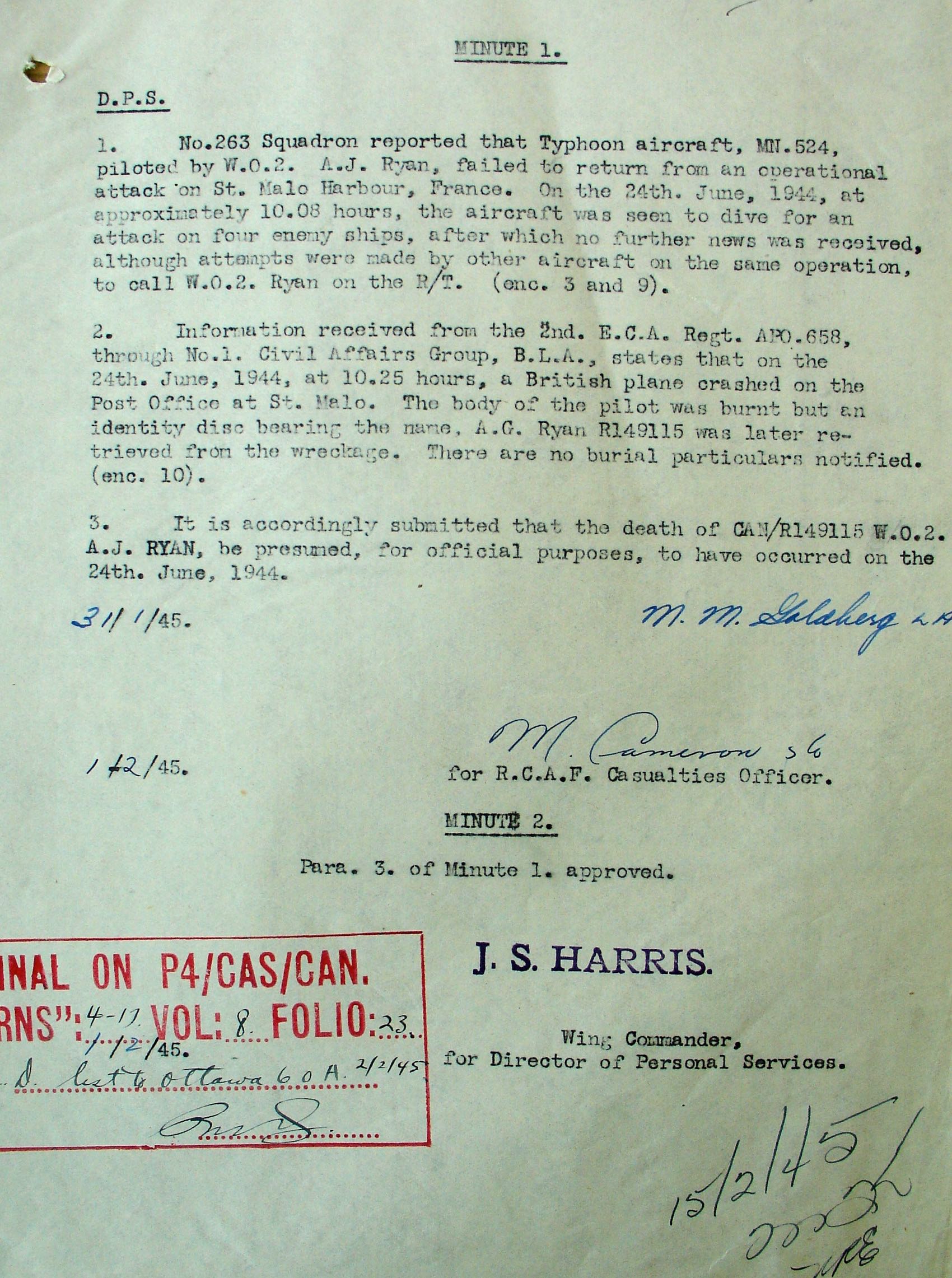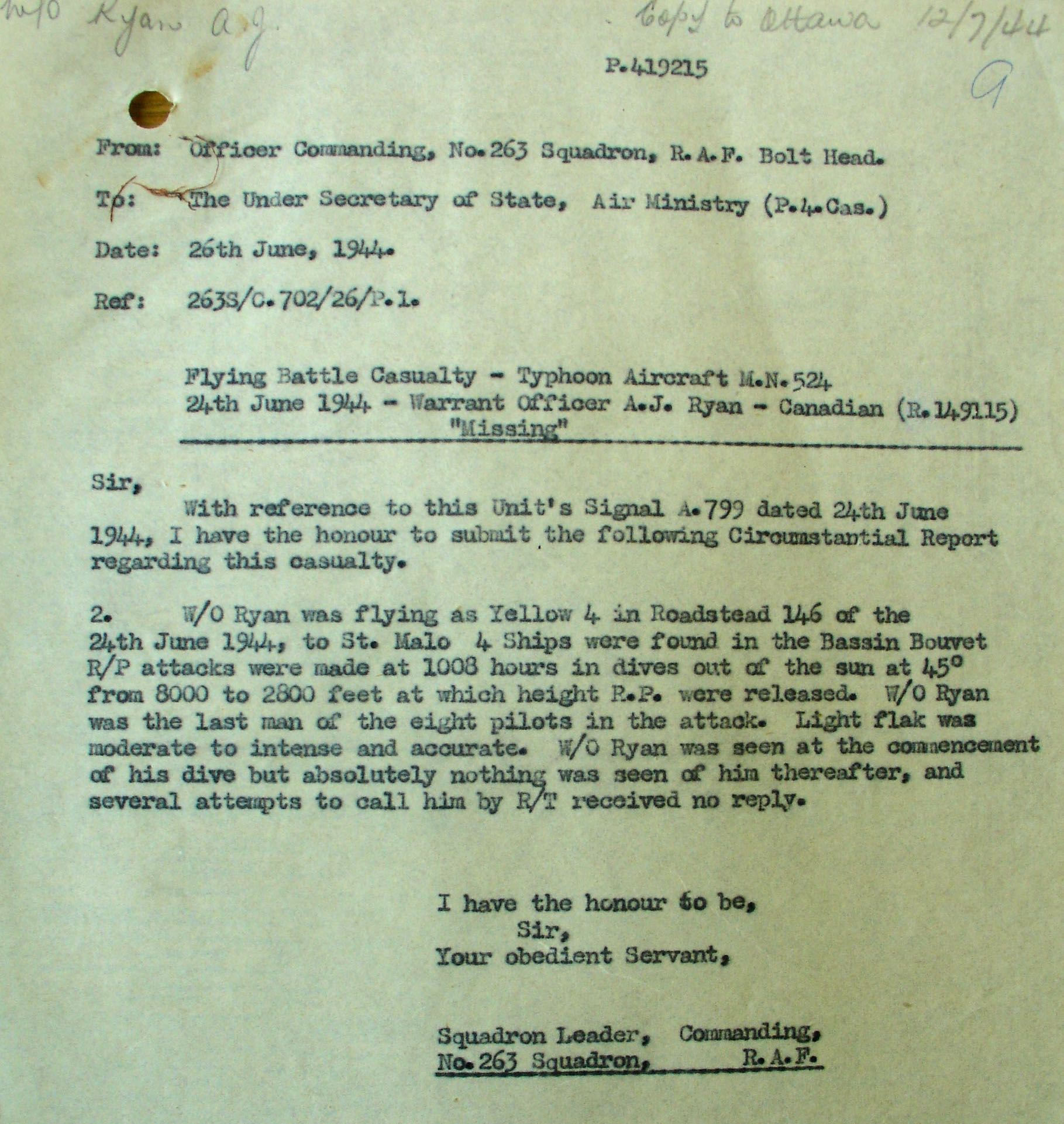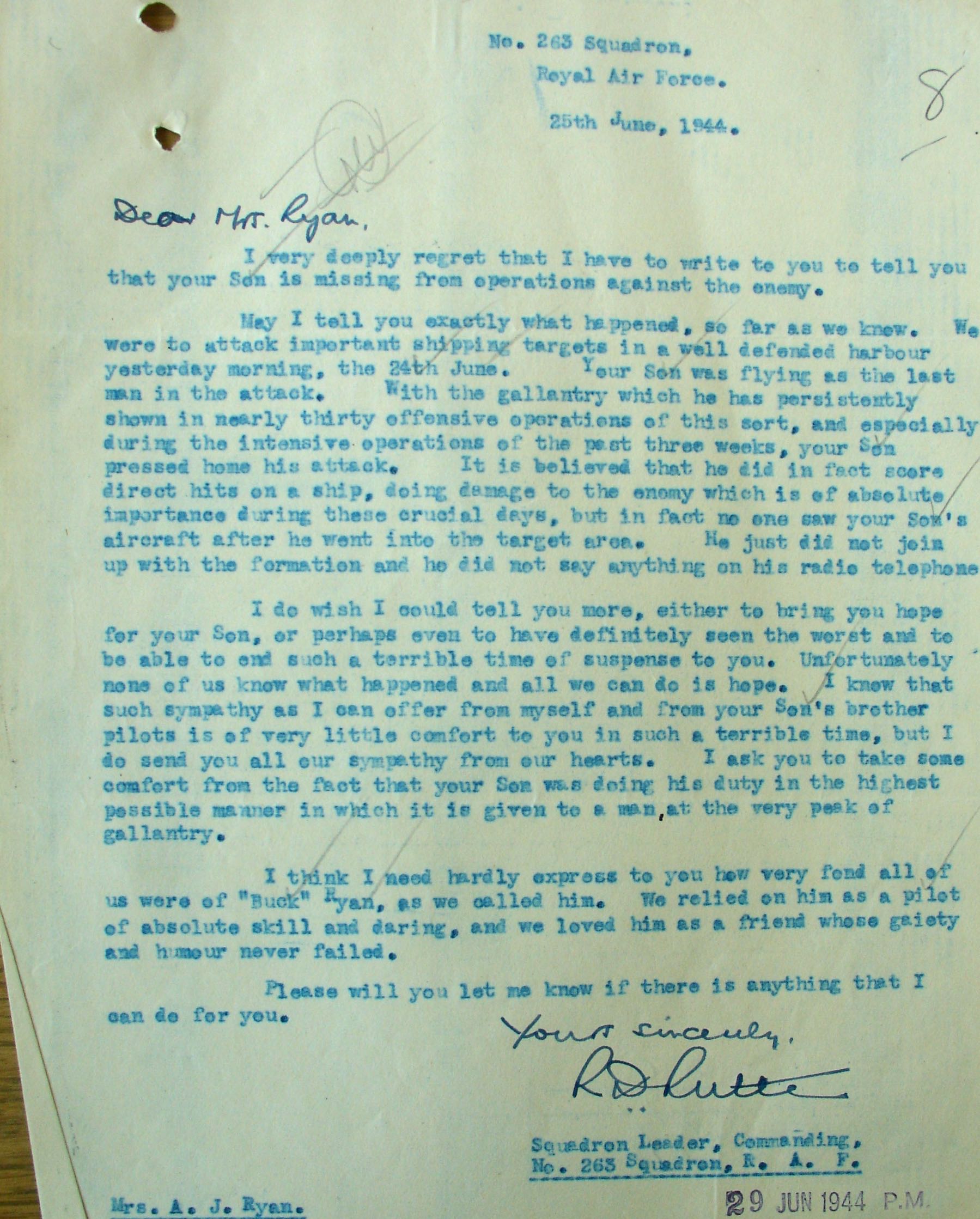 RAF 263 Squadron
Alton James Ryan was the son of Arthur Robert (carpenter) and Mable Agnes (nee Miller) Ryan of 809 - 1st Avenue West, Calgary, Alberta. He had one brother, Aylmer, 32, overseas, and one sister, Mrs. E. S. Trousdale, 30, in Vancouver. They attended the United Church. When he was two years old, he had diptheria with tracheotomy.
Ryan was a rodman with the Dept. of Transport, Civil Aviation Branch, Lethbridge, Alberta, when he hoped to become a member of the RCAF in September 1941. He hoped to go to university after the war. He listed many sports, including basketball, rugby, and hockey. He stood 5' 11" tall and weighed 135 pounds. He had hazel eyes and brown hair. By January 8th, 1942, in Calgary, he was accepted into the RCAF.
At No. 5 ITS: "Good average boy, quiet, neat, methodical. Works well."
At No. 4 EFTS: "A fair student, but is slow, attentive and well disciplined."
At No. 13 SFTS: "Average pilot. Very steady on night and instrument flying. Would do good as night fighter pilot. No recommended for commission." He was involved in an accident while taxiing, due to carelessness. He received his Wings on January 22, 1943.
He was sent to Halifax in May 1943 and arrived in the UK on May 24, 1943. He was at No. 3 PRC the same day. On June 29, 1943, he was at 56 OTU, then sent to 263 Squadron on September 17, 1943.
W/O Ryan had been flying at Yellow 4 in Roadstead 146 of the 24th June 144, to St. Malo. Four ships were found in the Bassin Bouvet. Rocket projectile attacks were made at 1008 hours in dives out of the sun at 45 degrees from 8000 feet to 2800 feet at with height the rockets were released, according to a casualty report. W/O Ryan was the last man of the eight pilots in the attack. Light flak was moderate to intense and accurate. Ryan was seen at the commencement of his dive but nothing of him afterwards. After several attempts to call him by R/T, there was no reply.
January 1945, Mr. Ryan received a letter from Ottawa with some details of his son's death. "According to a report received by the RCAF Casualties Officer, Overseas, your son lost his life when his aircraft struck the post office at St. Malo, France, at 1025 am on June 24, 1944 while attacking St. Malo Harbour." Ryan's body was identified by his identity disc bearing his name, later recovered from the wreckage.
Alton James Ryan was buried in the British Section Communal Cemetery, Dinard, France.
LINKS: