Charles Wesley Miller J11584
July 3, 1922 - December 21, 1943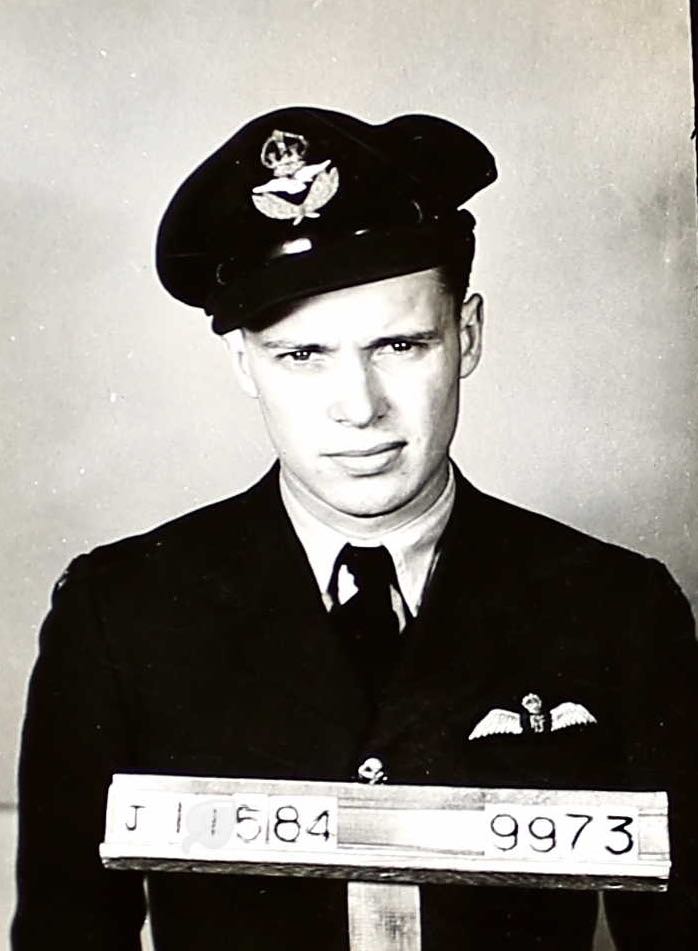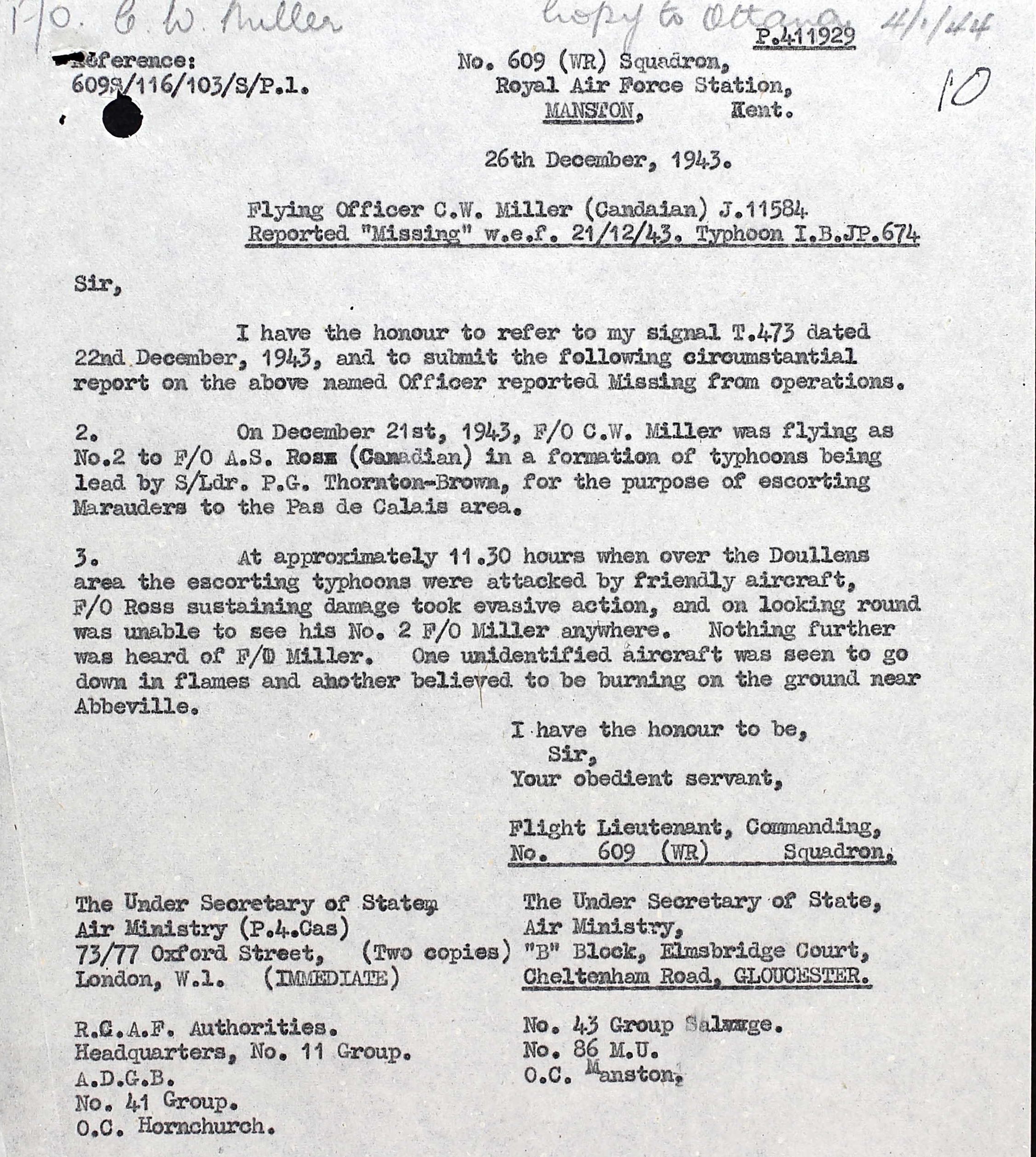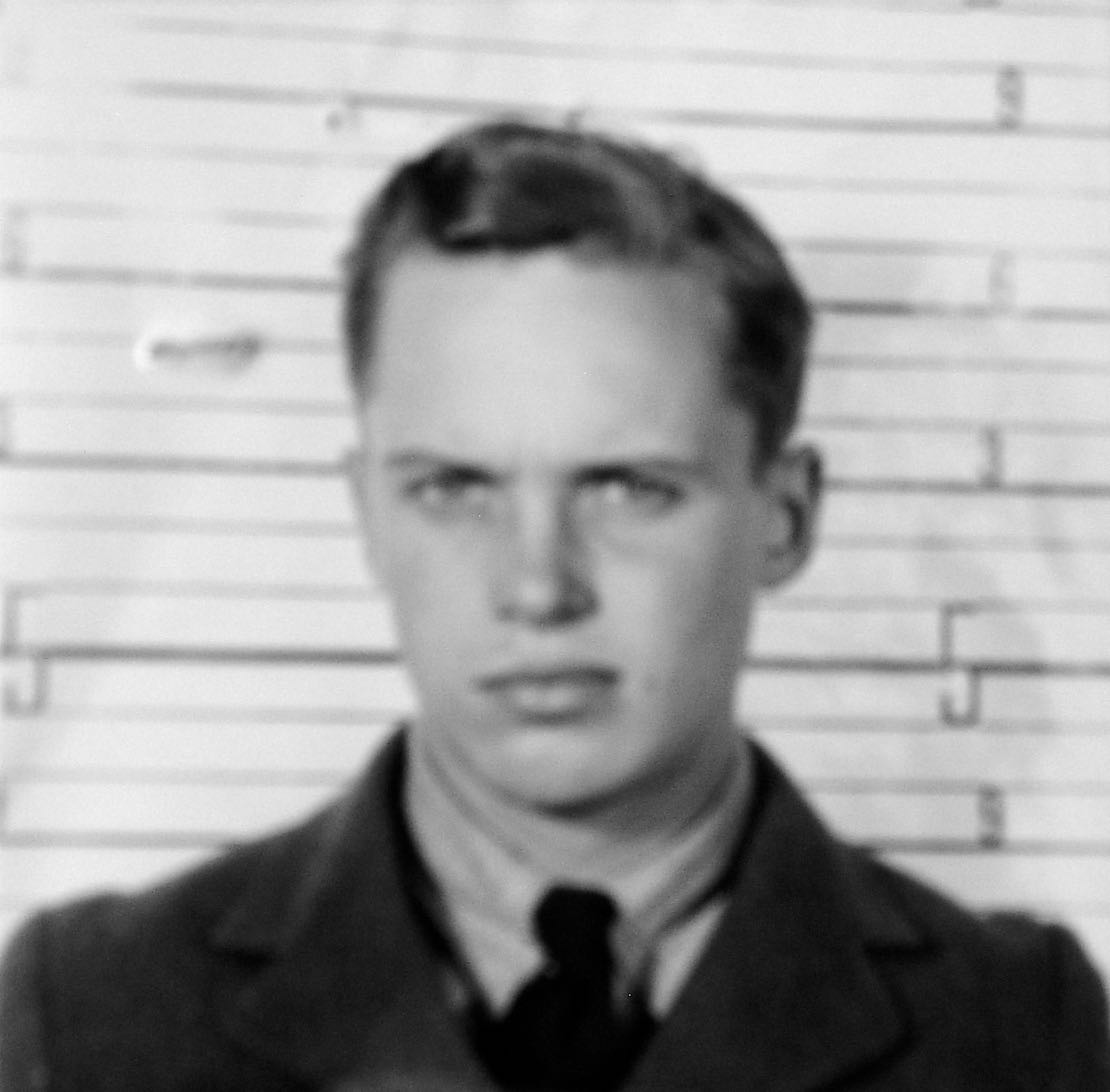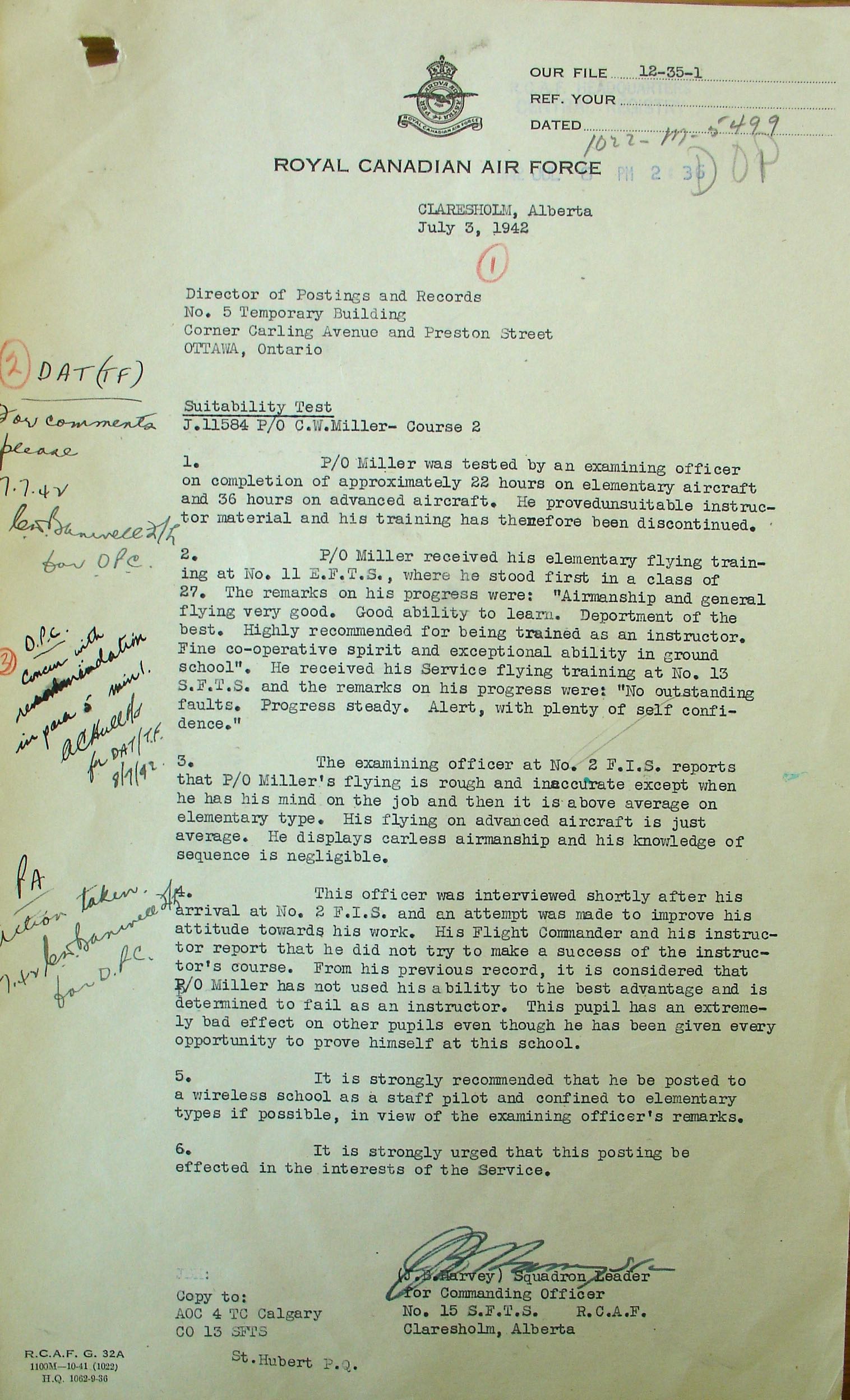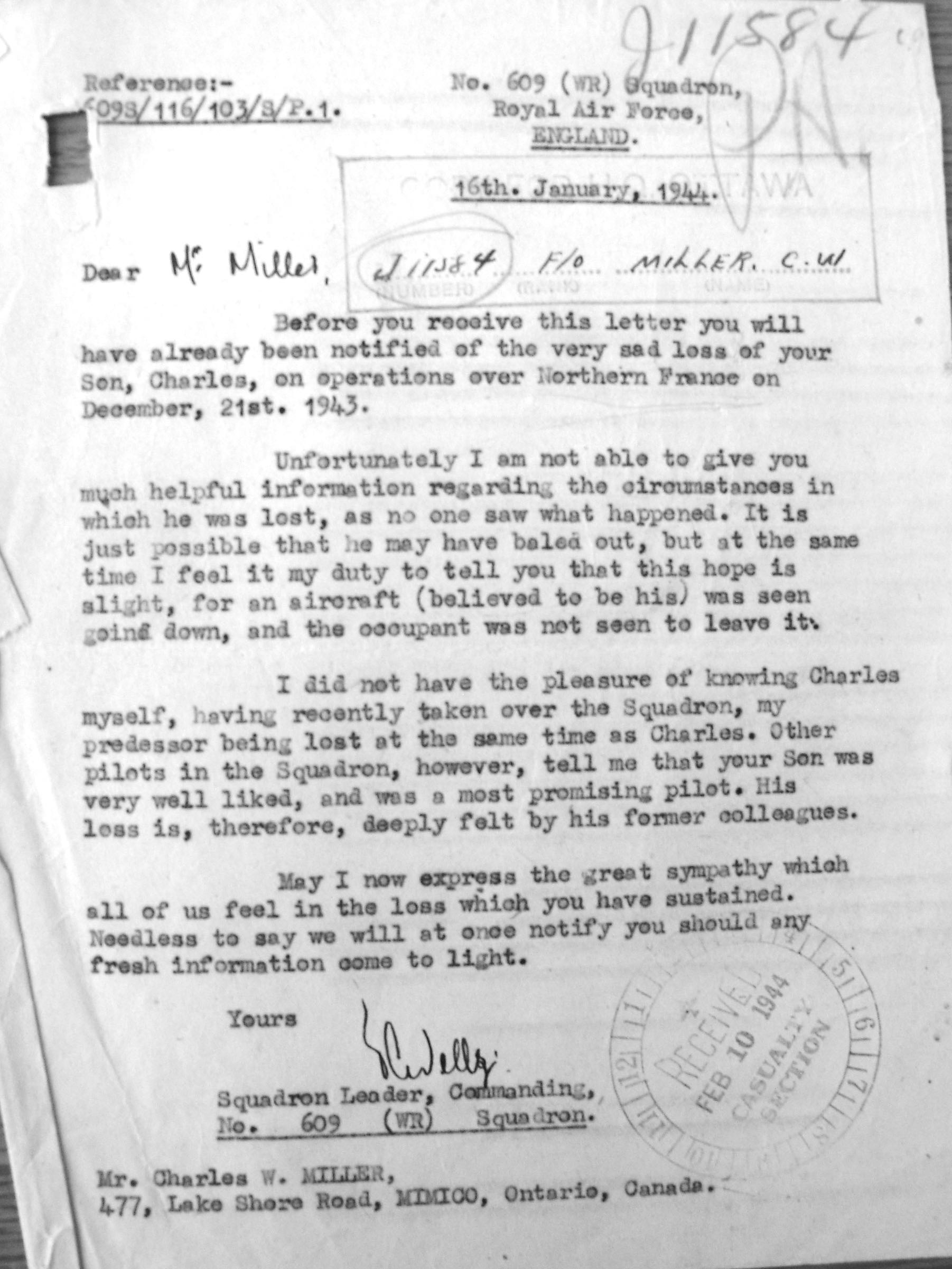 RAF 609 Squadron
Charles Wesley Miller, born in Toronto, was the son of Charles Wesley and Ruth (nee Morland) Miller, of Mimico, Ontario. His father was a WWI veteran. He had one sister, Mrs. Esther Maynard, serving with the RCAF as a nursing sister. His one brother died at birth. The family attended the United Church.
He enjoyed golf, track (was an Ontario champion), baseball and tennis. He smoked 4-5 pipes per day and had the occasional glass of beer. He stood 5' 7 1/2" and weighed 141 pounds. He had a fair complexion, blue eyes and brown hair.
He had worked for his father's leather goods company for three years as a salesman and office clerk. Then Miller was employed at Goodyear Tire and Rubber Company in Montreal as a service department appraiser/tire adjuster, and had been there for two years when he enlisted with the RCAF in June 1941.
"Alert, quick, definitive lad of better than average intelligence. Shows good initiative. Is quite responsible. Appears well adjusted and stable. Commission material."
ITS, Victoriaville, October - November 1941. "Confident. Relaxed. Intelligent. Responsible. Serious. Good average material." He was 5th out of his class of 108.
EFTS, Cape de la Madelaine, November 1941 - January 1942. "Aerobatics and general flying very good. This airman never loses his head in a pinch. Always there to learn in the shortest time possible. Deportment is of the best. Highly recommended for being trained as an instructor. He seems to be interested in this branch and I would certainly like him here at this school. Highly recommended for a commission." In Ground Training: "Keen, studious type of student with a fine co-operative spirit and exceptional ability. Conduct excellent."
SFTS, St. Hubert, January - May 1942. Here he was involved in an accident on February 1942 where the wheels would not come down; he had to make a belly landing on the runway. "An above average pilot navigator. Progress steady." In Ground Training: "Exceptional in GIS. Showed ability from the beginning. Did well in both instrument and wings test. Alert with plenty of self-confidence. Attentive and learns easily. Rather likes to make himself the centre of attraction. Good appearance." He received his wings On May 8, 1942.
CFS, Claresholm, Alberta, May 1942. Here he became a staff pilot.
He was at No. 8 B&G: October 12, 1942.
In July 1943, he was overseas at the No. 59 OTU. "An above average pilot who inspires confidence in his ability both in the air and on the ground. His formation is very good in all position. His bombing and cannon firing show promise. His navigation is very good." He was posted to 609 Squadron October 15, 1943.
On December 26, 1943, the F/L Commanding 609 Squadron wrote, "On December 21, 1943, F/O C. W. Miller was flying No. 2 [in Typhoon 1B JP674] to F/O A. S. Ross (Canadian) in a formation of Typhoons being led by S/L P. G. Thorton-Brown, for the purpose of escorting Marauders to the Pas de Calais area. At approximately 1130 hours, when over the Doullens area, the escorting Typhoons were attacked by friendly aircraft, F/O Ross sustaining damage took evasive action, and on looking round was unable to see his No. 2 F/O Miller anywhere. Nothing further was heard of F/O Miller. One unidentified aircraft was seen to go down in flames and another believe to be burning on the ground near Abbeville."
Mr. and Mrs. Miller wrote many letters to the RCAF and the Department of National Defence for Air, looking for answers to their son's disappearance, wondering if he was a POW or had been killed in the hands of the underground, hoping he was in hiding with the French people.
On November 5, 1946, No. MR&E Unit reported: "I visited the Mayor of Boisbergues, Somme, where a British Fighter aircraft was said to have crashed October 21, 1943." The mayor said it was in December. "The aircraft fell in a field after a combat with four German fighters, exploded and burnt out. The pilot was burned with the aircraft. An identification disc was found on the body. The pilot was buried in the spot by the Institutous de Pays, and a cross was created and marked according to the information on the disc. This disc was given to the Gendarmerie at Bernauille, Somme, who investigated the crash." The cross was marked with the name C. W. Miller.
In January 1948, F/L J. C. Hall wrote a report, after returning from Brittany with the following results: "I had arranged....to exhume the body of F/O Miller and concetrate his body to St. Pierre Cemetery, Amiens." He had tyre trouble. "However, F/O Svehla however carried on with a digging party and reports that instead of F/O Miller having a grave in the proper sense, his body is still buried with his aircraft and a cross had been erected by the local people on the spot where his aircraft had entered the ground. As this is quite a digging operation, nothing was done at the time." They would continue to recover Miller's remains.
Mrs. Miller asked the Office of the Judge Advocate General, Estates Section in February 1949 about her son's ring, wallet and cigarette case. The ring was given to Charles for his 16th birthday by his father.
LINKS: