Donald James Campbell J94418
July 9, 1922 - February 16, 1945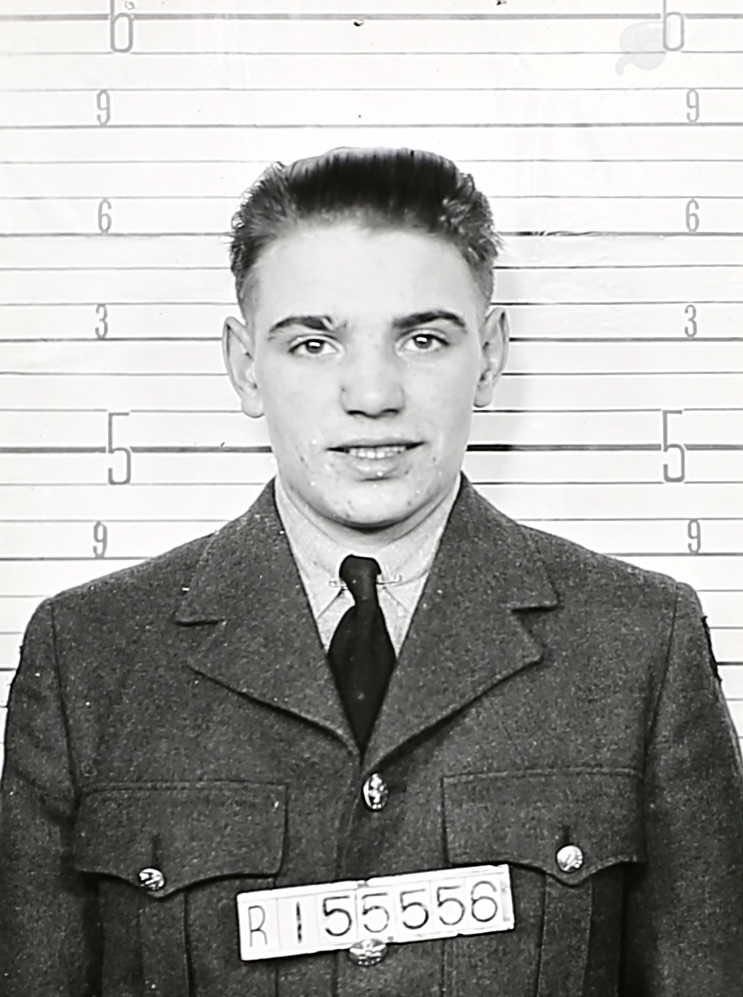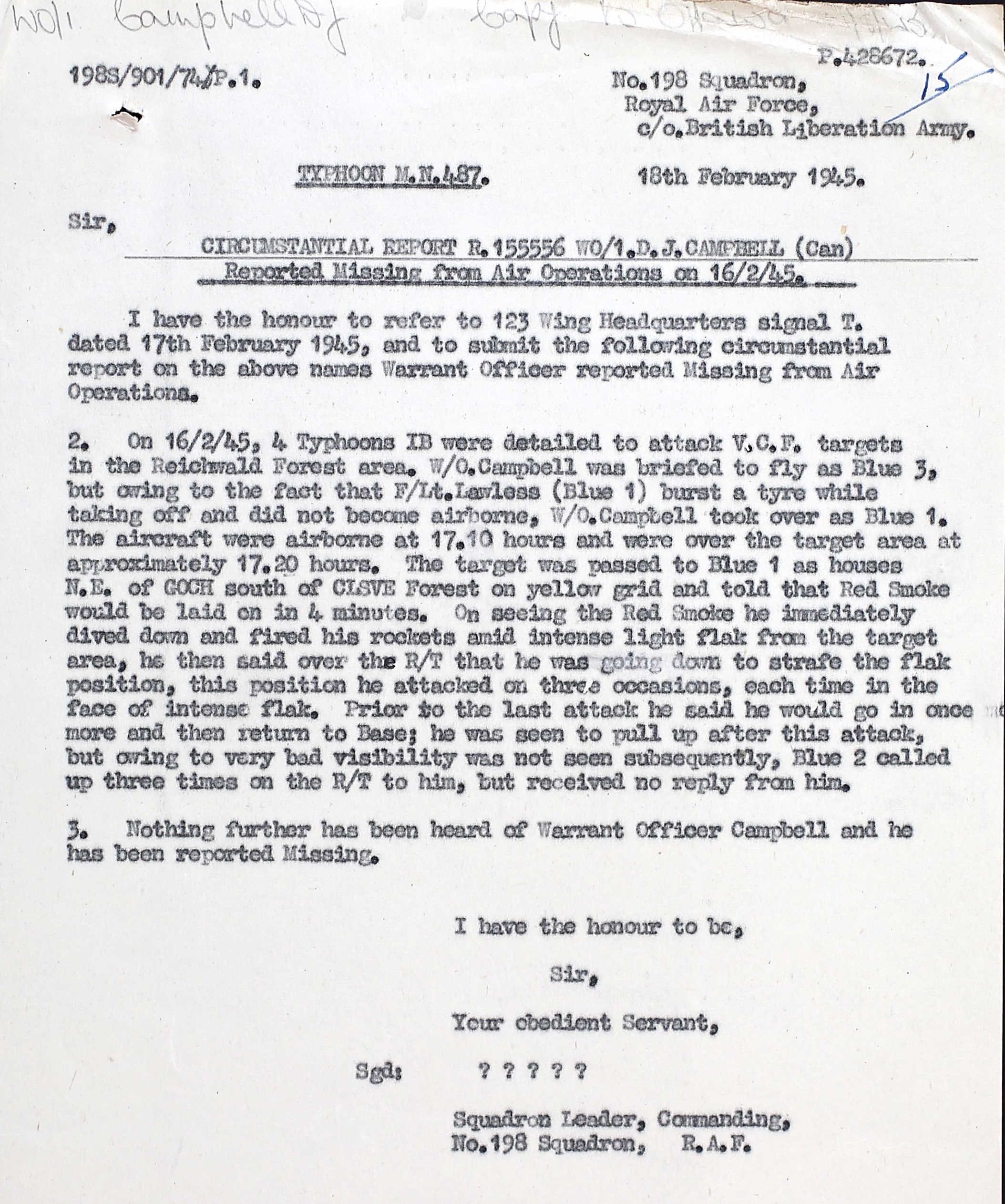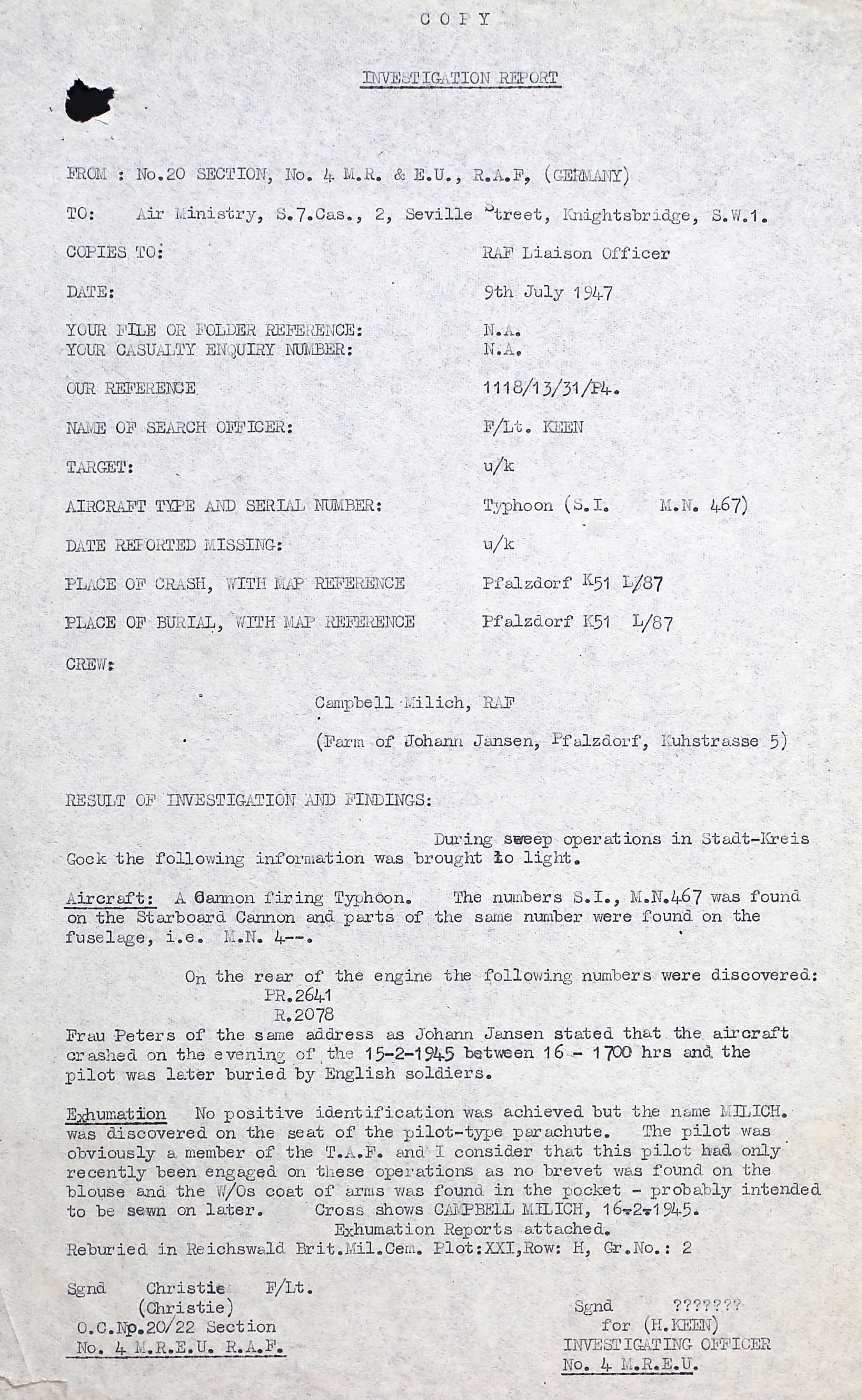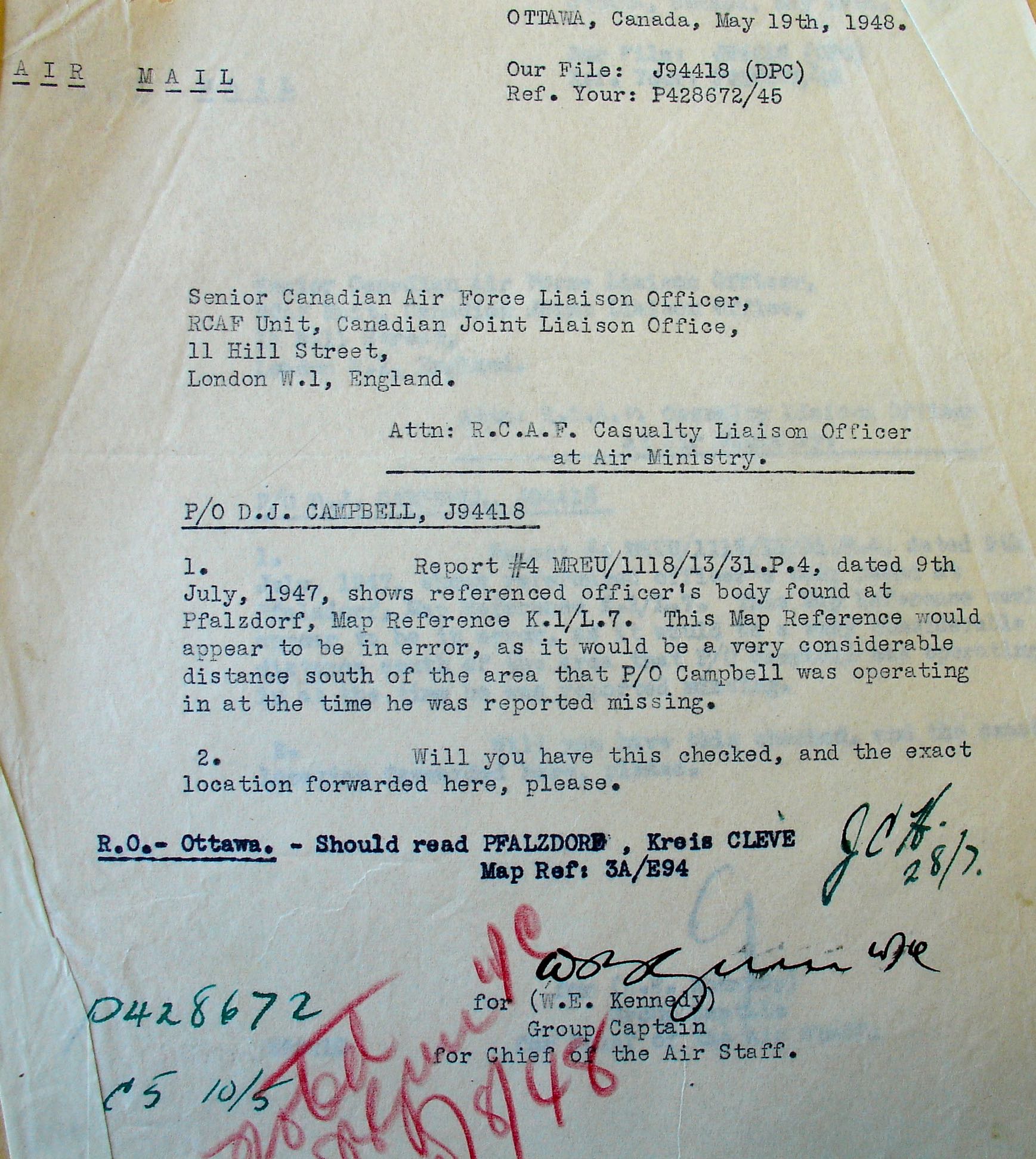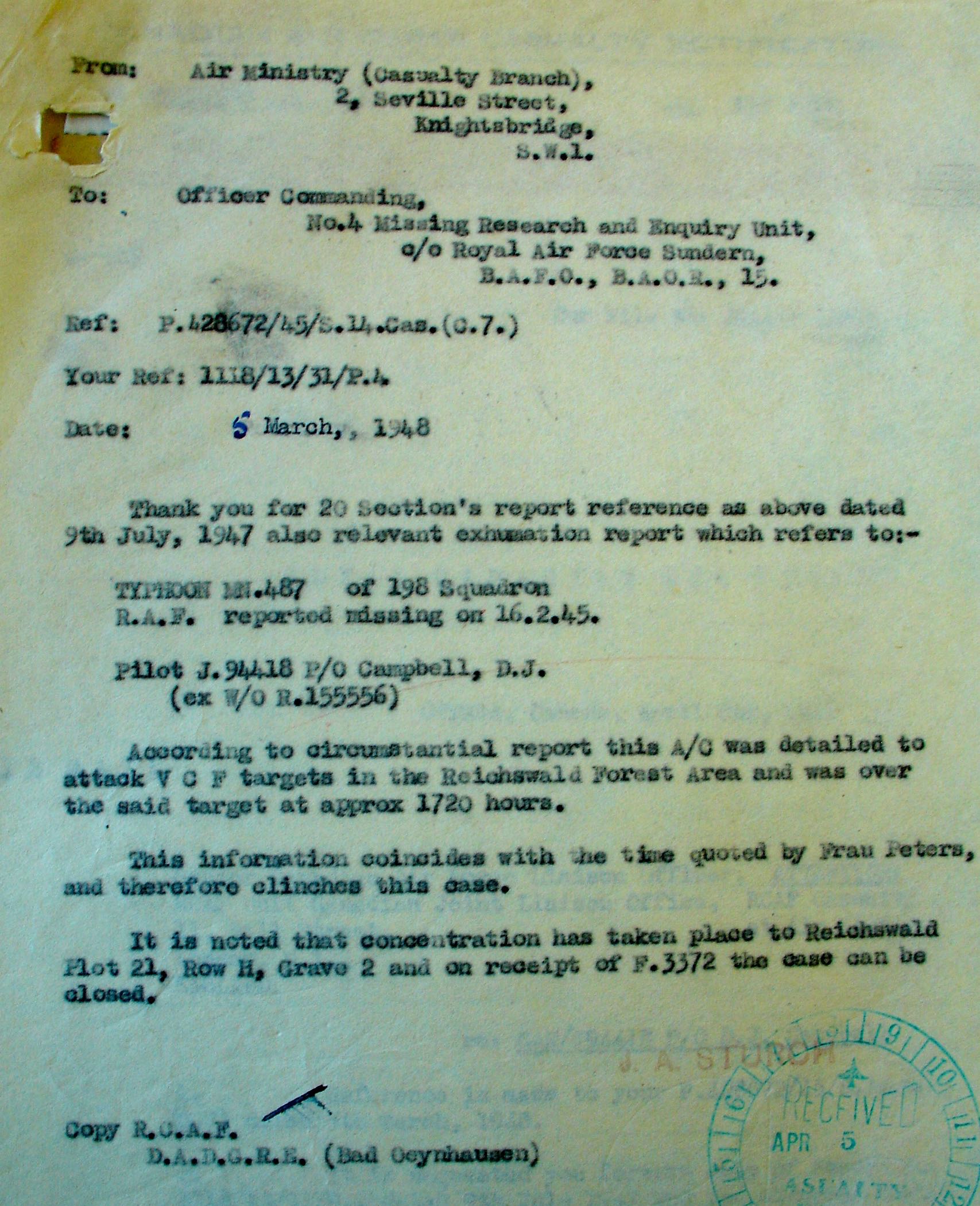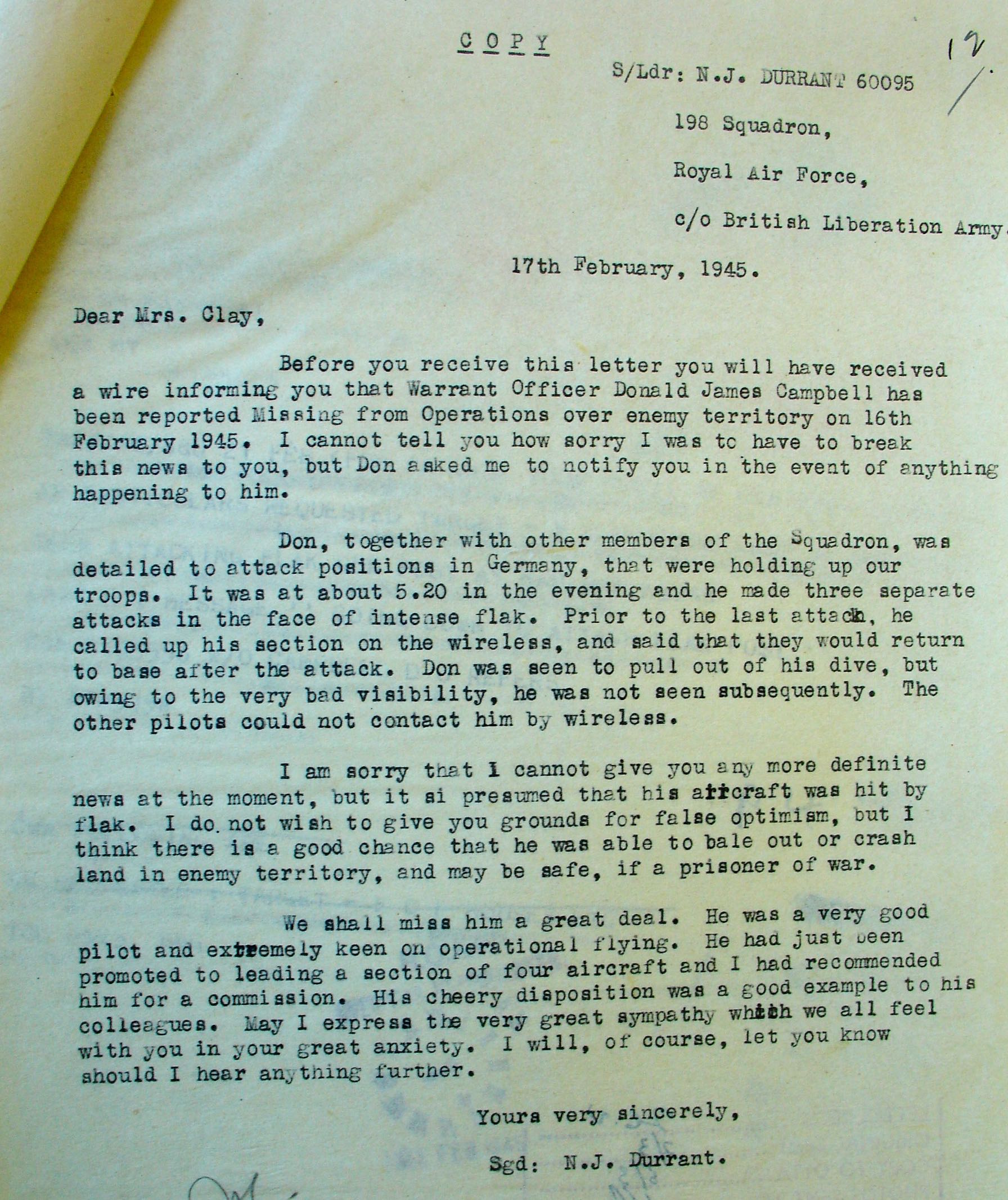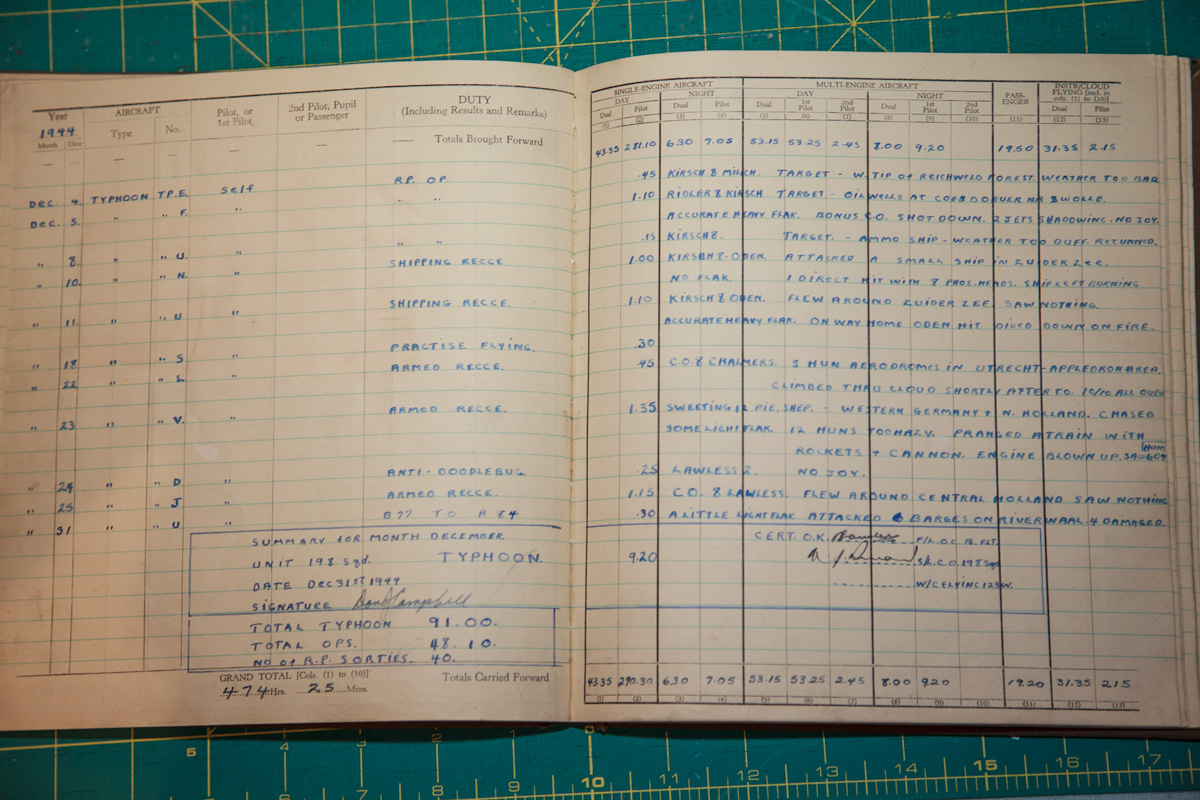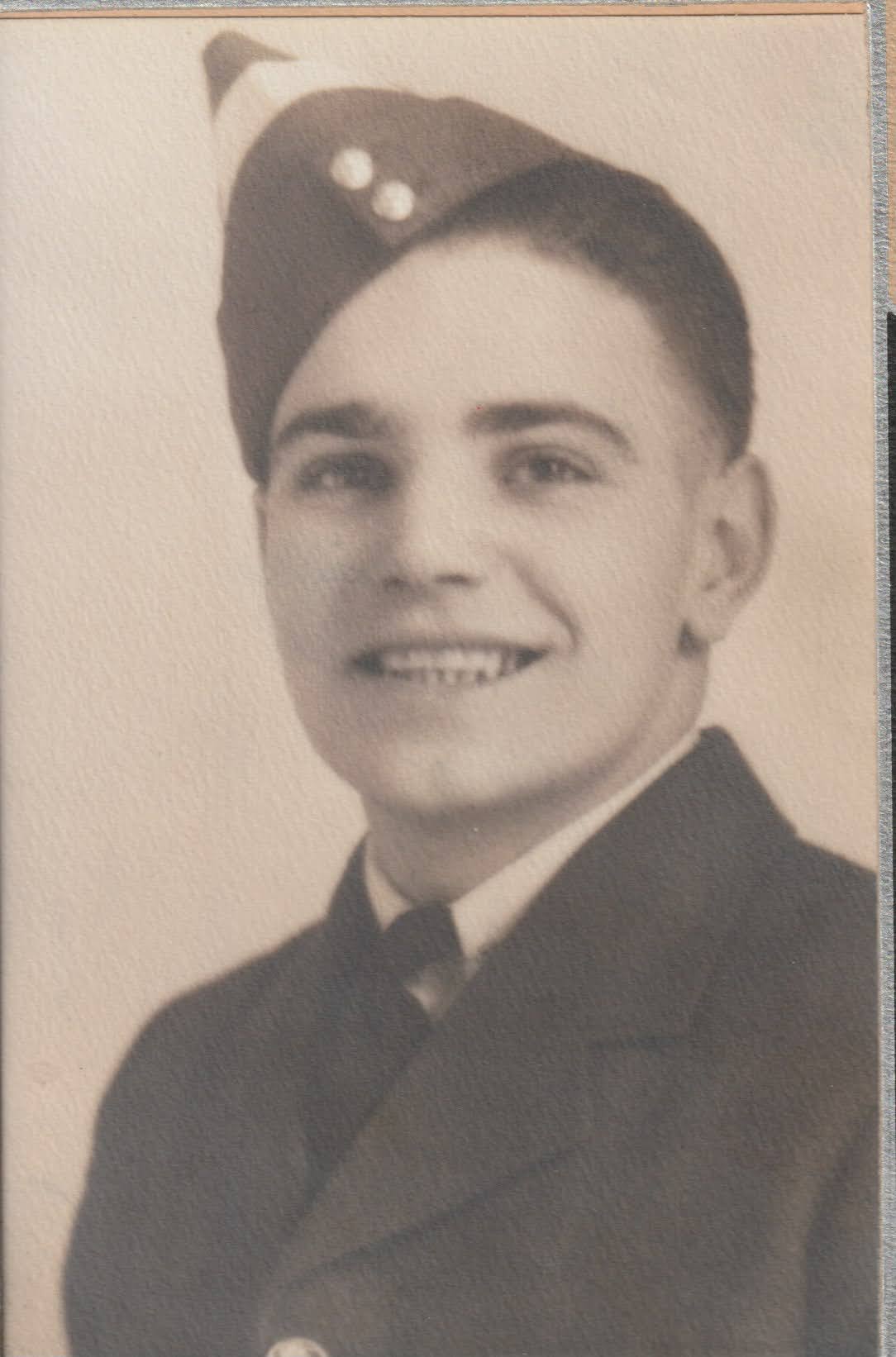 RAF 198 & 183 Squadrons
Donald James Campbell was the son of James (blacksmith) and Clara (nee Cyr) Campbell of Saskatoon, Saskatchewan. Mr. Campbell was in the calvary in WWI. Donald was born in Brock, Saskatchewan. He had one sister, Olivina Jean, aged 24. The family was United Church.
Campbell had been a clerk at a MacDonald's Consolidated, a wholesale house prior to enlistment. He also worked as a blacksmith's helper for his father. He had a Grade X education from McKenzie High School, Kindersley, Saskatchewan. He received 90% in Physics, 68% in English, and 92% in Mathematics. He liked hockey, baseball, and softball.
"Has successfullly completed DPYT (P. or O.). Excellent type. Neat, personal appearance. Should do well." "Good physical condition. Alert, well mannered. Keen."
He started his journey through the BCATP in February 1942 in Brandon, Manitoba. He headed to No. 5 B&G School for two months, before being sent to No. 4 ITS, Edmonton.
At No. 4 ITS, Edmonton: May 5 - August 29, 1942: "Visual Link: 43%. Alert, good appearance, has initiative, quiet, average type."
At No. 5 EFTS, High River: August 20 - November 7, 1942. Here he was punished for practicing low flying in an authorized area on October 17, 1942. He received 168 hours detention. "Low average ground school, had trouble with navigation. Average flying ability, slight weakness in Airmanship. This airman was given 7 days detention for breach of flying regulations. Is inclined to be over-confident. Conduct: fair."
At No. 3 SFTS, Calgary: November 8, 1942 - March 19, 1943: "Average student at GIS. High average pilot, confident, smooth on controls. Good all round work throughout his course. Very alert and conscientious." He had an accident while flying a Cessna Crane: Glare of bright sun. He was also certified no entry one time. He received his Pilot's Flying Badge on March 5, 1943.
On March 20, 1943, he was sent to Halifax and arrived overseas at the RAF Trainees Pool on March 20, 1943. He was at 56 OTU by August 1943, then to 3 PRC by October 1943. 1 TEU: January 3, 1944. 4 TEU: March 1, 1944. E TEU: May - June 1944. He was sent to 84 GSU July 1944, then to 183 Squadron. He was sent to 198 Squadron November 4, 1944.
At No. 56 OTU: June 1 - August 10, 1943: Average assessments in all areas, except marksmanship where he received below average. "An average pilot, inclined to slack on the ground."
On July 31, 1944, he was involved in an accident while on an operational armed recce flying Typhoon 1B JP909 over Normandy at 1555 hours. He wrote, "I was taking off in Typhoon JP.909 when a/c swerved to port, which I corrected with rudder. It then took a violent swerve to the starboard as I slowly opened my throttle to +4 lbs boost. I tried to correct with rudder, but could not, and as I was heading for some vehicles and personnel, I opened up fully to try and clear it. I crashed into Flying Control, Amublance and Fire Tender, and bounced from there to the ground." The accident was not due to any technical defect. "This is a clear case of inexperience. It was the pilot's first formation take off, whilst at the same time his total flying time on Typhoons amounts to only 17 hours 50 minutes. This pilot will accompany the next Squadron to practice camp to gain further experience on Typhoons." His injury: lacerated wound on forehead, bumping his head on the reflector sight. He was granted his commision on January 1, 1945.
On February 16, 1945, 4 Typhoons were detailed to attack VCF targets in the Reichwald Forest area. "W/O Campbell (Typhoon MN 487) was briefed to fly as Blue 3, but owing to the fact that F/L Lawless (Blue 1) burst a tyre while taking off and did not become airborne, W/O Campbell took over as Blue 1. The aircraft were airborne at 1710 hours and were over the target area at approximately 1720 hours. The target was passed to Blue 1 as houses NE of GOCH south of CLSVE Forest on yellow grid and told that Red Smoke would be laid on in 4 minutes. On seeing the Red Smoke, he immediately dived down and fired his rockets amid intense light flak from the target area; he then said over the R/T that he was going down to strafe the flak position, this position he attacked on three occasions, each time in the face of intense flak. Prior to the last attack, he said he would go in once more and then return to Base. He was seen to pull up after this attack, but owing to very bad visibility, was not seen subsequently. Blue 2 called up three times on the R/T to him, but received no reply from him."
Eight mentions of "Certified No Entry" were located on his General Conduct Sheet with the RAF from June 1, 1943 - February 16, 1945, including on the day he was killed.
His last R/T message was, "Going down to attack flak post." On February 16, 1945, Don, as he was known to the Squadron, together with other members of the Squadron were detailed to attack German positions that were holding up Allied troops. About 5:30 pm, Campbell made three separate attacks in the face of intense flak. He was seen to pull up out of the dive, but due to poor visibility, he was not seen again despite the pilots trying to contact him. This was in the Pfalzdorf area.
In July 1947, F/L Keen, search officer reported at the farm of Johann Jansen, Pfalzdorf, Kuhstrasse 5: "During sweep operations in Stadt-Kreis Gock, the following information was brought to light. Aircraft: A cannon firing Typhoon. The numbers MN467 was found on the starboard cannon and parts of the same number were found on the fuselage....Frau Peters of the same addresss stated that the aircraft crashed on the evening of the 15-2-1945 between 1600 and 1700 hours and the pilot was later buried by English soldiers. Exhumation: No positive identification was achieved but the name MILICH was discovered on the seat of the pilot-type aircraft. The pilot was obviously a member of the TAF and I consider that this pilot had only recently been engaged on these operations as no brevet was found on the blouse and the W/Os coat of arms was found in the pocket. Probably intended to be sewn on later. Cross shows: Campbell Milich." The remains of the pilot, possibly Donald Campbell, were reinterred in the Reichswald Forest War Cemetery. Could the 487 have been mistaken for the 467?
LINKS: