Elvin Newton Cluderay J15371
June 15, 1920 - April 17, 1943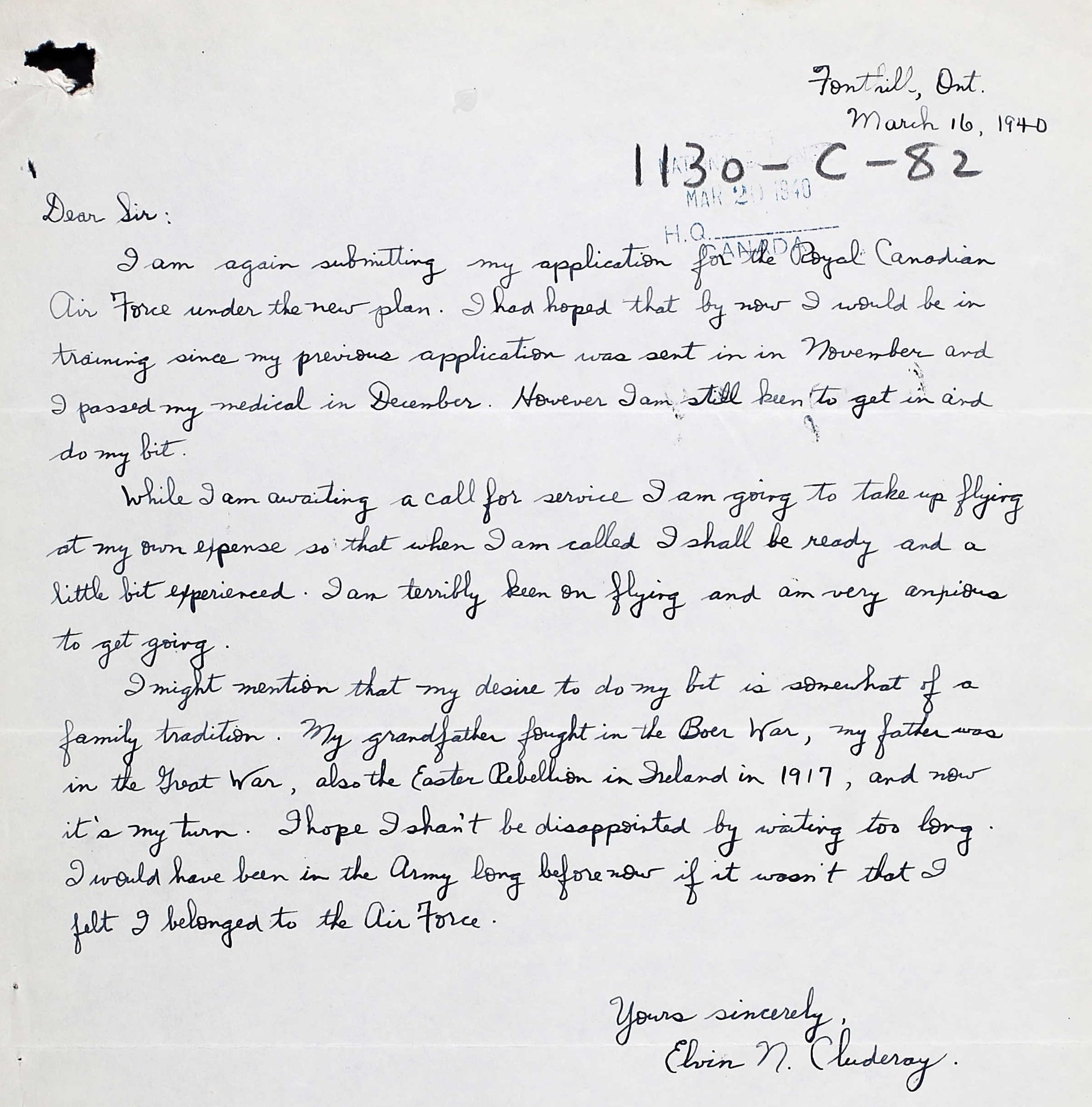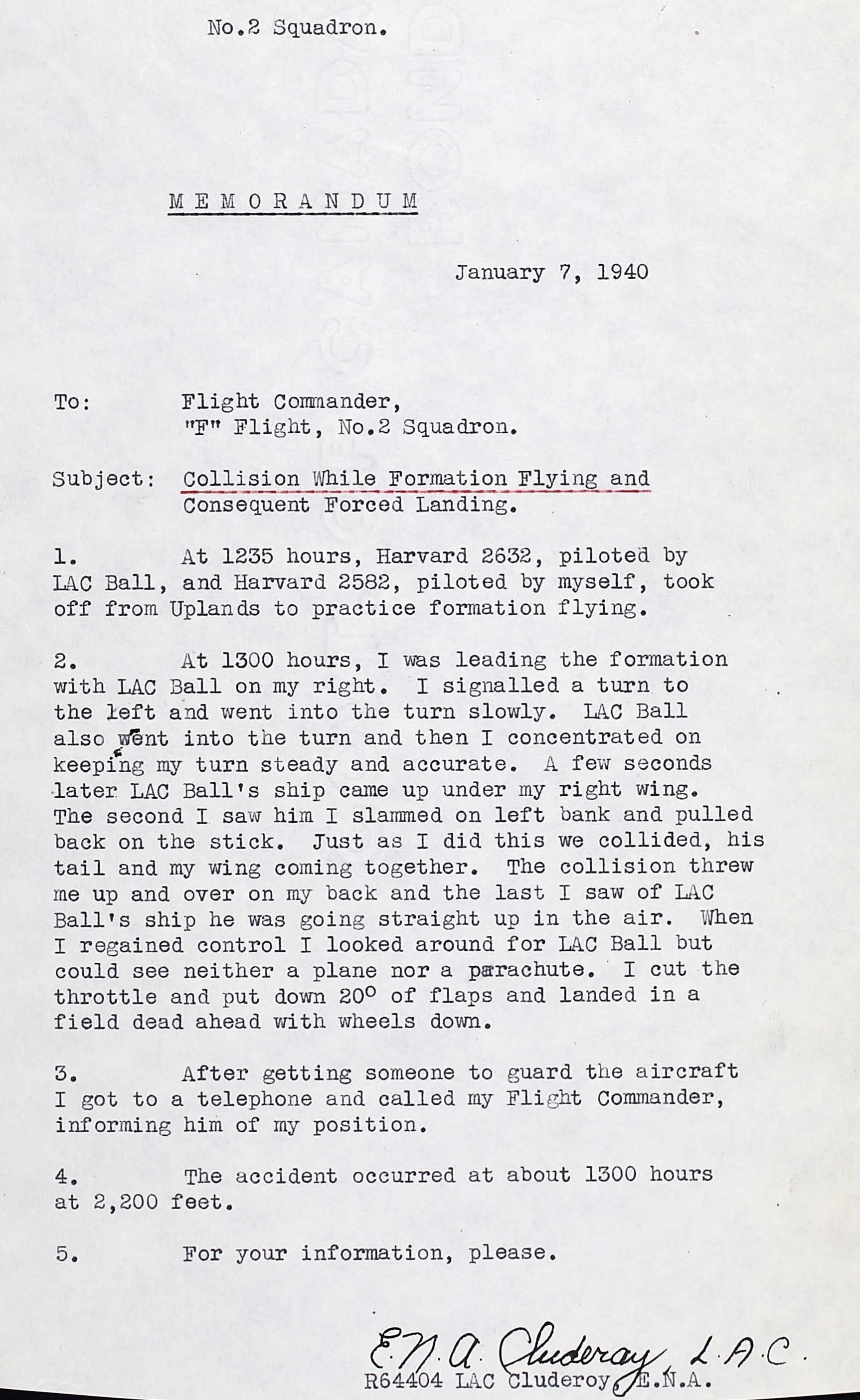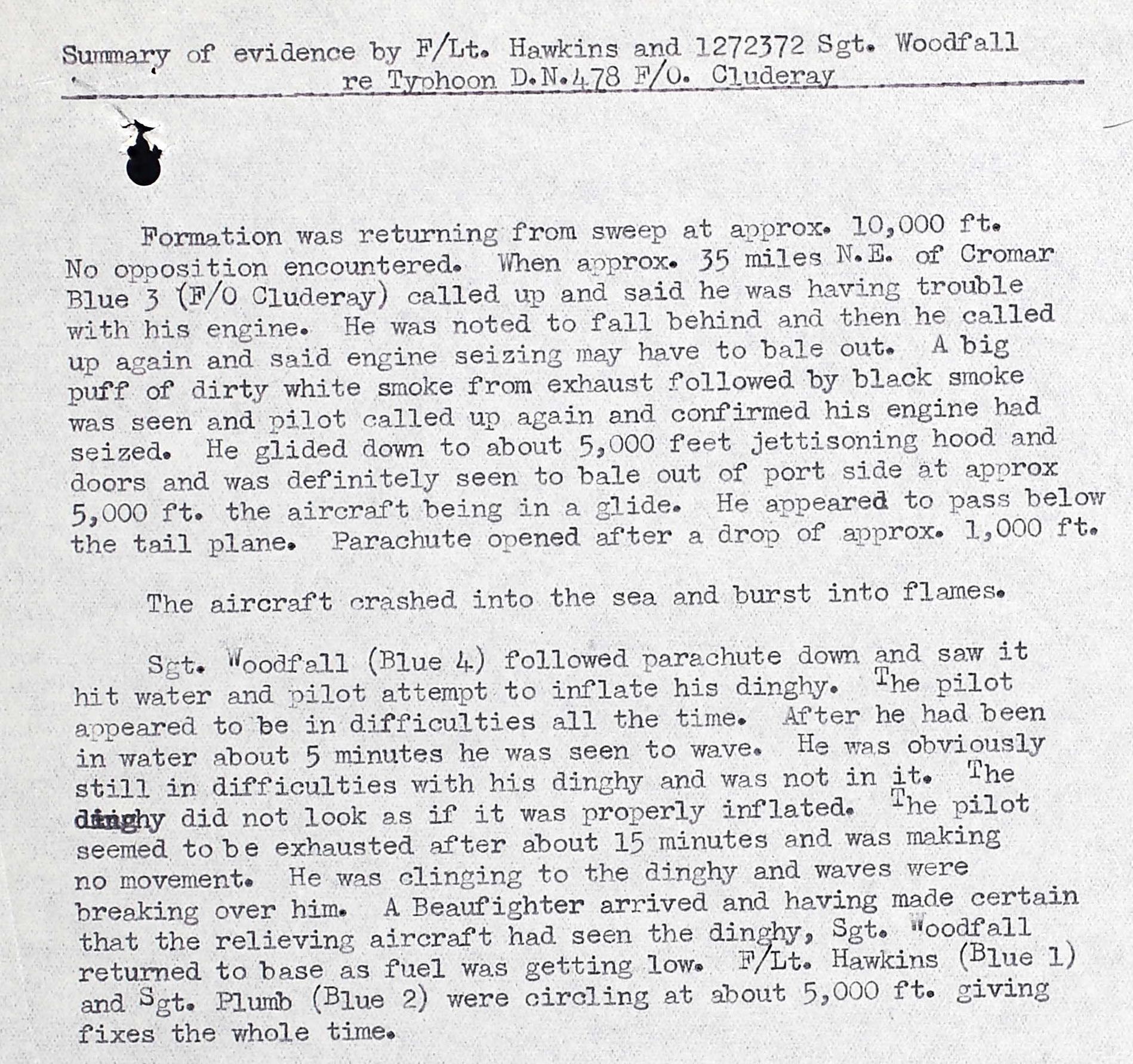 RAF 56 Squadron
Elvin Newton Cluderay, born in Leeds, Yorkshire, England, was the son of Horace (purchasing agent) and Eliza (nee Newton) Cluderay of Fonthill, Ontario. He had one younger sister, Winifred Joyce, 15. The family was Anglican. He was the husband of 24 year old Gladys (nee Rosenthal) Cluderay, of East Boldon County, Durham, England. They were married on June 16, 1941. They had a daughter: Carolyn Ann, born April 1942, and a son, Michael Elvin, born September 1943.
Elvin was a repair man in a factory prior to enlistment in Hamilton, Ontario in early 1940. He had been a time keeper for United Steel Corporation in Welland, Ontario, May - September 1939 and left that position to attend Normal School to become a teacher, but he did not finish. He also worked at the Welland Post Office in 1939. On one of his reference letters, it was noted that he had an "outstanding ability in mathematics....repeatedly handed in perfect examinations papers." He stood 5' 10 3/4" tall, weighing 131 pounds. He had blue eyes and brown hair./p>
He noted, "At the time of writing, I have just become a member of the St. Catharines Flying Club where I intent to take a course in flying which should equip me with valuable experience if I am accepted in the Air Force." He also indicated that he had some experience in acting, "which might be of use as entertainment." He enjoyed a variety of sports.
At No 1 ITS: July 22, 1940: "Very good type. Will make good pilot. 54 out of 193 in class."
At No. 2 EFTS: September 16, 1940: "High average as pilot. Needs more practice on general flying to acquire 'polish'. Should make a good service pilot. Air sense good." 9/24 in Ground School. "This pupil is of the officer type but should realize the seriousness of service life. He was punished by his Commanding Officer for disobeying a station standing order and this punishment was not with the right attitude. His ability as a pilot is a good average."
At No. 2 SFTS: November 18, 1940: "A satisfactory pilot but is apt to be careless on all types of turns." In Ground Training: "Average student -- attentive, quiet, fair appearance." 27/54 in class. "Good initiative, a quick thinker but slightly irresponsible." He was granted his Pilot's Flying Badge on January 25, 1941.
He was sent overseas to Uxbridge, No. 7 AGS, March 11, 1941, then to No. 2 AGS, July 25, 1941. He was sent to 56 OTU September 25, 1944, then to 601 Squadron October 28, 1941. He was posted to 56 Squadron November 6, 1941.
On his General Conduct Sheet: "Neglecting to obey station standing orders" twice, "Breaking out of barracks: once, "Certified no Entry" five times from September 1940 - April 30, 1942.
On April 17, 1943, flying Typhoon DN478, F/L Hawkins and Sgt Woodfell wrote: "Formation was returning from sweep at approx. 10,000 ft. No opposition encountered. When approx. 35 miles NE of Cromar, Blue 3 (F/O Cluderay) called up and said he was having trouble with his engine. He was noted to fall behind and then he called up again and said engine seizing may have to bale out. A big puff of dirty white smoke from exhaust followed by black smoke was seen and pilot called up again and confirmed his engine had seized. He glided down to about 5000 feet, jettisoning hood and doors and was definitely seen to bale out of port side at approx. 5000 feet, the aircraft being in a glide. He appeared to pass below the tail plane. Parachute opened after a drop of approx. 1000 feet. The aircraft crashed into the sea and burst into flames. Sgt Woodfall (Blue 4) followed parachute down and saw it hit water and pilot attempt to inflate his dinghy. The pilot appeared to be in difficulties all the time. After he had been in the water about 5 minutes, he was seen to wave. He was obviously still in difficulties with his dinghy and was not in it. The dinghy did not look as it if was properly inflated. The pilot seemed to be exhausted after about 15 minutes and was making no movement. He was clinging to his dinghy and waves were breaking over him. A Beaufighter arrived and having made certain the relieving aircraft had seen the dingy, Sgt Woodfall returned to base as fuel was getting low. F/L Hawkins (Blue 1) and Sgt. Plumb (Blue 2) were circling at about 5000 feet giving fixes the whole time."
In the Court of Inquiry, April 19, 1943: "The evidence....shows a clear case of engine failure. There is no evidence to believe the pilot was injured in abandoning his aircraft which was accomplished under favourable conditions. The pilot was very experienced and well schooled in his dinghy drill. The pilot may have hit the tailplane of the aircraft when baling out."
In February 1944, Mr. Cluderay noted that his son had "expressed intention of bringing his wife and child to Canada to reside at Fonthill, Ontario. Please advise Department...to arrange for transportation of wife and child when shipping considered safe. Understands the Department accepts the responsibility and financial obligation for bringing them over."
In July 1952, Mr. Cluderay received a letter from the Department of National Defense apologizing for the length of time it has taken for them to officially record that F/O Elvin Cluderay had no known grave. His name is on the Runnyede Memorial.
LINKS: