Eric Stuart McCuaig R132649
June 2, 1923 - August 15, 1943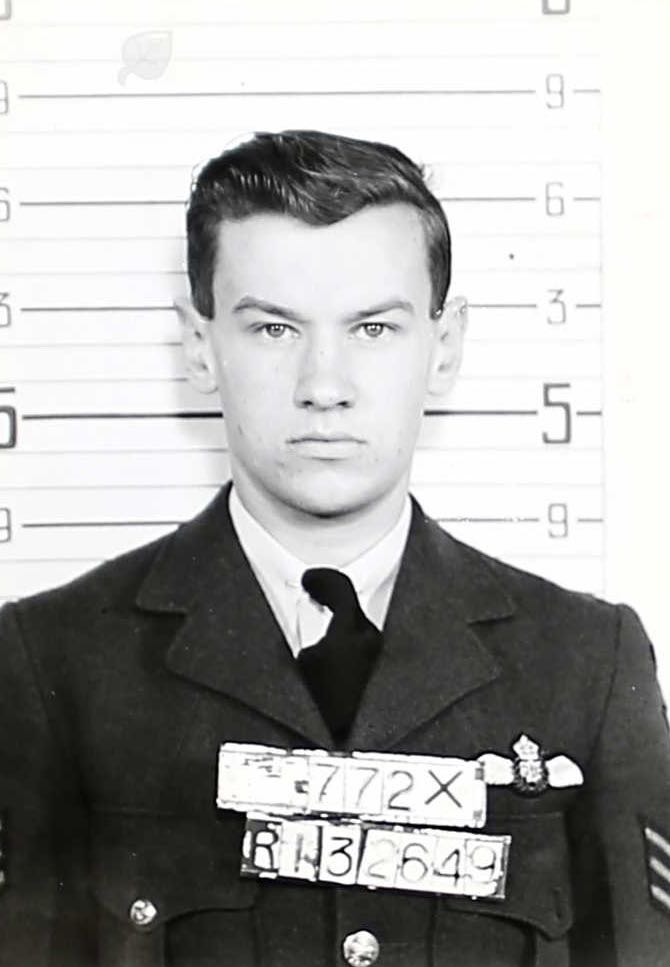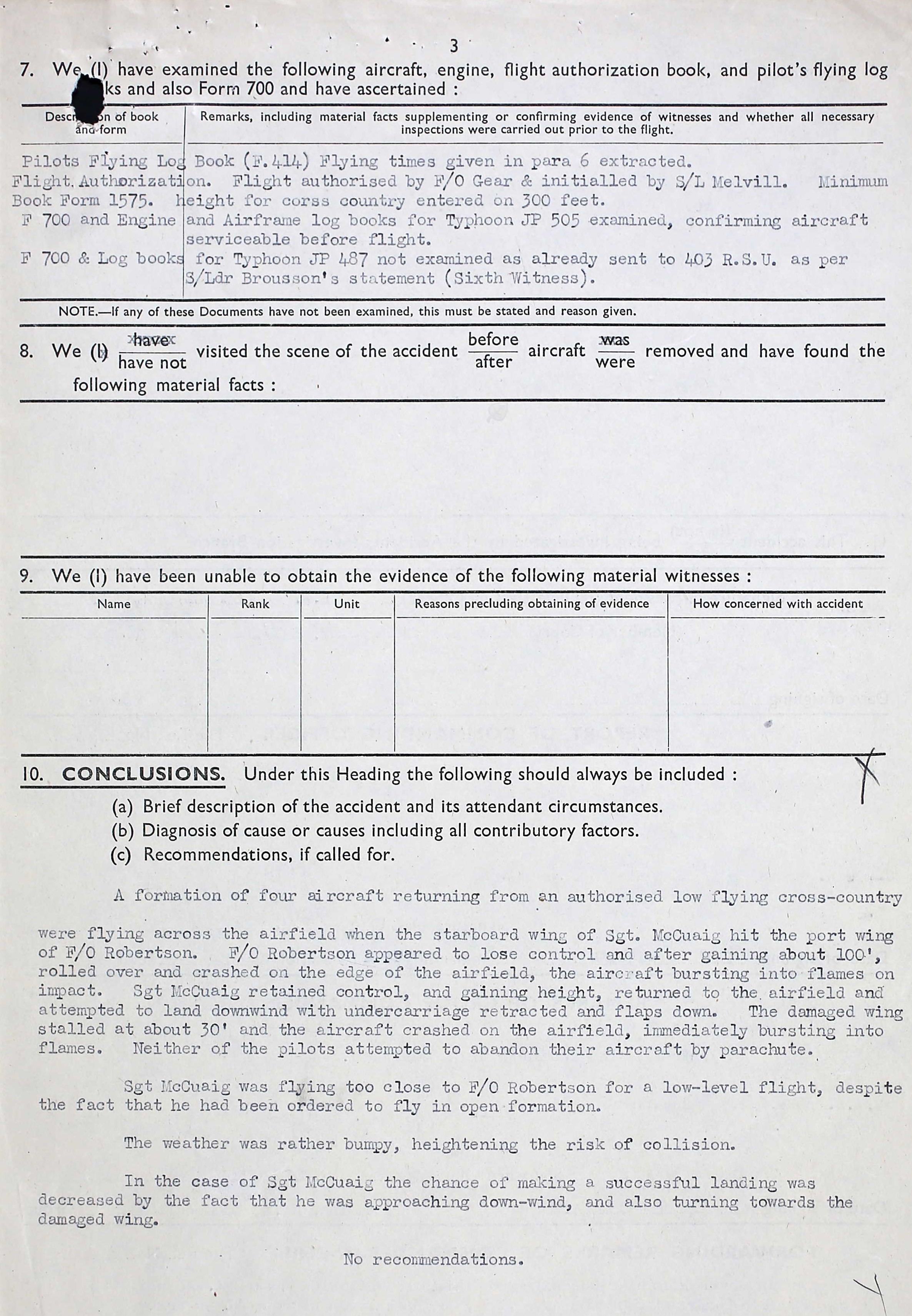 RAF 247 Squadron
Eric Stuart was the son of Clarence Norman (stockbroker) and Edith Evelyn (nee Wood) McCuaig, both deceased by the time he enlisted in September 1941. He was born in Montreal and was attending school prior to enlistment, with a job in the summer of 1941 as a payroll checker at Foundation Co. Longue Pointe, Montreal. He had one brother, P/O Ian H. McCuaig, at No 1 FIS, Trenton, and one sister, Mrs. Molly Stead of Westmont, Quebec. The family was Anglican.
He was the husband of Joan Elizabeth (nee Gray) McCuaig from an old and highly respected family in Cornwall, Ontario, wrote the Mayor of Cornwall on October 21, 1942, prior to the wedding. Both the MP and MPP of Stormont also wrote her a letter of recommendation prior to the marriage. Her two brothers were in service and her father, Major Gray, was a WWI veteran. She was 18 1/2 when Eric was killed. She was remarried by March 1950, becoming Mrs. Rodier.
McCuaig liked to ski, canoe and play football, plus collect stamps. He had hazel eyes and brown hair, stood 5' 6" tall and weighed 125 pounds.
By February 19, 1942, he was accepted into the RCAF. "Wants pilot. Very good education. Polite. Courteous. Keen, well motivated, but rather immature. Intelligence and coordination fair. Good average material."
McCuaig started at No. 1 ITS: December 22, 1941 - February 14, 1942: "A keen cheerful airman with a fine Service spirit and good sense of responsibility. He worked hard at this unit and displayed leadership qualities."
At No. 1 EFTS: March 2, 1942 - April 24, 1942: "Average pilot. Likes aerobatics and is good on instruments and Link. No outstanding faults. With experience and good instruction should make high average Service pilot." In Ground Training: "Very quiet type of student; is somewhat below average in class. 26 out of 35 in class."
He was awarded his Pilot's Flying Badge on October 23, 1942 at No. 13 EFTS. "Very young pupil. Slight lack of confidence in himself. Immaturity reflected his results. Good promise. Will make good with experience. Recommended for Fighter Squadron." On September 21, 1942, he was written up on the General Conduct Sheet. "Flying at an altitude of less than 1000 feet at 11 hours." He was given 28 days detention.
He was sent overseas in November 1942.
At No. 59 OTU, March to June 1943: "An above average pilot, who has flown consistently well. His dogfighting and formation in Hurriane was definitely good. In Typhoon his formation became excellent, although not quite so good in No. 3 as No. 2 position owing to lack of previous practice in the former. He completed a sodium exercise successfully but did no night flying with this unit owing to conversion to Typhoons. He has proved a most capable NCO and should make a good Officer." While in the UK, he was also written up. "Certified no entry" twice.
He was sent to 247 Squadron on June 22, 1943.
In a letter to Mrs. McCuaig: On August 15, 1943, during a practice flight, RAF New Romney, training for operations, McCuaig's aircraft [Typhoon JP505] as No. 4 in a Section of 4 aircraft, collided with another one in the formation during a low flying cross country in line abreast formation. The section cross the airfield at approximately 150 feet on a straight course, but the No. 4 and No. 3, F/O Alexander W. Robertson (118182), collided. McCuaig's Typhoon was out of control as McCuaig attempted a landing, crashing on the aerodrome, killing McCuaig and Robertson instantly. His funeral took place at Brookwood Cemetery near London, on August 19, 1943 at 2 pm.
A court of inquiry was struck with seven witnesses. Both Typhoon JP505 (ZY-R) and Typhoon JP 287 (ZY-Y) were totally damaged as were their engines. McCuaig had 20 hours on the Typhoon and Robertson had 94 hours on the Typhoon. Conclusion: "A formation of four aircraft returning from an authorized low flying cross-country were flying across the airfield when the starboard wing of Sgt. McCuaig hit the port wing of F/O Robertson. F/O Robertson appeared to lose control and after gaining about 100' rolled over and crashed on the edge of the airfield, the aircraft bursting into flames on impact. Sgt. McCuaig mretained control, and gaining height, returned to the airfield and attempted to land downwind with undercarriage on the airfield, immediately bursting ito flames. Neither of the pilots attempted to abandon their aircraft by parachute. Sgt. McCuaig was flying too close to F/O Robertson for a low-level flight, despite the fact that he had been ordered to fly in open formation. The weather was rather bumpy, heightening the risk of collision. In the case of Sgt. McCuaig, the chance of making a successful landing was decreased by the fact that he was approaching down wind and also turning towards the damaged wing." McCuaig was assessed competent to understanding the exercise and the collision was due to an error of judgement in maintaining correct distance from F/O Robertson.
LINKS: