Frederick Stanley Le Gear J28384
October 12, 1922 - September 10, 1944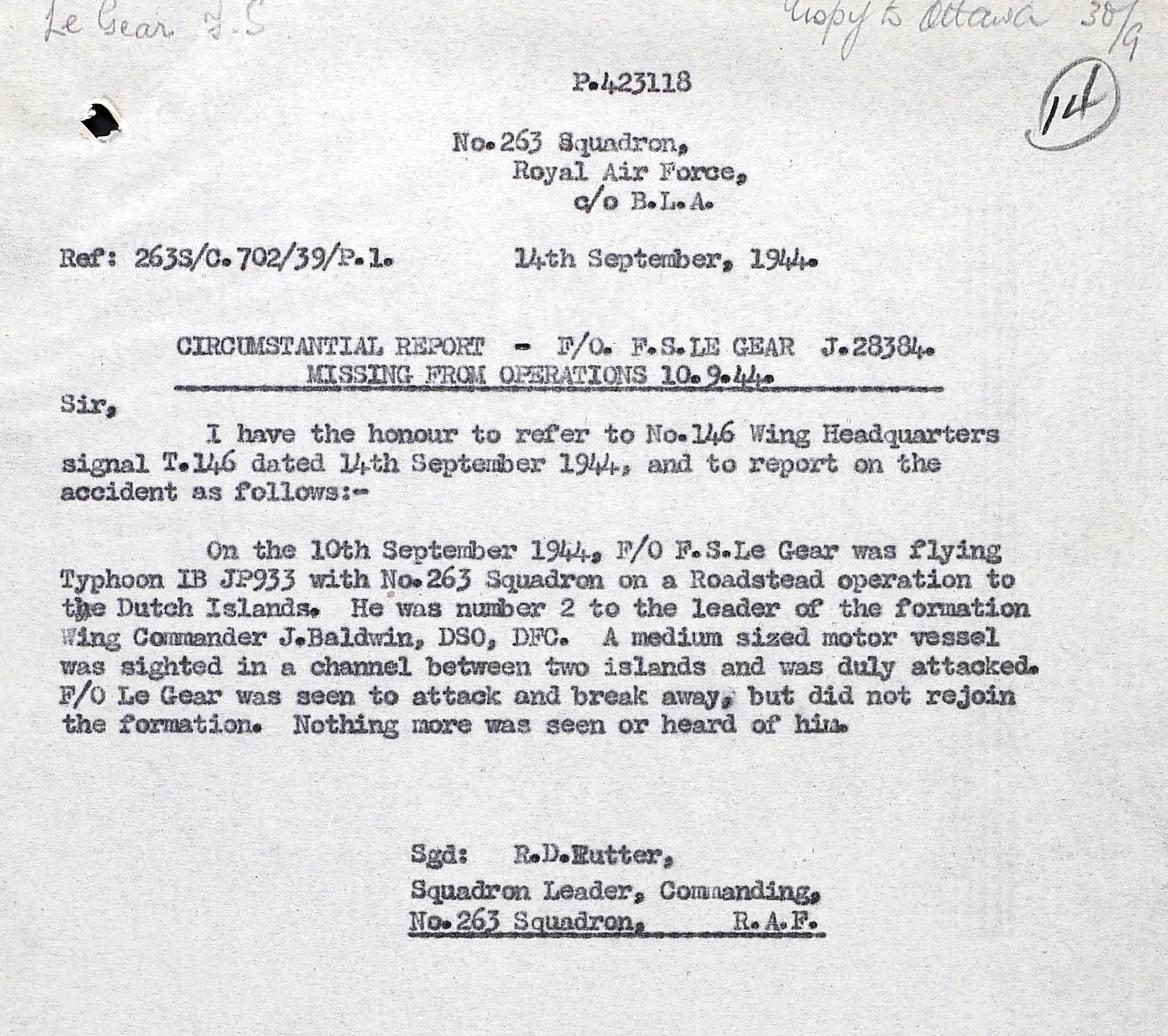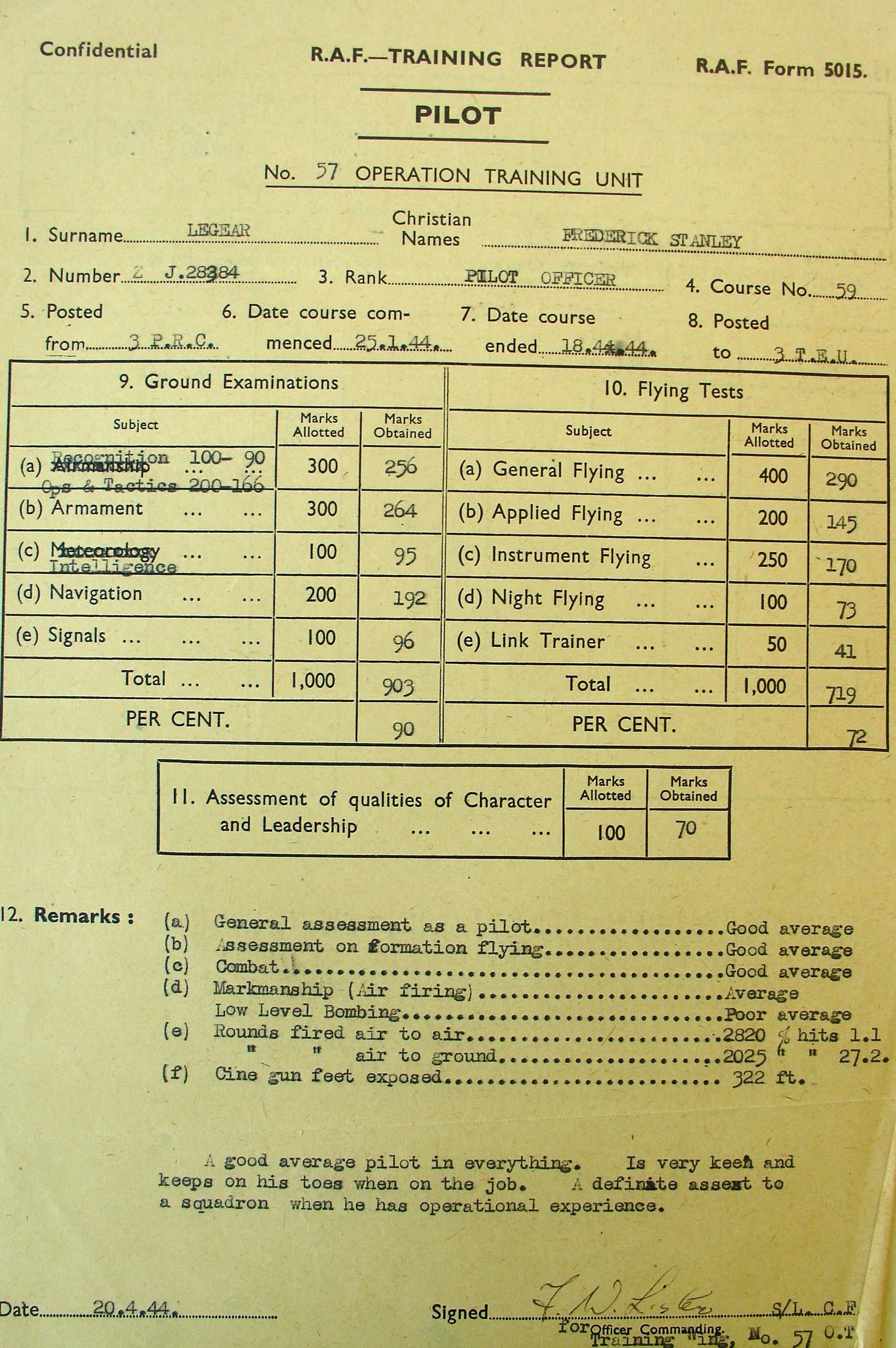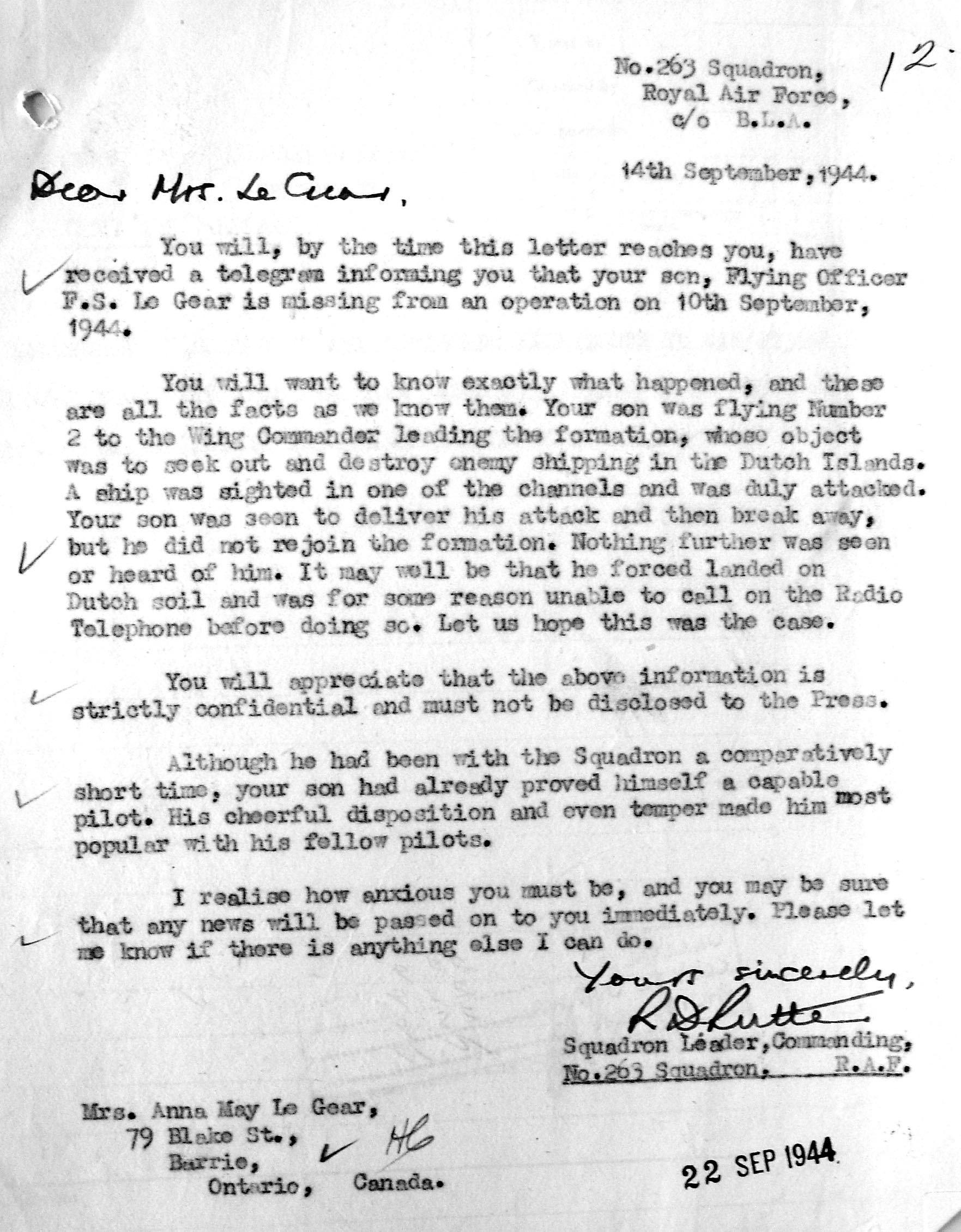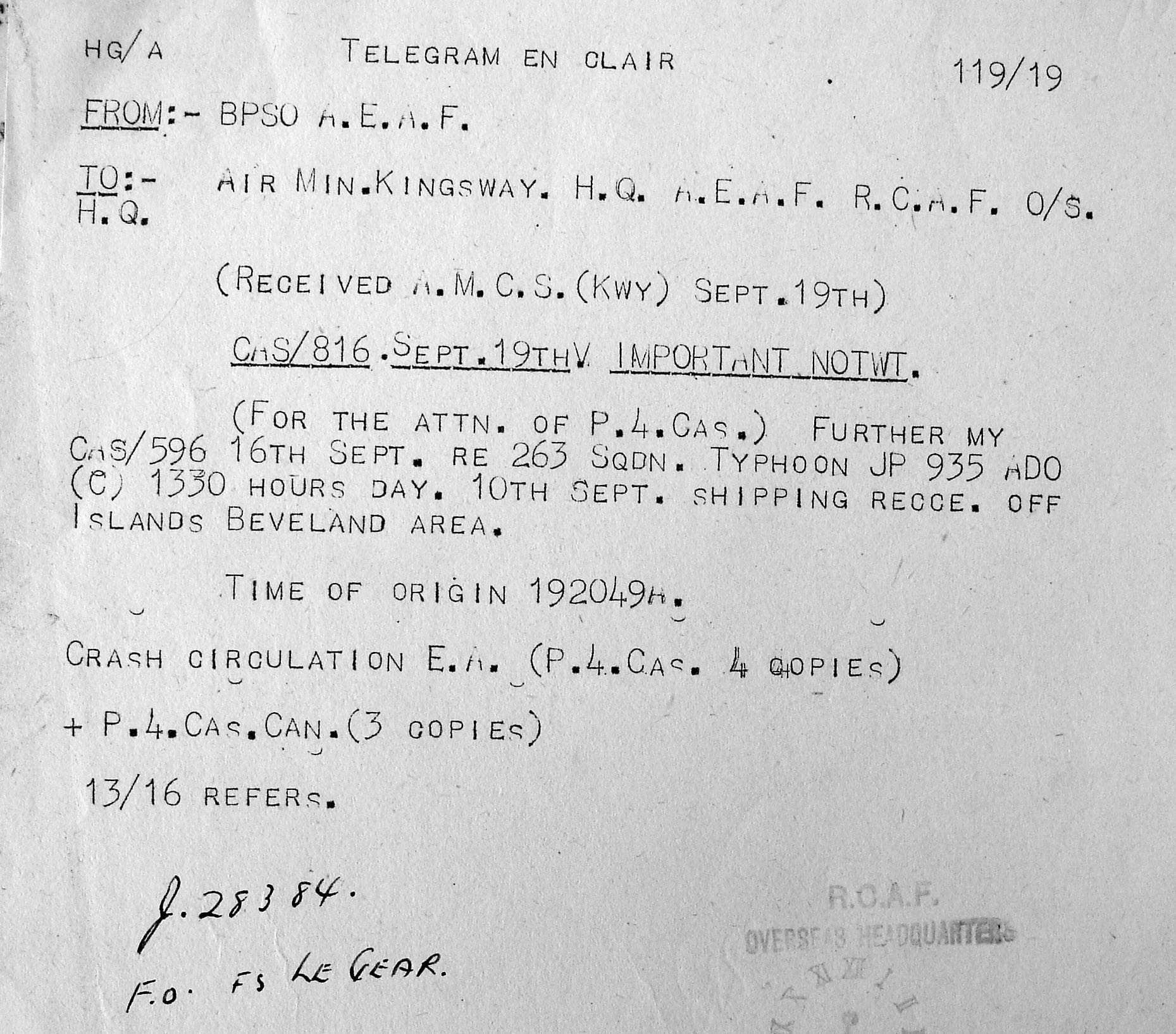 RAF 263 Squadron
Frederick Stanley Le Gear, born in Allandale, Ontario, was the son of Robert (freight conductor CNR, deceased, as a result of an accident on the CNR) and Anna May Le Gear of Barrie, Ontario, who were originally from Rathkeale, Ireland. His brother, Robert George, was with the 1st Hussars "A" Squadron, 6th Canadian Armoured Reg't, his brother F/L J23040 Victor Henry John was with 143 RCAF, overseas; another brother, Albert Sydney was in Barrie. Their sister, Evelyn, also lived in Barrie. The family was Presbyterian.
Le Gear was a student when he enlisted with the RCAF in May 1941. He had been working at Loblaw's Grocerteria, Barrie, as a part-time clerk, as well. He hoped to fly after the war.
He said he enjoyed softball, hardball, hockey, soccer, and rugby. He stood 5'8" tall, weighing 127 pounds when he enlisted.
"Clean cut boy, good education-keen and alert. Good appearnce, will make good aircrew material."
He started his journey through the BCATP at No. 1 MD, Toronto, August 4, 1941. He was then sent to Trenton from August 21 to September 25. He was at No. 5 ITS, Belleville from September 26 to November 22, 1941. [Neat, accurate, conscientious worker of high intelligence. Mentally and physically alert, well suited to aircrew either as pilot or observer] He then went to No. 7 EFTS, Windsor, Ontario the next day until January 31, 1942. [At the beginning of the course, this student was slow to learn, but has developed into a good pilot. Aerobatics good average and instrument flying very good. Should make a good service pilot.] He was then at No. 14 SFTS, Aylmer from February 1, 1942 until June 10, 1942, where he received his wings on June 5, 1942. [Link Navigation: Above average; An average pilot. A bit irresponsible, but should develop well as he gains experience. Very likeable. Neat in appearance. Above average student in Ground Training. Fairly well disciplined.]
No. 14 EFTS: Forced landing, wheels up, 1/2 mile east of Exeter. He became lost and ran low in gas.
He was taken on strength with 133 (F) Squadron, Lethbridge, Alberta on June 11, 1942. He was at 34 SFTS, Medicine Hat in July 1942, then was in Boundary Bay with 133 Squadron in October 1942. He went to Tofino with the Squadron in July 1943 until October 31, 1943.
At 133 'F' Squadron, 1 mile NE of Lethbridge, on July 19, 1942 at 1630, Le Gear reported, flying Hurricane RCAF 5394: "I was flying in formation at above 3000 feet over Lethbridge when I was told to return to airport as oil was streaming out. I found I would be unable to make the aerodrome, so I made a forced landing in a wheat field. I was not hurt."
Le Gear headed overseas on November 24, 1943. He was at No. 57 PTU between January 25, 1944 and April 18, 1944 before being posted to 3 TEU. He was assessed "a good average pilot in everything. Is very keen and keeps on his toes when on the job. A definite asset to a squadron when he was operational experience."
On September 10, 1944, F/O F. Le Gear was flying Typhoon 1B JP933 with No. 263 Squadron on a Roadstead operation to the Dutch Islands. He was Number 2 to the leader of the formation Wing Commander J. Baldwin, DSO, DFC. A medium sized motor vessel was sighted in a channel between two islands and was duly attacked. F/O Le Gear was seen to attack and break away, but did not rejoin the formation. Nothing more was seen or heard of him. This was in the Beveland Area.
S/L R. D. Rutter wrote to Fred's brother, Vic, a fellow Typhoon pilot, on September 14, 1944. "You will want to know exactly what happened, and these are all the facts as we know them. Your brother was flying No. 2 to the Wing Commander on a Roadstead to the Dutch Island. A ship was sighted in the channels and was duly attacked. Your brother was seen to deliver his attack and then break away, but he did not rejoin the formation. Nothing further was seen or heard of him. It is of course quite possible that he forced landed in Holland and was for some reason unable to call on the R/T before doing so. Let us hope this was the case. You will appreciate that the above information is strictly confidential and must not be disclosed at this time."
Frederick Stanley Le Gear's name appears on the Runnymede Memorial.
Mrs. Le Gear asked her son, Vic, to bring his brother's personal belongings home with him, when he returned to Canada.
LINKS: