George Allan Sullivan J44046
February 21, 1923 - March 27, 1945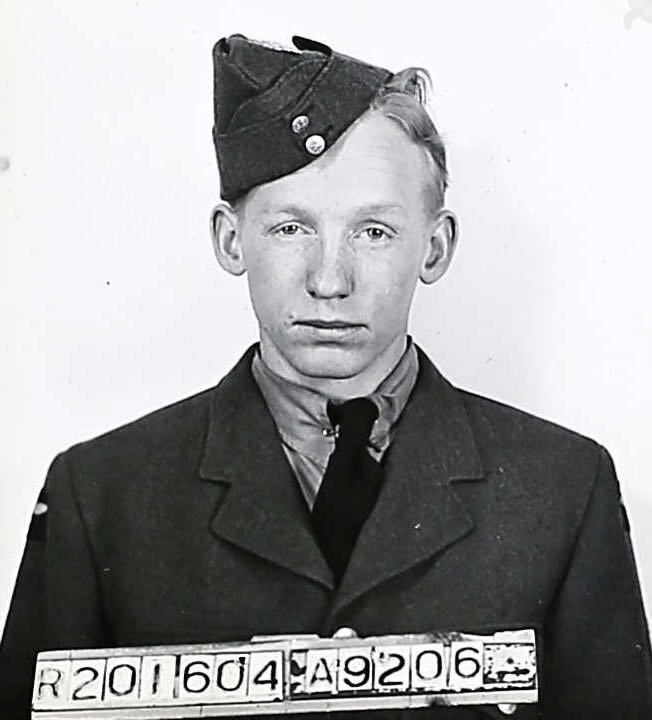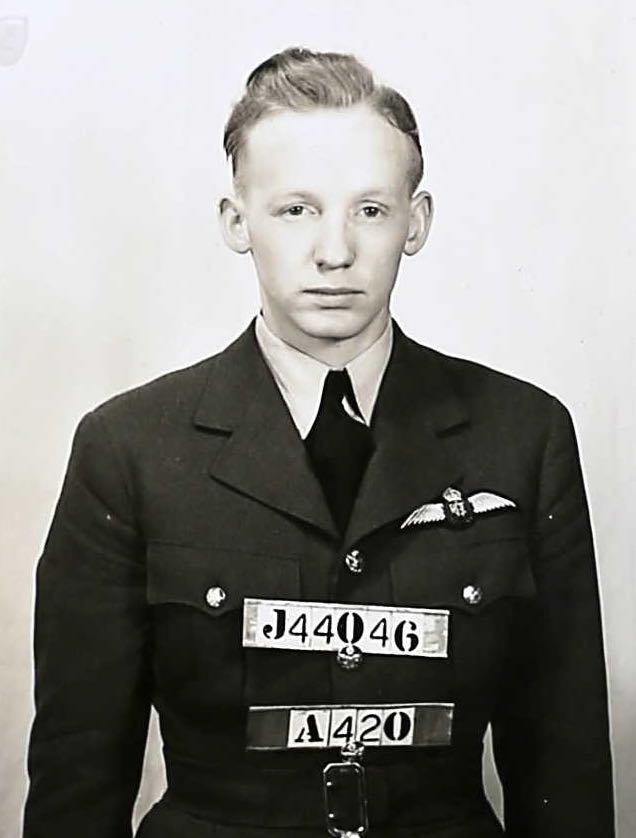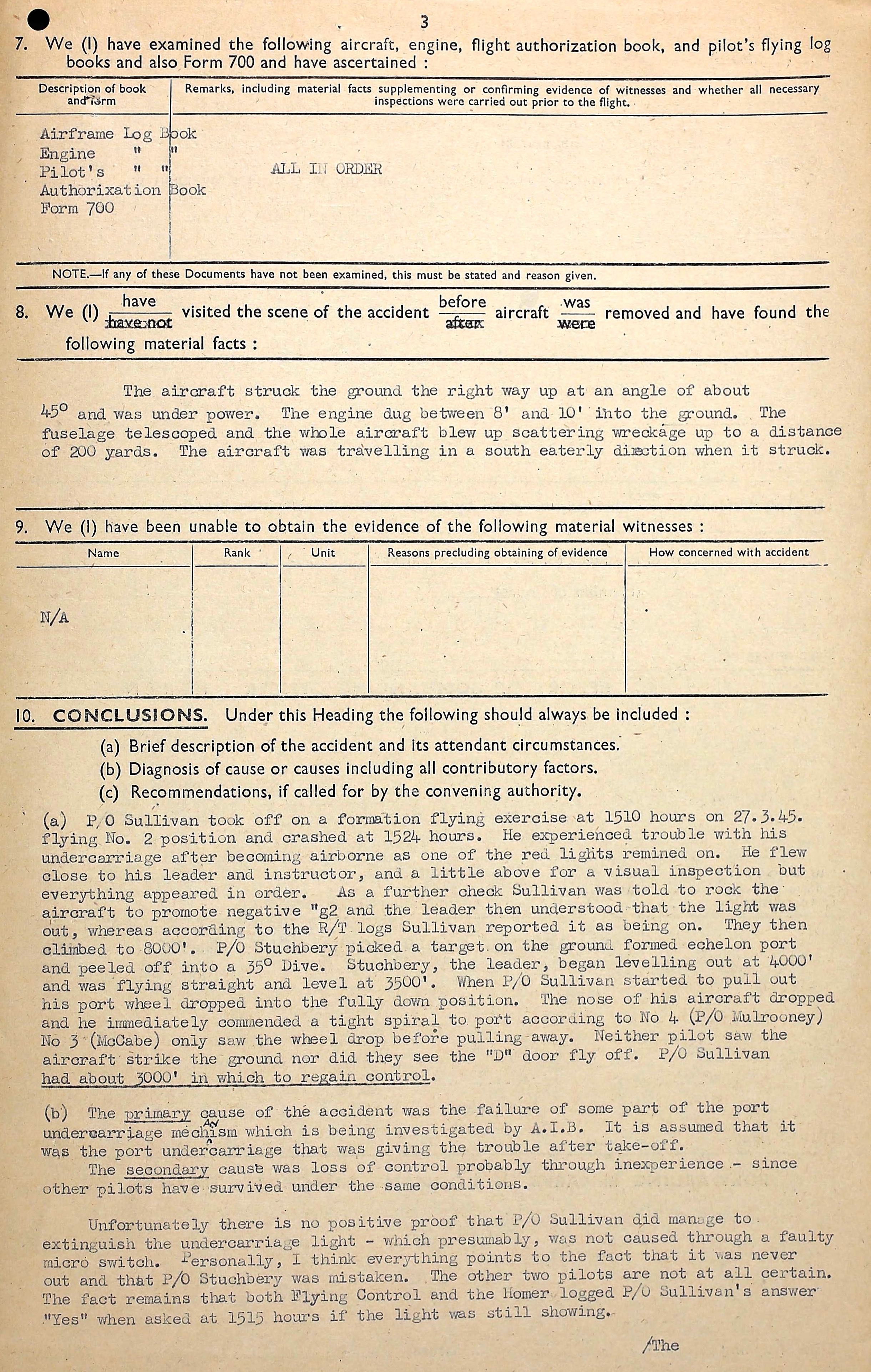 RAF 56 OTU Squadron
George Allan Sullivan was the son of Harry W. (deceased July 11, 1934, aged 43) and Nora May (nee Callaghan) Sullivan. George was born in Campbellton, NB. He had three brothers: F/O Ronald Sullivan, 24, (somewhere over Germany), Gordon, 19, and Francis, 13. The family was Roman Catholic.
He spoke both French and English. He was working for the CN Express, as a clerk, at time of enlistment in November 1942 in Moncton, New Brunswick. He wanted to complete his studies after the war. "Intelligence standard; quiet, not tense, lacks drive. Good flying interest. Wants pilot." He stood 5' 5 1/2" tall, weighing 127 pounds. He had blue eyes and fair hair.
He indicated he smoked 18 cigarettes a day and occasionally consumed alcohol. He liked hunting and fishing, and enjoyed hockey and football. He indicated he had some mechanical ability.
Sullivan attended Pre-Aircrew Education Course at the Central Technical School in Toronto in June 1943 before he was sent to ITS.
At 6 ITS, June 14 - August 20, 1943: "Inclined to worry but has no difficulty with his studies. Good student."
At 10 EFTS, August 22 - October 29, 1943: "Seems to be better than average student. Good at aerobatics, learning them very easily. General flying very good. Learns easily and is able to apply instruction to flying."
At 1 SFTS, November 14, 1943 - April 21, 1944. Ground School: 82.2%. Flying Tests: 74.8%. "Displays confidence and high average flying ability. Needs more practice on compass turns." He was considered extremely suitable for bomber type aircraft, moderately suited to fighter type and definitely suitable for general reconnaissance and army co-operation aircraft. He was not considered for instructing.
He completed the Advanced Tactical Training Det. Course #29A at Greenwood, November 4, 1944. "Above average. The best student in his course. Shows ability to lead."
He was at 8 OTU in December, then embarked Canada on December 22, 1944, arriving in the UK December 31, 1944. He was at 56 OTU by March 13, 1945.
On March 27, 1945 at 1530 hours, at Ilderdon, Northumberland, Sullivan was flying Typhoon 1B EK364 on a non-operational day time training flight. "Pilot was on a formation exercise and whilst diving, his port oleo leg came down. He flicked over on his back and crashed. It appears that the leg dropping was the primary cause of the accident. An inspection is being held by AIB." A full Court of Inquiry was held with eleven witnesses called.
Sullivan had 15 hours on the Typhoon at the time of the accident. The weather was cloudy, wind: 16 mph, visibility: 15 miles. Conclusions: "P/O Sullivan took off on a formation flying exercise at 1510 hours on 27.3.45 flying No. 2 position and crashed at 1524 hours. He experienced trouble with his undercarriage after becoming airborne as one of the red lights remained on. He flew close to his leader and instructor, and a little above for a visual inspection but everything appeared in order. As a further check, Sullivan was told to rock the aircraft to promoted negative 'gs' and the leader then understood that the light was out, whereas according to the R/T logs, Sullivan reported it as being on. They then climbed to 8000 feet. P/O Stuchbery picked a target on the ground, formed echelon port and peeled off into a 35 degree dive. Stuchbury, the leader, began levelling out at 4000 feet and was flying straight and level at 3500 feet. When P/O Sullivan started to pull out, his port wheel dropped into the fully down position. The nose of his aircraft dropped and he immediately commenced a tight spiral, to port, according to No. 4 (P/O Mulrooney), No. 3 (McCabe) only saw the wheel drop before pulling away. Neither pilot saw the aircraft strike the ground, nor did they see the "D" door fly off. P/O Sullivan had about 3000 feet in which to regain control. The primary cause of the accident was the failure of some part of the port undercarriage mechanism which is being investigated by AIB. It is assumed it was the port undercarriage that was giving the trouble after take-off. The secondary cause was loss of control probably due to inexperience -- since other pilots have survived under the same conditions. Unfortunately, there is no positive proof that P/O Sullivan did manage to extinguish the undercarriage light, which presumably was not caused through a faulty microswitch. Personally, I think everything points to the fact that is was never out and that P/O Stuchbery was mistaken. The other two pilots are not all certain. The fact remains that both Flying Control and the Homer logged P/O Sullivan's ansewr 'Yes' when asked at 1515 hours if the light was still showing." Stricter supervision was then given to the inspection of undercarriage systems and orders were issued to pilots to return to base if they experienced undercarriage difficulties in te air.
George Sullivan was buried at the RAF Regional Cemetery, Wetherby Road, Harrogate, on April 3, 1945 at 10 am, conducted by Rev. S/L F. T. Moyle, Chaplain to the RCAF. "Service honours were accorded, the coffin being carried by men of the RAF and also a firing party was provided. The coffin was covered with the Union Jack and the Last Post was sounded at the end. Wreaths were sent from the Commanding Officer and Officers of the Unit, the Senior NCOs and also from the airmen and airwomen of this Station."
LINKS: