George Arnold Shanks R126246
January 24, 1923 - October 26, 1943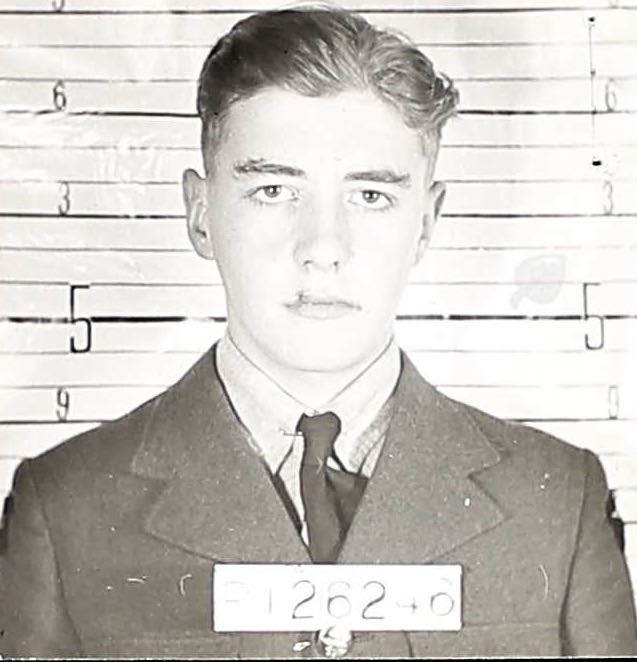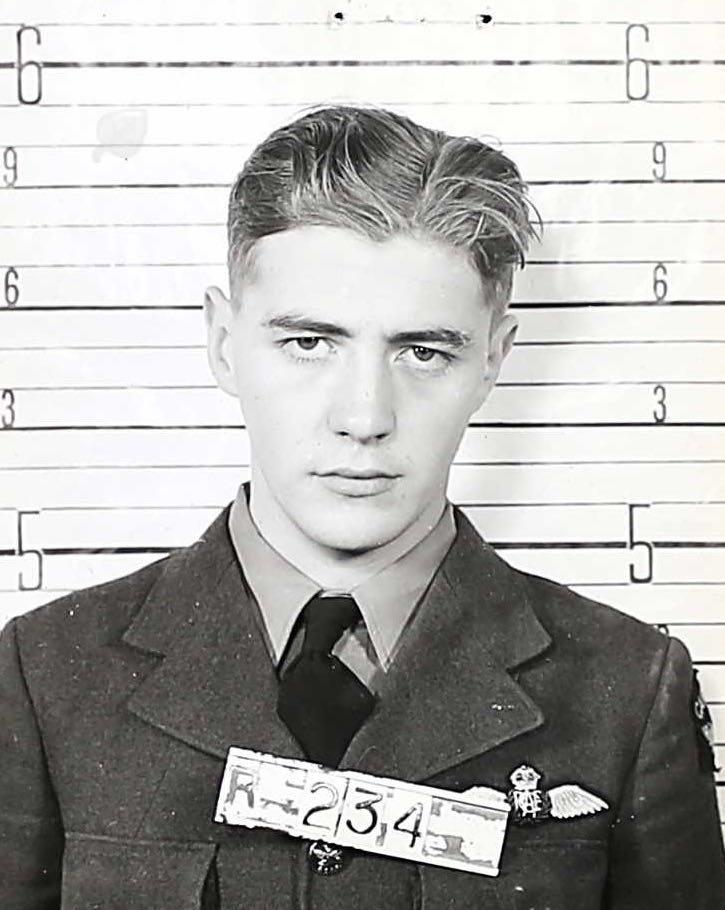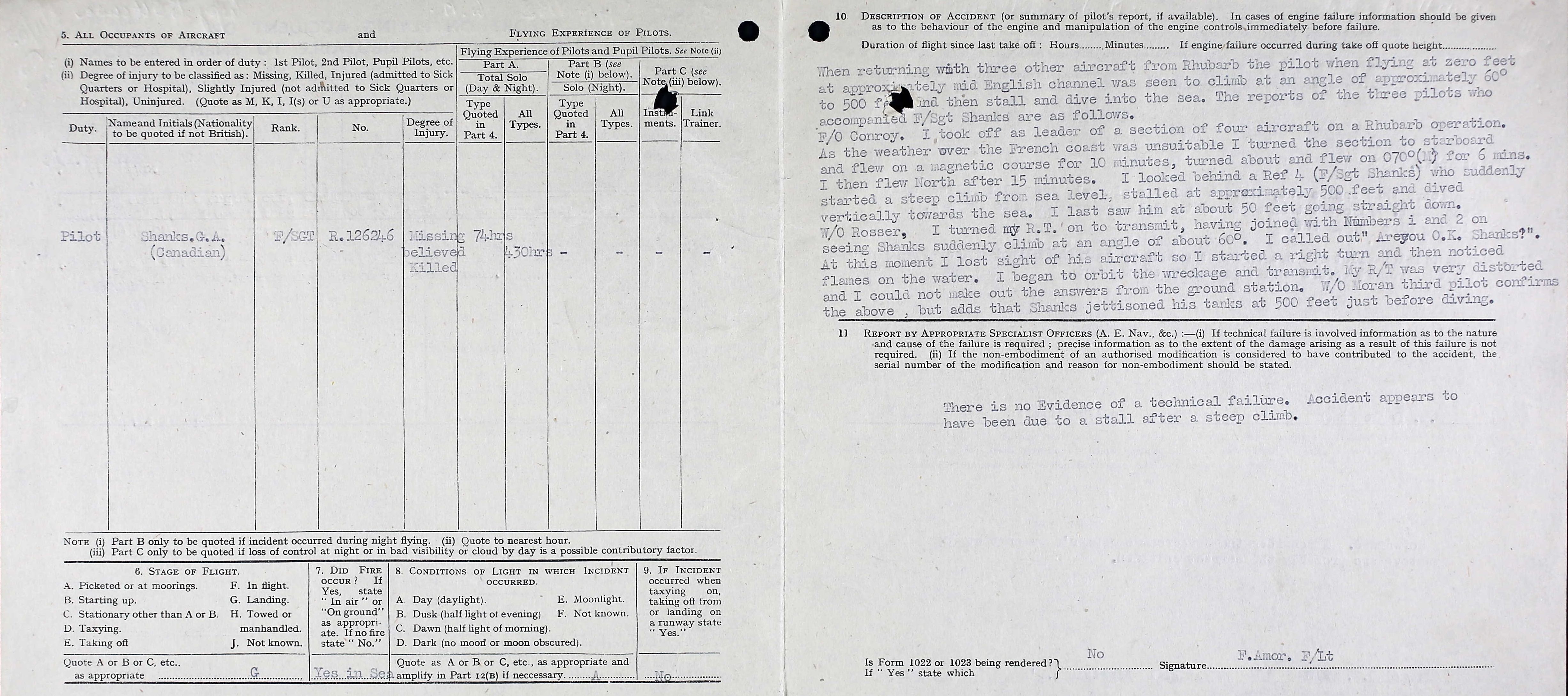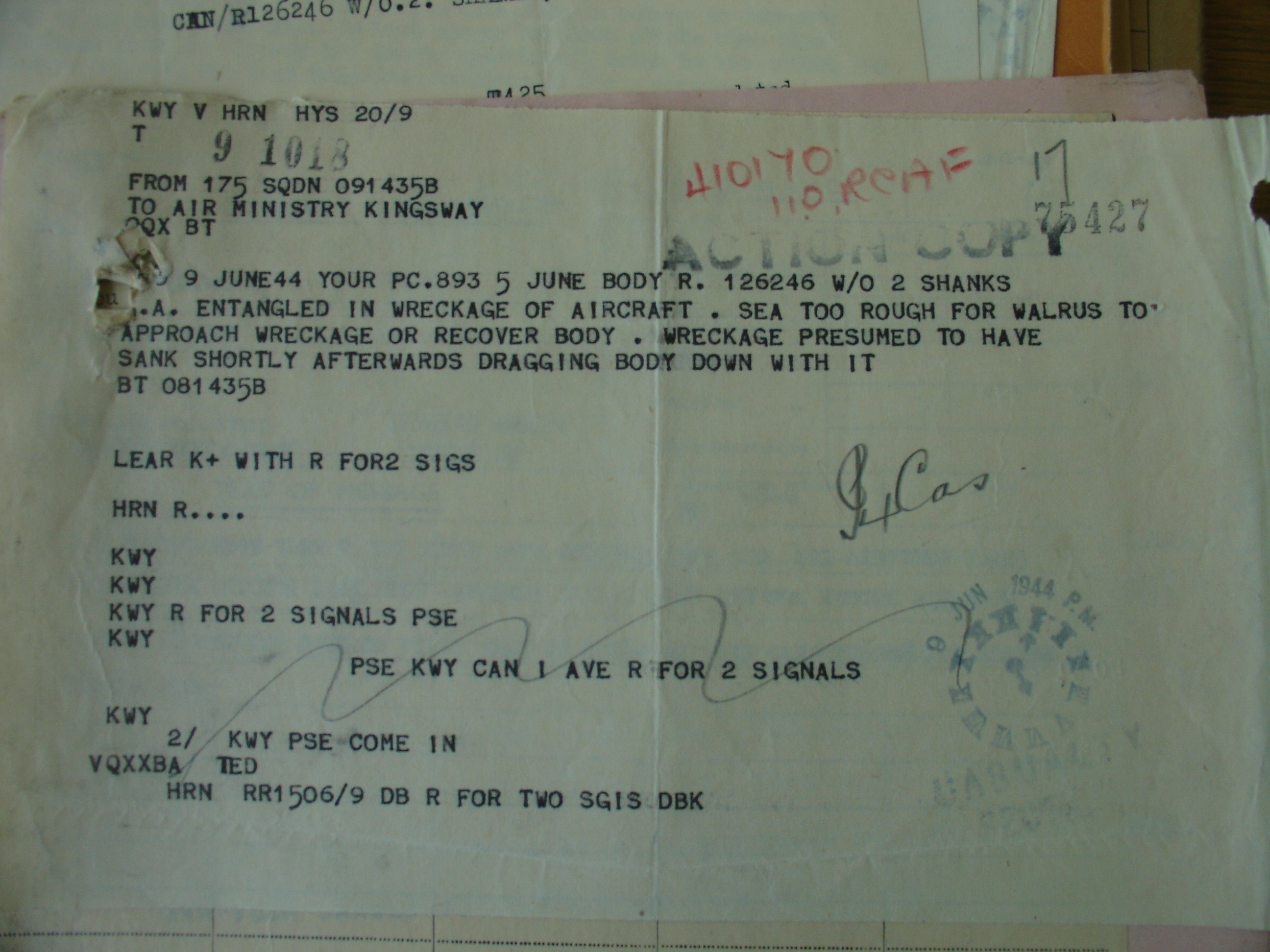 RAF 175 Squadron
George Arnold Shanks was the son of Douglas (employee of CPR) and Nellie Mae (nee Cole) Shanks of Fredericton, NB. He had a brother, Walter Douglas, 31, HMSC Scotian, and a sister, Julia Eileen, 27. He had pneumonia and scarlet fever as a child, plus blood poisoning in 1940.
He was a student prior to enlistment. He liked football, basketball, and hockey. He smoked 10 cigarettes per day, but was 'non-indulgent' with alcohol.
In August 1941: "A young man of average mental ability. A little irresolute in his reactions, pleasant in his disposition, keen to be a pilot. Satisfactory training material." He was evaluated in February 1942: "This candidate is of normal intelligence. He appears to be nervous and high strung and inspires no confidence. He is a nail biter and seems to be unable to keep interested in anything. Physically, he is fit, although his 40 mm test is borderline." F/O B. M. Morrow. F/L F. C. Barton wrote, "Borderline physical condition. Underweight, nervous type. Limited mental capacity." He stood 5' 8" tall and weighed 120 pounds. He had brown eyes and brown hair.
At 5 ITS, November 23, 1941 - January 16, 1942: 68th in class of 154. "Average athlete. Joined partly for patriotic reasons and because brother in RCAF. Wants to stay in RCAF. Possibly best as WAG, unlikely as Observer, which he does not want. Good character, keen conscientious, hard worker, plucky. Good motivation and spirit."
At 21 EFTS, February 1, 1942 to March 27, 1943: "Very young and we believe he will improve with age." GIS: 34 out of 37 in class. "Another problem child. Mind was everywhere but on work. Hell of a job getting him to settle down."
At 9 SFTS, April 12, 1942 - August 2, 1942: Link Trainer: 61%. "Slight flying inaccuracies. Very irregular, has to be watched and coached along. Very careless of dress, regulations, manner and general attitude in flight, needed constant supervision. Very different to instruct due to his slap-happy attitude. Tends to be sloppy in all respects."
He was absented without leave on August 3, 1942 in Halifax, and reprimanded, being absent for 22 hours 1 minute. Three additional times, he was "certified no entry," in the UK.
He arrived in the UK in August 1942, and was sent to 3 PRC the next day. He was at 5 (P) AFU August 29, 1942, then at 55 OTU October 13, 1942.
He was sent to 175 Squadron on January 10, 1943.
At 55 OTU: May 1943: "A good average pilot, reliable nature and very conscientious at all times. Will definitely improve with further experience."
On September 25, 1943, Shanks was involved in an accident in Typhoon 1B JP584, carrying out a daytime operational rhubarb from 121 Airfield, Lydd. He was not injured when he overshot on landing and ran off the end of the runway onto rough ground, damaging the aircraft. There was no wind, which increased possibilities of an overshot. "This NCO is an extremely keen and generally reliable pilot." Error of judgement was assessed. "This pilot is very enthusiastic and a very good pilot. He has been seen by me [C. S. Morice, W.C, 121 Airfield] in the presence of his Squadron Commander and reproved for his accident."
On October 26, 1943, at approximately 1545 hours, in the middle of the English Channel, Typhoon 1B JP740 crashed, piloted by F/S Shanks. He was on an operational day rhubarb flight. F/O Conroy reported, "I took off as leader of a section of four aircraft on a rhubarb operation. As the weather over the French coast was unsuitable, I turned the section to starboard and flew on a magnetic course for 10 minutes, turned about and flew on 070 degrees M for 6 minutes. I then flew north after 15 minutes. I looked behind a Ref 4 (F/S Shanks) who suddenly started a steep climb from sea level, stalled at approximately 500 feet and dived vertically towards the sea. I last saw him at about 50 feet going straight down." W/O Rosser reported, "I turned my RT on transmit, having joined with Numbers 1 and 2 on seeing Shanks suddenly climb at an angle of about 60 degrees. I called out, "Are you ok, Shanks?" At this moment I lost sight of his aircraft so I started a right turn and then noticed flames on the water. I began to orbit the wreckage and transmit." W/O Moran added, "Shanks jettisoned his tanks 500 feet just before diving."
Conclusions: "There is no evidence of technical failure. Accident appears to have been due to a stall after a steep climb. It appears that the engine cut, through shortage of fuel, and pilot pulled up in steep climb. In my opinion, pilot ran out on first auxiliary tank and climbing too steeply stalled aircraft before engine picked up on new tank." M. R. Ingle Finch, October 29, 1943.
LINKS: