George Carson Whitmore J15843
February 8, 1919 - March 6, 1943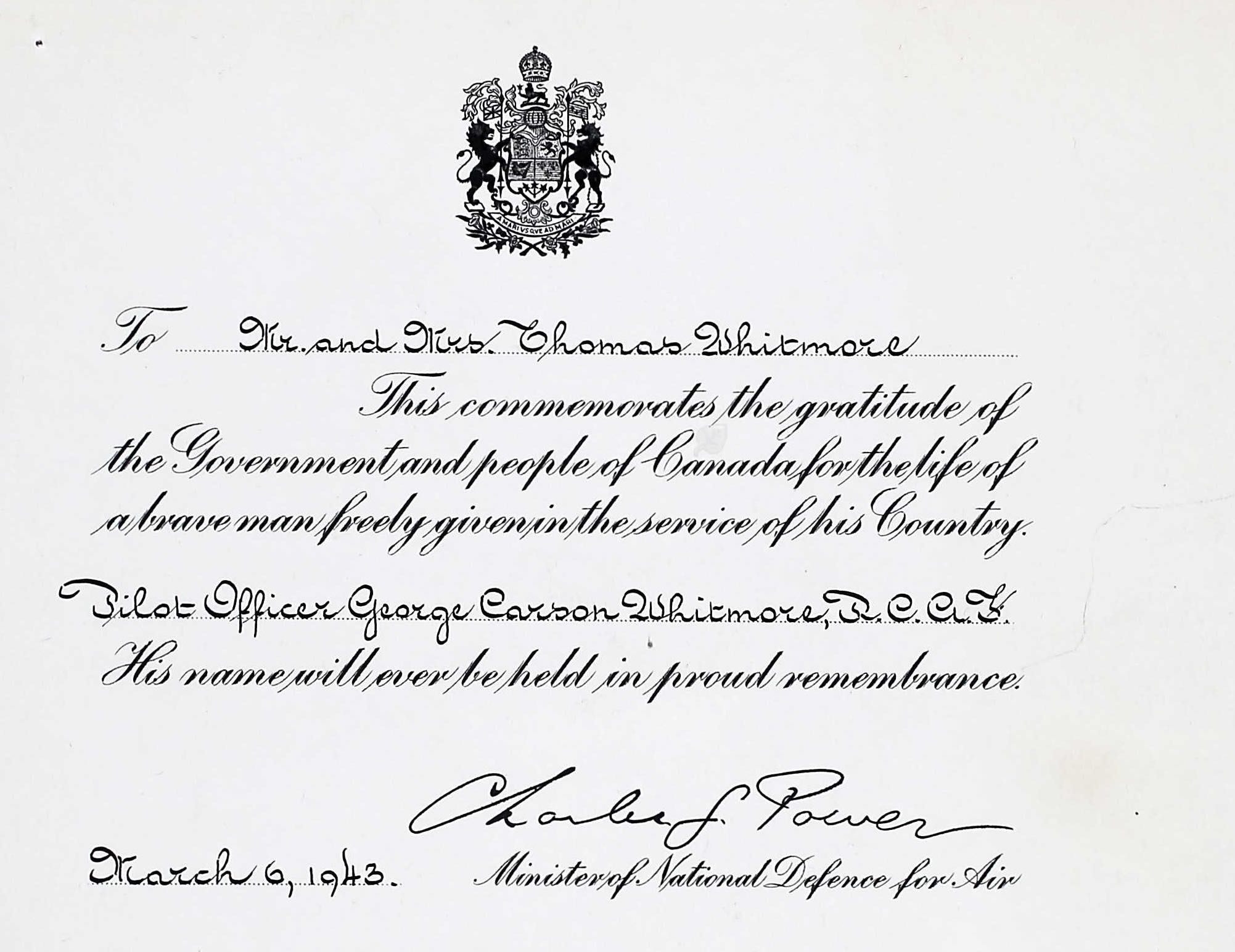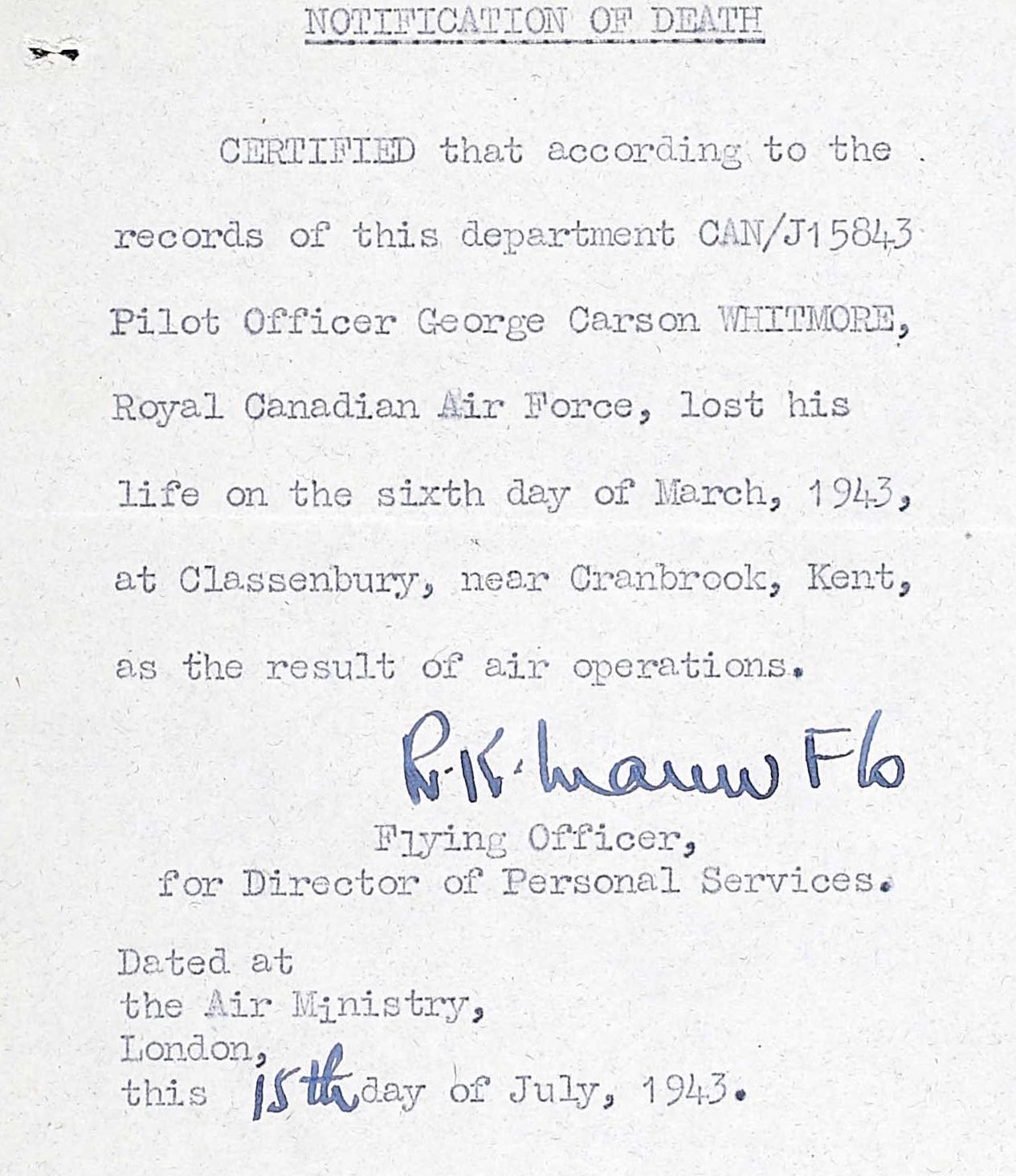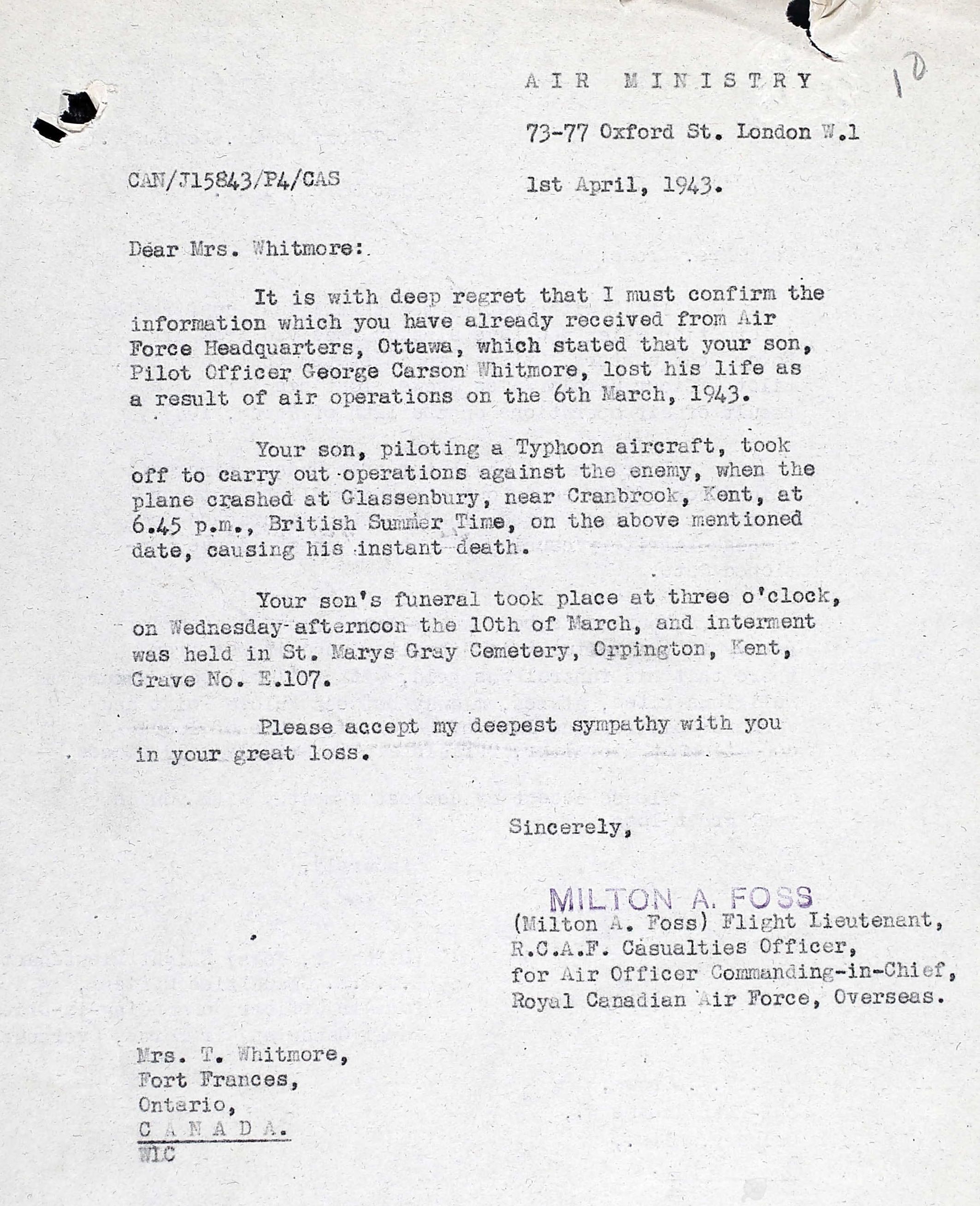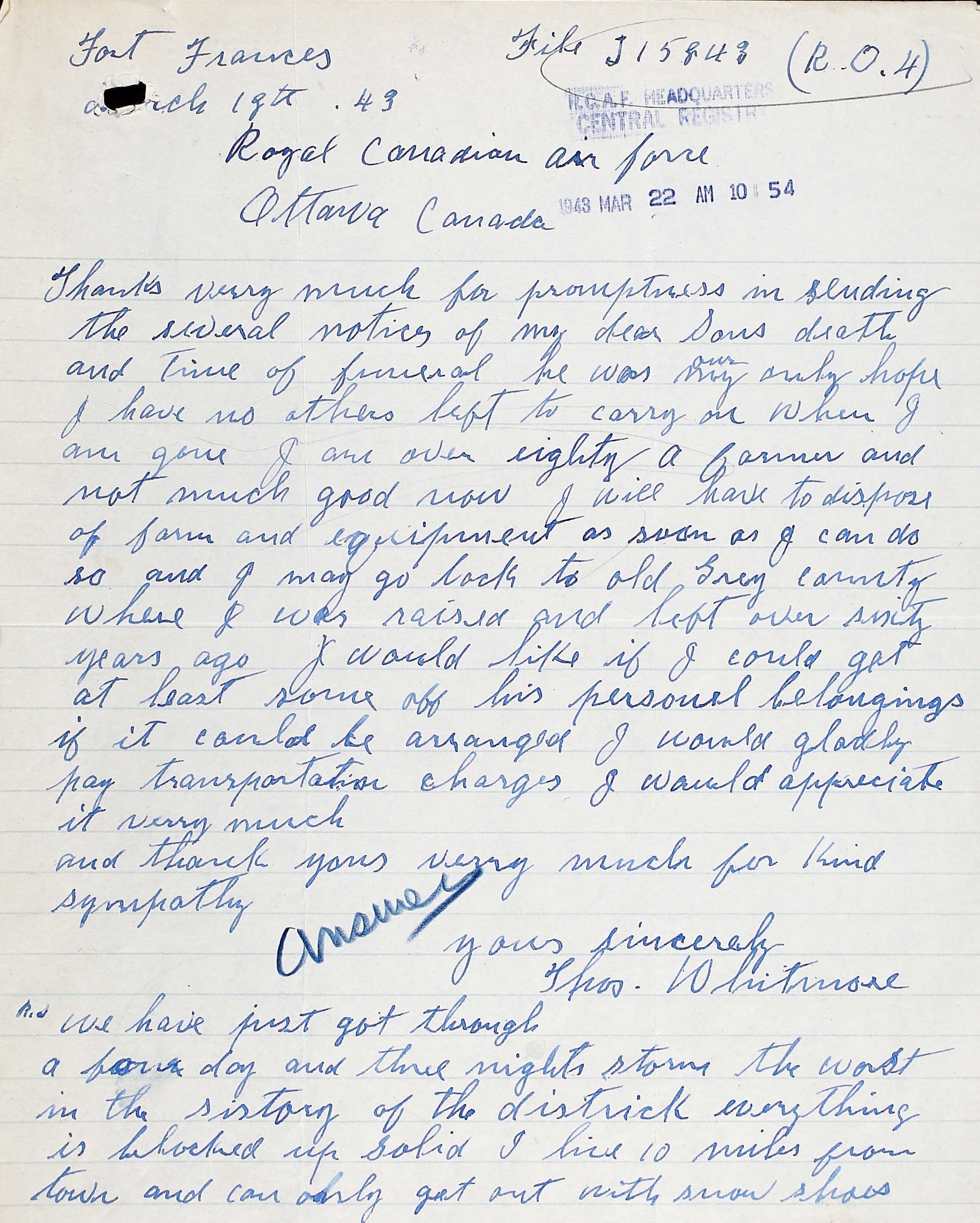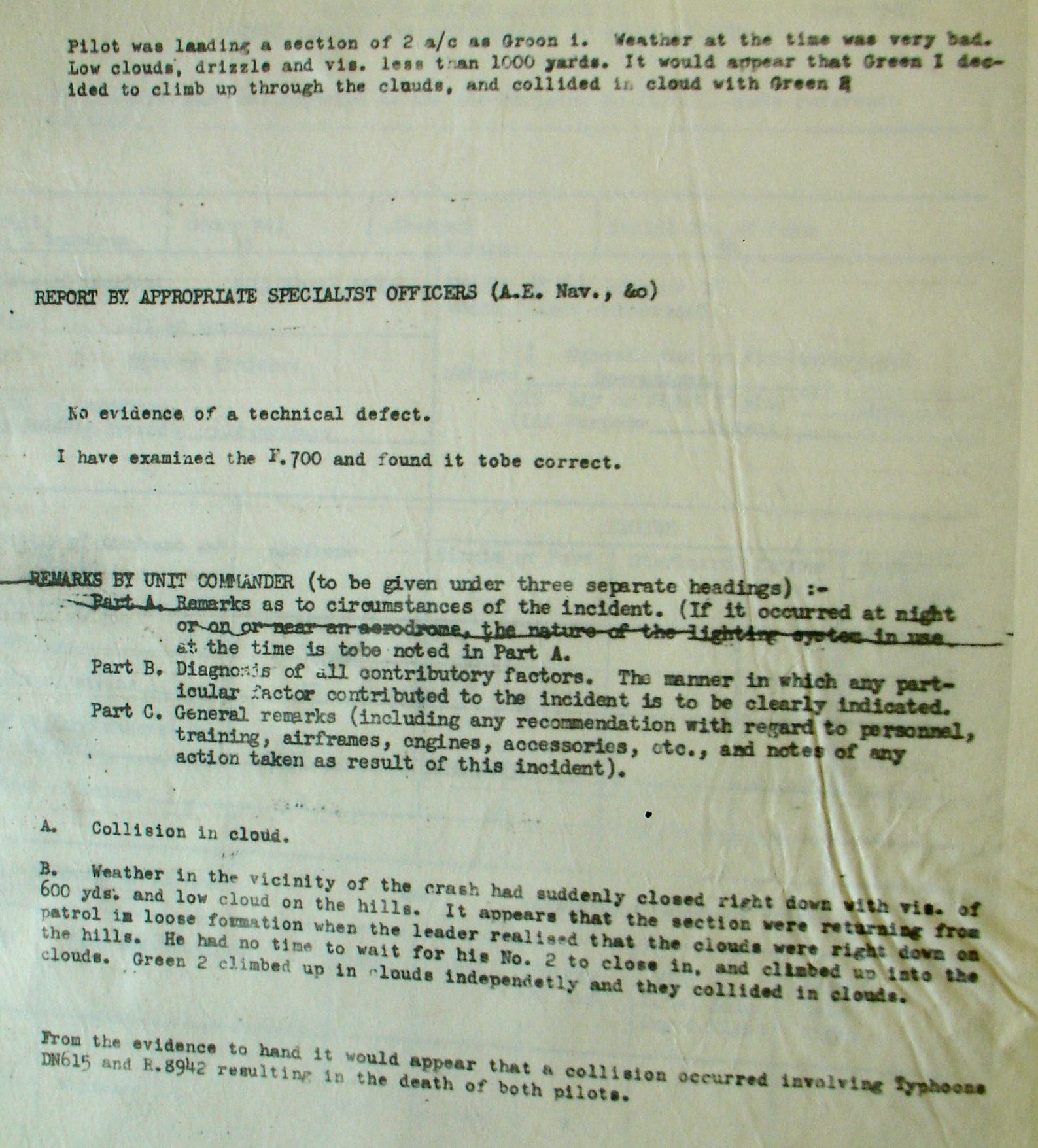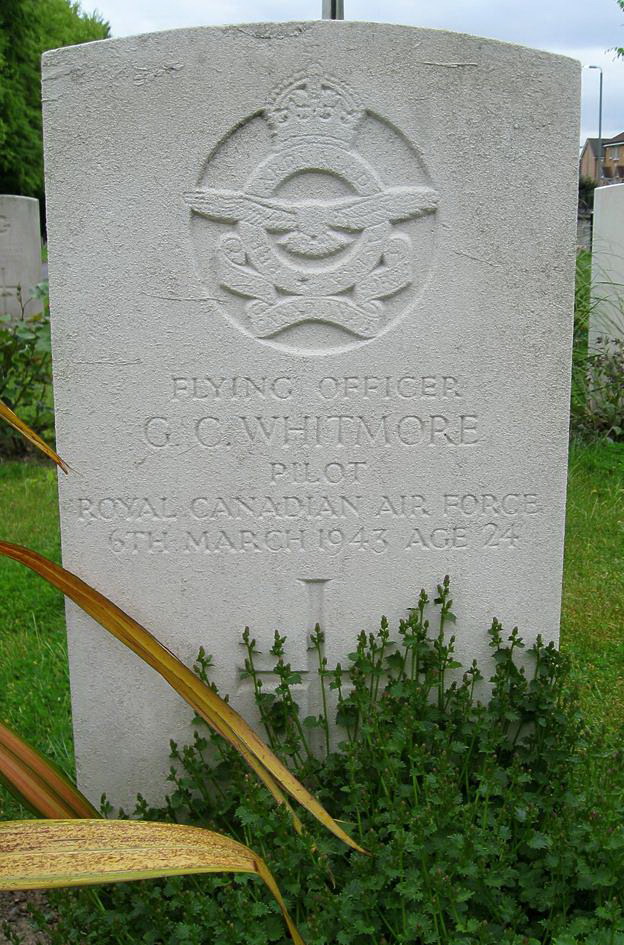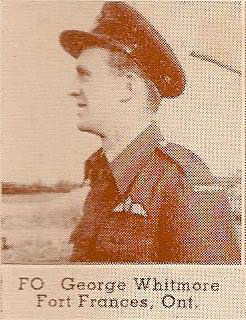 RAF 1 Squadron
George Carson Whitmore was born in International Falls, Minnesota, across the border from Fort Frances, Ontario, where George was raised. [He was considered American on some of the paperwork in his files.] He was the only child of Thomas and Minnie Louisa (nee Hanna) Whitmore of Fort Frances, Ontario. Mrs. Whitmore went to the hospital in International Falls to be confined as she was 44 when her son was born. Mr. Whitmore was 58.
Mr. Whitmore was a farmer, plus a reeve for at least seventeen years at Fort Frances. George assisted his father, as well as drove a truck for three years, and did some lumbering in his spare time. Whitmore had been living at Val Cartier Camp, Quebec at the time he applied to the RCAF in November 1940. He listed many sports that he enjoyed including softball, fastball and swimming, plus skating. He liked to read. He stood 6' 2" and weighed 160 pounds. He had gray eyes and light blond hair. He smoked 8 - 10 cigarettes per day and drank alcohol occasionally. By January 1941: "Fine athletic type. Neat appearance and good education. Polite. Anxious to transfer to our service." He had been 3 months as a private in the 17th Forestry Corps. In June 1941: "Manual type of work until enlistment. Parents did not like to see him leave home. Wants to be pilot. Is nervous under examination, referred to his nerves several times during examination. Average intelligence and education. Physically fit for piloting duties."
At 3 ITS: June 1941: 14th in class of 264. "Dependable. Enjoys hard work. Methodical, modest. Good average type."
At 4 EFTS: August 1941: "This pupil was quick to learn. Reactions good, aerobatics above average. Becomes a little careless re: general flying unless checked. Should make a good fighter pilot." GIS: 8th out of class of 30. 85.2%. "Slightly erratic in conduct due to bad temper, but possessed of potential good qualities. Responsibilities could bring about stability."
At 9 SFTS: He was granted his Wings on October 24 1941. "Flying is average. Aerobatics are good. Makes some mistakes and is always looking for an excuse." GIS: "Average student. Conscientious, but slow worker. Conduct and deportment good." He was 43rd in his class of 61. He was recommended for Bomber Squadron.
He was sent overseas on October 28, 1941 and arrived at the RAF Trainees' Pool on November 19, 1941. He was at 3 PRC on December 7, 1941 and then to 56 OTU. He was posted to No. 1 Squadron on March 24, 1942.
On March 6, 1943, P/O George Carson Whitmore lost his life when he was piloting a Typhoon [DN615] on operations against the enemy when the plane crashed at Glassenbury, near Cranbrook, Kent, at 6:45 pm, causing instant death. The Court of Inquiry stated that "Pilot was landing in a section of 2 a/c as Green 1. Weather at the time was very bad. Low clouds, drizzle and viz less than 1000 yards. It would appear that Green1 decided to climb up through the clouds and collided in cloud with Green 2. Typhoons DN615 and R8942 were the airplanes involved. Sgt. H. R. Fraser, RAAF, was the pilot of the second Typhoon. Whitmore's funeral took place at 3 pm, Wednesday, the 10th of March and the internment was held in St. Marys Gray Cemetery, Orpington, Kent.
Mrs. Whitmore wrote on March 1, 1945: "Carson was our only child. He used to send me forty dollars a month assigned pay. I am seventy this month. Mr. Whitmore is or will be 84 in June. Losing our son upset all our plans as well as almost depriving my husband of his reason."
Mr. Whitmore wrote a letter dated March 18th, 1943. "Thanks very much for promptness in sending the several notices of my dear son's death and time of funeral. He was our only hope. I have no others left to carry on when I am gone. I am over 80, a farmer, and not much good now. I will have to dispose of farm and equipment as soon as I can do so and I may go back to Old Grey County where I was raised and left over sixty years ago. I would like if I could get at least some of his personal belongings, if it could be arranged. I would gladly pay transportation charges. I would appreciate it very much and thank you very much for kind sympathy. PS We just got through a four day and three night storm. The worst in history of the district. Everything is blocked up solid. I live ten miles from town and can only get out with snow shoes."
On October 16, 1945, Mrs. Whitmore wrote another letter. She was Mrs. Reed by this time, possibly having remarried due to the death of her husband. "I wrote to you in March this year asking if you could assist me in having a photograph of the grave of J15843 P/O George Carson Whitmore. His burial place is St. Mary's Gray, Opington, Kent. I have had no reply up till now so could you advise me on this matter?" She wondered if Sergeant Pilot Fraser, Australian Air Force, was buried next to her son, and came down in the same place.
LINKS: