Gordon Frederick Humphrey J89694
January 23, 1921 - August 17, 1944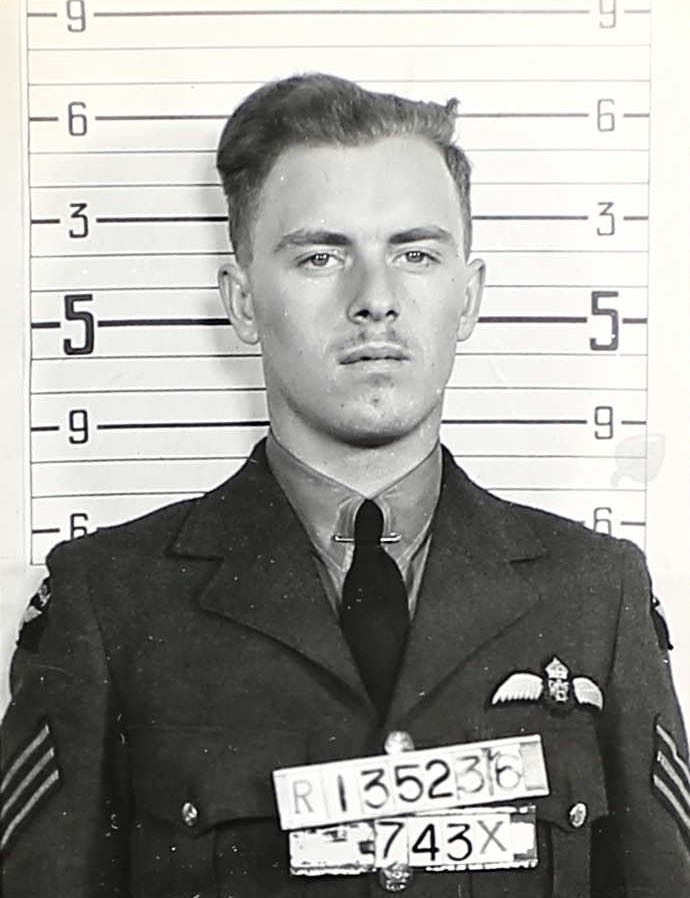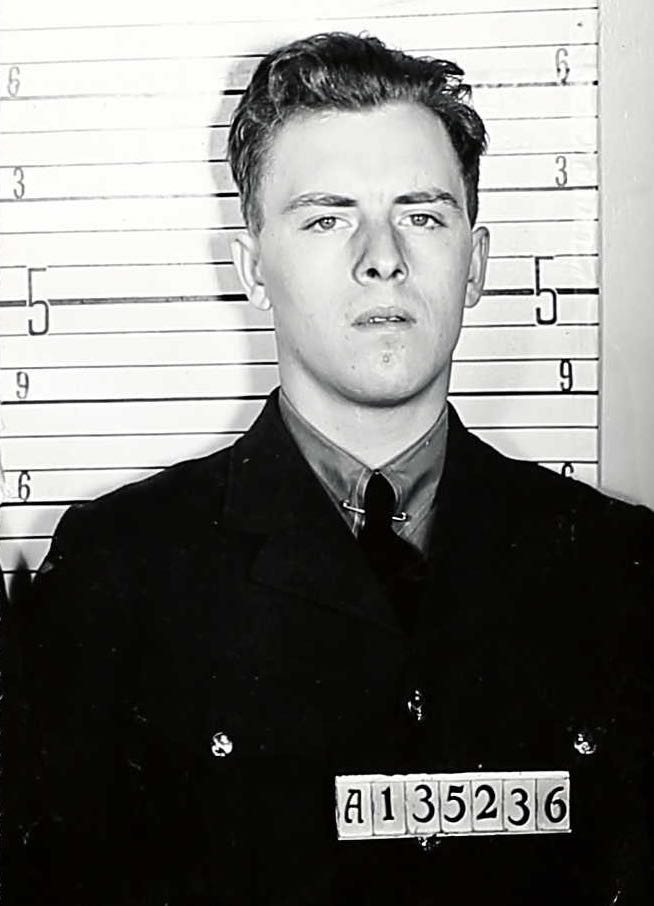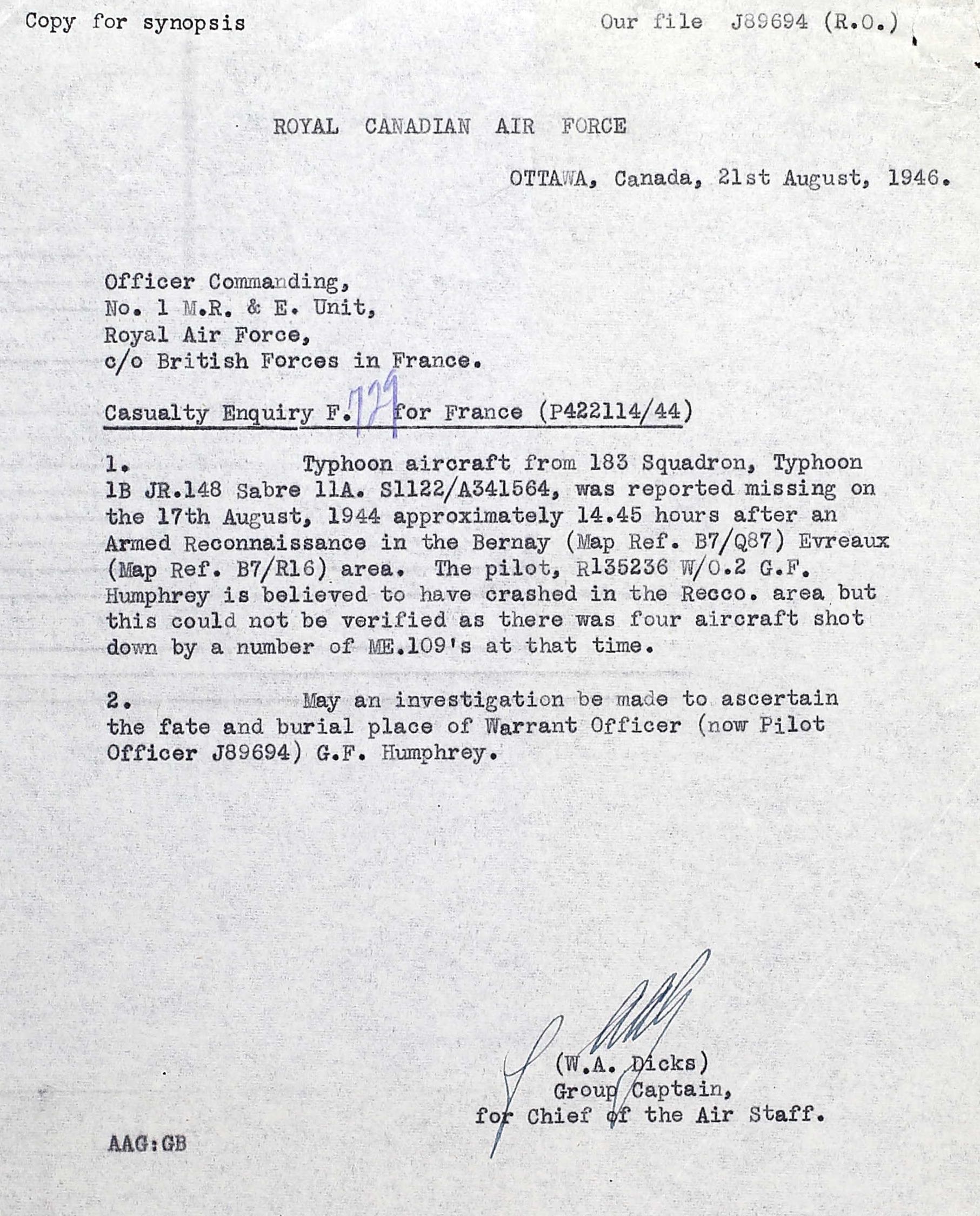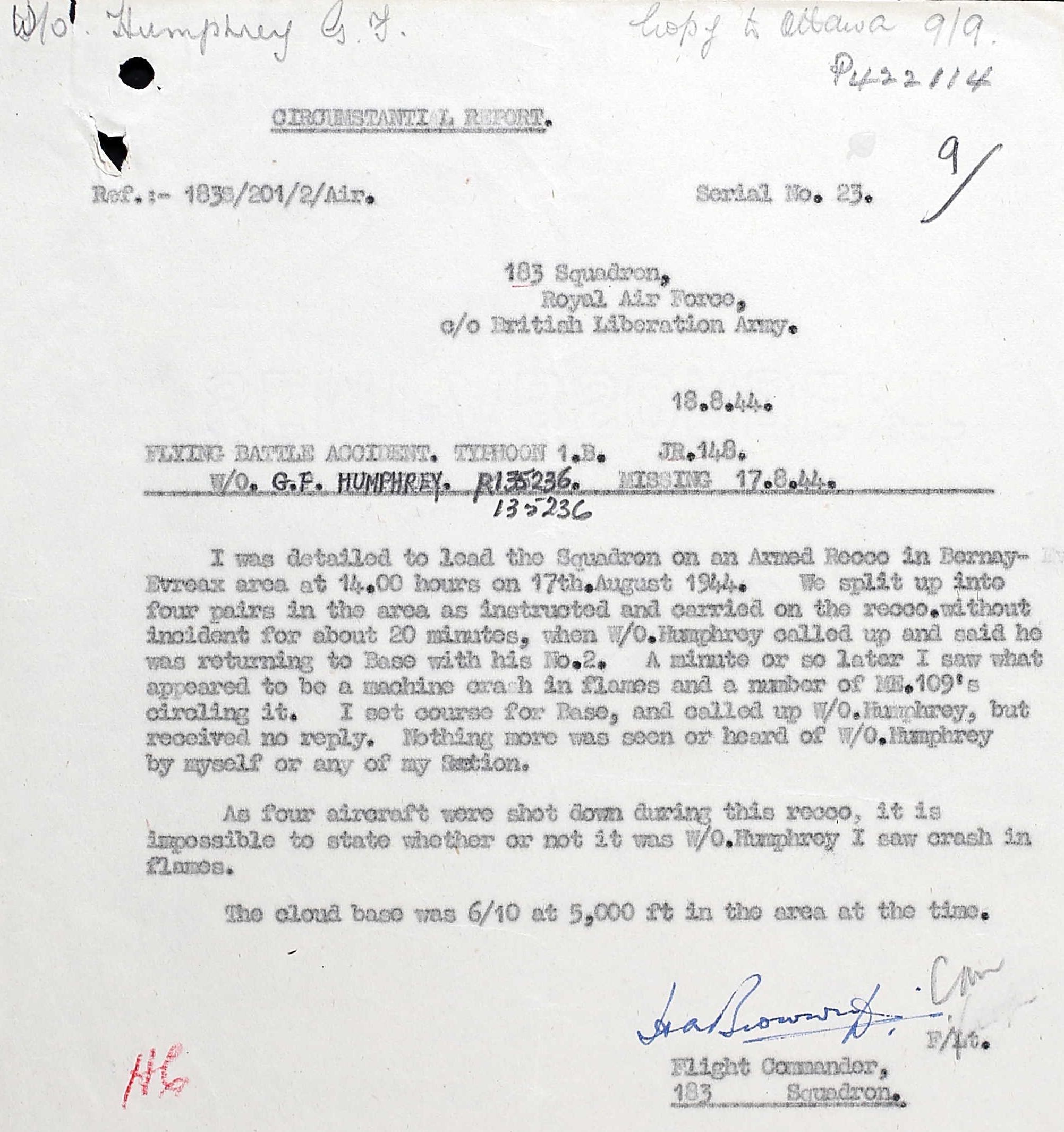 RAF 183 Squadron
Gordon Frederick 'Fred' Humphrey, born in Smiths Falls, Ontario, was the only son of Francis Gordon and Helen Annie Humphrey of Valleyfield, Quebec and later Hamilton Beach, Hamilton, Ontario. He had one older sister, Mrs. Ethel Price. The family was Anglican.
He was a clerk stenographer at Canada Packers in Toronto prior to enlisting with the RCAF. He liked football and was halfback in high school. He smoked 25 cigarettes a week. He was 5' 5" tall weighing 136 pounds. He had blue eyes, a medium complexion and fair hair. In October 1941, one of his references, Alex B. Currie, Assistant Professor of Education at McGill University wrote: "Tests show Fred Humphrey to be an unusually bright boy; score 46, that is 21 points aboe critical score for pilots."
In October 1941, he was assessed: "Clean cut and intelligent. Looks older than he is. Level headed, fit, co-operative, extremely anxious to fly...very quiet, non-assertive lad. Quite intelligent; control of emotions: fair. Coordination probably excellent. Short in legs...average type of applicant."
Fred Humphrey was at No. 6 ITS: "A determined, energetic hard worker. Solid stock. Second aircrew recommendation: Air Gunner (own choice)."
At No. 9 EFTS: "Energetic student of high average ability in both flying and ground school. Instrument flying will need checking. Good service pilot material. Conduct and deportment good."
At No. 8 SFTS: Flying ability low average. Weak in co-ordination. Academically good averate. Link Trainer: 83."
Humphrey was sent overseas on December 11, 1942, arriving in the UK on December 18, 1942. He was at 3 PRC the next day. He was at 17 (P) AFU on April 13, 1943 and then to 59 OTU June 8, 1943 [A good average pilot who has experienced no difficulty in flying the Hurricane. His formation is good and steady in all positions. His medium circuits and landings were satisfactory and his instrument flying good. His navigation is also good, and he shows an aptitude for low-level bombing. He is a keen and capable NCO who should make officer after a little squadron experience.] He was sent to 1 TEU on December 27, 1943. By March 1, 1944, he was at No. 4 TEU. He was sent to84 GSU at the end of March. He was posted to 183 Squadron April 8, 1944.
On August 18, 1944, Flight Commander H. A. Brown, 183 Squadron, recorded his observations of Humphrey's death. "I was detailed to lead the Squadron on an Armed Recco in Bernay-Evreax area at 1400 hours on the 17th of August, 1944. We split up into four pairs in the area as instructed and carried on the recco without incident for about 20 minutes, when W/O Humphrey called up and said he was returning to Base with his No. 2. A minute or so later, I saw what appeared to be a machine crash in flames and a number of ME109s circling it. I set course of Base and called up W/O Humphrey, but received no reply. Nothing more was seen or heard of W/O Humphrey by myself or any of my Section. As four aicraft were shot down during the recco, it is impossible to state whether or not it was W/O Humphrey I saw crash in flames. The cloud base was 6/10 at 5000 feet in the area at the time." Humphrey had been with the Squadron just over four months.
F/L Geoffrey Campbell Brown, 128455 RAFVR, aged 22, was also killed. W/O W.A.J. Carragher, RCAF became a POW at No. 7078 Stalag Luft 7, and F/S R. Gibson evaded capture.
On September 18, 1944, Mr. Humphrey wrote to The Secretary, Department of National Defense for Air in Ottawa: "In March of 1944, I received a telegram from [my son] from Overseas announcing his promotion to W/O2, and in a letter dated May 19, he writes as follows, "I now am a W/O1. We W/O1's wear an officer's uniform but with an officer's field service cap (wedge cap of the same cloth as officers' uniforms) and a coat of arms on the sleeve. Fred was never a newsy boy and I cannot understand why he would write this to me , if it was not so. He had been looking forward to receiving his Commission as Pilot Officer for months, according to information given him by his CO."
On August 2, 1945, Mrs. Humphrey wrote, "Any uniforms, clothing and personal equipment I will very gladly donat to the Officers Kit Replacement Bureau, London, England, where he wrote me of July 1944 (one month before he was reported missing). He mentioned having a bank account in England of $2500 but did not say what bank. Could it be located? His personal effects, any that can be sent home to me, I would dearly love to have. Those, he said, were in Service Custody in England when he left there for France. I would suggest trying a branch of the Bank of Monteal in England, for enquiries as to his account, as he used that bank while in Canada."
In August 1946, a memo was written to the Officer Commanding No. 1 M.R. & E. Unit: "Typhoon aircraft from 183 Squadron Typhoon 1B JR.148 Sabre 11A. S1122/A341564, was reported missing on the 17th of August 1944 approximately 14.45 hours after an armed reconnaissance in the Bernay Evreaux area. The pilot, R135236 W/)2 G. F. Humphrey is believed to have crashed in the recco area but this could not be verified as there was four aircraft shot down by a number of ME109s at that time. May an investigation be made to ascertain the fate and burial place of Warrant Officer (now Pilot Officer J89694) G. F> Humphrey."
On a post-presumption memorandum dated September 15, 1948, relating to Typhoon JR148, piloted by P/O G. F. Humphrey: "Nothing further has been heard of this aircraft or pilot since take off on an armed recce in the Bernay Evreaux area. Subsequently, this case must be closed as insoluble. Case closed." Humphrey's name is on the Runnymede Memorial.
LINKS: