Henry Rupert Dunstan Patton J18535
October 9, 1920 - February 1, 1944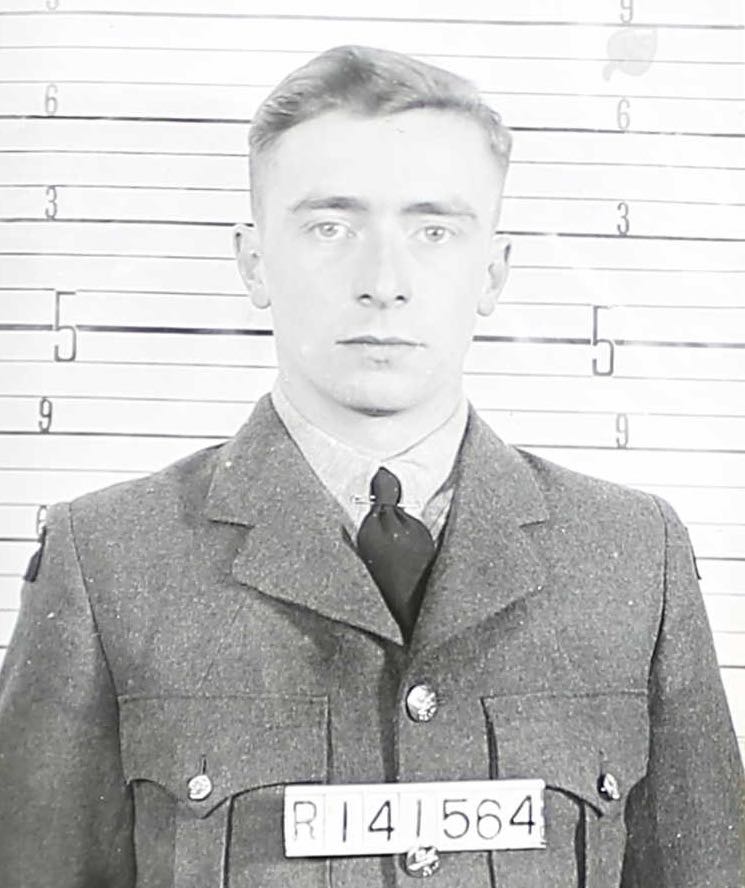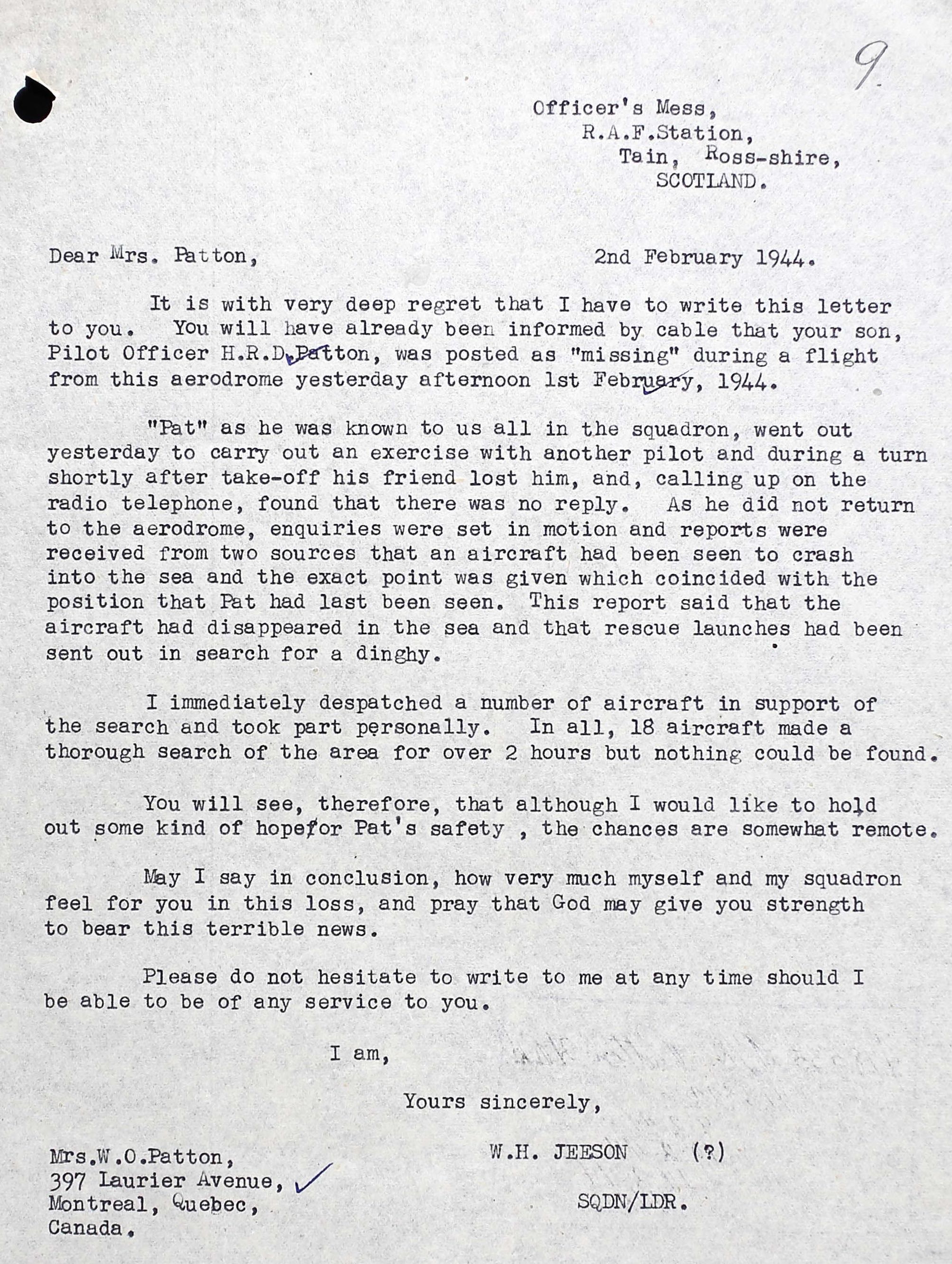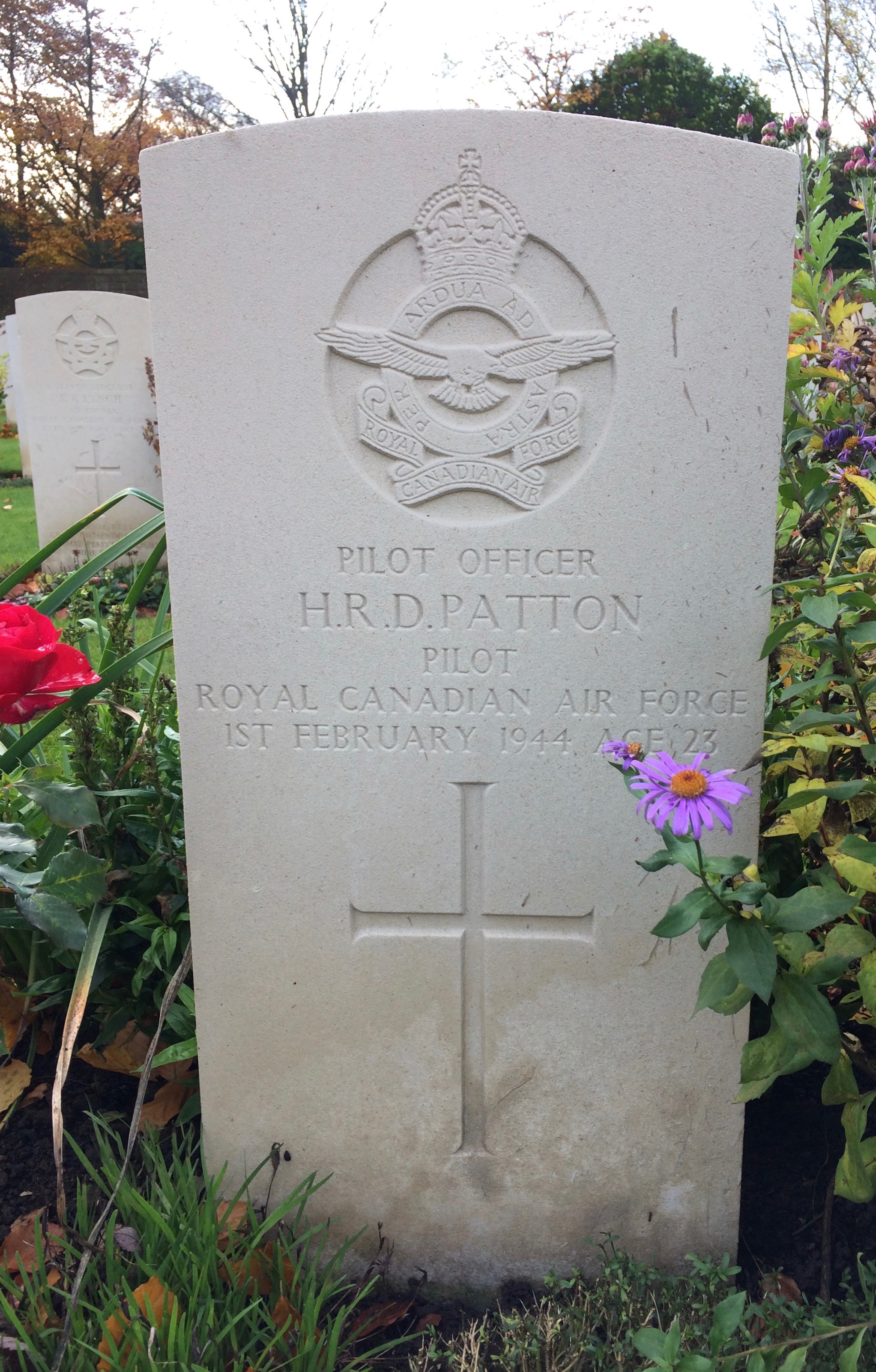 RAF 186 Squadron
Henry Rupert Dunstan Patton was the son of William Owen (electrician) and Cecilia (nee Kerrigan) Patton, of Rosemere, Quebec. He was known as Dunstan. He had one surviving brother, William Gerald, 33. Two sisters and two brothers died of influenza in 1920, as teenagers. The family was Roman Catholic.
He was with Loyola COTC as a cadet from July 1940 until August 1941, when he applied to join the RCAF. He was asked to return in three months for a recheck due to pains, to be checked by his own doctor. He stood 5' 7" tall, weighing 133 pounds. He liked mechanical work on radios. He liked tennis, swimming, golf, and skiing. He had worked at the T. Eaton store in sales during the Christmas holidays, 1939 and 1940, then was a clerk with Canadian Indemnity Co. in early 1941 for a short time. He joined John Leckie Ltd. as a stock clerk and salesman until June 1941. He began an electrician apprenticeship in July 1941 with Bedard Gerard Ltd. He also had one year Normal School. He was assessed in March 1941: "Alert, average intelligence. Has a considerable amount of self-confidence and should be able to make aircrew. Prefers to be pilot. Should make a little better than average." After the war, he said he wanted to return to sales.
Patton was sent to No. 2 Manning Depot in Brandon, Manitoba on November 10, 1941 until January 2, 1942.
He was at No. 3 ITS, Victoriaville, February 28, 1942, after being at No. 12 ED, Montreal. "Good worker, serious, responsible, good appearance , bright, alternative recommendation: Observer."
He was at No. 11 EFTS, Cap de la Madelaine, May 1942 until August 1, 1942. "On landings, tend to level off too high. Careless in looking around on airmanship. Aerobatics: control column too far back in loops. Average ability. Did not apply himself seriously, tried to count along on previous knowledge - seemed disinterested in class and careless."
He was sent to No. 13 SFTS, St. Hubert, August 2, 1942 until December 4, 1942, where he received his wings on November 20, 1942. "This student only showed average results. He needs to be pushed at his work. Inclined to be lazy. Only average student pilot. Not recommended for Commission."
From Halifax, NS, he was sent to the RAF Trainees' Pool December 11, 1942.
He was assigned to 186 Squadron on August 14, 1943, after being at 17 (P) AFU, 59 OTU, and RAF Brunton.
At No. 17 AFU, he was asssessed: "An average pilot whose map reading is definitely below the average. He is fit to fly operational types at night without further dual, after a period of day experiences on the type."
At 59 OTU: "A good steady pilot with a fair sense of discipline both on the ground and in the air. He has completed all exercises including night flying and formation quite successfully and should turn out a reasonable type of pilot with a little operational experienced. Classed as average."
Known at Pat to his squadron, he went out on February 1, 1944 about 1600 hours to carry out an exercise with another pilot, W/O R. C. Hayes, and during a turn shortly after take-off, Hayes lost him and calling up on the R/T, found there was no reply. Hayes reported, "I observed him for about 100 degrees of his turn, which seemed to be quite rapid as the aircraft was making considerable vapour trails." He had been flying Typhoon 1B JR335. He did not return to the aerodrome, so enquiries were set in motion and reports were received from two sources that an aircraft had been seen to crash into the sea where he had last been seen. The aircraft disappeared into the sea and rescue launches had been sent out in search of a dinghy. Eighteen aircraft were despatched and made a thorough search of the area for over two hours, but nothing could be found in the sea, Ross-shire, one mile north east of Cromarty. The cause was deemed obscure.
Patton's body was recovered from the sea at Cromarty Firth, Scotland on May 16, 1944. He was identified by his identity discs. He was buried on May 19, 1944 at the Regional Cemetery, Harrogate, Yorkshire, England.
LINKS: