Hollis Clair O'Hanlon R122097
July 8, 1917 - September 22, 2002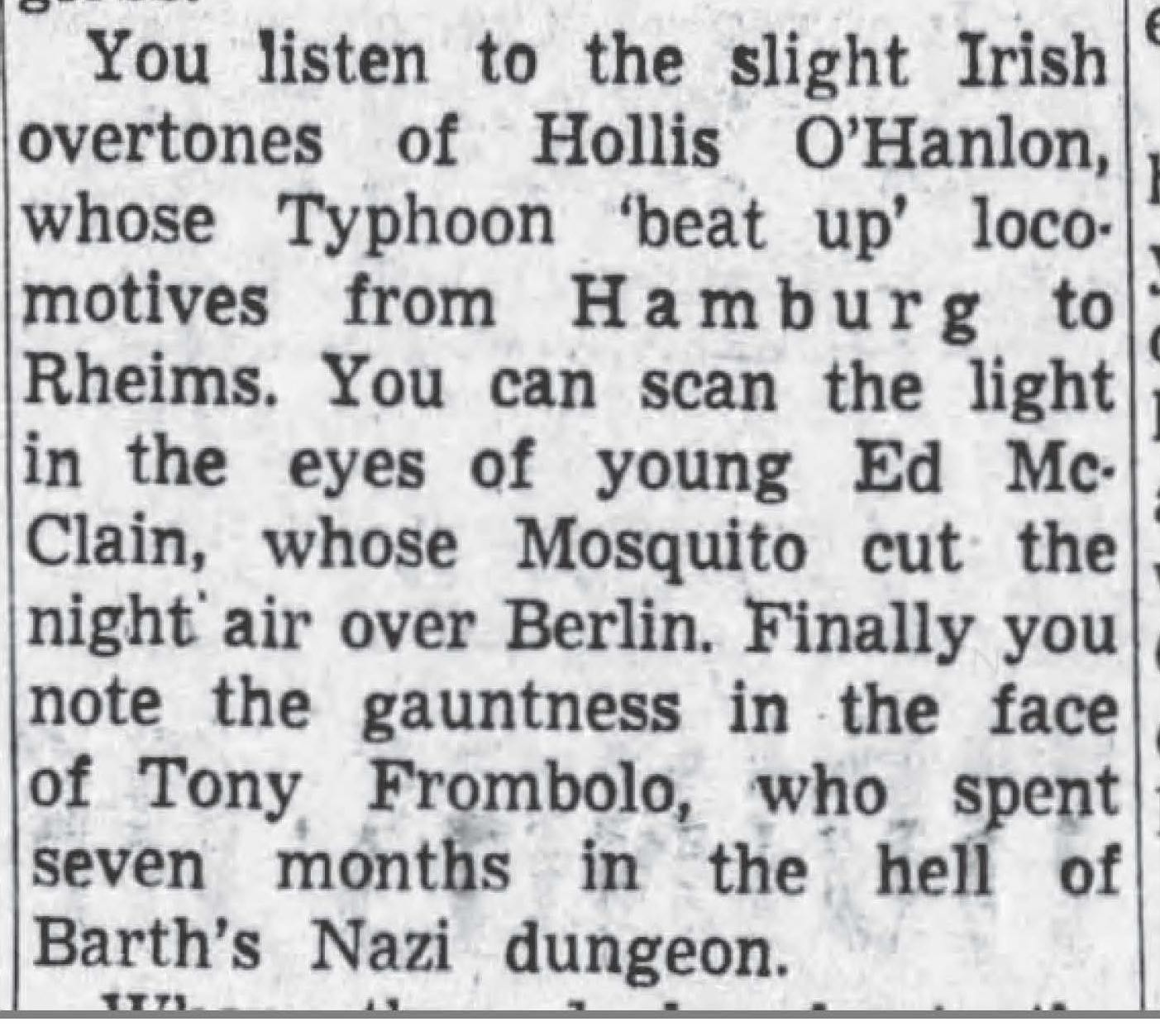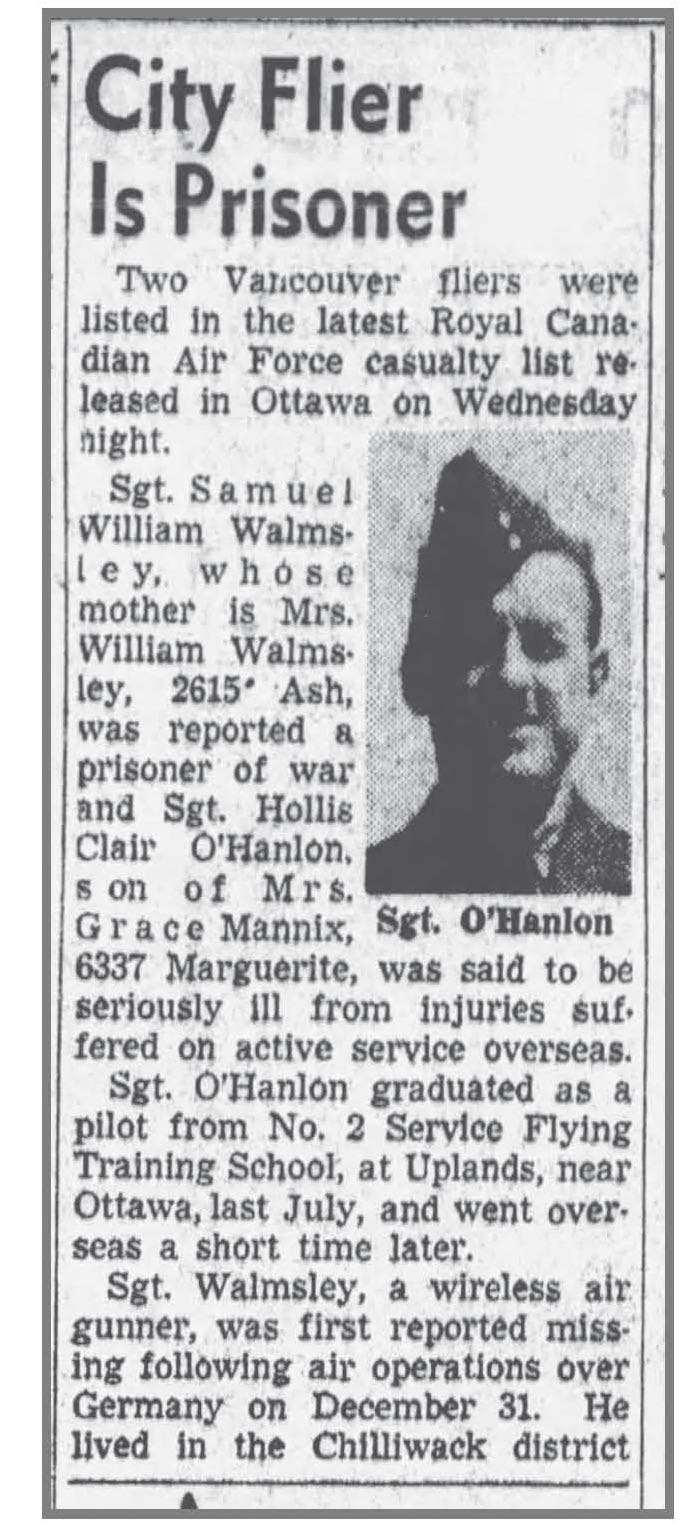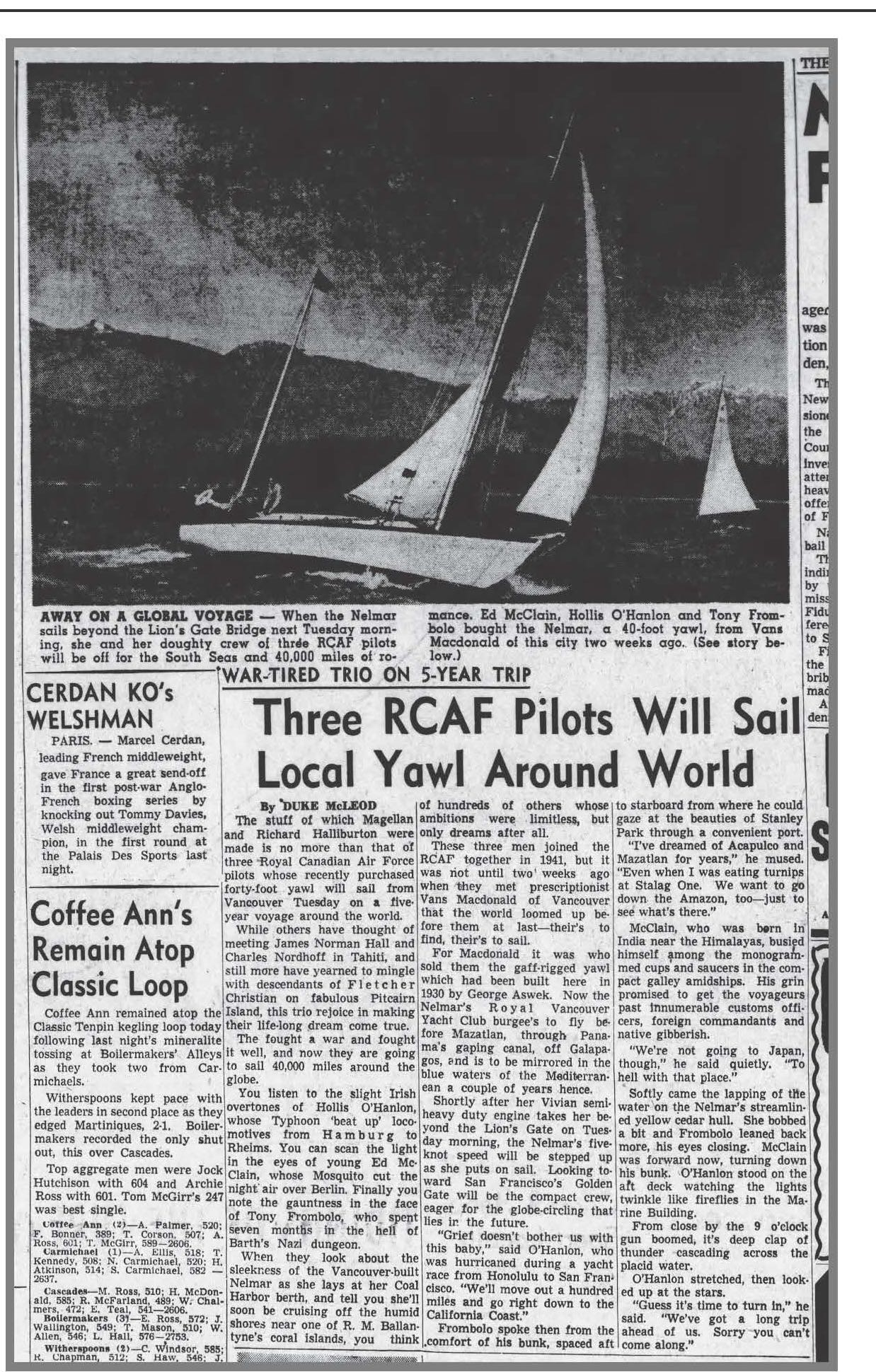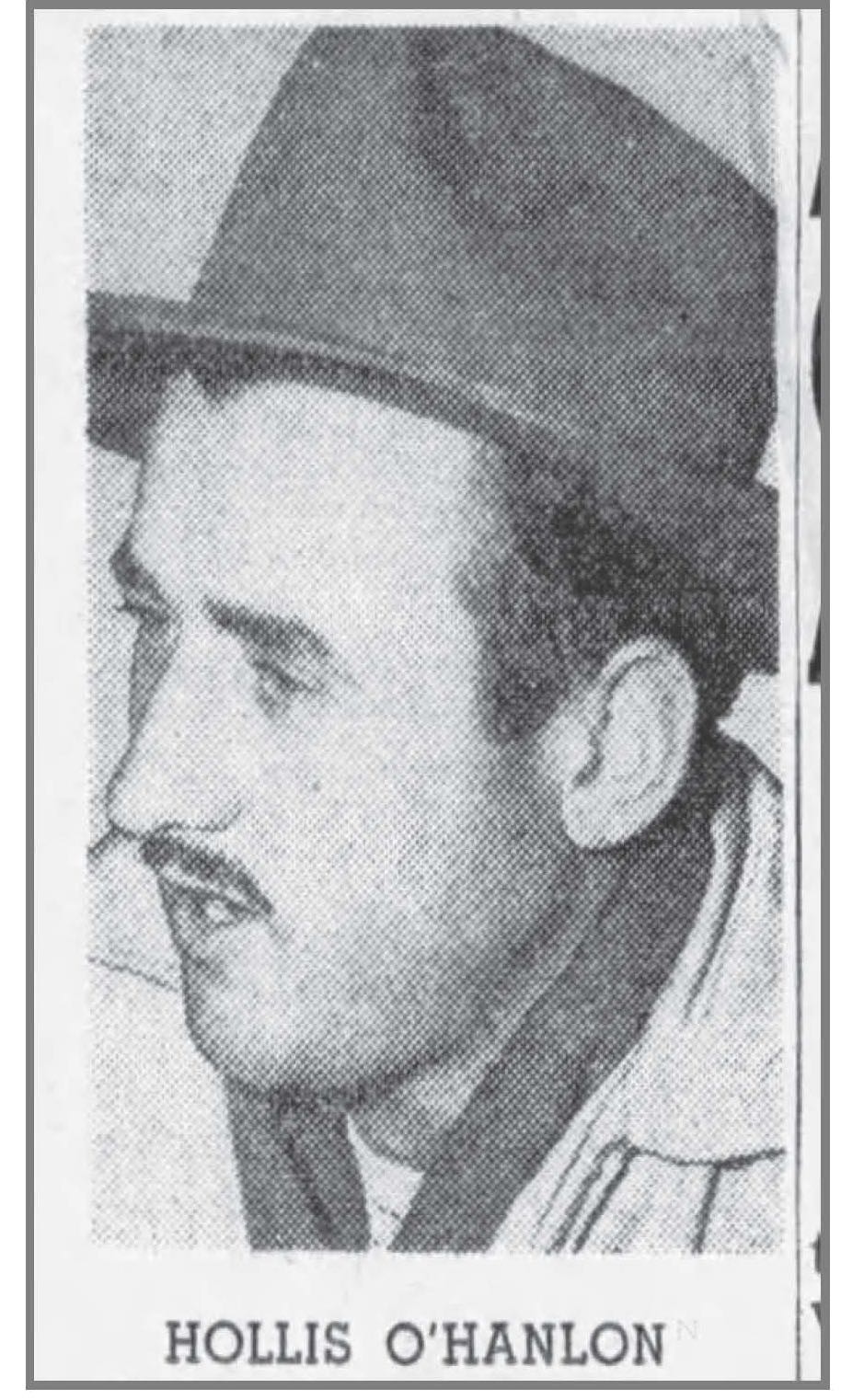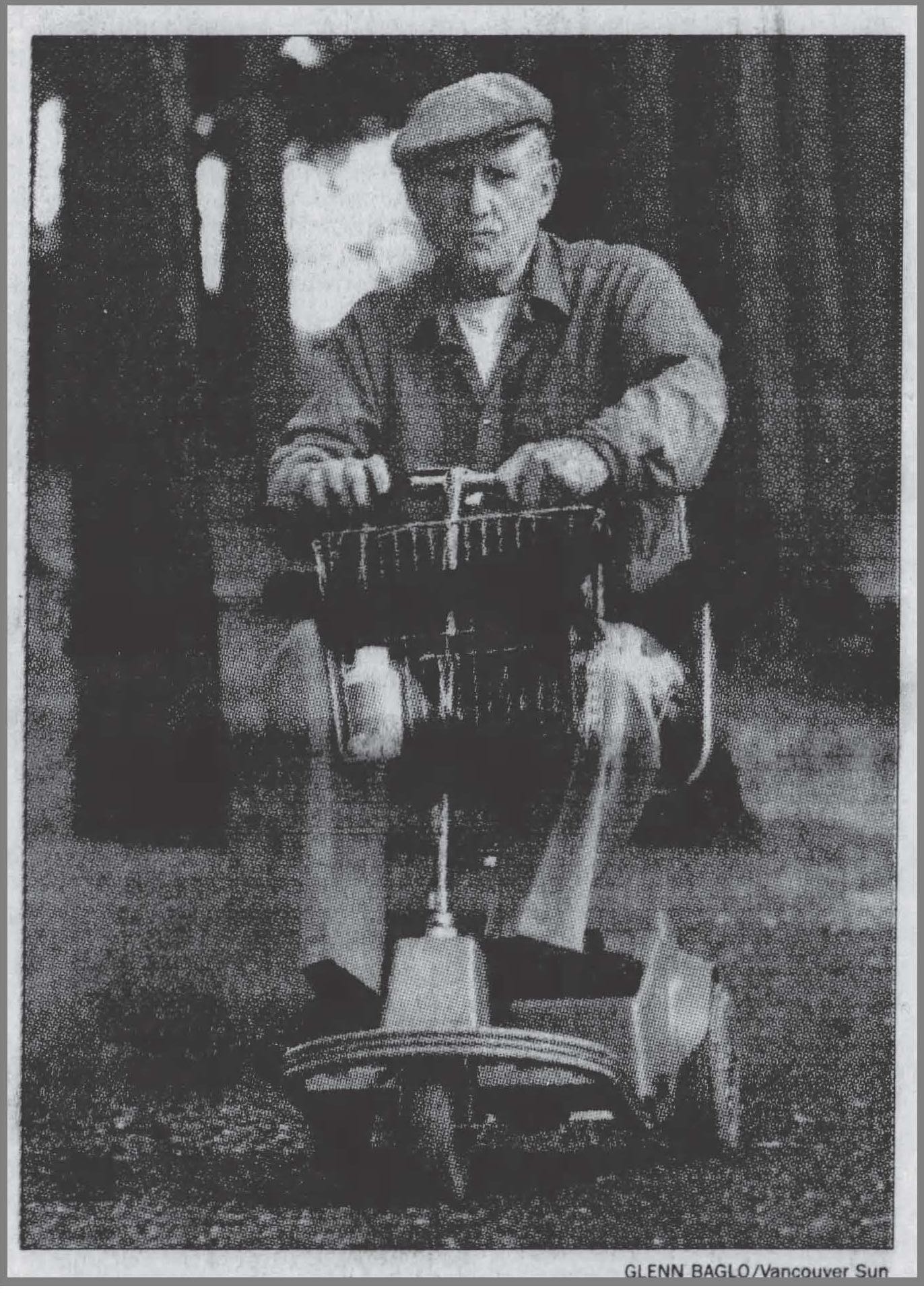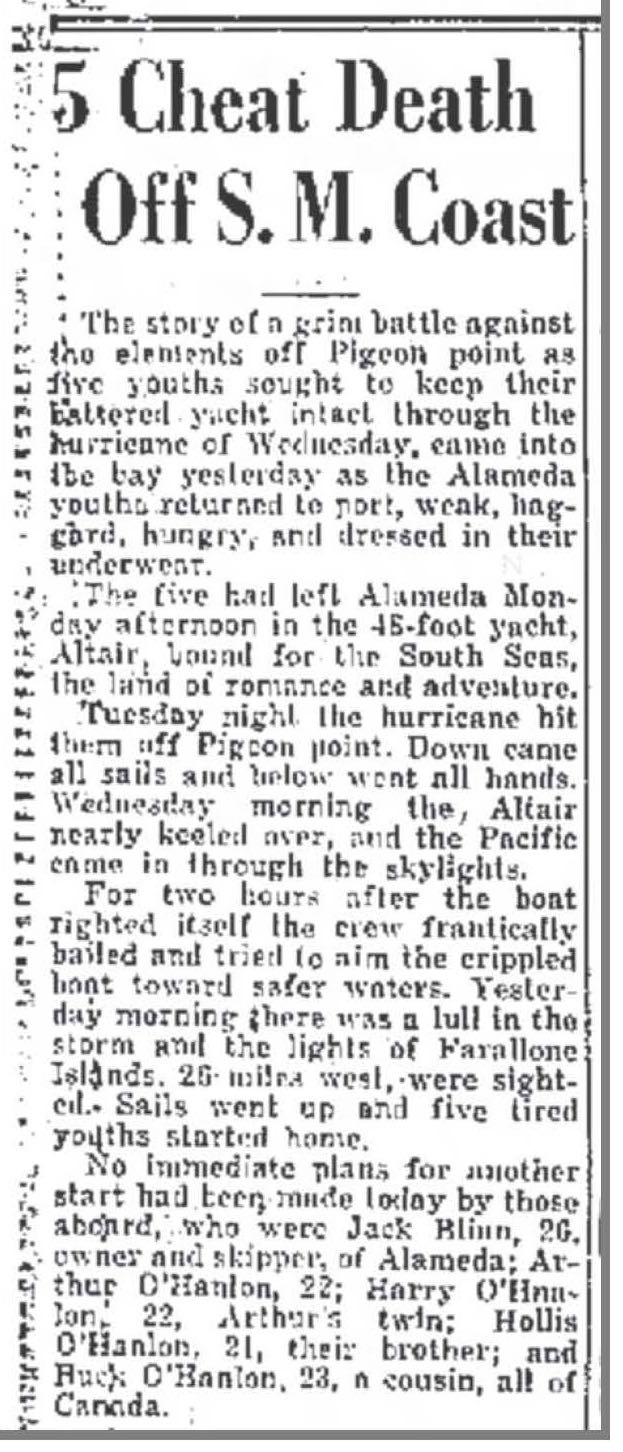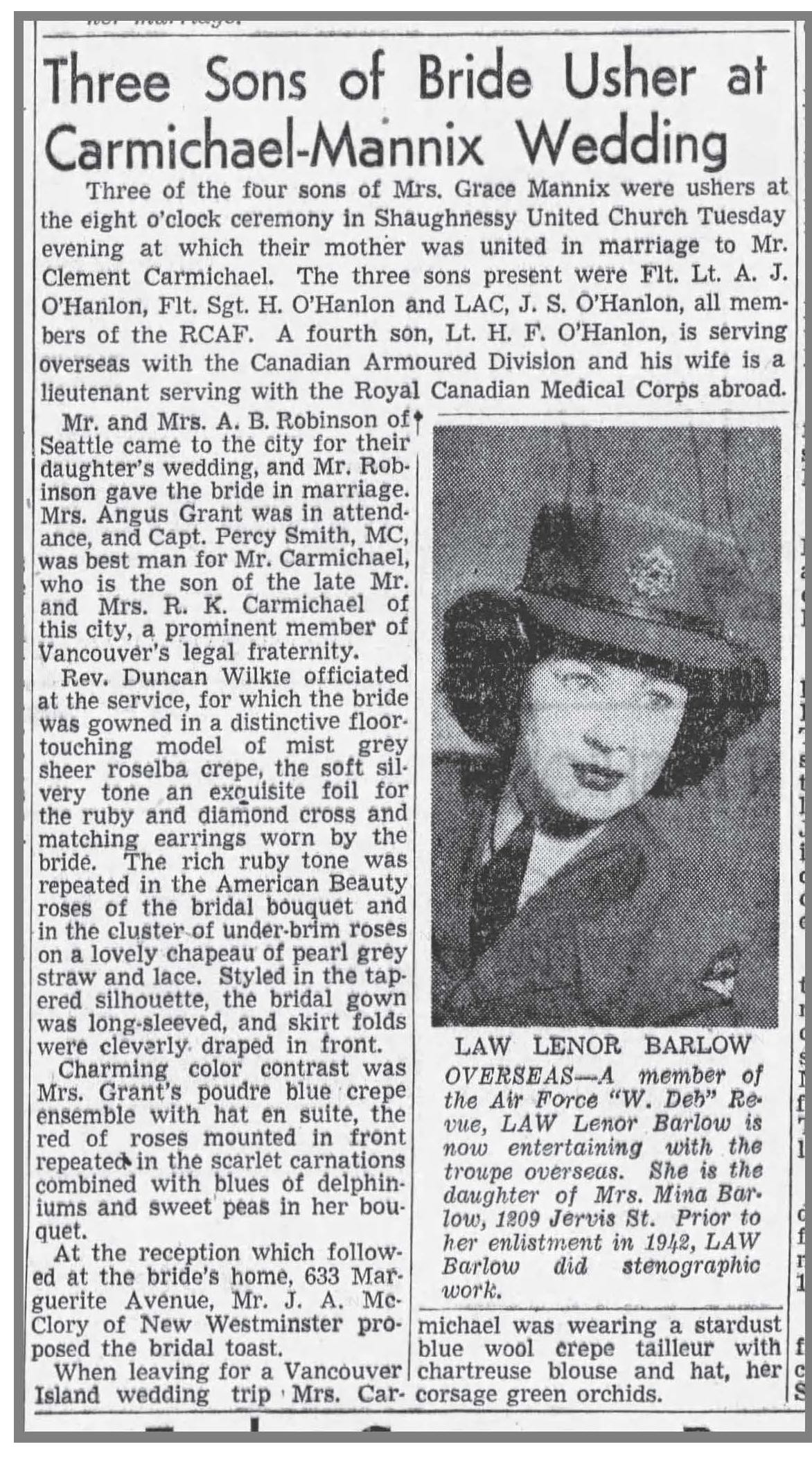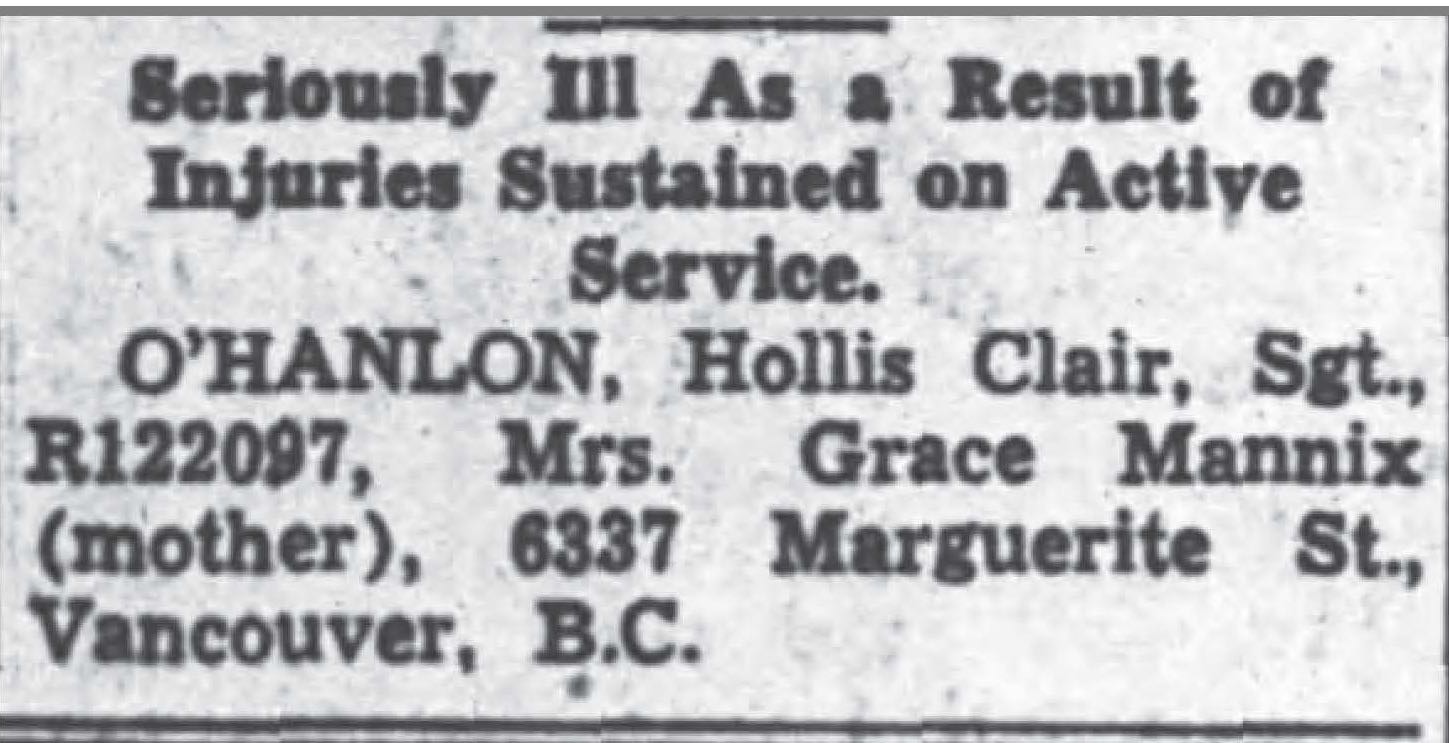 RAF 198 Squadron
Hollis Clair O'Hanlon was born on July 8, 1917 in Edmonton, Alberta. He was the son of Harry and Grace O'Hanlon. Hollis had three brothers. Grace remarried and became Mrs. Mannix. She married again in 1944 and became Mrs. Carmichael.
In 1934, Hollis attended Gonzaga Catholic School in Spokane, Washington. There he ran away with another 16 year old student using Hollis's car.
In 1938, he also made American papers out of Oakland, California. Hollis, two of his brothers, one cousin, and a friend encountered a storm in the Pacific Ocean while sailing a 48 foot yacht on a trip that was to have taken them to Los Angeles, then Panama and the South Seas. They were rain soaked, hungry and blue, according the the paper, as well as very weary, lucky to have survived. Three of the boys had never been to sea prior. Hollis was injured: his nose was nearly broken when he was tossed from his bunk as a giant wave struck the boat.
At some point, he lived in Vancouver and Calgary, as well as was noted as traveling to the USA between 1926 and 1941.
Hollis graduated from No. 2 SFTS at Uplands in July 1942 and went overseas a short time later. He was attached to 198 Squadron.

On January 20, 1943, Sgt. O'Hanlon and P/O Baker, intelligence officer, were aboard a Tiger Moth. They were involved in an accident: Tiger Moth II T7271 of 198S stalled on take-off and spun into the ground at Digby. Both men were taken to hospital. Hollis had injuries to the spine. His injuries made the news in the January 28, 1943 Vancouver Sun.

In March and May 1944, two border crossing records show he noted himself as a pilot and the other as 'discharged' from the RCAF. A distinguishing mark on the border documents is recorded as 'scar on the back of head.'

In July 1945, Hollis joined Tony Frombolo, 440 Squadron and Ed McClain, Mosquito pilot, on a trip around the world, supposedly lasting five years. Here it is noted Hollis flew Typhoons. They were going to avoid Japan. "To hell with that place," said McClain.

Hollis O'Hanlon, 47 years old, married Barbara Strong on November 21, 1964. Barbara was confined to a wheelchair since 1943, after she fell down the stairs at the family home in the Shaughnessy neighbourhood in Vancouver, breaking her back, leaving her a paraplegic. She was the publisher of a society magazine in Vancouver. Dr. Strong and his family was well known in the yachting circles in Vancouver. Barbara's brother was killed in 1942, part of 405 Squadron. Hollis and Barbara did not have children. They lived in Barbara's family home after their marriage.

Hollis made the newspaper again in July 1997 when he commented on an assault that had occurred near his home in White Rock, BC.

Hollis was not a member of the Typhoon group, as far as Harry Hardy, 440 Squadron, recalls.

Hollis O'Hanlon died on September 22, 2002. A private family service was held with interment in the Courtyard Gardens at Ocean View, near Vancouver. "Hollis had a wonderful adventurous life, and will be sadly missed by those who knew him well," said the obituary in The Edmonton Journal.

In September and October 2019, a friend of O'Hanlon contacted me to tell me a few more stories. Terry F. said, "Hollis's war injury left him unable to walk, so he was deemed disabled. He eventually taught himself to walk, although he had no feeling in his feet. He asked me to remember to look at his feet regularly, in case he had stepped on something and they were bleeding. He used to share stories of his life in the 1960s and 1970s, when we were aboard his boat, then called the Barbara O'H." There were more tales about times in Panama. "Hollis's brother worked in Panama for a time. When Hollis and his brothers owned the schooner, Dwyne Wen, he met Errol Flynn, who had a similar vessel, Zara. Hollis said that many stories of Flynn's were correct, but that he was not guilty of any wrongdoing when a young girl towed away on the Zara. When the USA was helping Roberto Arias, Hollis landed guns onto the shore of Panama, from his boat. To appease the politicians, he was supposedly detained in a police station in Puerto Rico. At night he would be hidden under a blanket in a Jeep and taken out to the clubs. He was also known for a treasure hunting expedition in the Caribbean aboard this same yacht." Hollis loved to be on the water. "After the sale of their yacht, the Barbara O'H, Hollis had a tug (Old Faithful 1)and barge that he used to salvage a yacht, the 78' Elfin".