Hugh Conway Blizard R153520
February 4, 1923 - January 17, 1945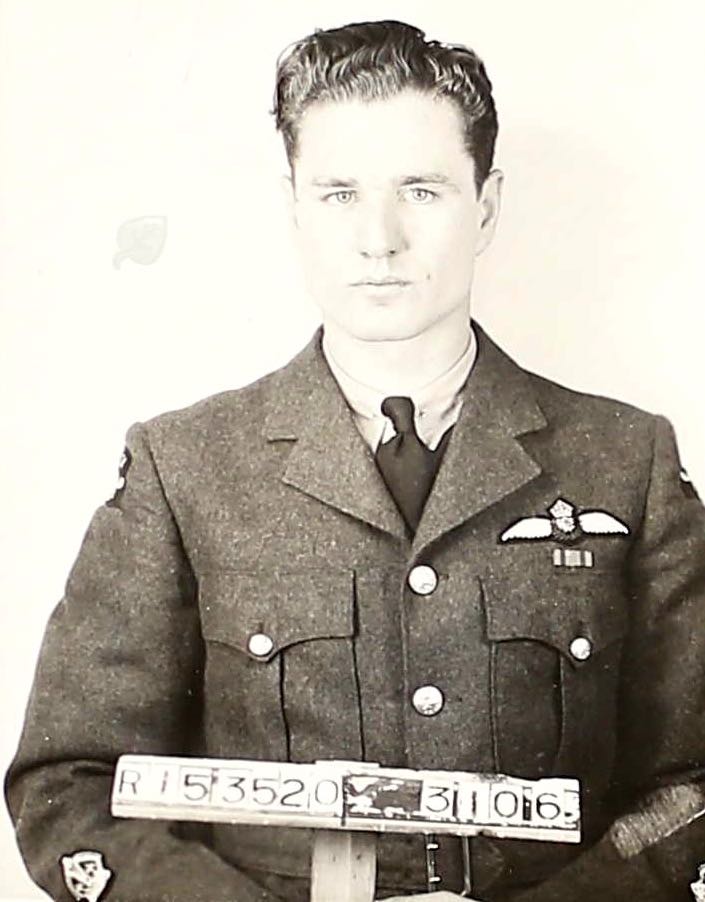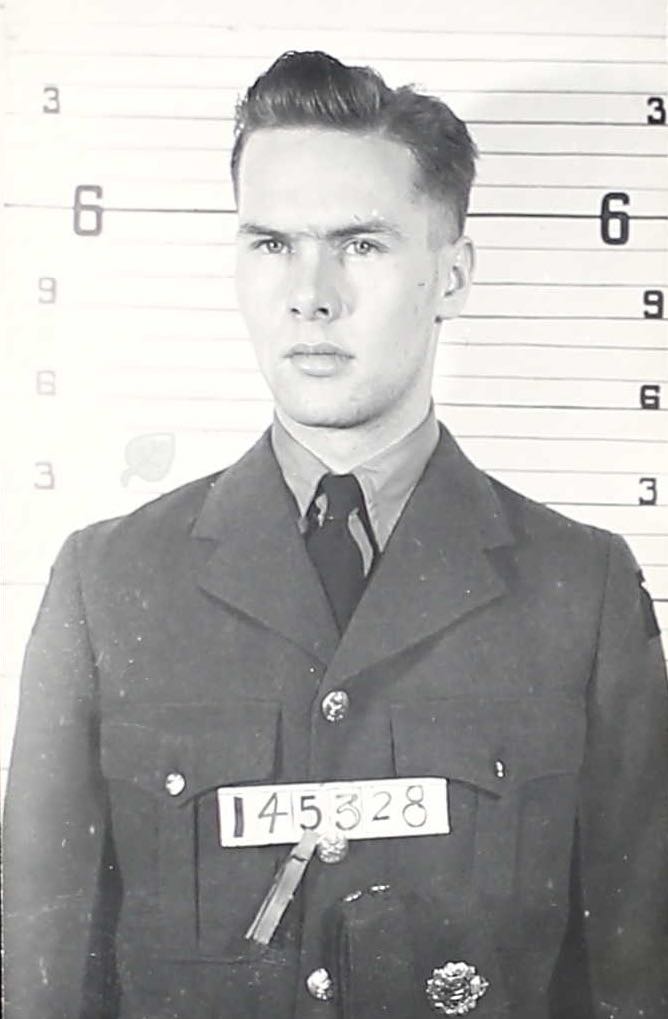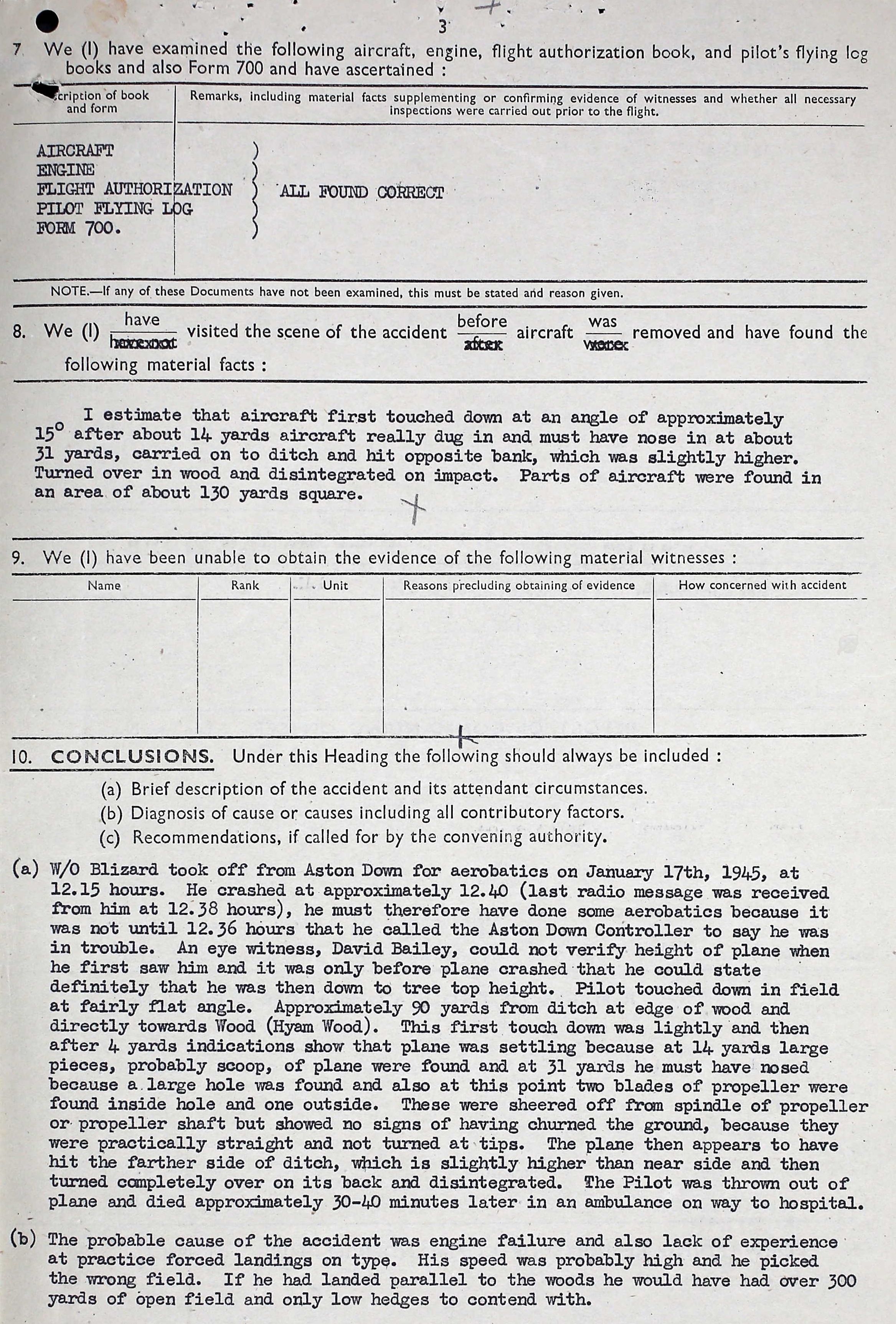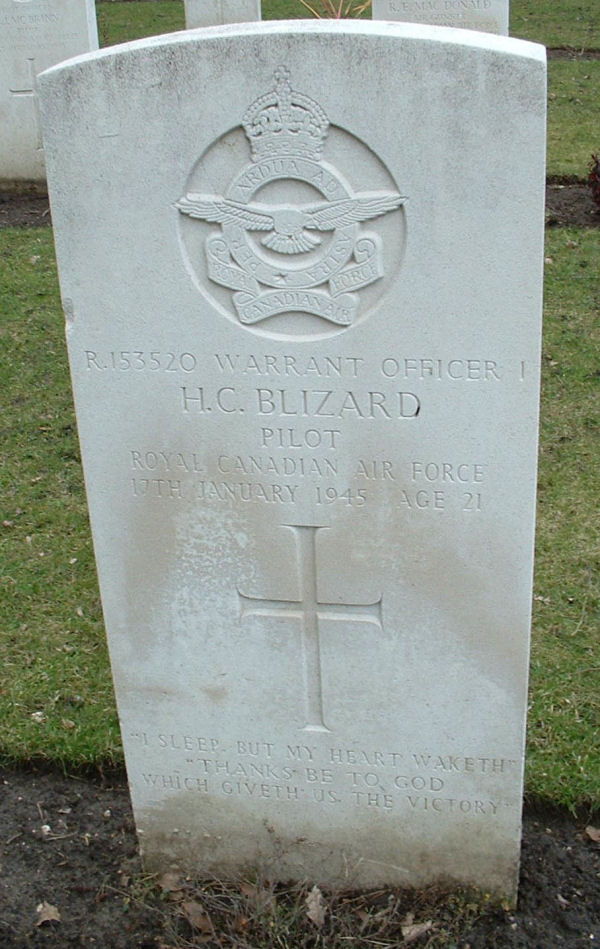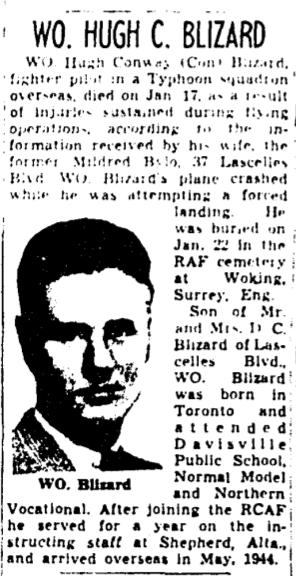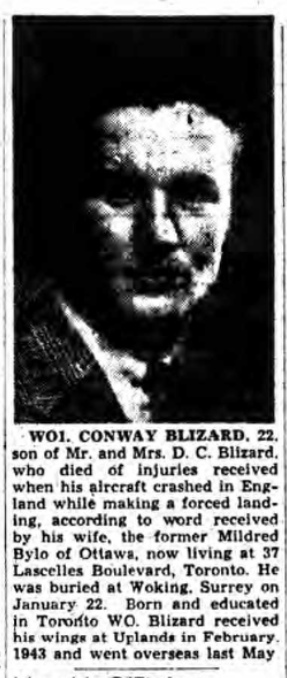 RAF 55 OTU Squadron
Hugh 'Conway' Blizard was the son of David Colin and Winifred Maxwell Blizard of Toronto. He also had one younger sister, Sheila. He also had one sister, Sheila, younger. His parents married in Tampico, Mexico in April 1919. The family lived in Arkansas City, USA in 1923, Yokohama, Japan from 1924-1926, Chicago, 1926 - 1929 and then moved to Toronto in 1930. The family was Anglican. He was the husband of Mildred Blizard. They had a son Wayne Douglas Blizard. (Mildred remarried by 1950: Major J. L. Barry Hayes and they lived in Ottawa.)
Blizard was unemployed student of journalism when he signed up with the RCAF. He felt he was qualified to be in sales or become an office clerk when the war was over. He liked hockey, swimming, basketball and baseball. He stood 6' 1/2" tall and weighed 151 pounds at the time of his enlistment. He had hazel eyes and brown hair.
He indicated he had been knocked out several times in sports. He was frightened of dentists and doctors. He had a rapid pluse to to apprehension over his RCAF medical examination. He was deemed physically fit. Emotional stability was low average, but had an above average mental capacity and motivation. He had a "dusky face, was eager, cooperative and had just completed Educational Course."
He started his journey through the BCATP in Toronto in January 1942. He was sent to No. 5 ITS, Belleville, Ontario in May 1942, then to No. 10 EFTS Hamilton/Mount Hope, Ontario in August 1942 until October 1942, where he was posted to No 2 SFTS Uplands, Ontario until March 1943. He was sent to No. 2 Wireless School, Calgary in March 1943 until April 1944. Then he was sent to Lachine and then sent overseas in May 1944. He was at (P) AFU by June 1944. He was then at 5Y OTU October 1944 [Good average, uses his head in the air and his formation and section leading are good. Combat up to standard, keen and takes an interest in his work. Should be fit for commission after Squadron experience. Selected to fly Spitfires.] He was at 55 OTU by January 1, 1945.
Two weeks later, on January 17, 1945, at 12.40, he crashed two miles west of Malmesbury flying Typhoon MN938. He was the sole occupant, crashing one and three quarter miles west of Malmesbury, Wiltshire, England, while attempting a forced landing at noon. He died of his injuries ten minutes after being placed into an ambulance. Blizard's funeral took place at 11 am on January 22 at the Royal Air Force Regional Cemetery, Brookwood, Woking, Surrey, England."
Conclusions of the Court of Inquiry: "The probable cause of the accident was engine failure and also lack of experience at practice forced landings on type. His speed was probably high and he picked the wrong field. if he had landed parallel to the woods, he would have had over 300 yards of open field and only low hedges to contend with." The Group Captain, A. D. Selway concurred, adding, "Failure of engine due to break of internal parts. Pilot made a poor choice in his landing area and from the evidence, brought his aircraft in rather too fast."
LINKS: