James Llewellyn Allan J19586
September 8, 1921 - November 5, 1944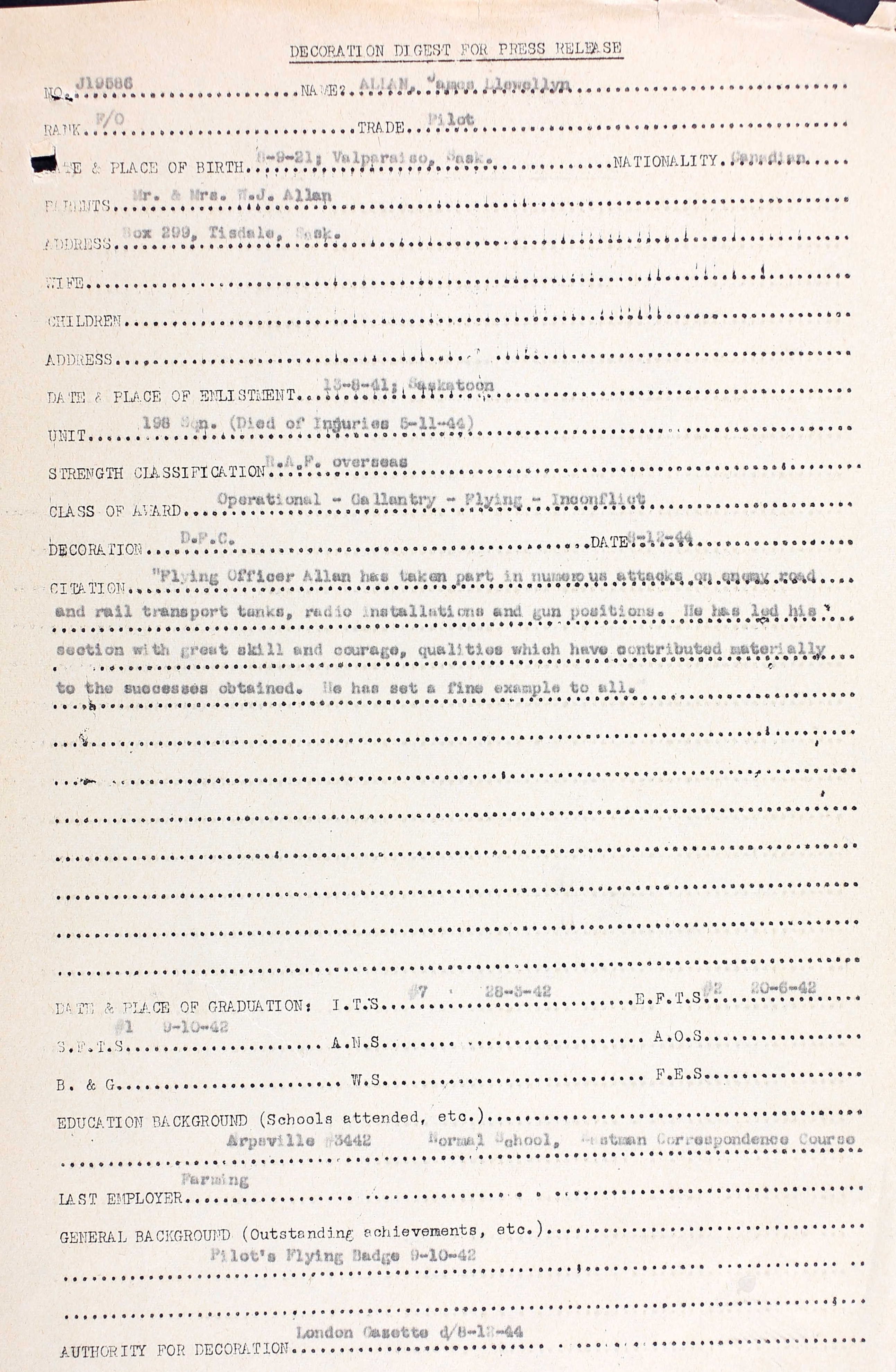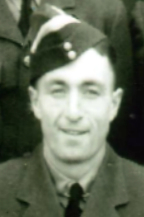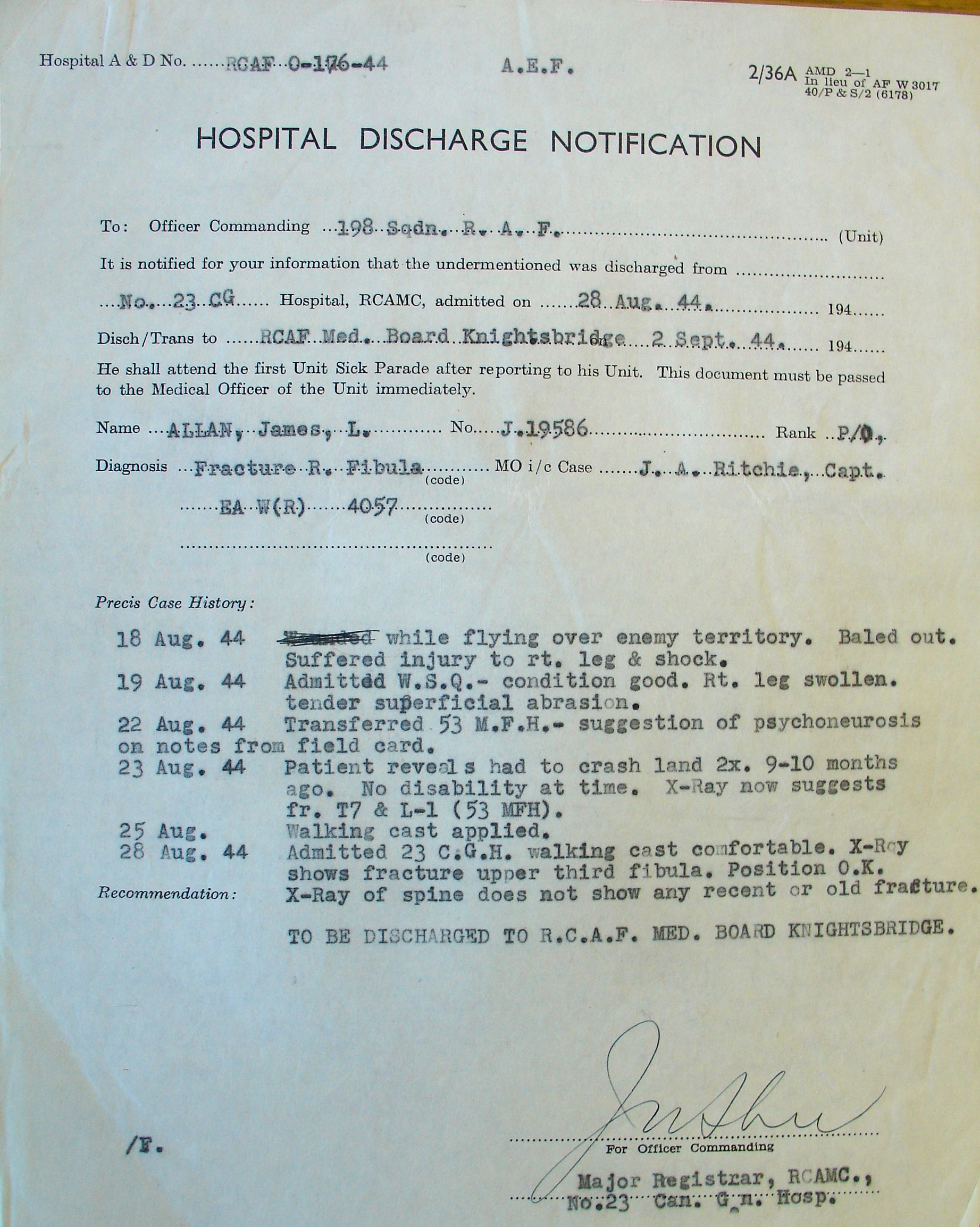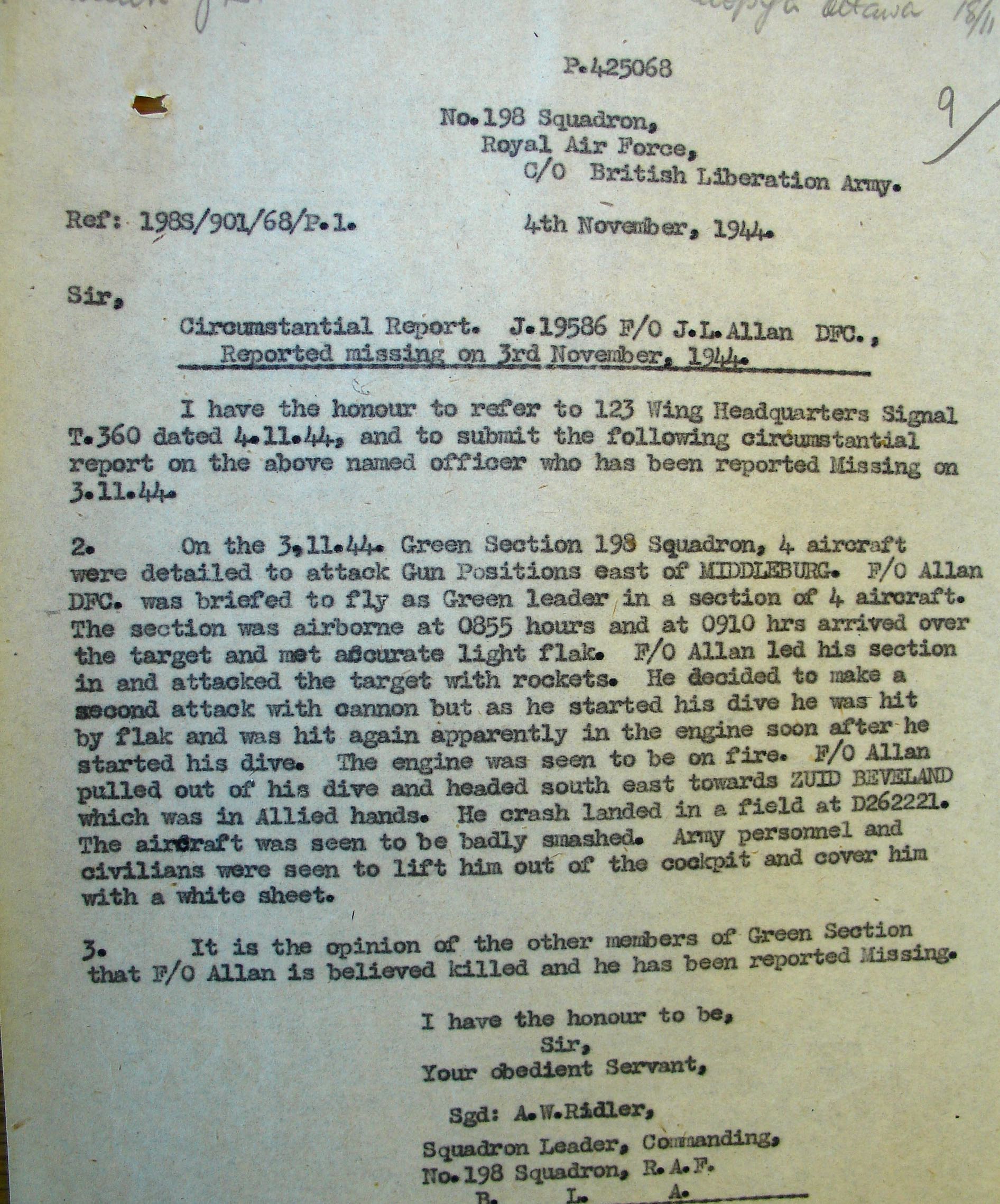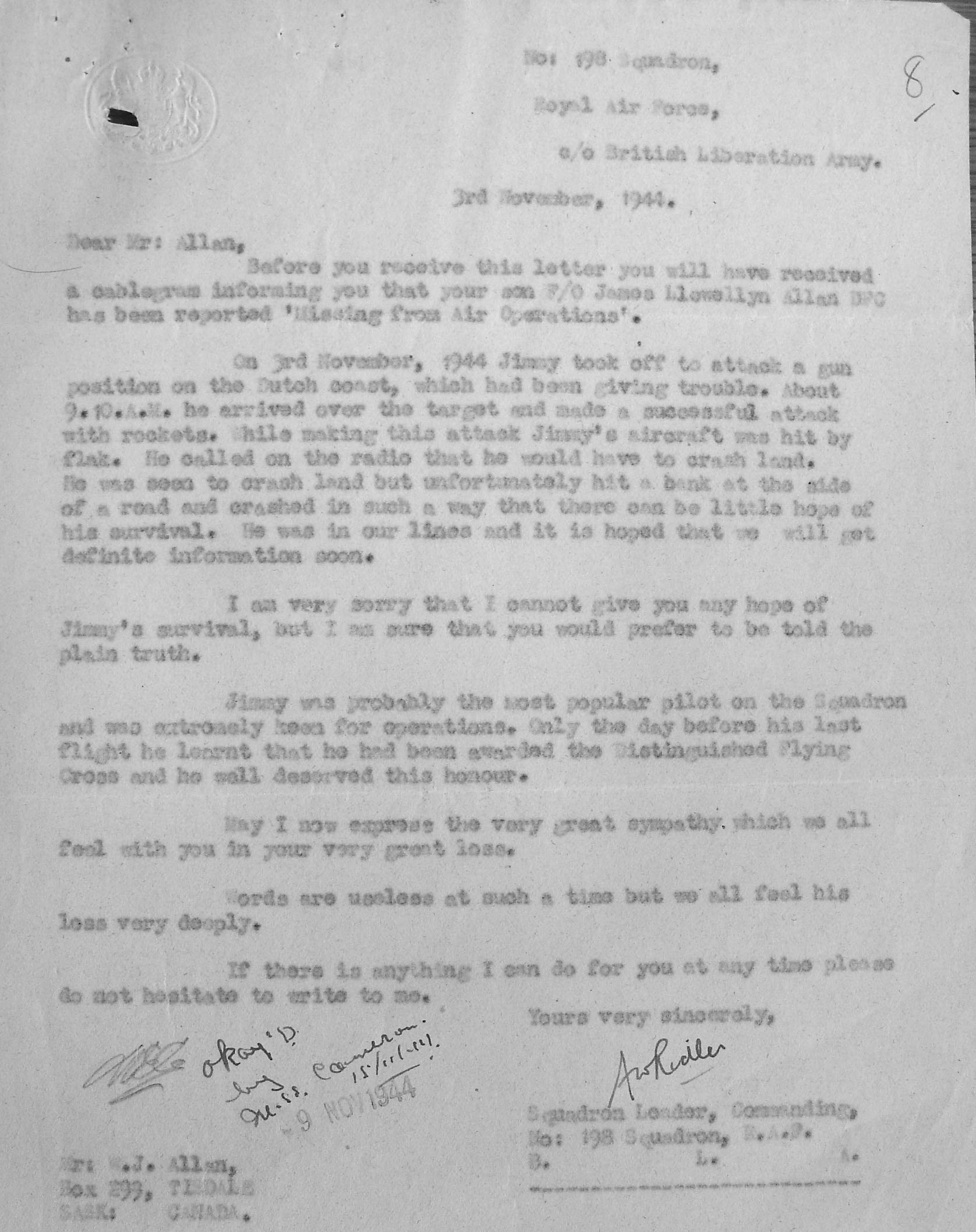 RAF 198 Squadron
James Llewellyn Allan was the son of William James and Edna Winefred Allan of Tisdale, Saskatchewan. He was born at Valparaiso, Saskatchewan. He had three brothers and three sisters.
His education included Arpsville #3442, one year of Normal School in 1941, Eastman Correspondence Course. He was last employed as a farmer, although he had been teaching prior. He had planned to return to teaching after the war.
Allan enlisted in Saskatoon on August 13, 1941. He stood 5' 10 1/4" tall and weighed 143 pounds. "Average appearance, slender build by wiry. Brilliant student -- well organized mentally. Alert and keen to fly. Calm mature manner. Fond of athletics of all kinds. Best equipped for observer. Suitable for officer material." On his medical forms: "This chap was co-operative, but has been leading a sedentary life consequently exhaustive tests are minimal or below. Should like to see him again in two months." In August 1941: "Excellent cardio-vascular, neuro-muscular and respiratory efficiency. Desired type of material."
He finished No. 7 ITS, Saskatoon, March 28, 1942, No. 2 EFTS, Fort William, June 6, 1942, and No. 1 SFTS, Camp Borden, October 9, 1942. He was sent overseas in late 1942.
By the beginning of January 1943, he was at 17 (P) AFU, then on February 16, 1942, he found himself at 56 OTU. He was transferred to 275 Squadron in May 1943 and was sent to 198 Squadron Maby 23, 1943. He took a special low altitude course in August 1943. In March 1944, he was at 123 Airfield, then to 198 Squadron from 84 GSU in April 1944
In April 1943, at 17(P) AFU, he received a 66% in his flying tests and at ground school: 67%. "Has been sick for some time during the course [influenza] but has worked hard since, and is now well up to standard. Not yet suitable for commission."
In mid-August 1944, Allan was flying in a Typhoon when he was hit by flak over a target area. He baled out and was caught by his legs in the cockpit. He was in the hospital, suffering from shock and contusions of his right leg before taken back to his unit. His leg was swollen and very tender. By August 20, the swelling was going down. The medical officer tried to transport him to England but could not get permission. "Patient says he made 2 crash landings 10 & 9 months ago and would like to have a check x-ray of his spine." He sustained a fracture of his right fibula. "This officer appeared before RCAF Medical Board on September 4, 1944. Fourteen days' leave recommended, the Officer to return for re-board on the termination of leave. He now states that his leg is giving him no trouble." The Board felt that Allan was fit for full duty. "He is very keen to return quickly....states he has been sleeping better in the last two weeks. Appetite good. Mature man qualified as school teacher and then joined up. Is very keen to get back." As of August 18, 1944, he had 450 hours flying time and 90 hours on Ops.
"On November 3, 1944, the pilots of B-Flight were on call at an early hour that morning. Two sections of four aircraft were to take off together to attack gun positions at 172307 which was east of Flushing and slihgtly south of Veere. The eight Typhoons were lead by F/L Kirsch and took off at 0850 to attack the targets but no definite results were seen. Considerable light and accurate Flak came from around Veere but none of our aircraft were hit. F/O Allen's section was met with much light and accurate Flak from all around the target area. During the first attack F/O Allen was seen to be hit whilst diving on the target. Black smoke began pouring from his engine and he immediately turned and flew towards Zuid-Beveland which is held by allied troops."
"Typhoon Mk.1B MN702 of 198 squadron was hit by light Flak near the Sloe area, attacking targets on Walcheren Islands in The Netherlands [attacking gun positions east of Flushing/south of Veere] after which the pilot, F/O James Allan made an emergency landing at Zuid-Beveland and sustained serious injuries."
He died in hospital of his injuries on November 5, 1944. .
Allan earned the DFC. "Flying Officer Allan has taken part in numerous attacks on enemy road and rail transport tanks, radio installations and gun positions. He has led his section with great skill and courage, qualities which have contributed materially to the successes obtained. He has set a fine example to all." London Gazette 8-12-44
From Tisdale, Saskatchewan, Mr. and Mrs. Allan wrote to the Department of National Defence on July 21, 1945. They requested Jimmy's flying hours on active service. "I have heard that he had made three crash landings. He never told us anything of the battle, only that he was fine and would soon be home...And may I thank you and each and everyone who has been instrumental in sending us our son's personal effects. It means so much to us. From the bottom of an aching heart....thank you."
More information can be found in Typhoon and Tempest by Hugh Halliday on pages 24, 25, 179 and 191.
LINKS: