James Moore Cowie J24510
December 5, 1920 - May 30, 1944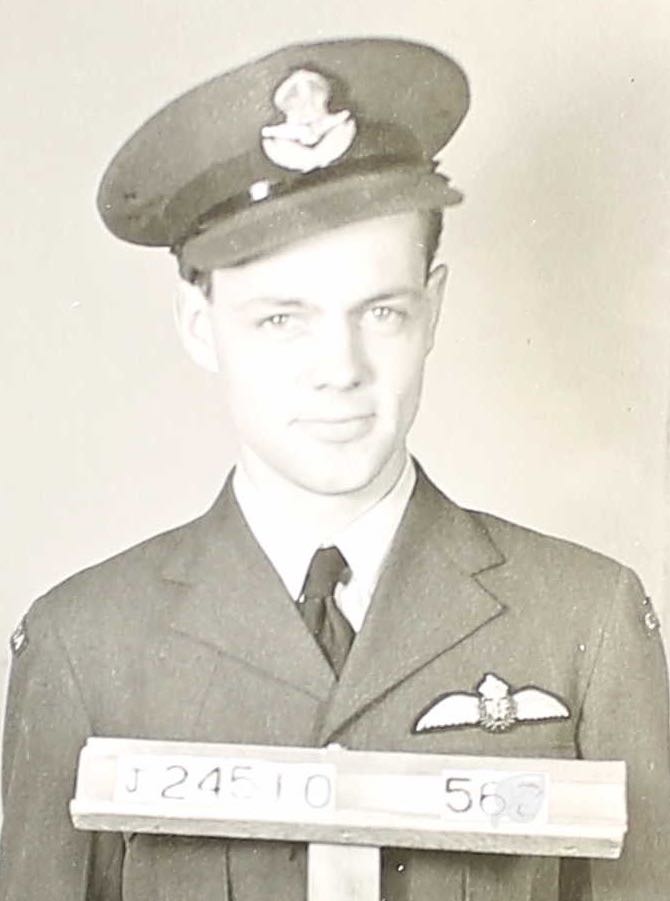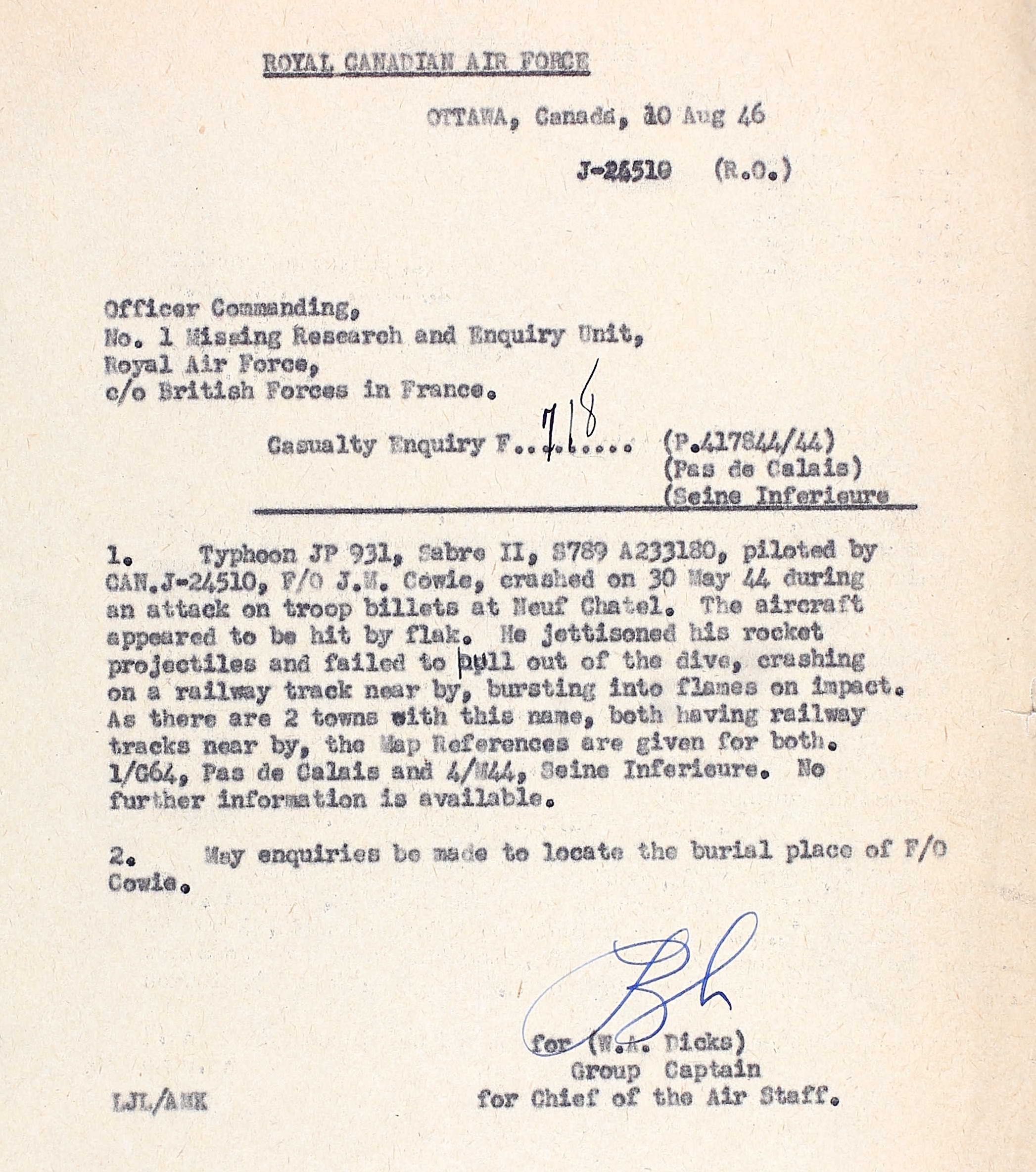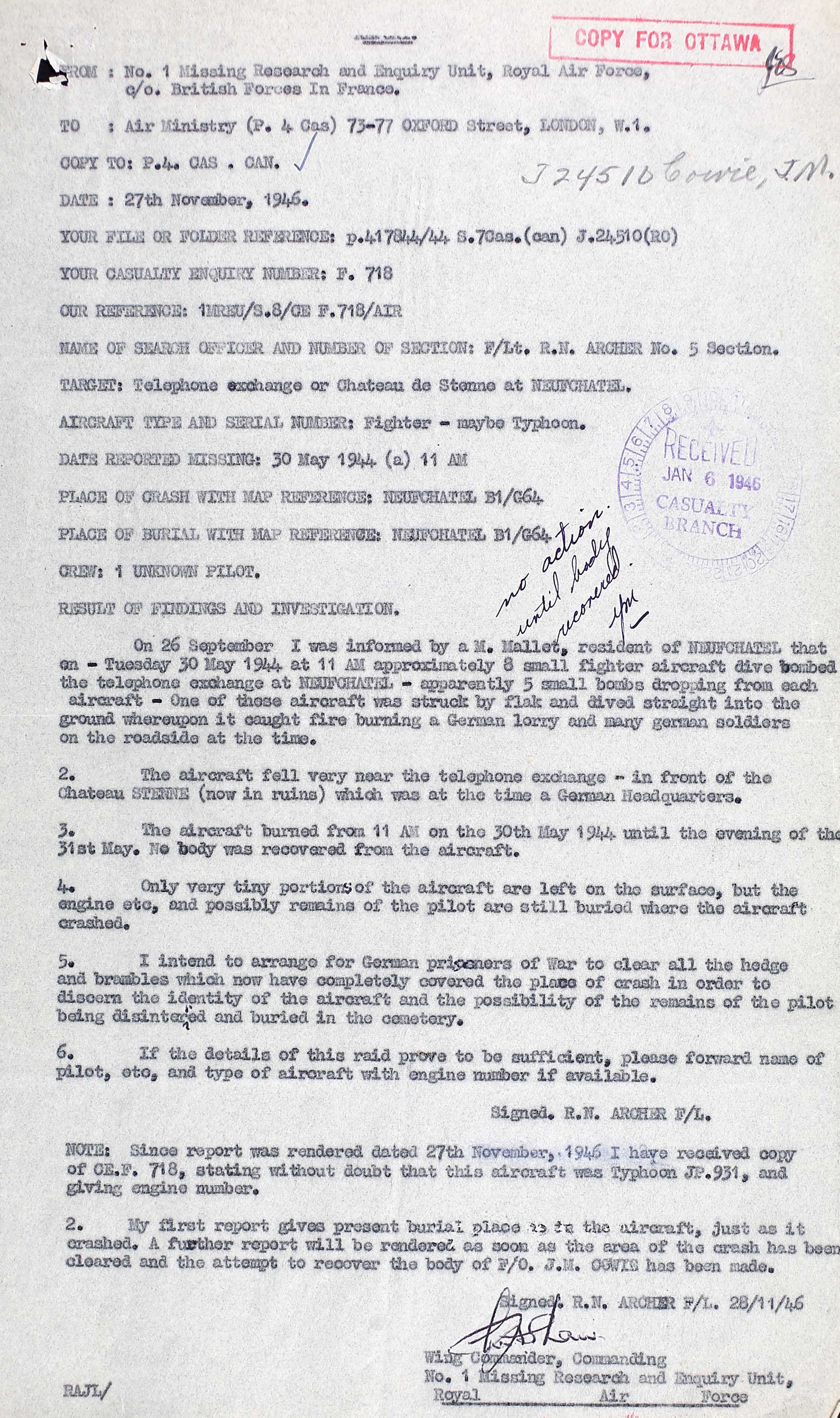 RAF 175 Squadron
James Moore Cowie was born in Alexandria, Egypt. He was the son of James McDonald Cowie (engineer) and Amyne Adelia Moore Cowie of Kansas City, Missouri. The family had lived in England, Ontario, New York before moring to Missouri. He had one brother who died of pneumonia at age 7 in 1931. The family was Episcopalian. His father died accidentally at age 40 in April 1935.
Cowie had been a jeweller in civil life for Jacoard Jewelry Co. Kansas City. He listed that he had been a water inspector in Kansas City. His mother indicated that her only child was preparing for university when he enlisted. He liked to lift weights and was a state champion. He liked swimming for pleasure. He indicated he would like to become an aeronautical engineer after the war.
The interviewing officer in Toronto in January 1942 made these comments: "Medium build - neat. Clean cut appearance. Very good personality. Confident, sincere, keen, intelligent, good family background. Has studied aerodynamics, navigation and other subjects. Appears to have stability and average desirable type of boy. Aircrew material." The MO: "Excellent prospect."
At No. 1 ITS: "A fine clean cut neat airman with enthusiastic manner and first class deportment." At. No. 7 EFTS: "Average pupil pilot with good scholastic showing. Co-operative and courteous. Deportment good. Link: 71%." At No. 14 SFTS: "67% A capable pilot with no outstanding faults. Possible instructor material. Link: 85. Link Nav: Exceptional."
'Jimmy' as he was fondly known, was sent overseas by September 1943. He joined the Squadron in November 1943.
On May 30, 1944, Cowie was flying Typhoon JP931. The aircraft failed to pull out of dive during a dive bombing attack, after being hit by flak, and burnt for 24 hours. An investigation was undertaken. "On September 26, I was informed by a M. Mallet, resident of Neufchatel that on Tuesday, May 30, 1944, at 11 am, approximately 8 small fighter aircraft dive bombed the telephone exchange at Neufchatel. Apparently, five small bombs dropping from each aircraft. One of these aircraft was struck by flak and dived straight into the ground, whereupon it caught fire, burning a German lorry and many German soldiers on the roadside at the time. The aircraft fell very near the telephone exchange, in front of the Chateau Stenne (now in ruins) which was at the time a German HQ. The aircraft burned from 11 am on the 30th May 1944 until the evening of 31 May. No body was recovered from the aircraft. Only very tiny portions of the aircraft are left on the surface, but the engine, etc. and possibly remains of the pilot are still buried where the aircraft crashed." Digging operations by German prisoners of war had since been carried out for eleven days with the aid of a deminer, which was used to locate heavy pieces of metal below the surface, said a memo, but no human remains were found.
In August 1946, it was determined that Typhoon JP 931 piloted by J24519 F/O J. M. Cowie crashed on May 30, 1944 during an attack on troop billets at Nef Chatel. The aircraft appeared to be hit by flak. He jettisoned his rocket projectiles and failed to pull out of the dive, crashing on a railway track near by, bursting into flames on impact. His name is on the memorial at Runnymede.
LINKS: