John Frederick Hart Williams J17270
September 6, 1921 - July 26, 1944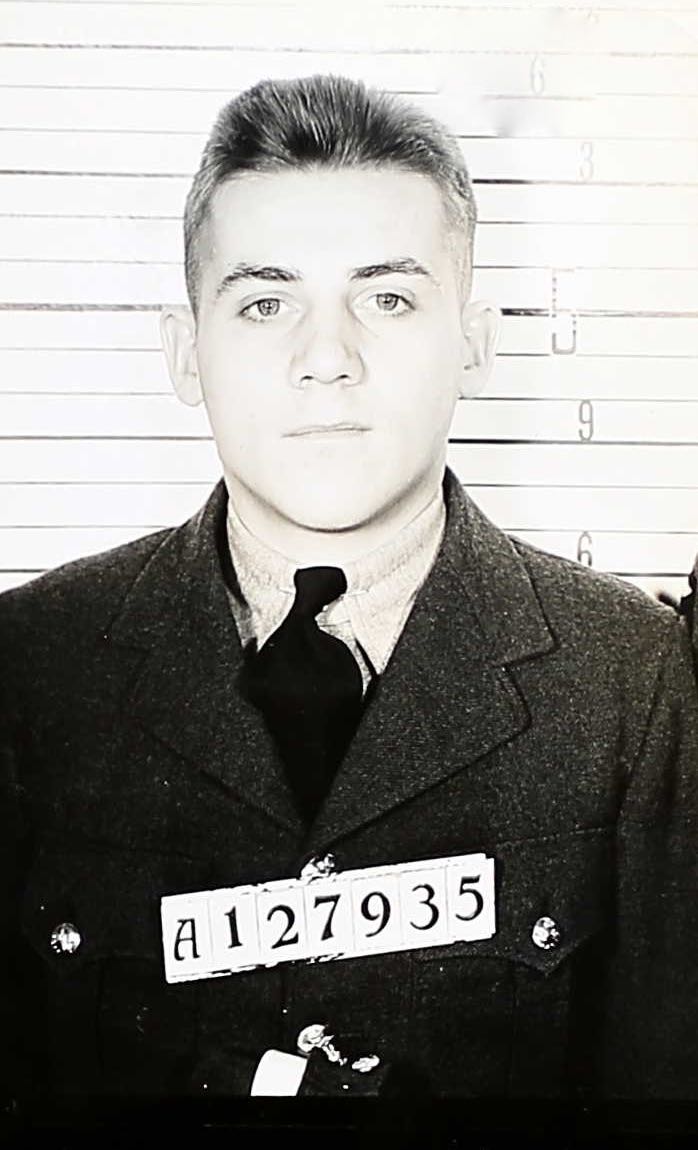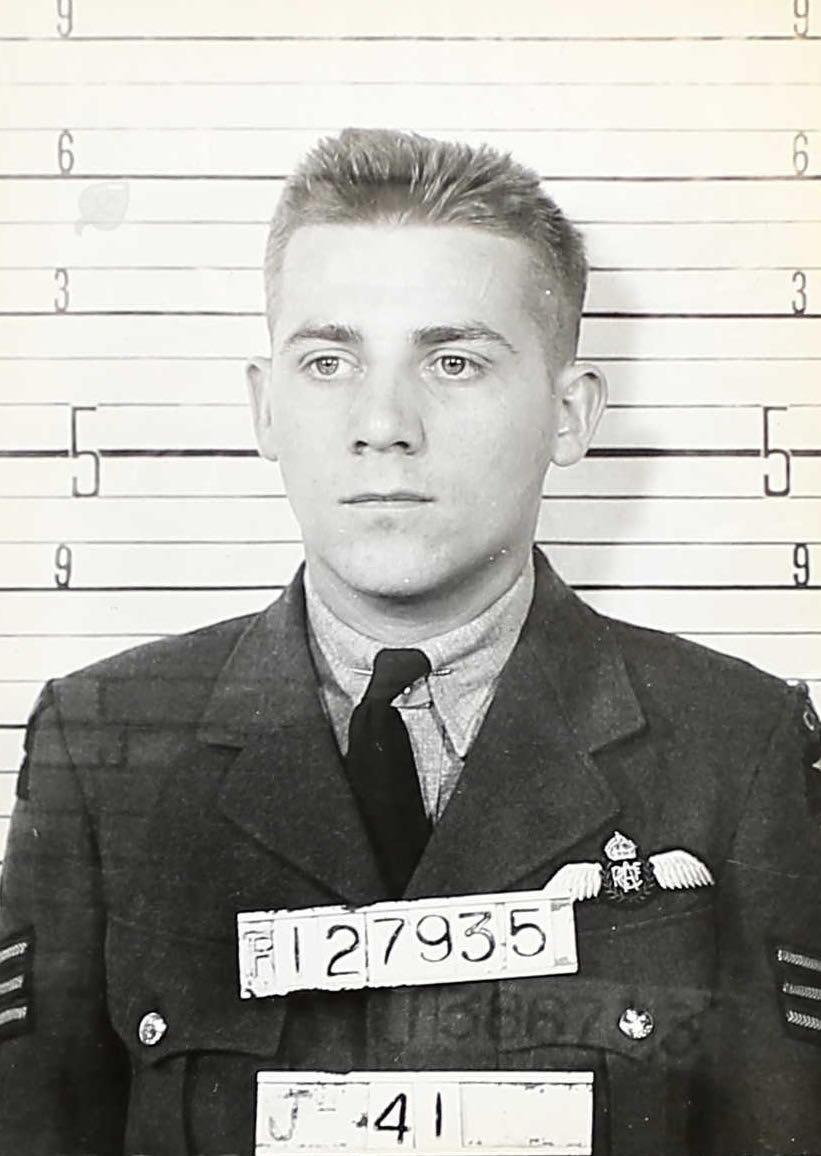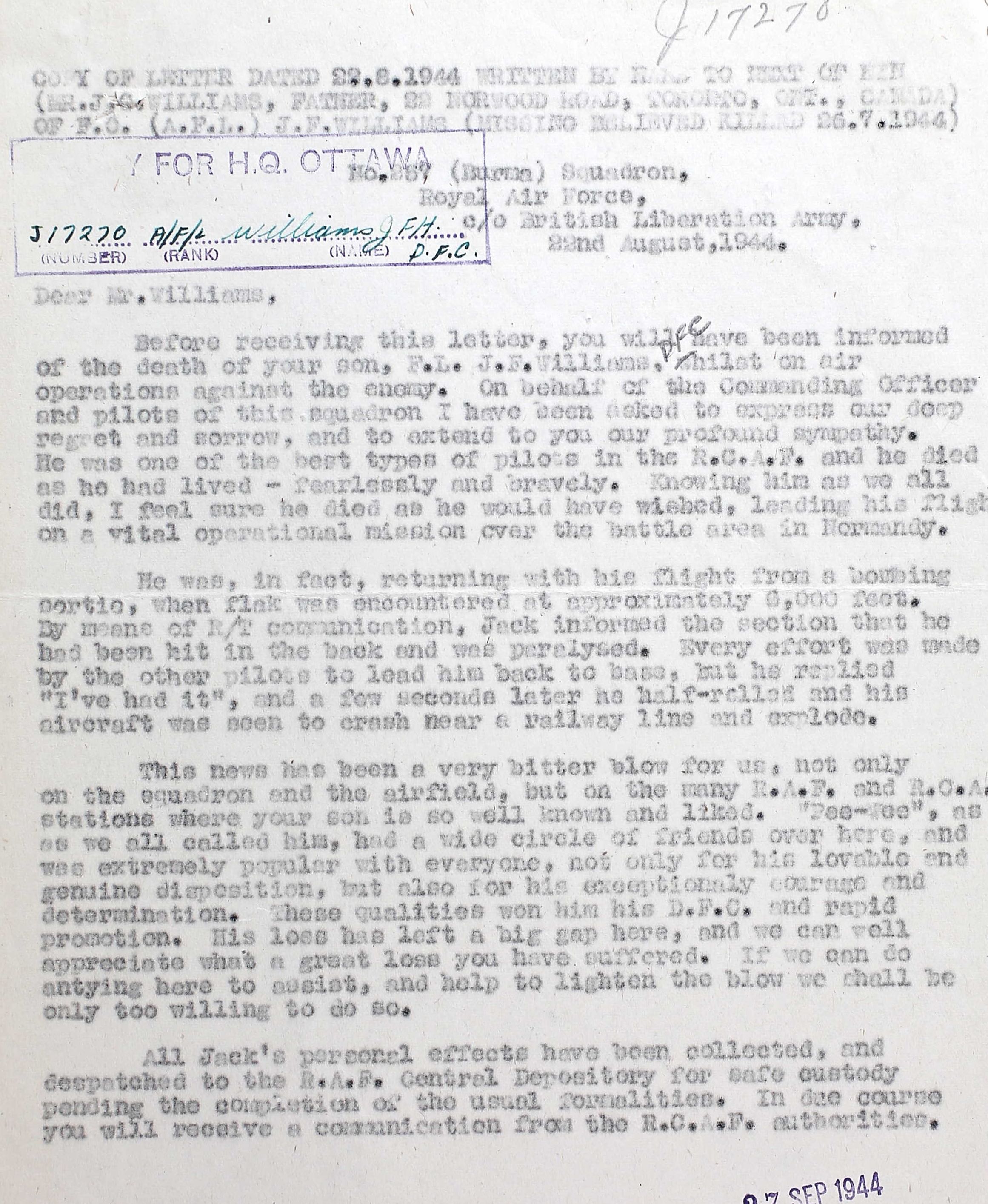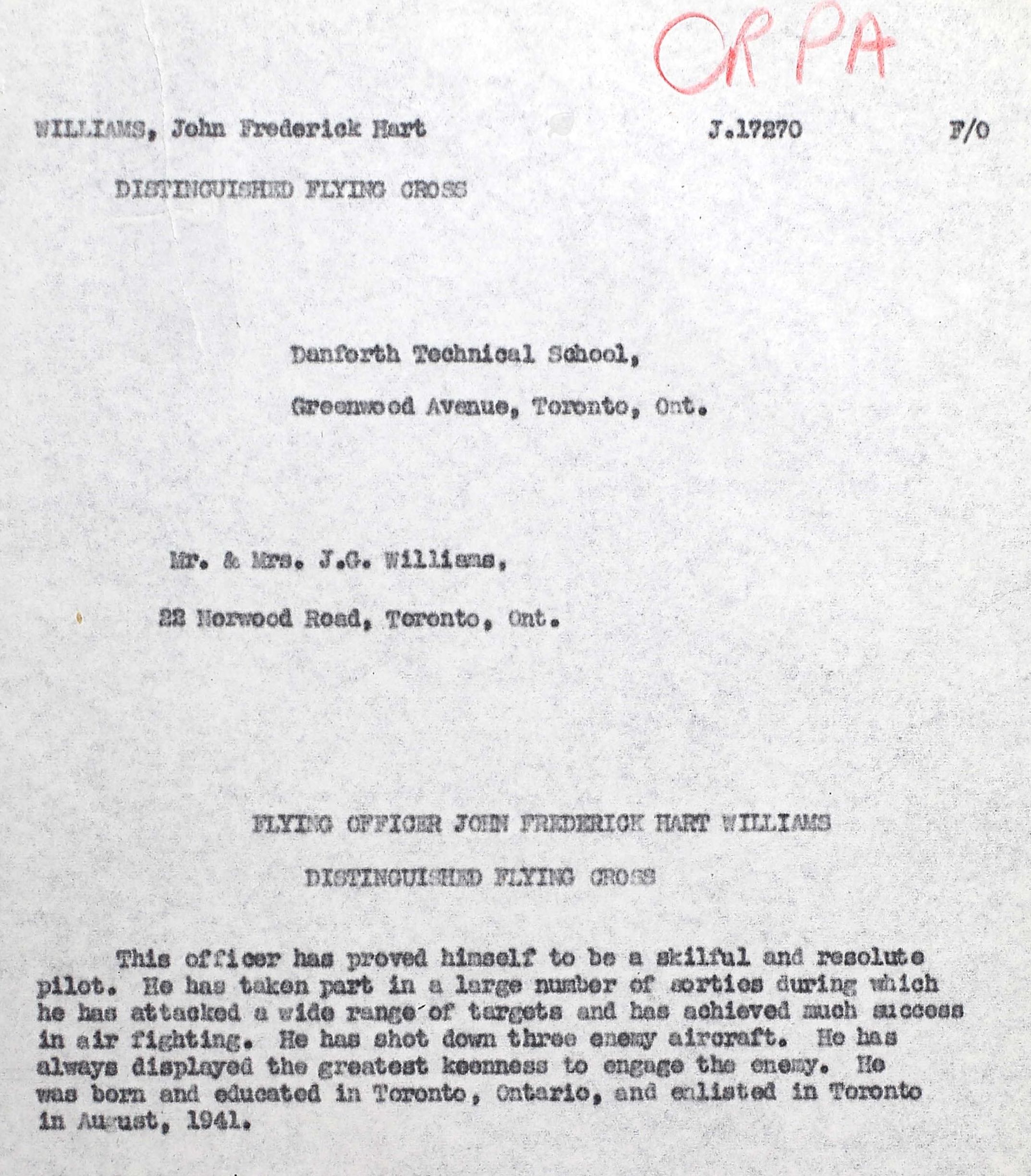 RAF 257 & 198 & 193 & 438 Squadrons
John 'Jack' Frederick Hart Williams was the son of John George Ivor and Rose Emily (nee Hart) Williams of Toronto. He had one brother, David Ivor Baldwin Williams, also of Toronto, who had polio. The family was Anglican. His parents were born in England.
Williams was a student draughtsman at the time he enlisted, employed by Bennett & Wright. He had been a clerk at Weegar's Drugstore prior. He liked golf, tennis, hockey and skiing, plus listed model aeroplane building as a hobby.
It was noted on his attestation papers dated July 31, 1941, "Not exceptionally bright but is sincere and keen. May develop alright with training." He stood 5'4", weighing 116 pounds. He had blue eyes and light brown hair. In August, 1941: "This boy has a wiry build, fairly intelligent, but his pulse responses are a bit up, possibly because of the heat, though he admits he's scared and looks a bit scary, too." December 22, 1941: "Intelligence, initiative and sense of responsibility average. Wants pilot."
At 6 ITS: November 10, 1941 - January 2, 1942: 78th out of 87 in class, 67%. "Dependable young type, who will require to concentrate on signals; anxious to serve in any capacity."
At 10 EFTS: January 4, 1942 - March 28, 1942: "This trainee is average in general flying, aerobatics and instruments. Shy, retiring type, but a hard and willing worker." In Ground Training: He was 20 out of 31 in class. "Progressive. Flying ability below average. Needs lots of careful instruction. Hard worker and sincere. Rather immature, but should improve with experience. Conduct and discipline good."
At 6 SFTS: March 29, 1942 - July 31, 1942: "Progress satisfactory. No outstanding faults." In Ground Training: "Satisfactory. Worked well." He was 43 out of 50 in class. Williams said he preferred a Fighter Squadron. The Squadron Leader recommended this as well. He was awarded his Pilot's Flying Badge on July 17, 1942.
He was sent to Halifax at the end of July 1942 and arrived at the RAF Trainees' Pool on August 6, 1942. He was then at 3 PRC and 17 (P) AFU and by September 25, 1942, he was at No. 55 OTU. He was then posted to 198 Squadron by December 1942. He was sent to 193 Squadron in September 1943. He was posted to 257 Squadron by July 1944.
Williams was flying Typhoon 1B MN953, when on March 26, 1944, he was involved in a non-operational daytime flight and was in an accident with 198 Squadron. The purpose was to transfer from servicing section to squadron dispersal. He reported, "I have the honour to report that at 1410 hours on 26.3.44, I was detailed to pick up from R.I. Typhoon 'F' for delivery to Squadron dispersal. I proceeded to taxi across the grass and struck a Hurricane aircraft from the rear." He admitted full responsibility and a warning was later issued to all pilots re: taxying. It was deemed a case of gross carelessness and his logbook recommended to have an endorsement.
He was awarded the DFC. "This officer has proved himself to be a skilful and resolute pilot. He has taken part in a large number of sorties during which he has attacked a wide range of targets and has achieved much success in air fighting. He has shot down three enemy aircraft. He has always displayed the greatest keenness to engage the enemy." For more information, visit the Awards and Honours section of this website.
F/L Williams, DFC, was killed on July 26, 1944. "...the above named officer in Typhoon 1B MN919 was airborne at 1955 hours on 26th July 1944 to carry out Mission No. 0051 Armed Recc Mezidon, Argentan, Bernay with six other aircraft of the squadron. When returning from a dive bombing sortie on marshalling yards at Bernay, 15 miles NE of Caen, flak was encountered at approximately 6000 feet. R/T communication from [Williams] informed the section that he had been wounded by flak and was paralyzed. He was exhorted to try and make base but he replied that "he had had it!" A few seconds later, he half-rolled and the aircraft was seen to crash near a railway line and explode."
In a letter to Mr. Williams, P/O Warren, Adjutant, outlined what occurred. "Knowing him as we all did, I feel sure he died as he would have wished, leading his flight on a vital operation mission over the battle area in Normandy. He was, in fact, returning with his flight from a bombing sortie, when flak was encountered at approximately 6000 feet. By means of R/T communication, Jack informed the section that he had been hit in the back and was paralyzed. Every effort was made by the other pilots to lead him back to base, but he replied, 'I've had it,' and a few seconds later, he half-rolled and his aircraft was seen to crash near a railway line and explode. This news has been a very bitter blow for us, not only on the squadron and the aircrew, but on the many RAF and RCAF stations where your son is so well known and liked. 'Pee Wee' as we all called him, had a wide circle of friends over here, and was extremely popular, but also for his exceptional courage and determination. These qualities won him the DFC and rapid promotion. His loss has left a big gap here, and we can well appreciate what a great loss you have suffered."
His father requested his son's log book.
In August 1947, the location of the crash site was being investigated, including a grave. The investigator felt that there was somewhat incorrect information. "I would point out that 15 miles NE of Caen gives a pin point out to sea to the NE of Cabourg.....a most thorough search of the documents relevant to the area in question has been made without success."
In February 1998, The Canadian Warplane Heritage Museum in Hamilton (Mount Hope), Ontario was gifted with several personal belongings of John Frederick Williams, DFC. Included were his medals and a ribbon of a DFM.
More information can be found on pages 27-29, 33, 183 and 199 in Typhoon and Tempest by Hugh Halliday.
LINKS: