John Richard Hill R104983
November 12, 1922 - May 7, 1943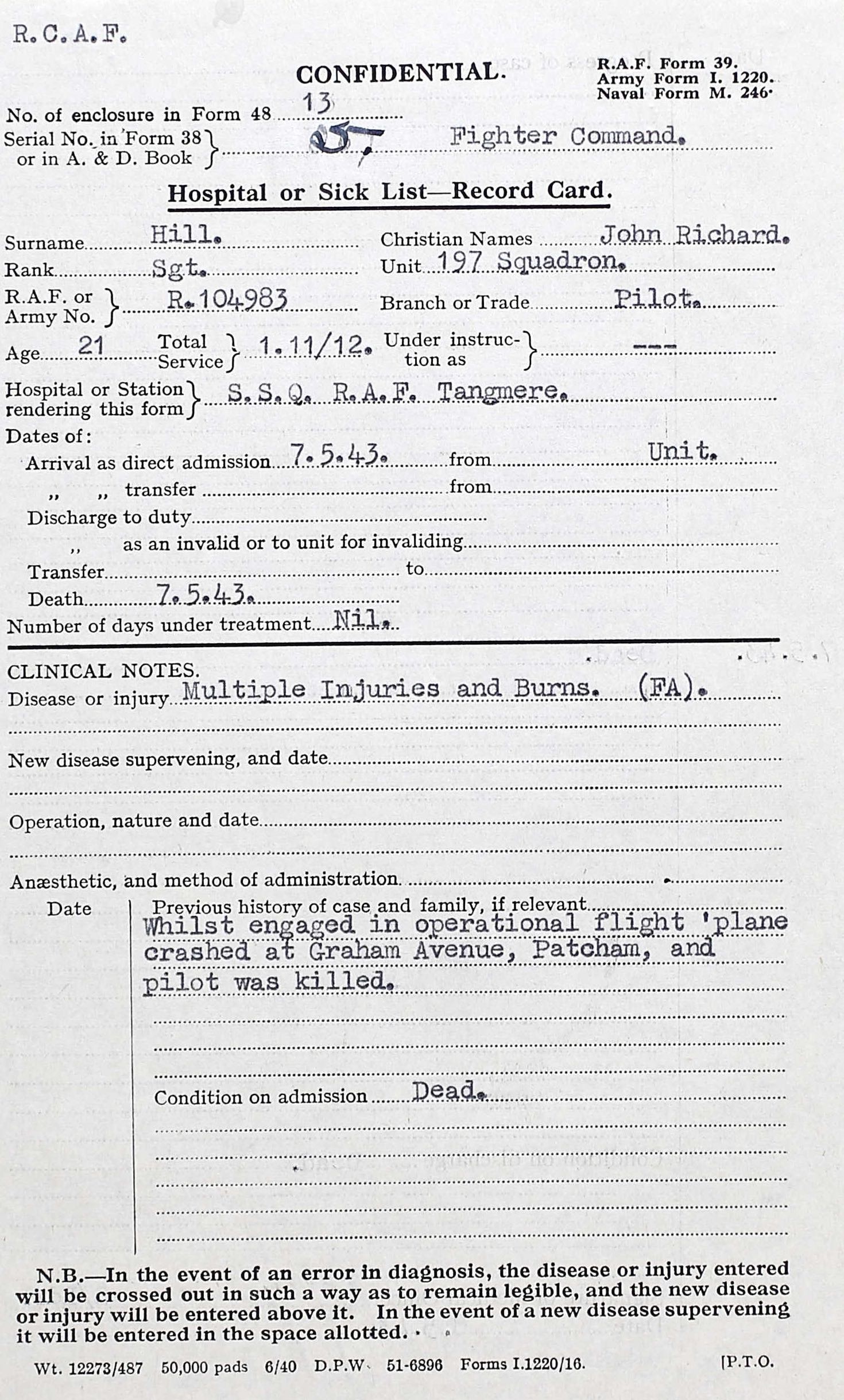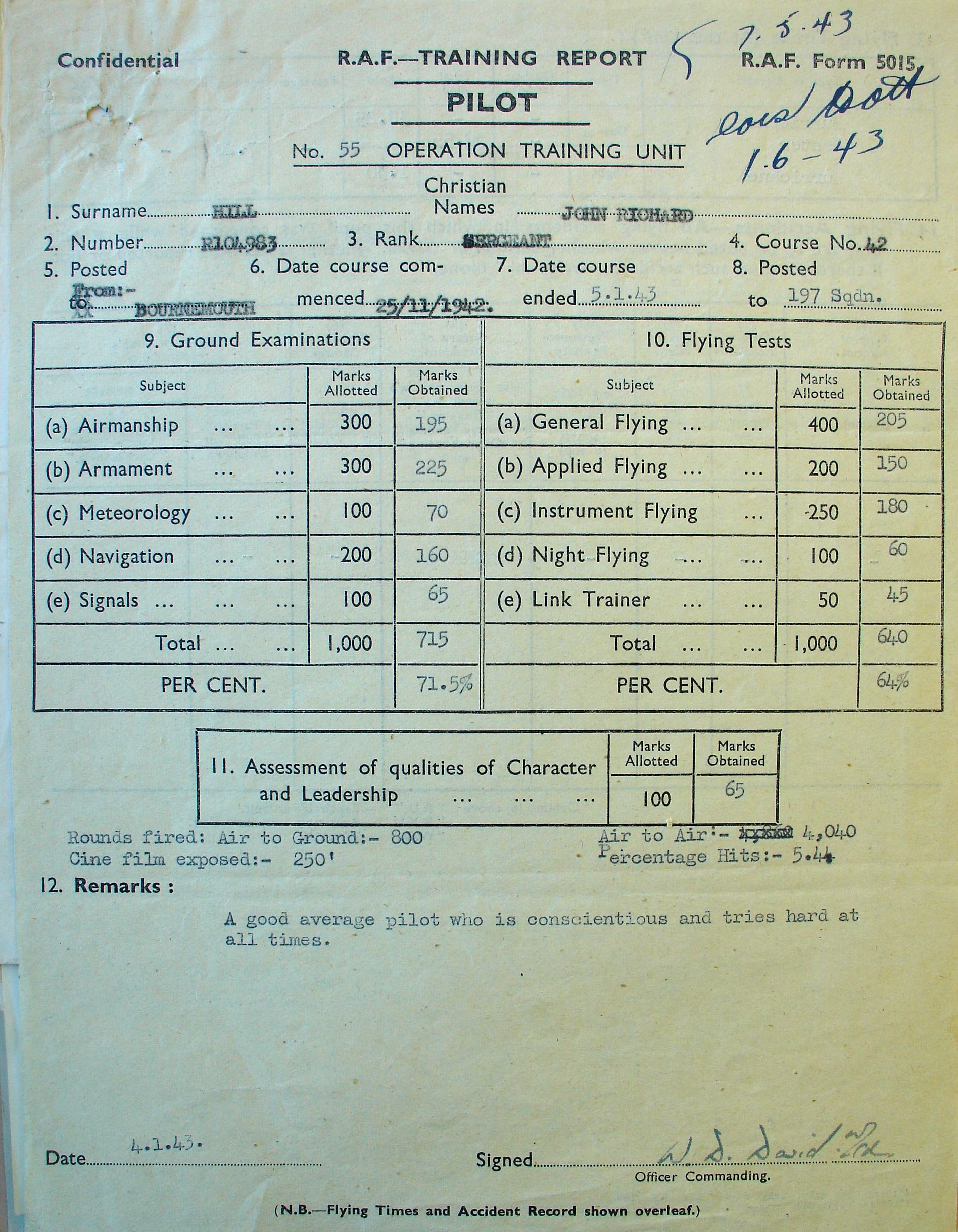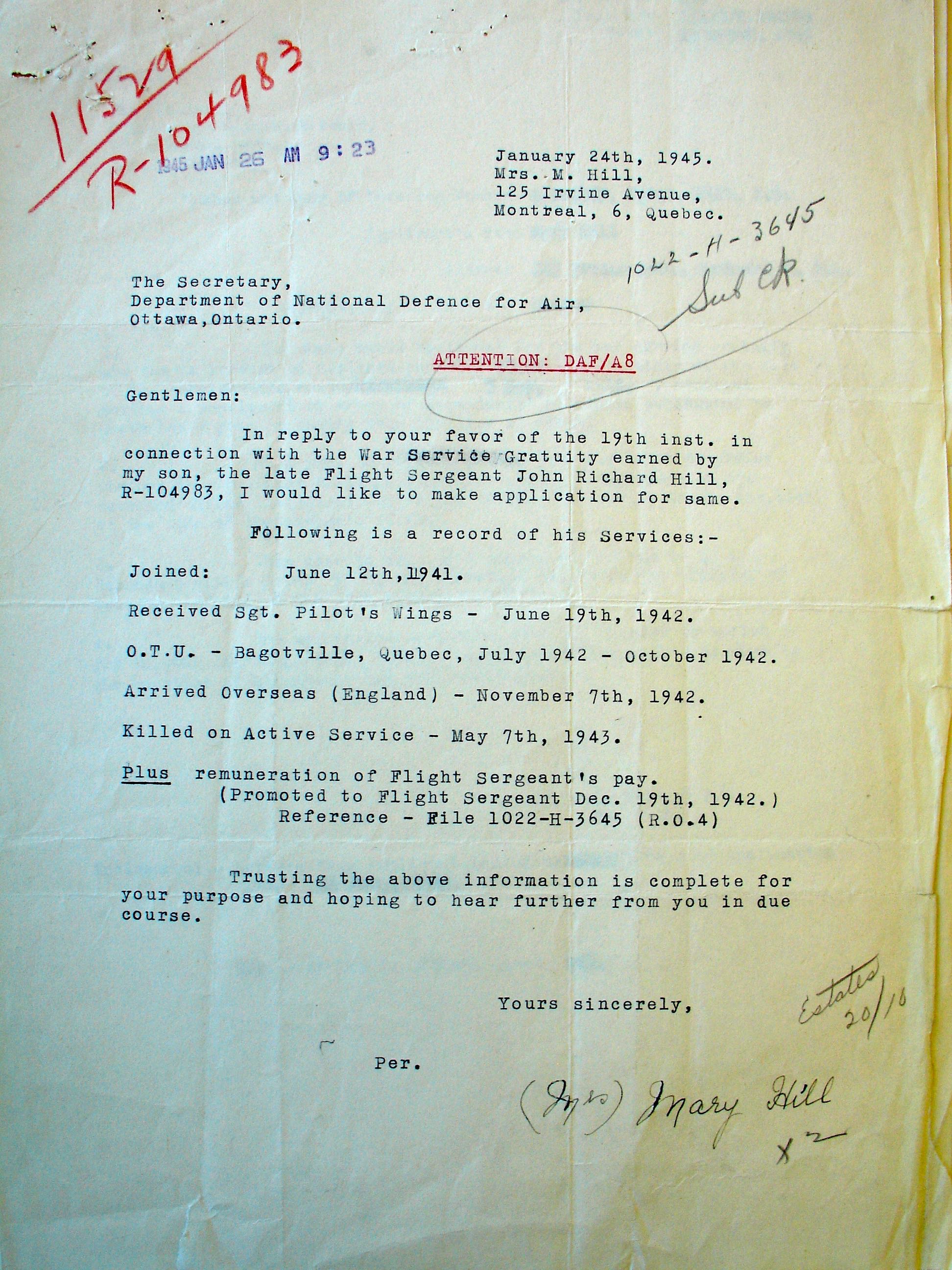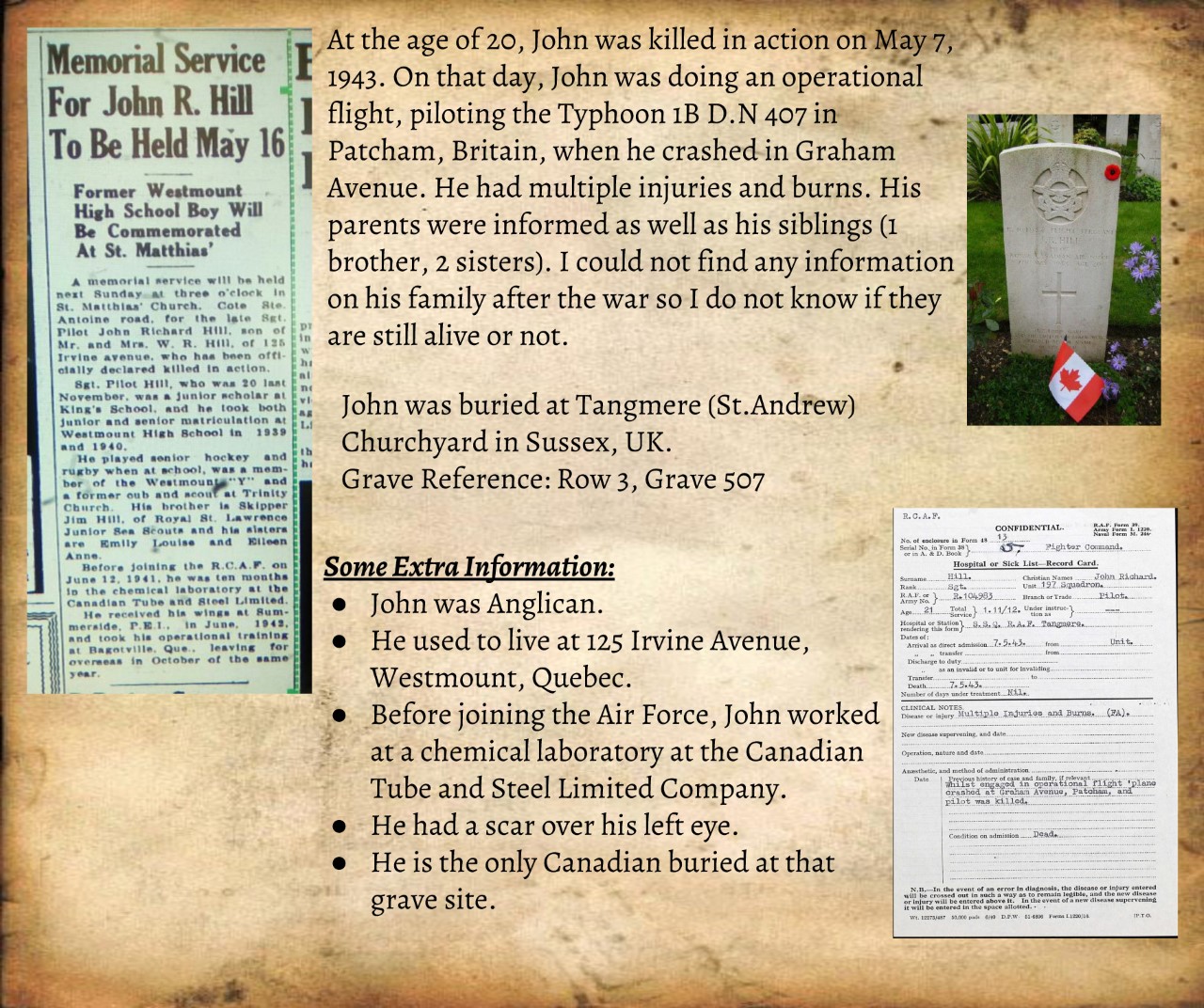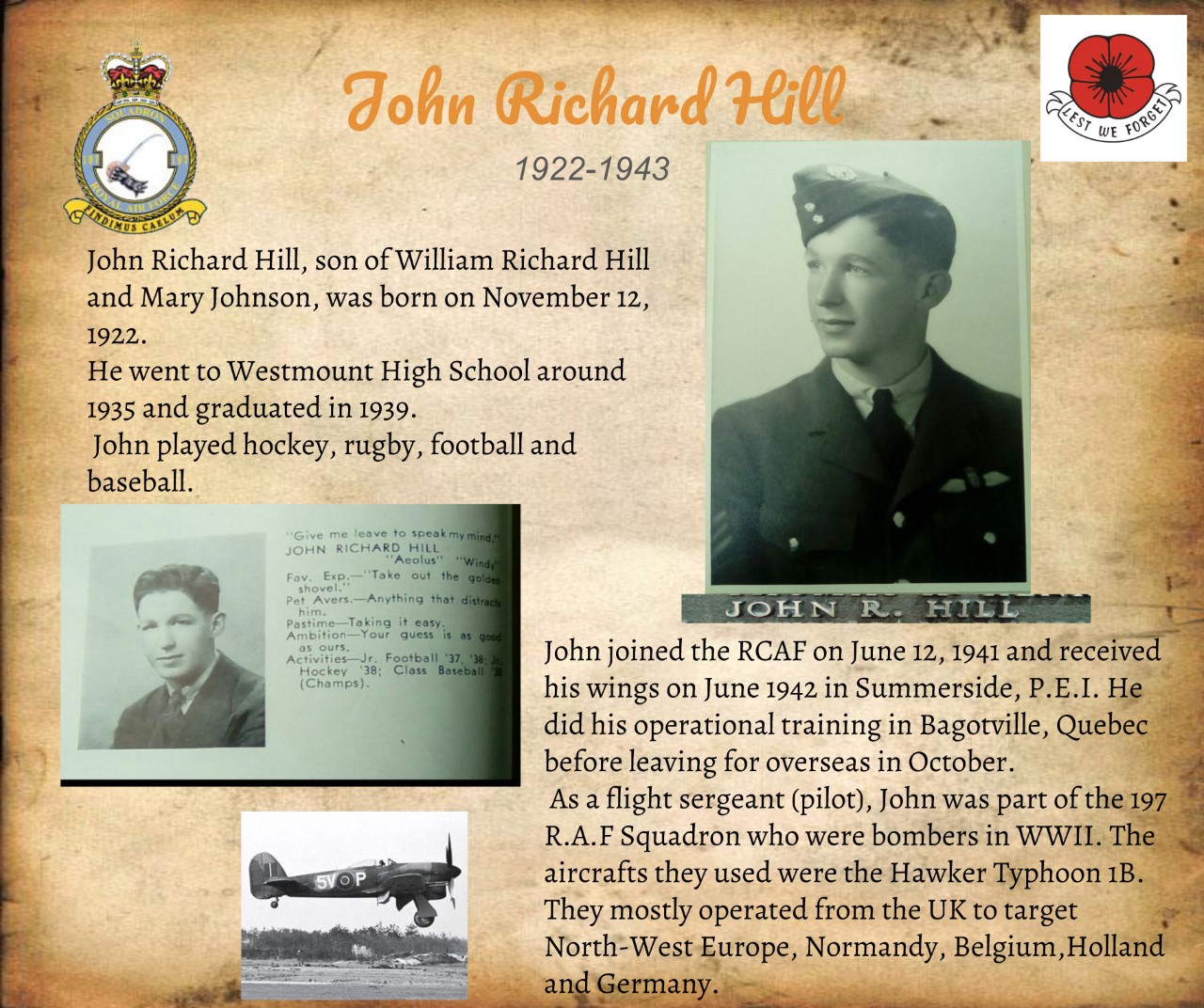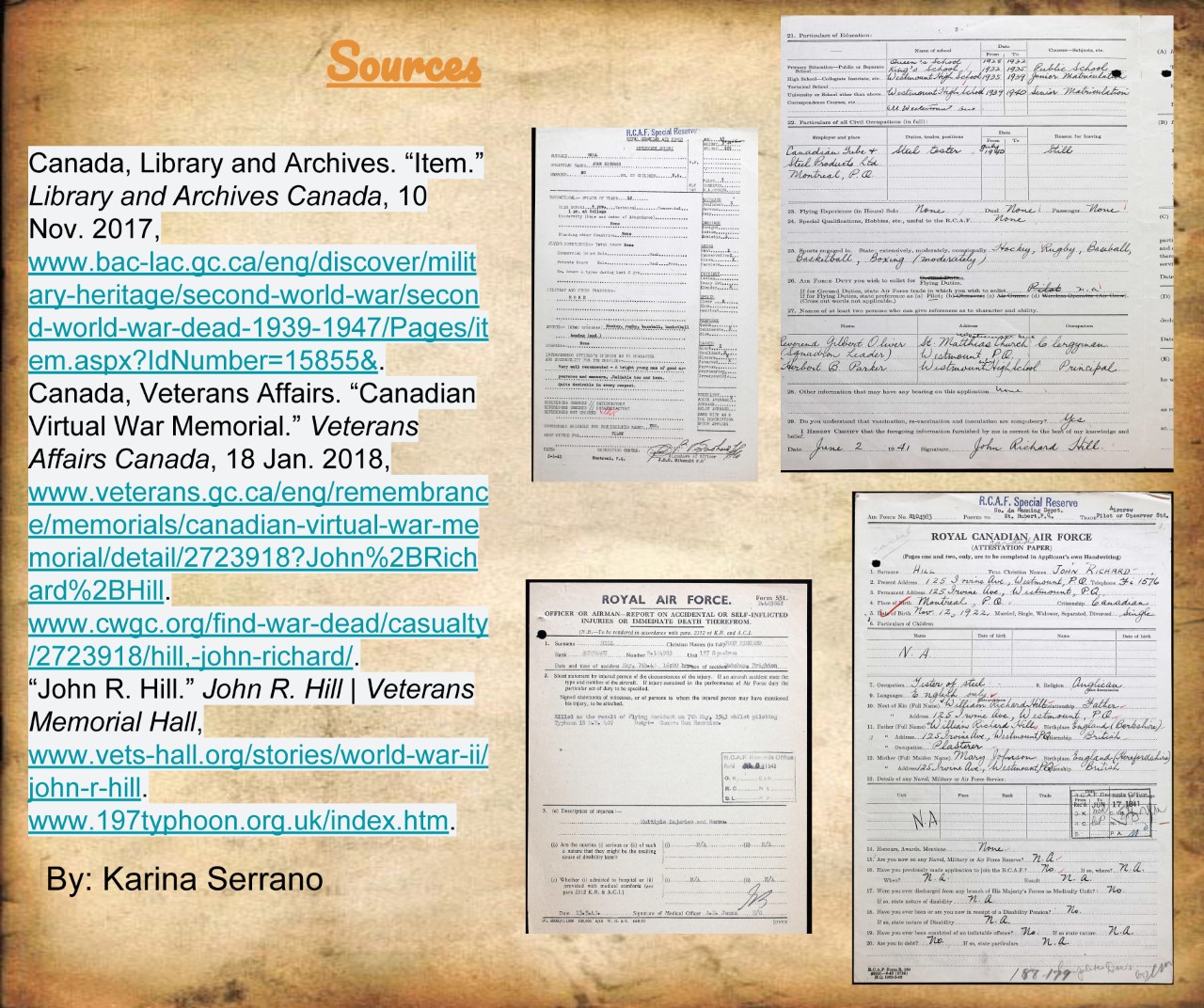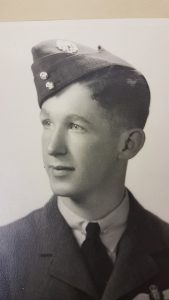 RAF 197 Squadron
John Richard Hill was the son of William Richard and Mary (nee Johnson) Hill of Westmount, Quebec. He had one brother and two sisters. The family was Anglican. He was born on November 12, 1922 in England. He was a steel tester at Canadian Tube & Steel Products Ltd, Montreal, for one year prior to enlistment. He wanted to stay in the RCAF after the war.
He enjoyed hockey, rugby, baseball, basketball and boxing. He smoked a pipe. He did not list any hobbies.
On June 5, 1941, he was assessed. 5' 11", 161 pounds, fair complexion, blue eyes and brown hair. "13 pounds overweight, but excess weight is well distributed and is apparently due to fact that applicant was unable to play hockey whis winter because of pneumonia in October. Otherwise, this man is in excellent condition and is very desirable type personally. Bright young man of good appearance and manners." In September: "Completed Gr, XI and put in one year in Grade XII, but failed in Latin and History, stopping school at 17. Worked for one year testig steel in munitions plant. Left to join up. Choice: Pilot, Observer. Younger than average. Definite, straightforward, alert, quick, responsible lad of good average intelligence. Becomes a little flustered in novel situations, but soon settles down if handled quietly. Has good self-confidence." F/L C. G. Stogdill
He started his journey through the BCATP at No. 4 MD, St. Hubert, on June 6, 1941. He went to No. 1 WS, Montreal, August 1941, then was sent to No. 3 ITS Victoriaville by September 1941 [Talkative. Cheerful and pleasant. Enthusiastic, quick, average intelligence. Fairly calm and self assured. Average. 19/151 in class] He was then in Windsor Mills at No. 4 EFTS [A very slow, plodding type. Rather young and may improve with experience. Unsuitable tof commission at present. Needs practice in aerobatics and steep turns. Link Trainer: 69%. Appears to have quite a bit of promising material in him. Good appearance. Conduct good. Lack of ambition in Ground Training] for three months before going to No. 9 SFTS, Summerside in November.He received his Pilot's Flying Badge on June 19, 1942.
He was at No. 9 SFTS until July 1942 as an instructor.
He was sent to No. 1 OTU, Saguenay July 1942, the to Bagotville in October. He made his way to Halifax later that month, and found himself at the RAF Trainees Pool by November 1942. He was at 55 OTU late November where he was assessed as "A good average pilot who is conscientious and tries hard at all times." He was then posted to 197 Squadron December 28, 1942.
Hill was killed as a result of a flying accident on May 7, 1943 at 1600 hours. He was piloting Typhoon 1B DN407, whilst on a camera gun exercise; location: near Graham Avenue, Patcham, one mile north of Payston Park, Brighton, Sussex, England.
From the ORBs: "More Standing Patrols. One Scramble. Whilst on Cine Gun practice with F/Lt. Elkington, Sgt. Hill J.R. (Canadian) got into a spin. He crashed near Brighton and was killed."
In 1986, Hill's sister, Mrs. Eileen Gilmour, requested her brother's medals. By 1987, she enclosed a cheque for $29.50 to cover the cost.
LINKS: