Joseph Albert La Rocque R52052
April 8, 1914 - October 5, 1943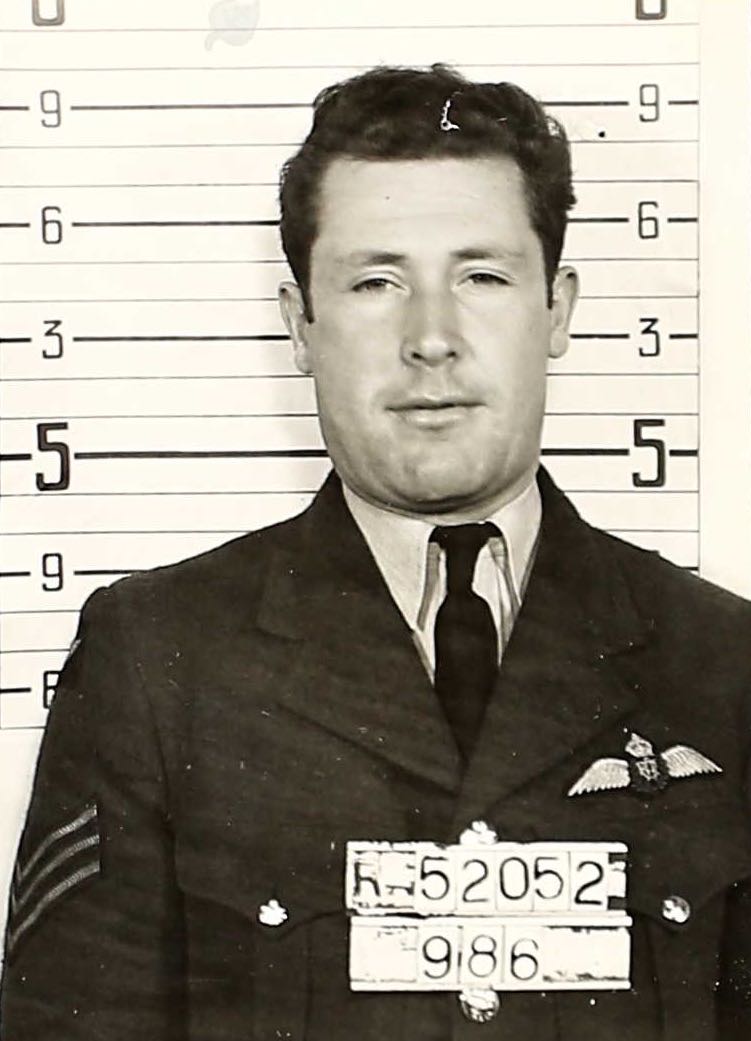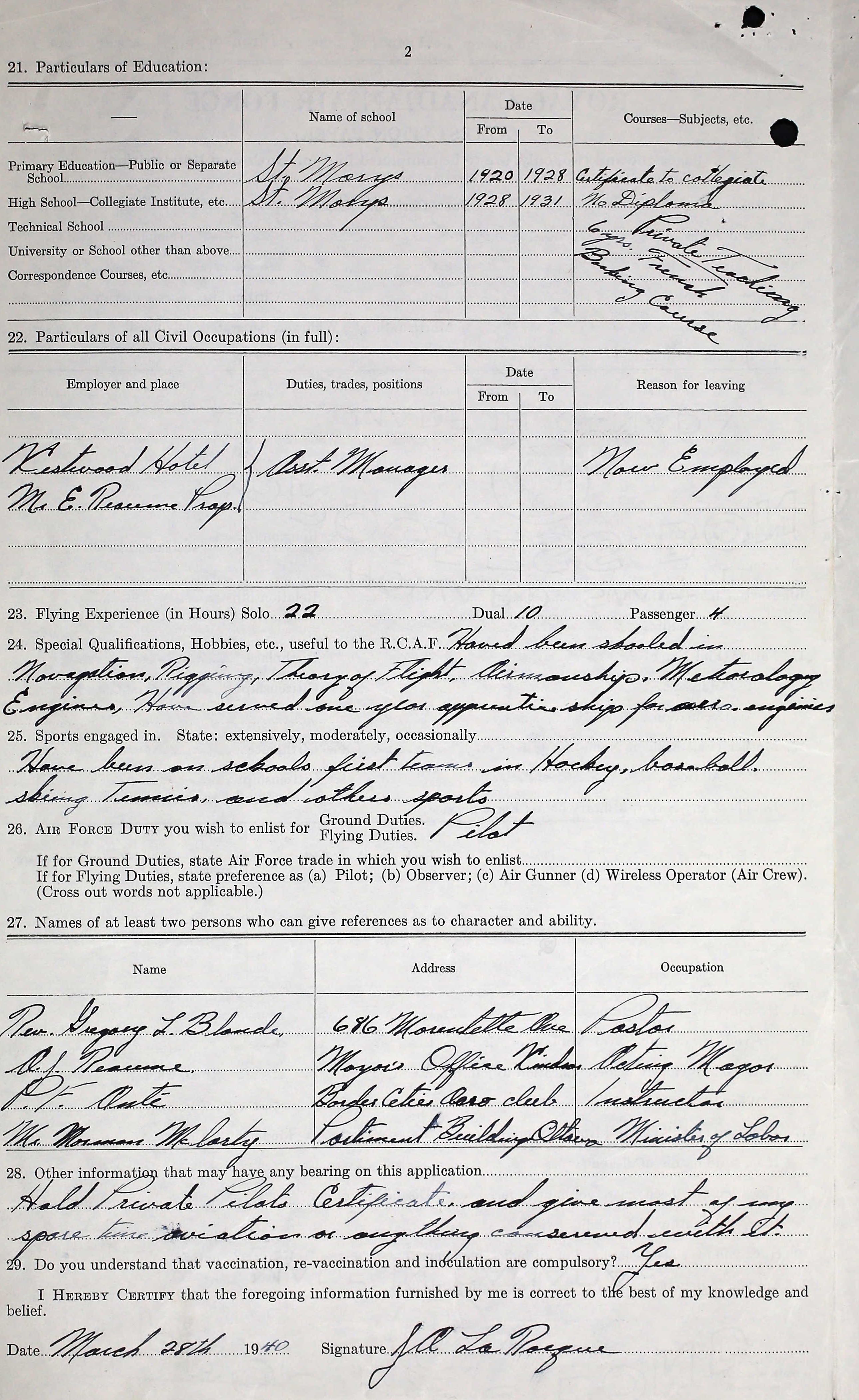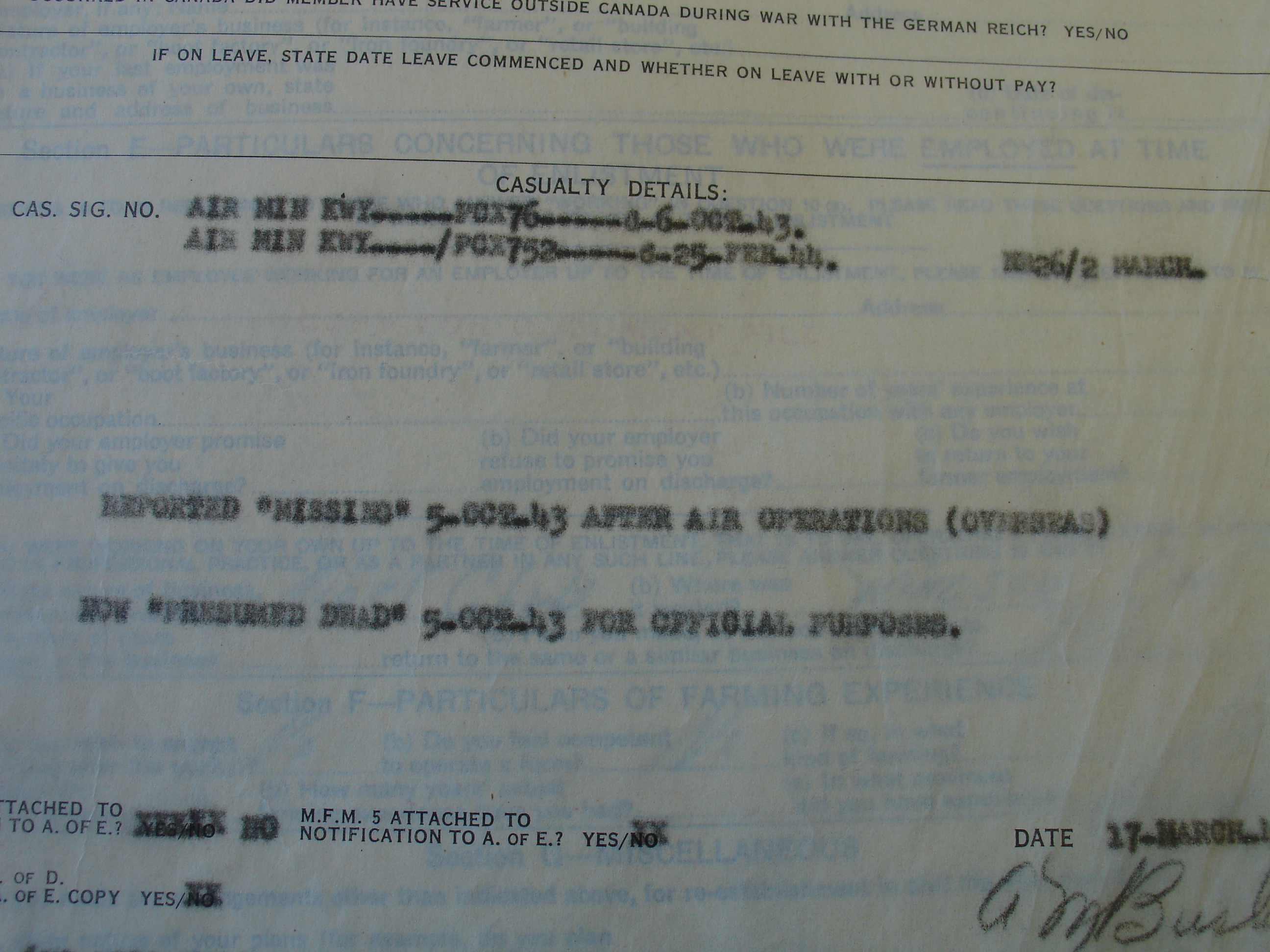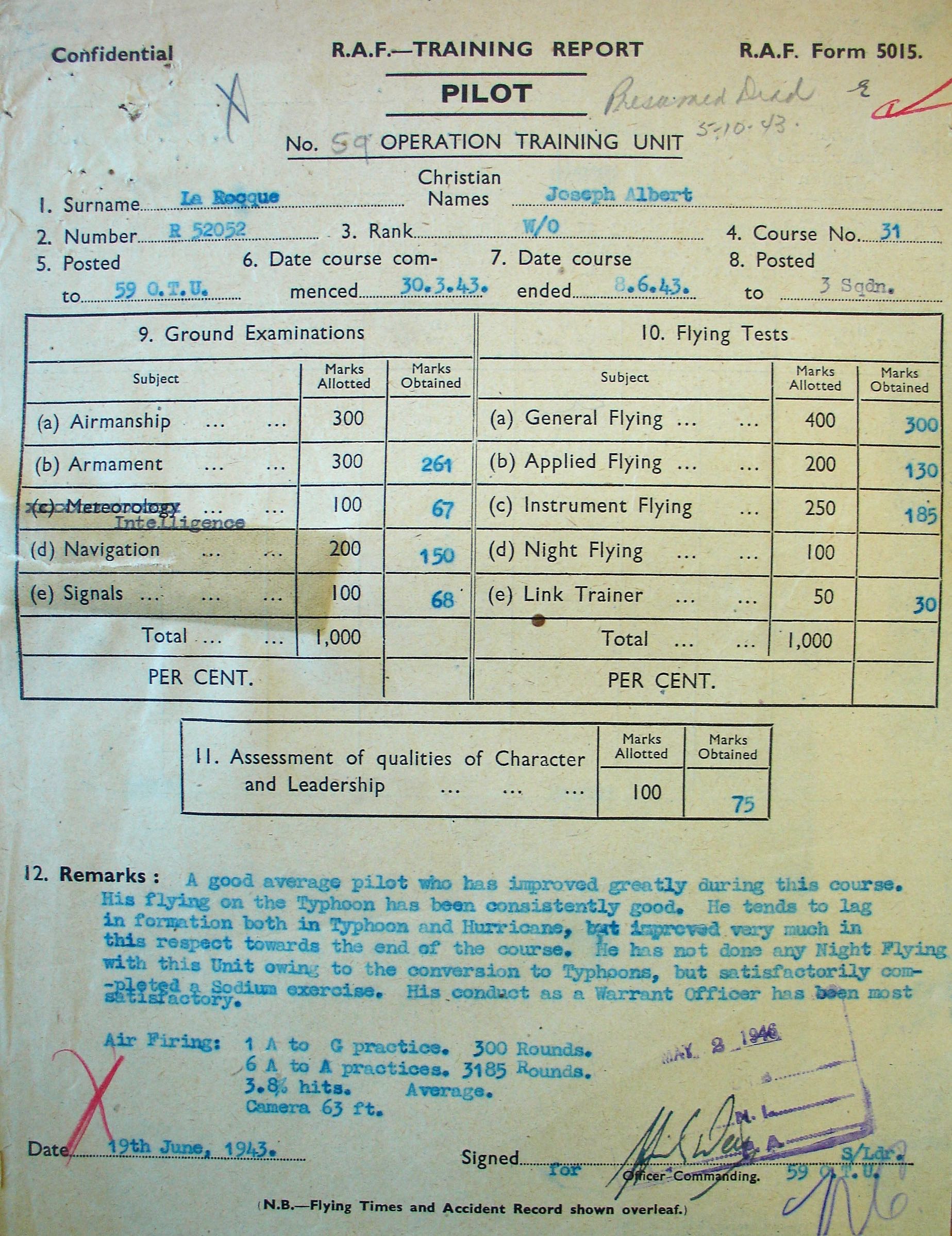 RAF 3 Squadron
Joseph Albert La Rocque was the son of Joseph Ernest La Rocque (lumberman) and Marie Amanda Chabot. Both parents were deceased at the time of his enlistment. He was born at Sturgeon Falls, Ontario. He had two brothers, one, Andre La Rocque, was with the Irish Fusilier, Canadian Army, overseas. His other brother, Leo, lived in Sudbury. The family was French Canadian and Roman Catholic.
La Rocque had two years of high school and tutored for six years in French. He had been the assistant hotel manager the Westwood Hotel in Windsor, Ontario, before he enlisted with the RCAF on May 5, 1940. He liked baseball, tennis and swimming. He noted telegraphy and flying as a hobby, with a private pilot's license with 22 hours flying time. He knew international and Morse code. "Friendly, an alert, experienced steady type with some flying experience. Fairly good intelligence. Wants to be pilot. Might make pilot single. Colour vision defective, safe. Knowledge of flying should make up for scholastic shortcomings."
At No. 1 ITS: June 24 - July 20, 1940: "I think Larocque is okay. He has done some flying and handled himself well on the ball field." NOTE: At some point La Rocque had become Larocque.
At No. 7 EFTS: July 22, 1940 - September 16, 1940: "Poor in aerobatics and sideslip." In Ground Training: "Conduct: fair. General attitude towards the service: fair. With time, improvement may be effected and some idea of the service and just what is means may result. Inclined to complain and voice grievances." He was 7 out of 19 in his class.
At No. 4 SFTS: October 15, 1940 - December 20, 1940: "This pupil is only barely average. Lacks polish and synchronization. Instrument flying: average. Recommended only as a staff pilot." In Ground Training: "Fair student, application and attitude satisfactory." He was not considered suitable for commission. "Discipline and conduct good, slow thinking." He was 36 out of 38 in his class.
He was sent to CFS, Trenton from January 13, 1941 to march 5, 1941. "Sgt. Larocque has above average ability and with experience should make an above average instructor."
He was stationed at No. 5 B&G School: Dafoe, SK when he was in an accident on June 2, 1942, flying a Fairey Battle No. 1906. He was involved in another accident on June 19, 1942 at 1345 hours at Dafoe. "One of the wheels locked and I was unable to make a proper landing," he reported. On June 23, 1942, at 0745 hours, he was involved in a third accident in Anson 8599. The weather was good. He sustained no injuries in any of these accidents.
On October 17, 1942, he was at No 1 Y Depot, Halifax. "On descending the outside steps from the barrack block, I had covered about three steps when my ankle suddenly turned and I fell to the ground," resulting in an oblique fracture of his lower and left fibula. He was on his way to parade square.
He had four offences on his General Conduct Sheet: July 1940, No. 7 EFTS, Windsor, Ontario: "When ordered to refill a water bottle by a senior NCO, did answer very insolently by saying, "If they depend on me, they will be very thirsty." He was given six days confined to barracks. In February 1941, Trenton, Ontario: "Absented himself without leave from 1300 hours, 25-2-41 to 1410, 25-2-41." He was given a severe reprimand. In March 1942: Dafoe, Saskatchewan: AWL, three days, 4 hours, 30 minutes. Forfeited four days' pay. In August 1942, at Dafoe: AWL 4 days, 10 hours. Forfeited five days' pay.
He found himself overseas on February 4, 1943 and was at 59 OTU at the end of March 1943, taken on strength with No. 3 Squadron on June 22, 1943.
La Rocque was killed on October 4, 1944 when he crashed in a slow spin from 3,000 feet.
LINKS: