Joseph Maurice Chalifour J16675
February 2, 1917 - July 15, 1943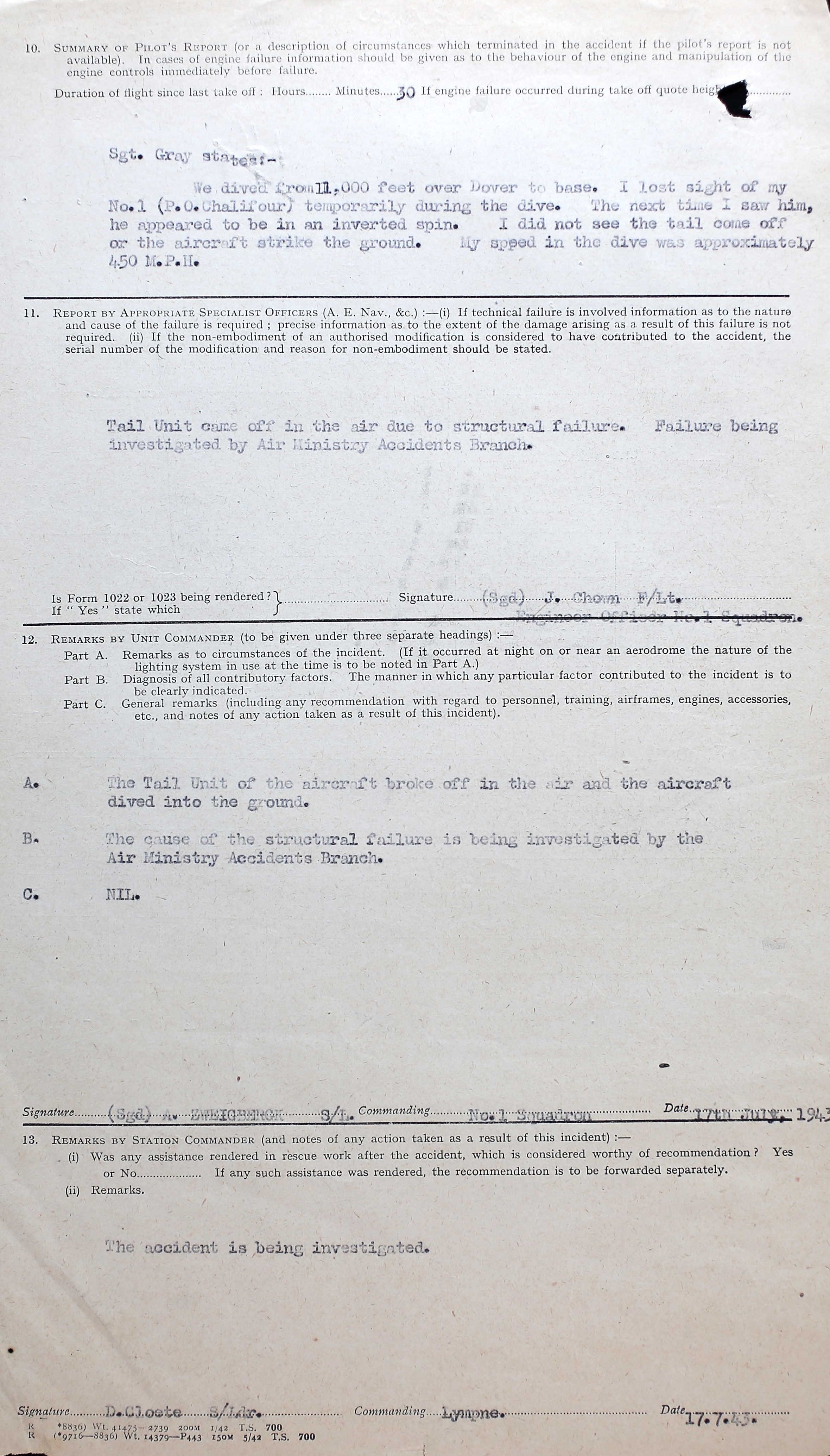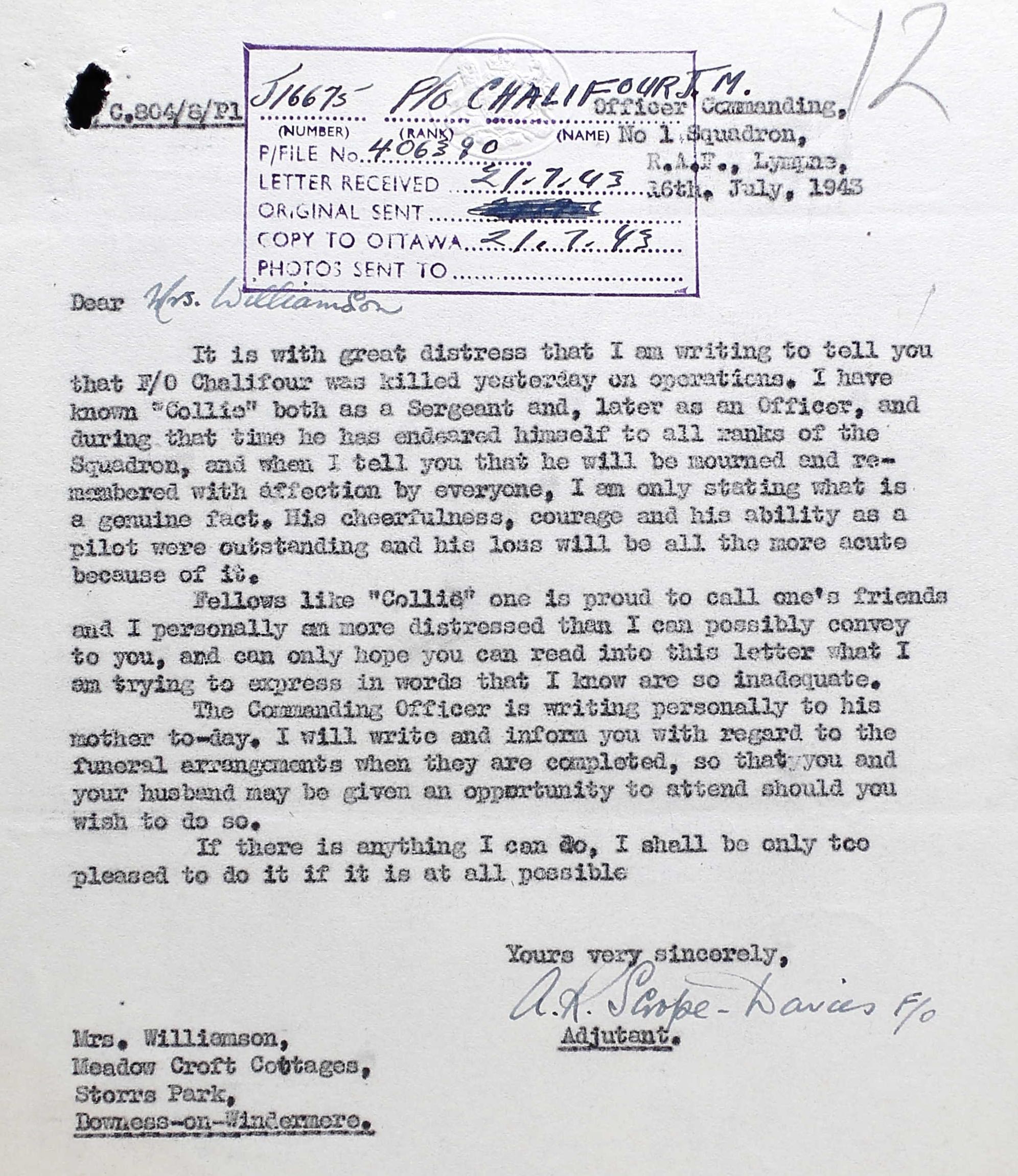 RAF 1 & 56 Squadrons
Joseph Maurice Chalifour was the son of Jean Baptiste Onesime and Marguerite Willaris Chalifour of Limoilou (Quebec City), Quebec. He had twin brothers and one sister. The family was Roman Catholic. A Mrs. Francis/Frances Wellan Chalifour is also listed as his mother -- perhaps step-mother?
Chalifour had one year correspondence course, Dessin, Quebec, then five year commercial course. He was an inspector of a fitting plant for three years with the Ministry of National Defence. He said he knew French and English. He noted he liked sports in general (skiing, tennis and swimming) and liked to build model airplanes. In June 1941: " Wants to be pilot. Not prepossessing in appearance but gives a decidedly good impression in conversation. Intelligent, broad minded, some flying experience with decided ambition to fly. Above average pilot material."
His journey through the BCATP took him to Toronto starting in October 1939, St. Thomas, Trenton, back to Toronto, to Mount Hope and then Aylmer where he earned his Pilot's Badge at No. 14. SFTS, November 21, 1941. By December 5, 1941, he was at Debert, NS. He was at 56 OTU by February 1942, the transferred to No. 1 Squadron April 1942. He was granted a commission on January 1, 1943.
At No. 1 ITS: "Dependable, cheerful, purposeful and alert. An excellent all round man who should be excellent member of Aircrew. Recommend Pilot.
At. No. 10 EFTS: "An above average pilot. Should make an exceptionally good service pilot on either twin engine or single aircraft. Weak on forced landings and instrument flying." Ground School: 22/31 in class. "Keen student who has worked hard. Smooth pilot with high average ability. Manner and discipline good. Worked hard. Being French-Canadian had trouble understanding terms in class."
At No. 14 SFTS: "Flying is a good average and should make fair fighter pilot. Has shown a certain lack of initiative." Ground Training: "Above average in ability, but hampered by a very incomplete knowledge of English. A very pleasant type of student." Also: "Action when in difficulty unpredictable. General flying routine smooth. Instrument average. Quiet type. Not very outstanding but works well and tries hard. Appearance good." He was involved in an accident here on September 1941: "Inexperience with instructor." He did a ground loop.
By the time he was assessed at No. 56 OTU, he was above average and average in all categories of Flying Aptitude. "This pilot has shown outstanding promise in most phases of his flying. His formation flying in cloud and otherwise is by far the best for his course. His attitude towards those in authority is 'just right.' He is keen to learn and quickly profits from experiences of his own. Recommended for commission." He was known as "Collie" to those on the Squadron.
Chalifour was killed while flying Typhoon EK228 on July 15, 1943 at 21.30 hours at Puddlesworth, Kent, England. The accident was deemed due to structural failure in flight, as the tail unit broke off and lnaded 500 yards to the east of the crash. The fuselage failed just ahead of the tail.
According to Typhoon and Tempest by Hugh Halliday, page 16, Chalifour was killed as he had come off patrol with No. 1 Squaddron. He had begun his dive from 10,000 feet when his tailplane snapped off.
Sgt Gray, 1333967, one of ten witnesses, stated: "We dived from 11,000 feet over Dover to base. I lost sight of my No. 1 (P/O Chalifour) temporarily during the dive. The next time I saw him, he appeared to be in an inverted spin. I did not see the tail come off of the aircraft strike the ground. My speed in the dive was approximately 450 mph." Another witness, F/L D. P. Perrin, NZ 404404, Flight Commander said, "I was airbourne at 2115 hours and heard the controller tell Blue Section to pancake. A few minutes later, the controller asked Blue 1 (Chalifour), if Blue 2 (Gray) was with him. Not receiving any answer, he contacted Blue 2 and asked him is he were with Blue 1. I then saw an aircraft crash and burst into flames at Puddlesworth. I immediately flew over the spot and saw that it appeared to be a Typhoon, on its back. I called Blue 1 and asked if he were receiving but received no reply. I called Blue 1 and ased if he were receiving but received no reply. I called Blue 2, but then recognized him orbitting the crash by the aircraft letter. I heard Blue 2 call the controller and say that Blue 1 was in trouble just prior to seeing him. I then returned to base and landed."
Remarks from Court of Inquiry: "Tail unit came off in the air due to structural failure. Failure being investigated by Air Ministry Accidents Branch."
LINKS: