Lawrence Kendall Jackson J86071
March 17, 1921 - April 19, 1945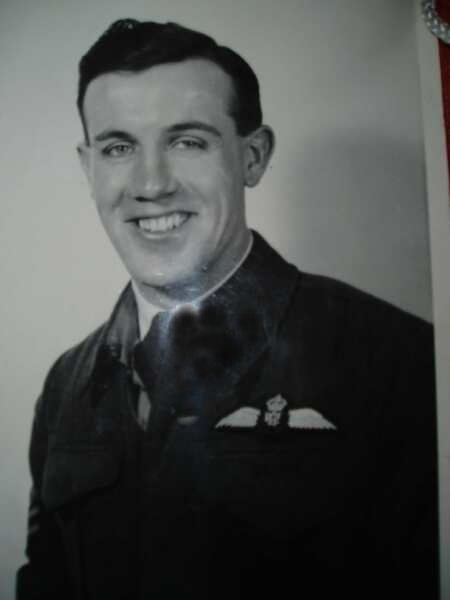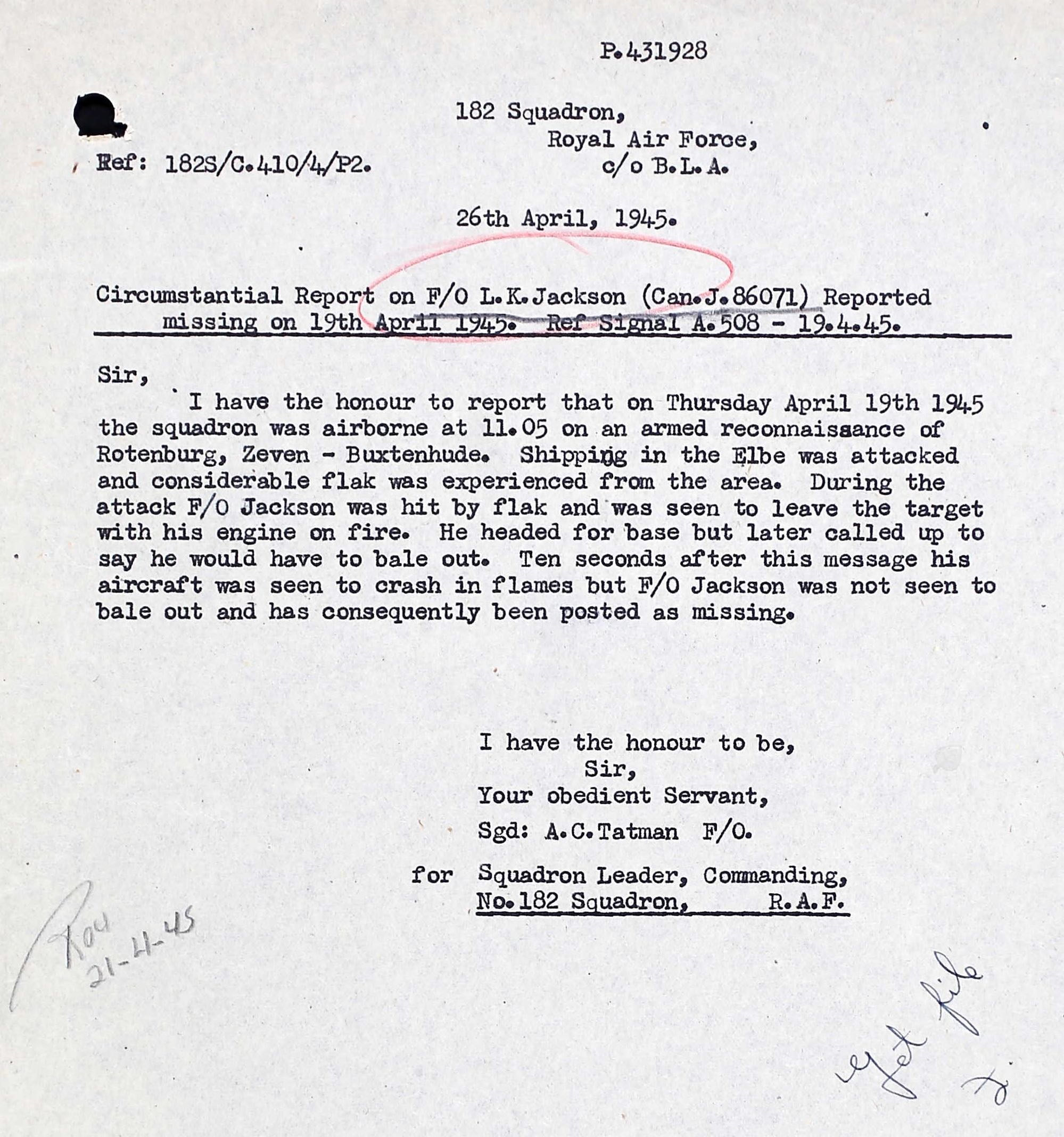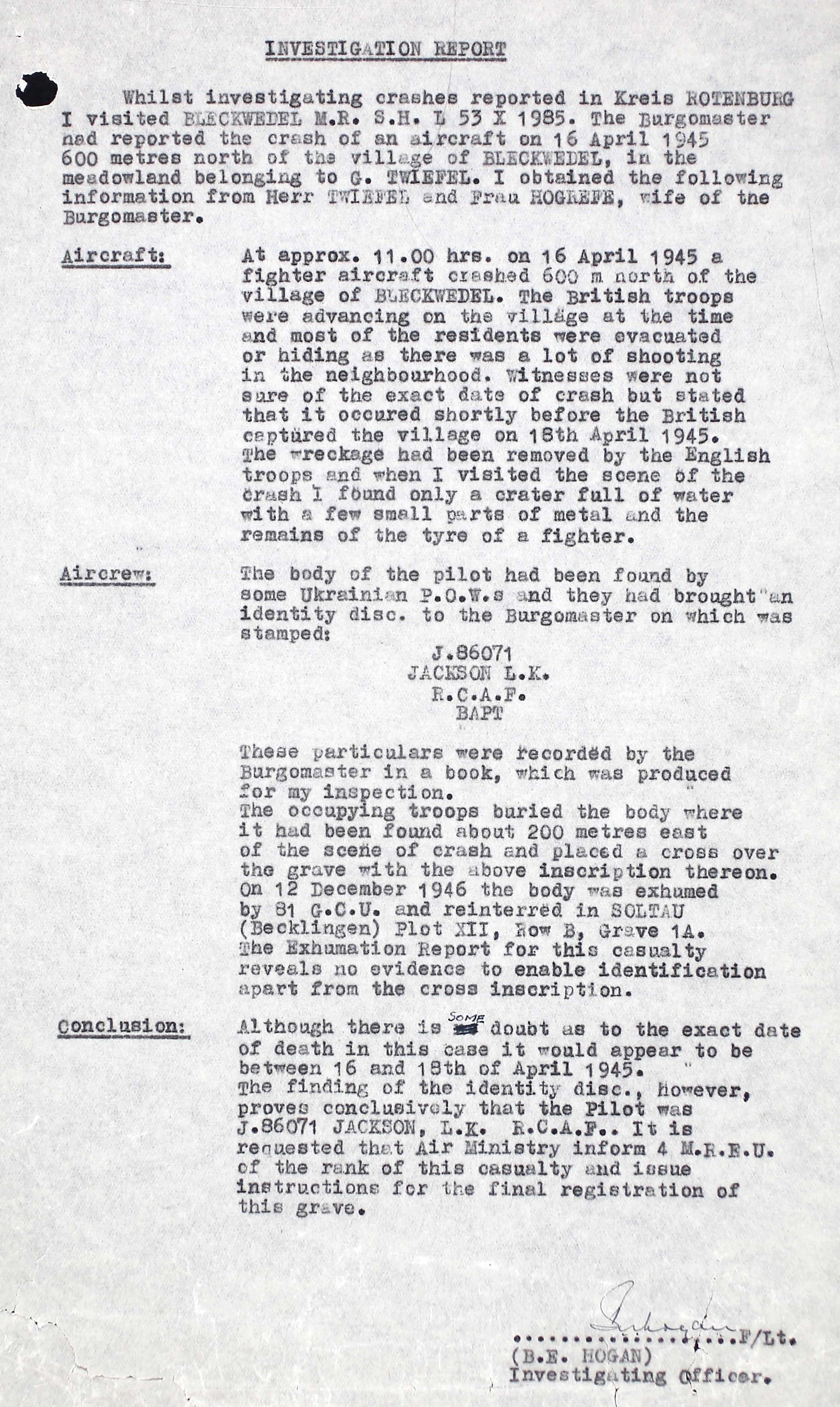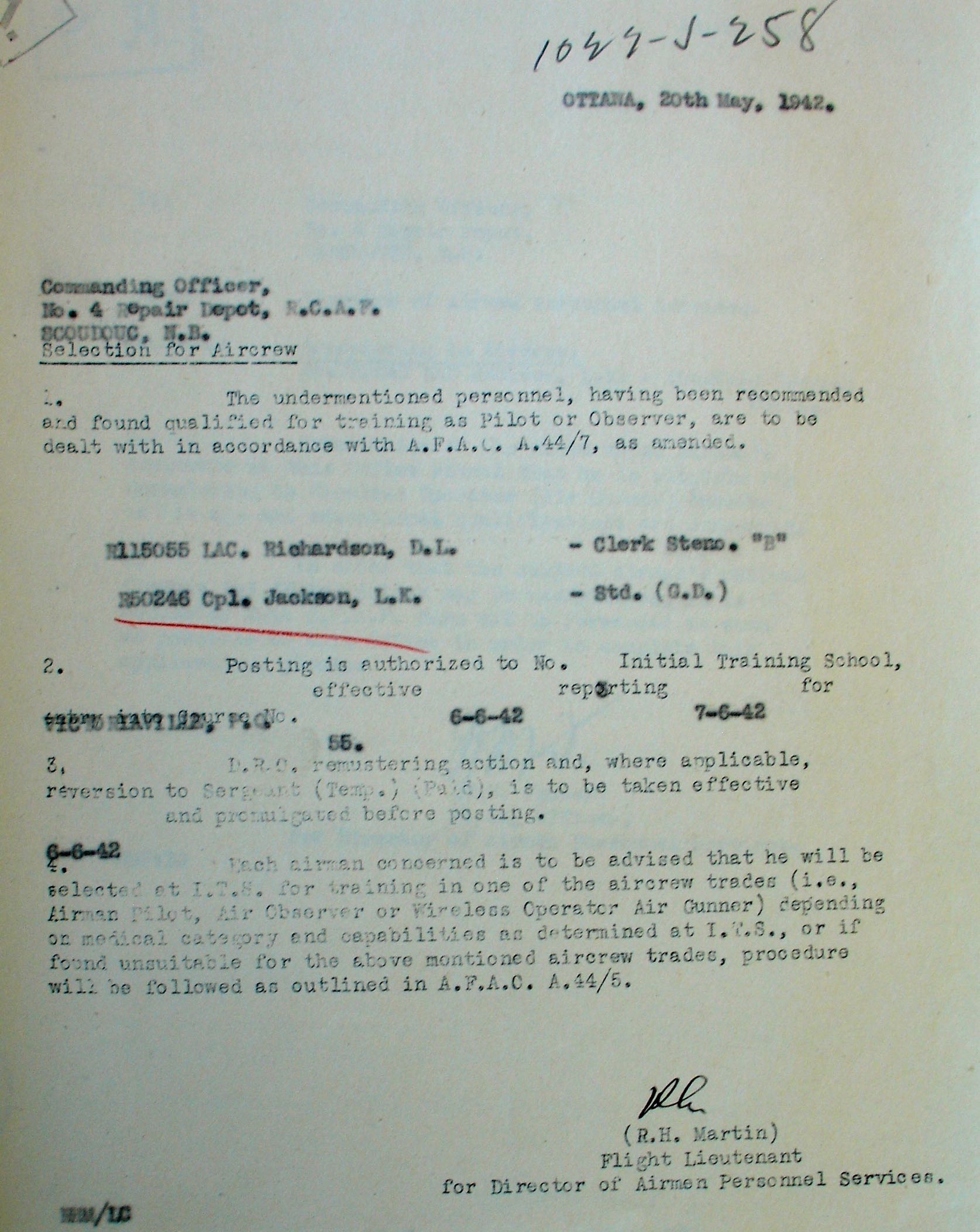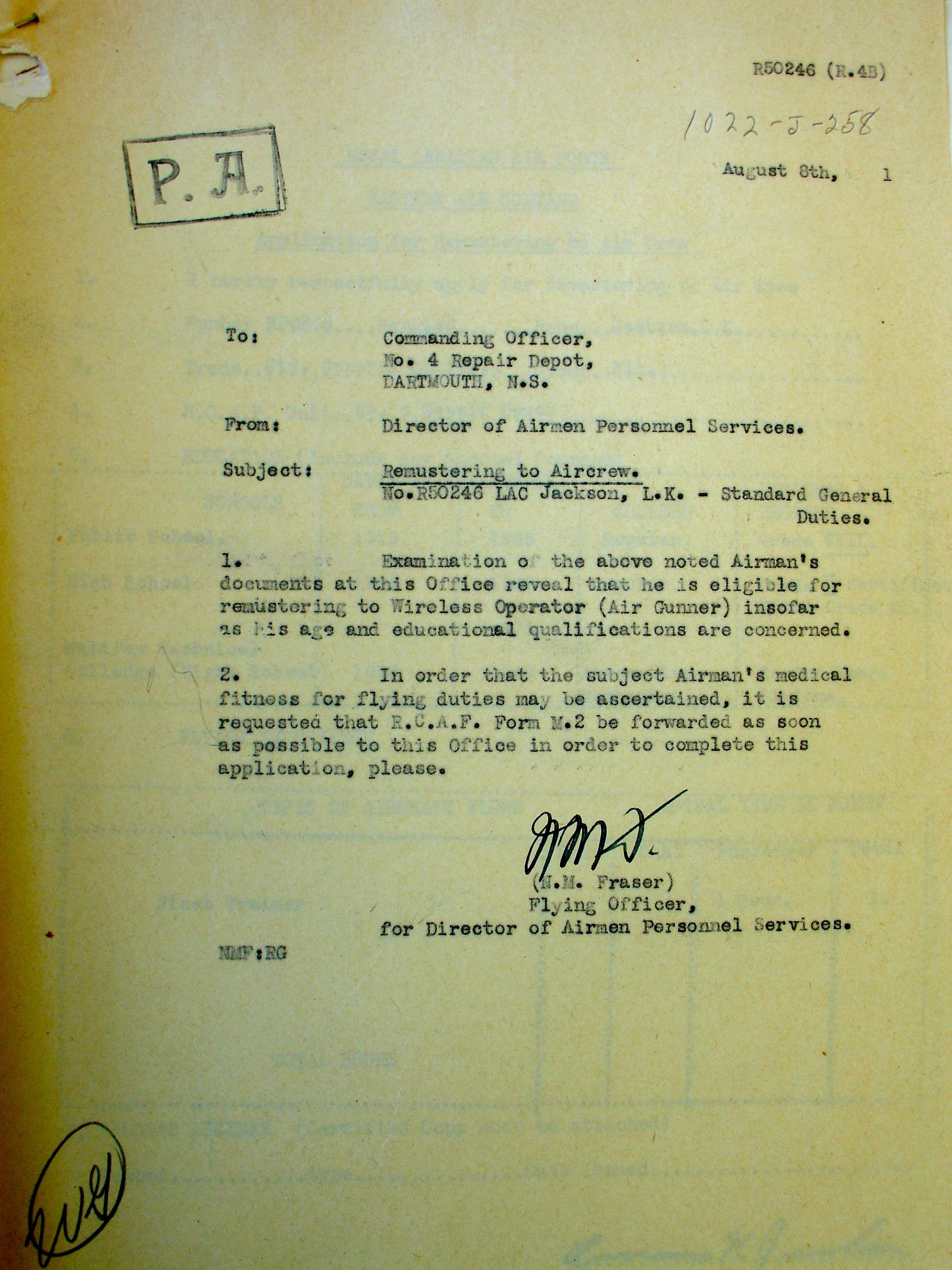 RAF 182 Squadron
Lawrence Kendall Jackson was the son of Ira Kenneth (traveling salesman) and Edith Margaret (nee Garner) Jackson of Halifax, Nova Scotia. He had two full brothers and one half brother, plus two full sisters and three half sisters. (His mother at the age of 44, died when Lawrence was 4. Please visit the link below to learn more about the family from Dave Olson, Lawrence's nephew.) The family was Anglican. Lawrence Jackson married Dorothy Ada (nee Shurman) Jackson, nurse at Toronto General Hospital, on April 24, 1943.
Jackson made his first application in January 1939 in Ottawa. His documents were returned and he tried again in the spring of 1940 for ground duties with the RCAF. He indicated that after the war, he would have liked to remain in the RCAF as a pilot or be a commercial pilot.
He liked swimming, cycling, badminton, table tennis and softball. He had been a ledger clerk in 1939 for H. M. C. Dockyard. He had attended Halifax Tech College in 1938 - 1940 studying mechanics.
He stood 5' 7 3/4" tall, weighed 135 pounds and had a medium complexion with hazel eyes and dark brown hair.
He remustered to be a pilot or observer and was assessed in April 1942: "He should make a very satisfactory trainee. Above average in ability to learn. Good physical condition. Pleasant personality. Quite anxious to fly. Excellent type. Good type of man. Has had good experience as a passenger in aircraft. Fond of hunting and swimming."
He trained at No. 3 ITS, Victoriaville in September 1942 [intelligent, likable, alert, good worker], then at No. 4 EFTS, Windsor Mills [has been doing very good work; attentive and willing]. He was at No. 13 SFTS, St. Hubert by November 1942, where he received his wings in April 1943 [average pilot with good natural ability. No outstanding faults. Not recommended for commission].
He was in Halifax and was with 128 Squadron, then sent to RAF Trainee's Pool arriving in June 1943. He was at 3 PRC, then 7 (P) AFU in July until November 1943, when he was at No. 4 RS.
At 57 OTU: July 1944 - September 1944: "An average pilot who is more an individualist than a leader. Has worked hard throughout the course, but his formation and dog fighting are only fair. Squadron experience should do him a lot of good." He was involved in an accident on August 30, 1944 in a Spitfire during taxiing, due to gross carelessness.
On April 19, 1945, F/O A.C. Tateman wrote: "I have the honour to report that on Thursday, April 19, 1945, the squadron was airborne at 1105 on an armed reconnaissance of Rotenburg, Zeven-Bustenhude. Shipping in the Elbe was attacked and considerable flak was experienced from the area. During the attack, F/O Jackson [flying Typhoon SW412] was hit by flak and was seen to leave the target with his engine on fire. He headed for base but later called up to say he would have to bale out. Ten seconds after this message, his aircraft was seen to crash in flames but F/O Jackson was not seen to bale out and has consequently been posted as missing."
John D. Derry wrote to Mr. Jackson on April 24, 1945: "I regret that I can hold very little hope for Lawrence's safety after what occurred. We had done an attack when Lawrence called up to say he had been hit and was heading for our lines. I followed him as escort and also to see when he landed. After a few minutes, he said he was going to bale out and that was the last I heard from him. I did not see him leave the aircraft which crashed almost immediately afterwards. I stayed in the area for some time to search for a parachute, but did not see one. The fighting on the ground in this area was very confused so that news from the army is scarce but I hope to hear something more defiinite soon in which case I will wrote to you immediately and give you any more information I can. I have written to Lawrence's wife and told her the story as I have told you. I would like to say, also, that he was a most courageous and determined pilot for whom I had a great admiration. He was one of my most reliable and experienced pilots and also a personal friend of mine. His calm manner the day he crashed was a fine example to everyone."
In the letter to Lawrence's widow, Derry wrote, "I do not wish to seem hard, but I appreciate how gravely anxious you must be for news of your husband and I wouuld rather you know the circumstances than that you held on to hope when the chances are so small. We had attacked some shipping when Lawrence was hit by flak which set the aircraft on fire. He called me up quite calmly in spite of his serious trouble and headed off for our own lines. On reacing them, he said he was going to bale out. I was following him in order to see what happened to him, but did not see a parachute open. The aircraft crashed in a field and I am doing all I can to get in touch with the troops in that area. In the meantime, I am endeavouring to get up to the scene by car though it is some distance."
The body of F/O Jackson was found by Ukrainain POWs near the village of Bleckwedel, in the meadowland belonging to G. Twiefel, and they had brought an identity disc to the Burgomaster. The occupying troops buried the body where it had been found about 200 metres east of the scene of the crash and placed a cross over the grave.
F/O Jackson was originally buried near the site of the crash and was subsequently reinterred on December 12, 1946.
LINKS: