Leonard Arthur Unwin J10393
January 2, 1917 - December 24, 1944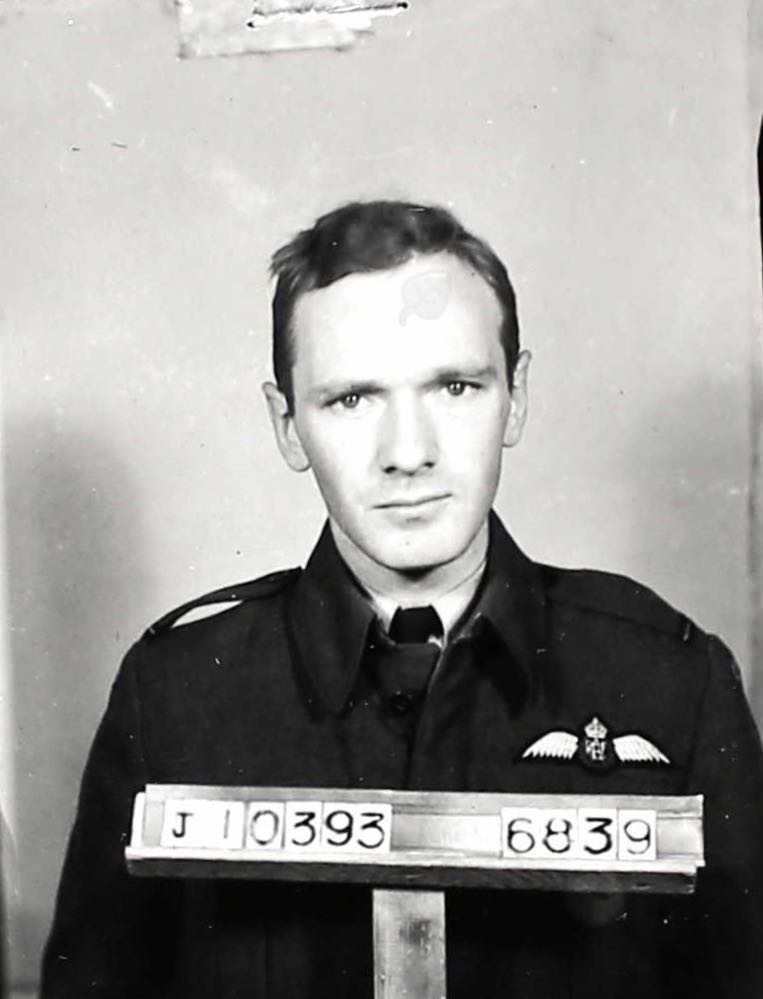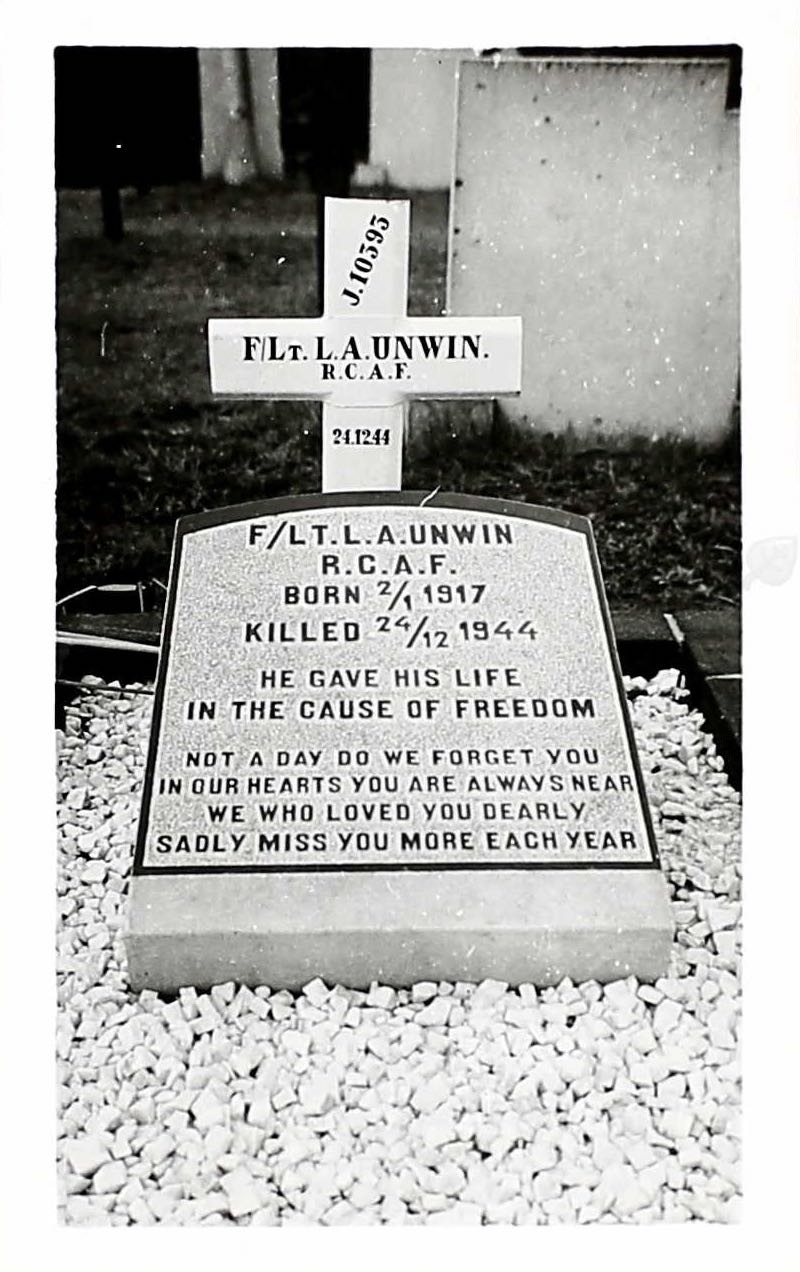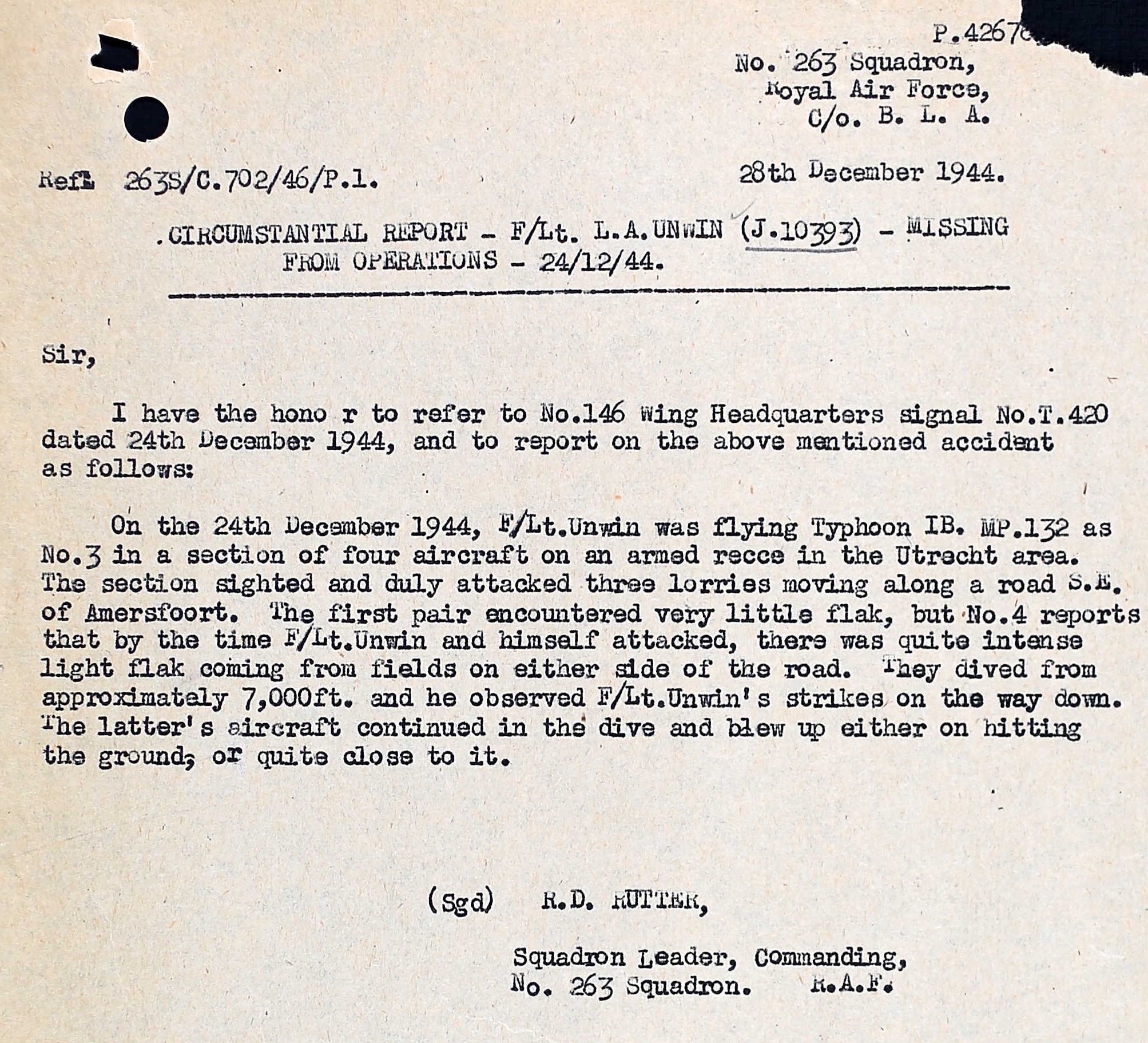 RAF 263 Squadron
Leonard Arthur Unwin was born in Sheffield, England to James Arthur (travelling food salesman with McLarin's Ltd. Hamilton, Ontario) and Minnie (nee Gosnay) Unwin, of 365 Rankin Blvd, Windsor, Ontario. The family moved to Canada when Leonard was 1 1/2 years old. He had two older sisters, Minnie, 35 and Cora, 28. The family was Anglican.
Unwin had been a shipping and invoicing clerk for Christie, Brown Co. Ltd, Windsor. He had previously made application to the RCAF in October 1939 in Windsor, Ontario. His application had been accepted with Unwin declared medically fit, and filed for future reference.
He noted he had five hours solo and 15 hours dual with one hour as a passnger on his next application in March 1940. "I constantly read latest books and news pertaining to aviation. Have taken a short ground aviation course in the winter of 1934 when I was flying." This was sponsored by Border Cities AeroClub. He like baseball, swimming, golf and hiking, plus other outdoor activities. He collected historical data on North American Indian life. In June 1940: "Extremely interested in flying and aviation. Has personality that commands attention. Trustworthy and energetic. Fine type of boy who has job not in keeping with his talent. Should be well suited to flying duty. Has lacked opportunities socially." He noted in May 1943, he had applied to TCA for a position and hoped to remain in the RCAF as a pilot or with a commercial airline.
He stood 5' 8 3/4" tall, weighing 130 pounds. He had blue eyes and fair hair.
He married Evelyn Marie Paris, 23, on May 17, 1941 in Windsor, Ontario. They had a daughter, Marlys Ann Unwin, who was born and died May 8, 1943.
At 1 ITS, Toronto: June 23-July 19, 1940: "Recommend for pilot. Good stuff in this man." He ranked 98th in a class of 244.
At 7 EFTS, Windsor, Ontario: July 22-October 11, 1904: "Average pilot." GIS: "Conduct very good. Attitude towards service very good. Exceptionally steady and reliable. Constant application on ground subjects. Very methodical and willing."
At 4 SFTS, Saskatoon: October 13, 1940 - December 20, 1940: "Average all round pilot. Above average on instrument flying." GIS: "Average student. Reliable and ambitious. Smart appearance and manner. Punctual and willing."
He was then sent to CFS Trenton, Ontario for a Flying Instructor's Course on December 23, 1940 - February 24 1941. He was posted to No. 9 SFTS, Summerside, PEI as an instructor: February 23, 1941 to March 31, 1942.
He was then sent to No. 8 SFTS Moncton from April - December 1942. He was then sent to No. 10 OTU Bagotville in December 1942 until May 1943. In May 30, 1943, he was sent to Halifax and was in the UK at the RAF Trainees' Pool on June 15, 1943.
"On December 24, 1944, F/Lt Unwin was flying Typhoon 1B MP132 as No. 3 in a section of four aircraft on an armed recce in the Utrecht area. The section sighted and duly attacked three lorries moving along a road SE of Amersfoort. The first pair encountered very little flak, but No. 4 reports that by the time F/Lt Unwin and himself attacked, there was quite intense light flak coming from fields on either side of the road. They dived from approximately 7000 feet and he observed F/Lt Unwin's strikes on the way down. The latter's aicraft continued in the dive and blew up either on hitting the ground or quite close to it." S/L R. D. Rutter "This incident occurred at approximately 1610 hours about three miles west of Barnefeld, Holland. An extract from official German totenliste No. 263 confirms F/Lt Unwin's death on the 24th of December and states that he was buried on the 27th of December 1944, in the General Cemetery, Woudenberg, Holland."
LINKS: