Leroy Means Sullivan J8905
December 20, 1921 - November 7, 1943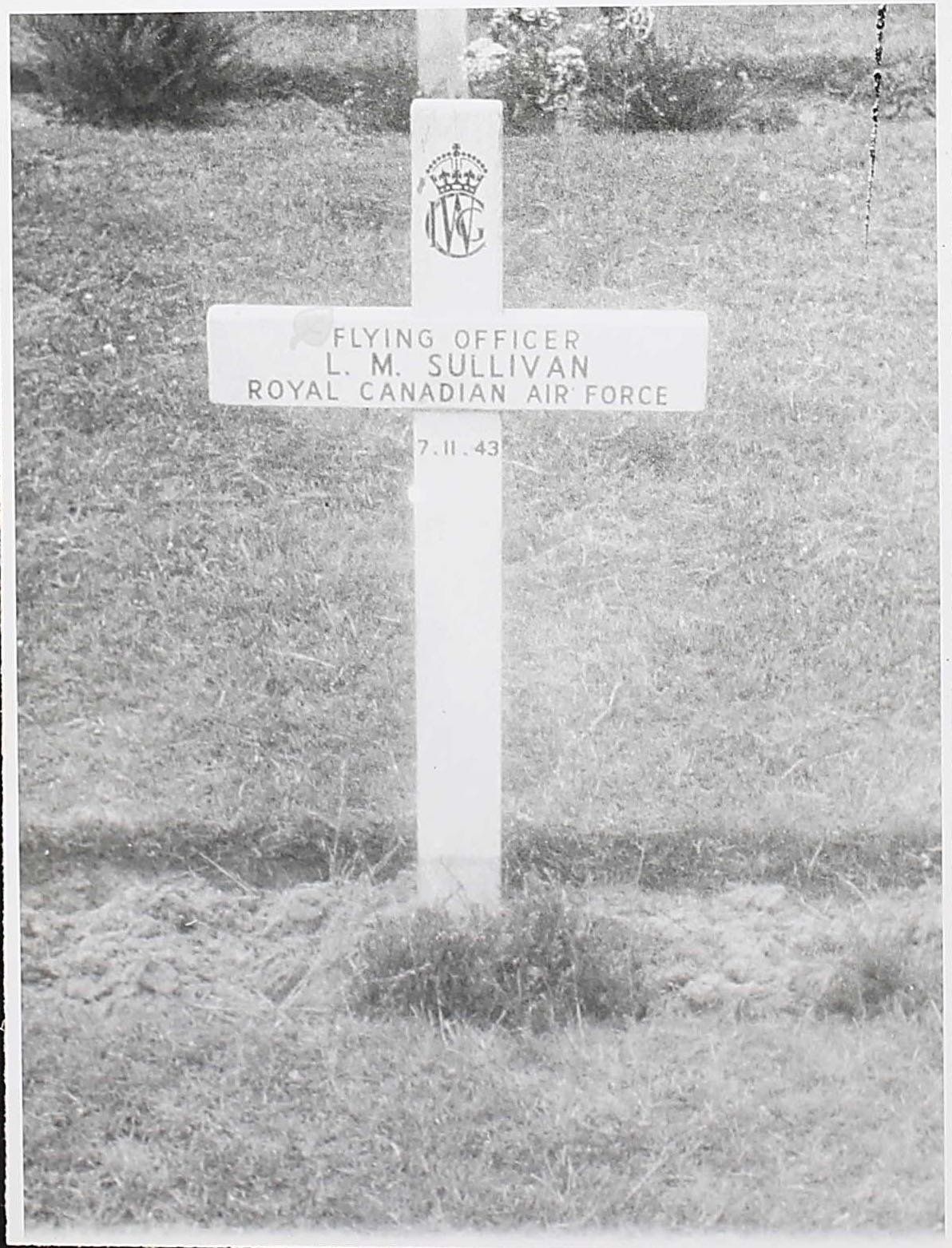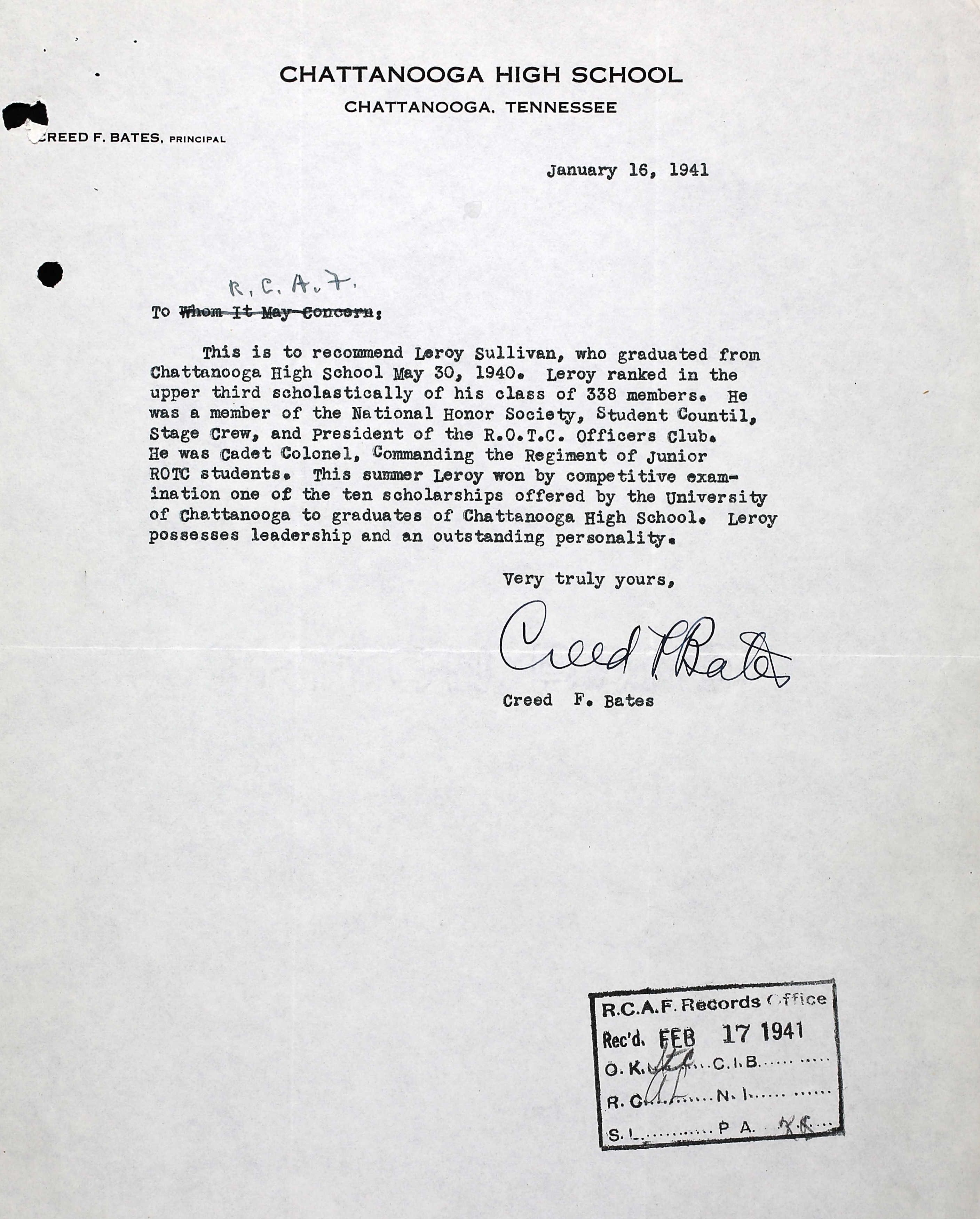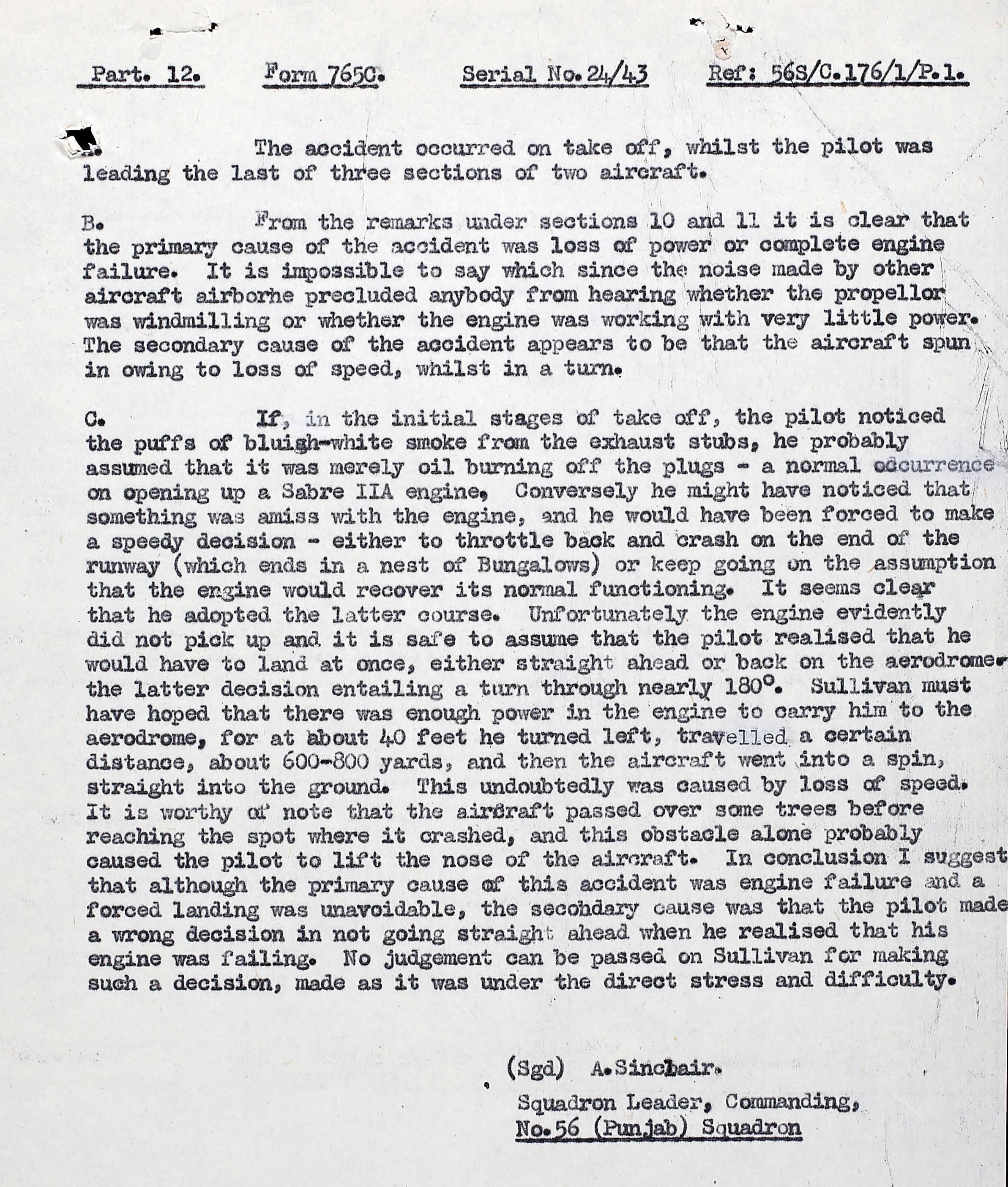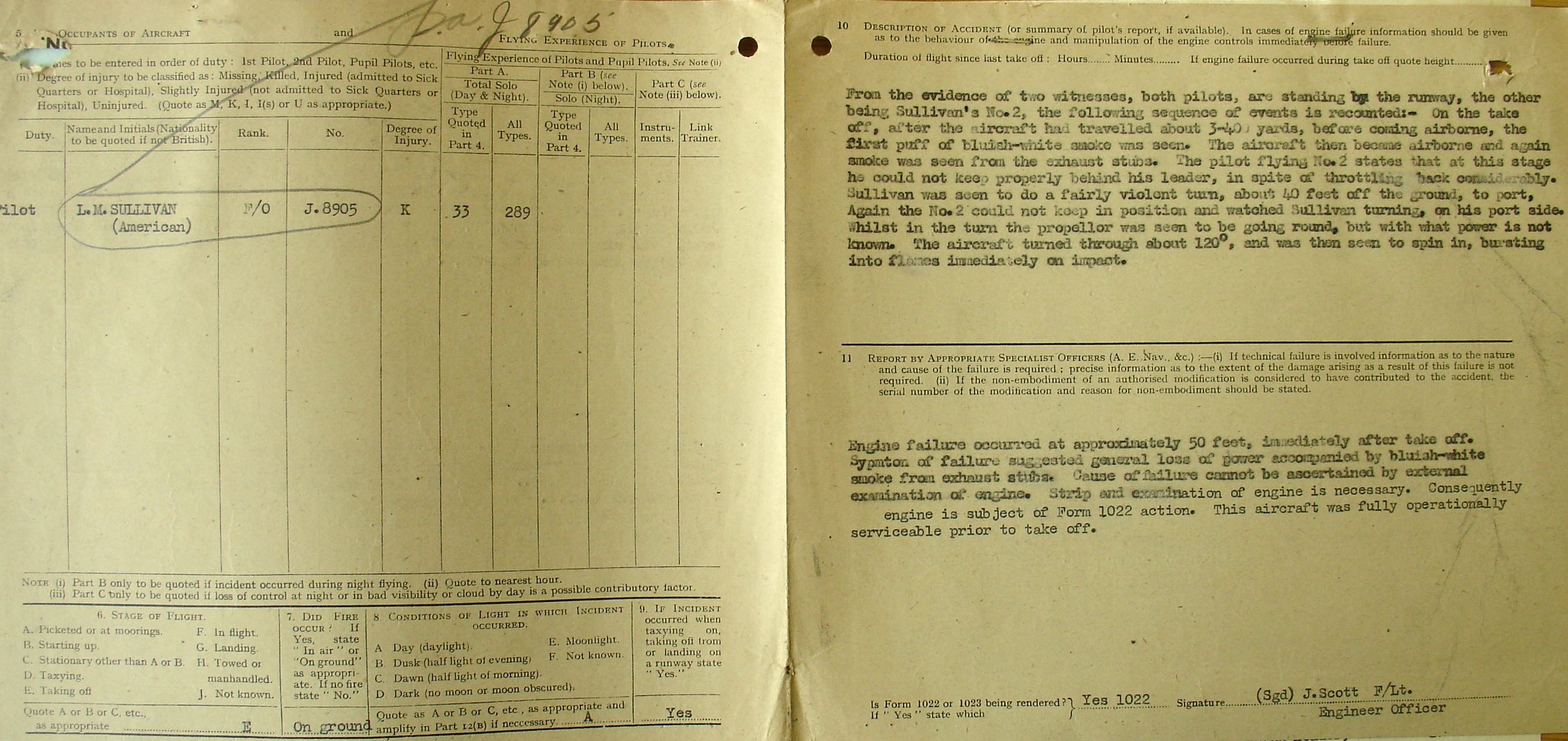 RAF 56 Squadron
Leroy Means Sullivan was from Chattanooga, Tenneessee and he enlisted in Windsor, Ontario in January 1941. He was the only child of Leroy Means Sr. (factory superintendent) and Nell Louise (nee Hooker) Sullivan, 46. His father died in May 1921 of blood poisoning before Leroy Jr. was born. The family was Episcopalian.
In 1936, Sullivan fractured both arms, but his medical review felt he still had good function. He also had otitis media in his left ear in 1930, with a myringotomy performed. His ear drum was scarred, but he had no further recurrences. He listed ROTC from 1937 - 1940 and CMTC from 1939-1940. He smoked ten cigarettes a day and occasionally partook in drinking alcohol.
He was assessed as physically fit. He stood 5' 11" tall and weighed 158 pounds. He had hazel eyes and brown hair. "Keen, alert, good type American. Poor motives. Good coordination. Capable. Would prefer to be an instructor. Good satisfactory material." F/L J. A. D. Marquis
Sullivan had been a student and part time drug store clerk, plus an usher at the Tivoli Theatre in Chattanooga, as well as a paper carrier. He had taken Spanish for two years and French for 6 months in school. He liked basketball and swimming very much, with football and polo, moderately. He noted he had 8 hours dual flying experience. He had been employed by Buck's Flying Service, washing airplanes in 1940.
At 1 ITS, Toronto, May 29 - July 3, 1941: "Excellent type, clear thinking. Conscientious, energetic, and should make excellent pilot. Recommended for a commission." He was 43 out of 113 in his class with an 87% mark.
At 10 EFTS, Mount Hope, Ontario, July 4 - September 1, 1941: "Had been good average trainee from start. Needs considerable work on aerobatics and instruments. Is inclined to get careless after solo periods." GIS: "Average ability as pilot, but 'blew up' on test. Aerobatics and side slips poor. Discipline and bearing good. Good student who worked hard."
At 14 SFTS, Aylmer, September 2 - November 22, 1941: "Average pilot. Weak in aerobatics. Judgement on forced landings poor. Average instrument pilot." GIS: "An average student, not inclined to over-work. Quite capable of assimilating the ground subject material." He was considered "very competent type. Clear thinker and has ability to lead. Good officer material. Dependable." He had an accident on a forced landing. The carburetor iced up. He was with his instructor at the time. He received his Pilot's Flying Badge on November 21, 1941.
He was sent to Halifax on November 23, 1941 and arrivd in the UK on December 12, 1941. He was at 3 PRC, 5 PDP and then sent to Egypt in March 1942. He was back in the UK in October 1942.
He was sent to No. 5 (P) AFU January 26, 1943 and then to 56 Squadron May 25, 1943, then to 59 OTU for a month, then back to 56 (Punjab) Squadron June 25, 1943, attached to RAF Martlesham Heath.
At No. 5 AFU, February 1943: "An average pupil. His formation is poor and can still do with a lot more practice. Will need further dual instruction in night flying before solo. Navigation quite good. He tends to be casual and easygoing, but works hard when kept well up to scratch. Lacks initiative and dash."
At No. 59 OTU, June 1943: "A good average pilot who requires further flying practice. His formation and general flying is good and with experience, he should make a first class operational pilot. He has completed his sodium and night flying excursions and has flown Typhoons. As an officer, he has a high sense of responsibility and is well disciplined. Air firing: below average."
In July 1943, he was assessed: "An officer with a pleasant personality and one who is very well liked in the squadron. An average officer in all respects."
On November 7, 1943, Sullivan was piloting Typhoon 1B JP728 on a cross country to Coltishall. "Engine failure occurred at approximately 50 feet, immediately after take off. Symptom of failure suggested general loss of power accompanied by bluish-white smoke from exhaust stubs. Cause of failure cannot be ascertained by external examination of engine. Strip and examination of engine is necessary. This aircraft was fully operationally serviceable prior to take off." A. Sinclair, S/L wrote: "It seems clear that Sullivan must have hoped that there was enough power in the engine to carry him to the aerodrome, for at about 400 feet he turned left, travelled a certain distance, about 600-800 years, and then the aircraft went into a spin, straight into the ground. This undoubtedly was caused by loss of speed. It is worthy of note that the aircraft passed over some trees before reaching the spot where it crashed, and this obstacle alone, probably cause the pilot to lift the nose of the aircraft. In conclusion, I suggest that although the primary cause of this accident was engine failure and a forced landing was unavoidable, the secondary cause was that the pilot made a wrong decision in not going straight ahead when he realized that his engine was failing. No judgement can be passed on Sullivan for making such a decision, made as it was under the direct stress and difficulty." Sullivan suffered fatal multiple injuries and burns.
On November 17, 1943, the S/L of 56 Squadron wrote Mrs. Sullivan a letter to outline the circumstances of her son's death and funeral. "Sully, as he was known to us, was killed in a very unfortunate flying accident. His crash, as far as we know at present, was due to a technical failure, one of those unpredictable occurrences which do sometimes happen. He was taking off to go on an operational flight, and there is no dobut that his death was instantaneous....I attended Sully's funeral which was held at Brookwood, in Surrey, on Thursday, November 11 at 2:30 pm. The day was cold with bright sunshine, and we laid Sully in his final resting place with full military honours."
Mrs. Sullivan said that on November 21, 1941, she wired her son $110 to be applied on purchase of P/O uniform (Eaton's - Toronto). She wrote, "Dear Gentlemen, I would like to say that I am very proud that my son was a member of the RCAF. He joined willingly knowing that he might be called upon to pay the supreme sacrifice. No man can do more and I am very proud of his memory. May God bless each and every man now serving."
Leroy Sullivan's death made the November 22, 1943 issue of The Montreal Gazette.
LINKS: