Matthew Wood J5540
July 25, 1912 - August 18, 1944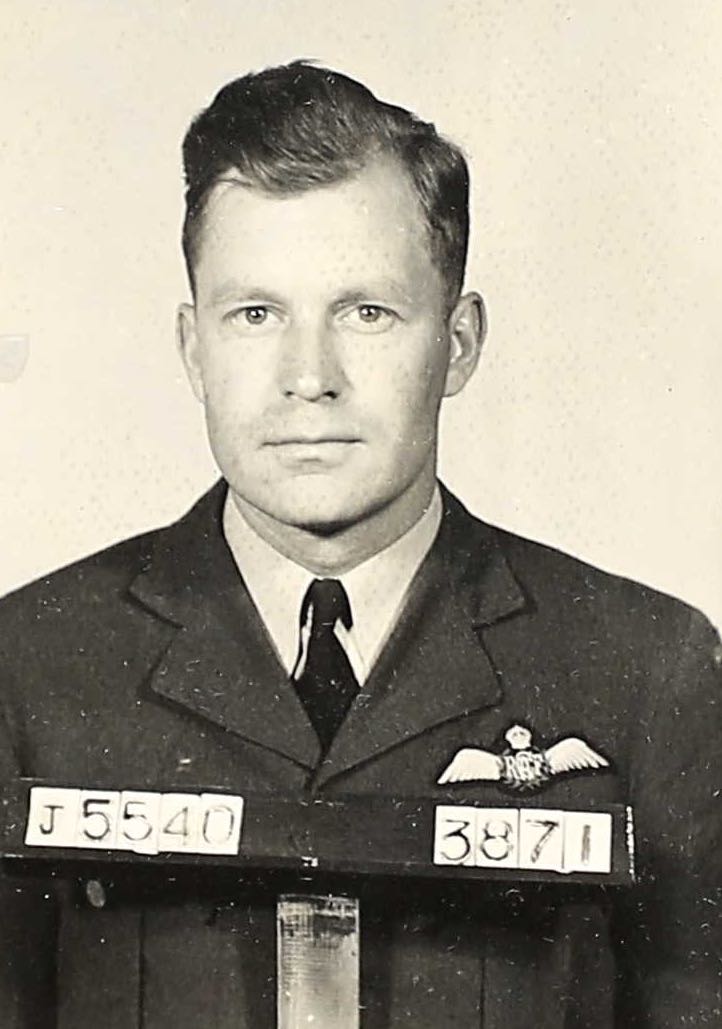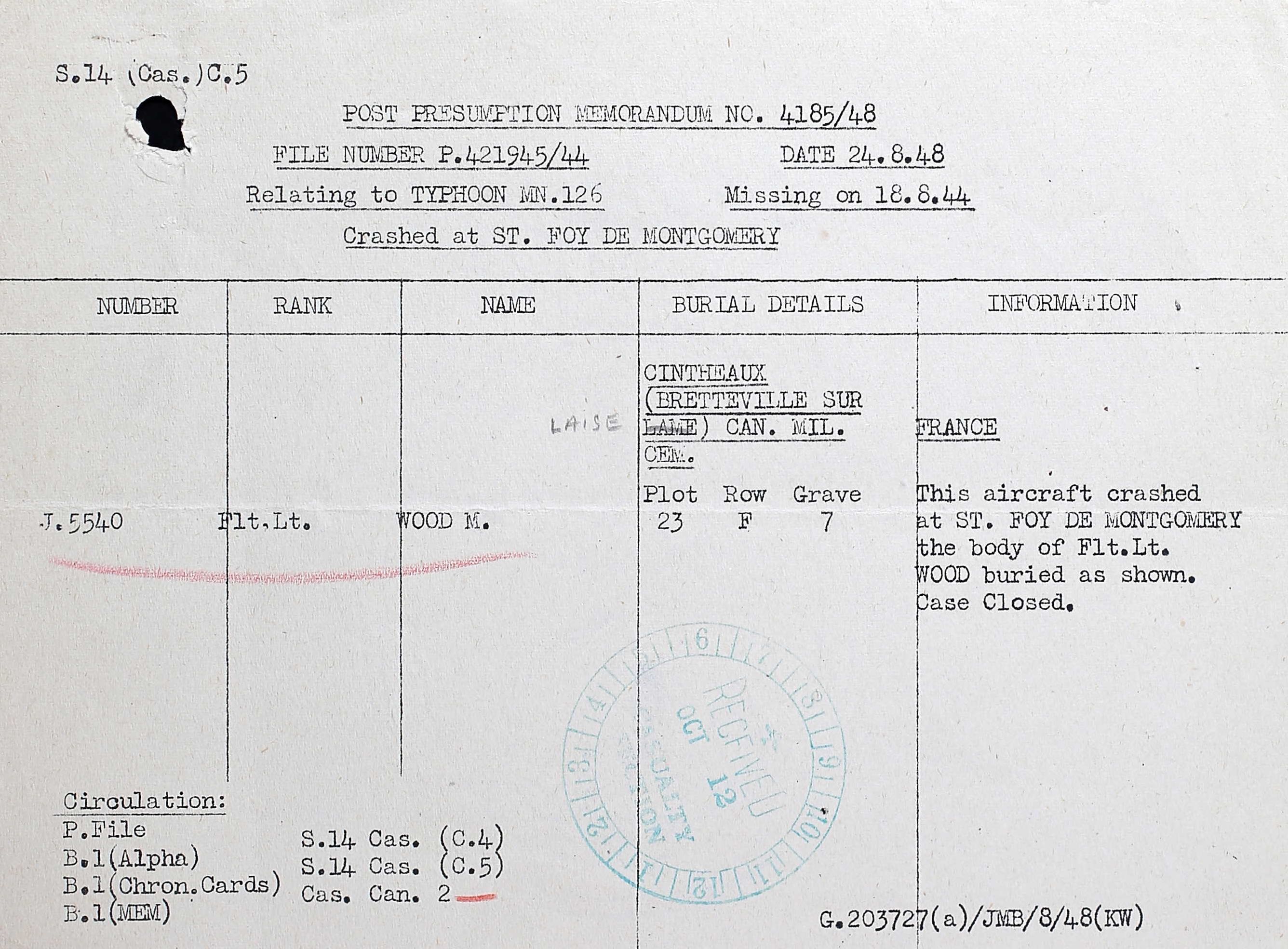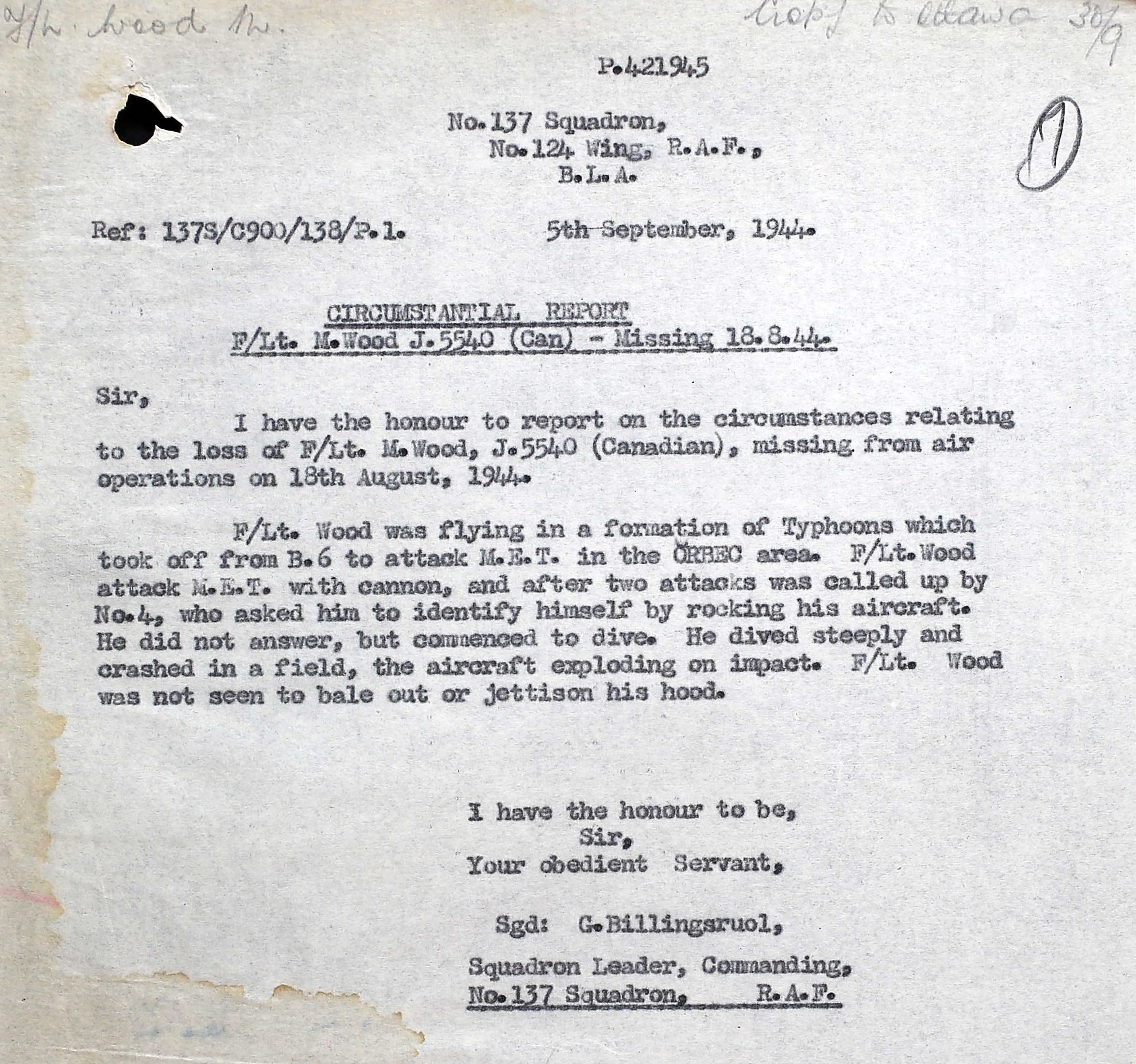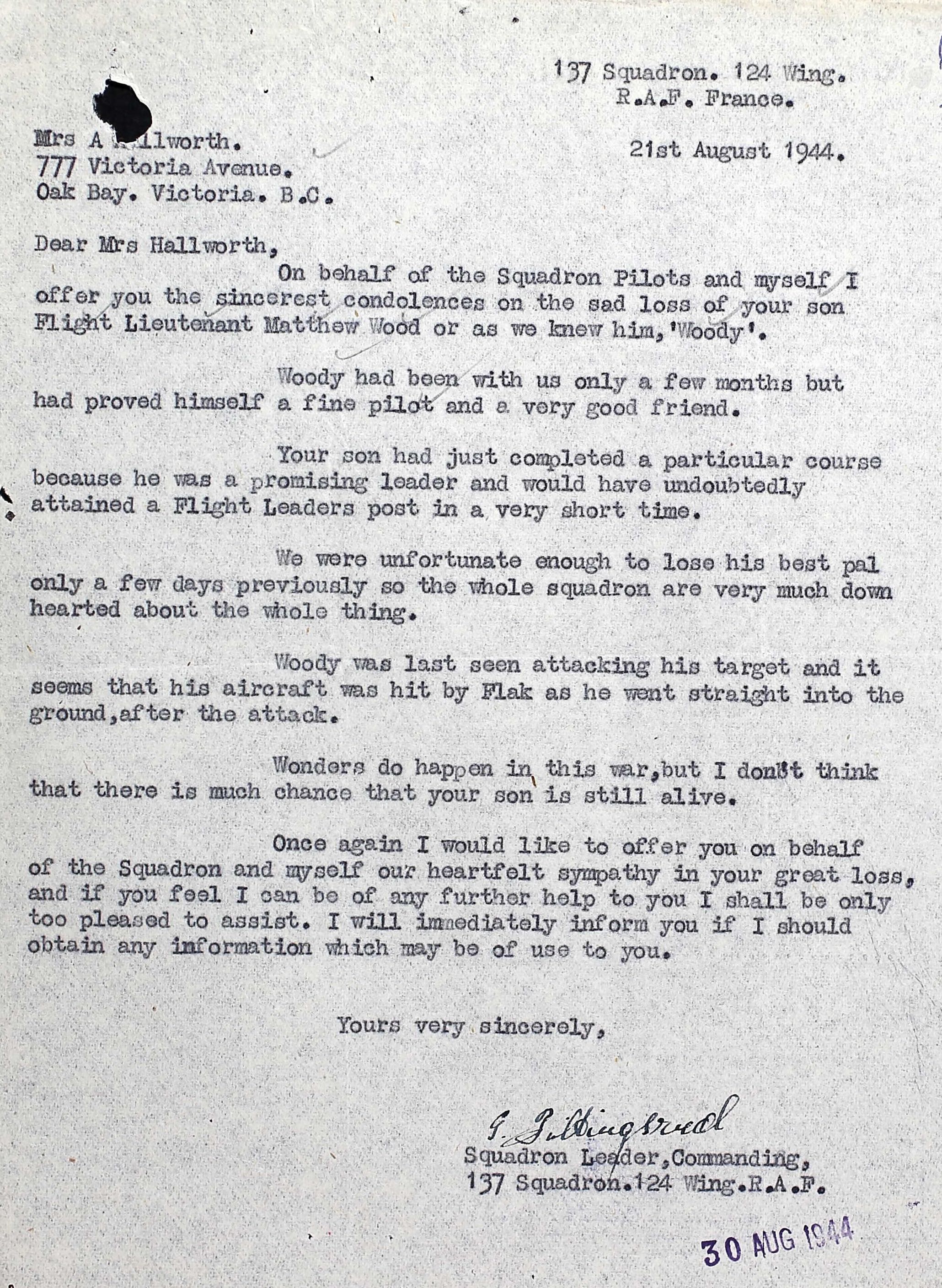 RAF 137 Squadron
Matthew Wood, born in Co. Durham, England, was the son of Matthew Wood (mine foreman), Milk River, Alberta, and Mrs. Elizabeth Jane (nee Elder) Hallworth, Oak Bay, Victoria, BC, married to Albert Hallworth. (The family immigrated to Alberta in 1920.) He had one sister, Georgina McDowell, 35, of Vancouver. The family was Baptist. Mr. Wood had 'been unknown for 21 years', according to Mrs. Hallworth.
Matthew Wood enlisted in Calgary. He had been living in Bellevue prior, working at West Canadian Collieries, Blairmore, Alberta, mining. He was a projectionist, at one point, at Cole's Theatres. He smoked 10 cigarettes daily, but consumed 'very little' alcohol. He had been with the 15th Alberta Lighthorse, as a trooper. He trained from August 15, 1940 until September 27, 1940.
He tried to join the RCAF in December 1939. In April 1940, he was assessed: "Grade X and 2 year course Steam Mechanical Engineering. Calgary Technical School. First Aid and Mine Rescue Certificates. 2nd Class Projectionist Certificate." He was 27 3/4 years old, stood 5'8" and weighed 138 pounds. He liked hockey, golf, tennis and swimming. "Applicant is a well built active type of good appearance, attractive manner and personality. Of good average intelligence with additional mechanic training and experience. Recommended." In December 1940: "Has cold rather frequently in head."
At ITS, Regina: November 29 to December 23, 1940: "Very good type and material. Raised in the mountains. Active athlete. Hunts, fishes." 53rd out of 201 in class.
At 15 EFTS, Regina: January 4 - February 21, 1941: "Considerably above average. Flying ability above average. Good steady and reliable type. Very willing to try and learns quickly. Conduct and general attitude excellent." GIS: "Mature, controlled, a good leader. Very pleasant personality. Acted as class senior." 8th out of 25 in class.
At 10 SFTS, Dauphin: March 5 - May 28, 1941: "Studious and clever. Above average as pilot and should fit into any service work." GIS: "Reliable and hard working, recommended for Commission." He received his Wings on May 28, 1941. "Most satisfactory in every way. Officer material. Set a high standard."
He was sent to Trenton in July through August 1941 for a Flying Instructors' Course. "Manner quiet and confident, a very good type. General flying, instrument and aerobatics good, a good knowledge of patter, will make a good instructor. Good average pilot with fair knowledge of sequence. Should improved with experience and become capable instructor. He was then in Moncton, NB in April 1942 to be recategorized.
He was sent overseas July 31, 1941.
In February 1942: "This Officer has shown by his initiative and ability that he will carry the responsibilities of a senior rank well. He is at present acting in the capacity of deputy flight commander."
On August 18, 1944, Typhoon MN126, piloted by F/L M. Wood crashed at St. Foy de Montgomery. S/L G. Billingsruol wrote, "I have the honour to report on the circumstances relating to the loss of F/Lt M. Wood, J5540 (Canadian), missing from air operations on 18th August, 1944. F/Lt Wood was flying in formation of Typhoons which took off from B.6 to attack MET in the Orbec area. F/Lt Wood attacked MET with cannon, and after two attacks, was called up by No. 4, who asked him to identify himself by rocking his aircraft. He did not answer, but commenced to dive. He dived steeply and crashed in a field, the aircraft exploding on impact. F/Lt Wood was not seen to bale out or jettison his hood." Wood's body was buried at the Bretteville.
The Squadron Leader of 137 Squadron wrote to Mrs. Hallworth on August 21, 1944. "On behalf of the Squadron Pilots and myself, I offer you the sincerest condolences on the sad loss of your son, F/Lt Matthew Wood, or as we knew him, 'Woody'. Woody had been with us only a few months but had proved himself a fine pilot and a very good friend. Your son had just completed a particular course because he was a promising leader and would have undoubtedly attained a Flight Leaders post in a very short time. We were unfortunate enough to lose his best pal only a few days previously, so the whole squadron are very much down hearted about the whole thing. Woody was last seen attacking his target and it seems that his aircraft was hit by flak as he went straight into the ground after the attack. Wonders do happen in this war, but I don't think that there is much chance that your son is still alive."
Matthew's mother, Mrs. Elizabeth Hallworth wrote many letters to the RCAF after the death of her only son. On October 25, 1944: "Your letter of the 21 of August, telling me of the loss of my son arrived, but I have been unable to write anyone since. We have lost a son who was so kind and good to us, the only son I had. Thank you for your kind words. Now we have received word to say his plane has been identified and that Matt was buried at the scene of the accident, approximately seven miles northeast of Gace, France. They did not say that my boy was identified. Will you please tell me what you can. I wonder if he was so smashed up that they could not identify him. This news came through the First Canadian Army to the RCAF but I am now awaiting for official word. I would like to know who buried him and if there are any other graves near. If only I had something from his person that I new he had worn, it might ease this terrible wound. Now I will close and trust that you and all the other boys return safely home again."
In March 1946, Mrs. Hallworth asked if she might be able to have something "recovered from my son's person, that I might cherish in his memory, such as his watch, or his Masonic rign, which bore the inscription of MOTHER on the inside of same, the latter would be especially cherished by me, so if anything of this can come into your department, may I ask you to forward it on to me."
In August 1946, Mrs. Hallworth wrote again. "The Royal Trust Co. of Victoria do not know why my son's service estate settlement is being held up. I am here with my husband who is blind and ill, and have just returned from the home of my daughter, who is also recovering from an operation, and who also needs me with her, therefore Sir, I am making a personal appeal to you to have this estate settled immediately, as I have need of whatever is coming to me from it, so please do whatever you can to have this done."
Mr. Hallworth typed a letter on November 27, 1945 to the Estates Branch in Ottawa. "I am writing to you on behalf of my wife, Mrs. E. Hallworth, and mother of Flight Lt. Wood. Personally, I am totally blind and an invalid, confined to the house, therefore I cannot do much for her, but I am trying to send these few lines to you to see if anything can be done to settle up the estate of the above Flight Lt. Wood. We received a copy of the will in August and note that Mrs. Hallworth is the sole beneficiary and think that there has sufficient time elapsed to allow of a settlement of the estate. You will understand that the loss of her son was a very severe blow to his mother, and we know that we have your sympathy in this regards, and I must also add that the continued delay in the settlement of his affairs is really undermining her health, so if it is possible, I would ask that you deal with the matter at your earliest."
LINKS: