Melsom Henry Walter Gee J18681
August 5, 1921 - June 6, 1944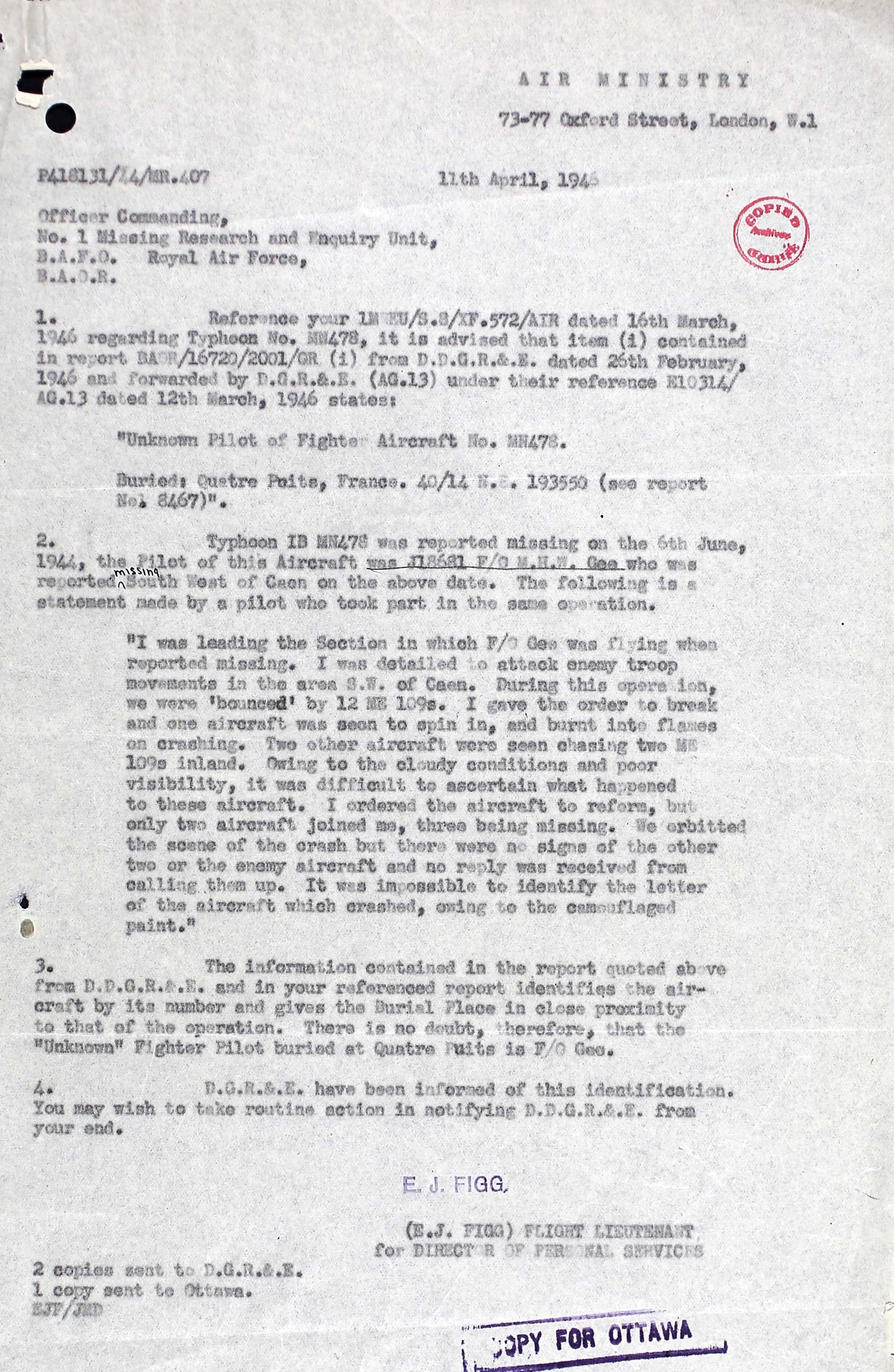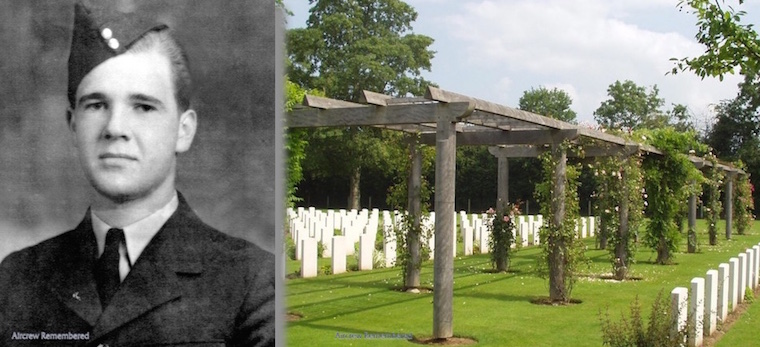 RAF 183 Squadron
Melsom Gee was born in Winnipeg, son of Fred Melsom Edward (theatrical agent and celebrity concert series) and Edith Minnie (nee Williams) Gee of Winnipeg. He had six brothers and two sisters. Two brothers were also in the services, one in the Canadian Army and the other in the Royal Canadian Navy. The family was Church of England.
He had been a milkman for the summer season of 1940 prior to his first application to the RCAF in September 1940. He worked as a clerk in the jewellry department at T. Eaton Co. in Winnipeg for a year before he was called up. He hoped to work in the electrical business after the war. He enlisted on February 19, 1941 in Winnipeg. He enjoyed many different sports. He stood 6' 1/2" tall, weighed 167 pounds, had a fair complexion with hazel eyes and light brown hair.
He was considered a good type, bright, anxious to serve with RCAF. "Mild mannered lad of not more than average intelligence. Appears fairly stable. A little introspective. Reading is chief leisure time activity." F/O C. G. Stogdill
He started his journey through the BCATP at No. 1 MD, Toronto on February 26, 1941, then to No. 4 MD, Quebec in April 1941. He was posted to No. 8 BR Squadron, North Sydney, NS until he was sent to No. 3 ITS in Victoriaville, Quebec in May 1941. [Dependable, sensible, will apply himself. Serious.] He then went to No. 14 EFTS Portage la Prairie in July 1941 [Fairly good student except for carelessness at times. Has difficulty with orientation; he is rather the irresponsible and carefree type of student who needs to settle down and learn some discipline], then No. 11 SFTS, Yorkton, Saskatchewan November 1941, where he received his wings. [Average pilot inclined towards overconfidence. Only outstanding fault a tendency to relax vigilance. Likeable type. A little bit slow. A good steady pilot and is keen on flying. Does not show much enthusiasm for his other work, however.]
He was sent to Halifax in November 1941 and by December 7, 1941, he was at the RAF Trainee's Pool. He was sent to 3 PRC two weeks later, then to 59 OTU January 6, 1942. He was sent to 4 PDC in March 1942.
He was at Takoradi, Ghana from June 1942 until March 1943. Here he had an incident in a Tiger Moth (T6594). He was with LAC Langley as a passenger. Gee's statement: "I climbed to a thousand feet and flew to Dixcover where at approximately 1750 hours, I descended to 200 feet and started a stall turn from which I could not recover...in time to clear the trees. I saw that we were going to rush in, so I dropped the port wing which struck first, breaking the fall, but severely damaged the aircraft. I climbed out uninjured except for a few scratches and found that LAC Langley was also uninjured but for a few scratches and a cut over the left eye. The aircraft crashed about 8 miles west of base near a lake and a few hundred yards from shore. Both mainplanes were wrecked as well as the fuselage. I left everything as it was and returned to the aerodrome." Conclusion: Stalled turn at too low an altitude. The pilot has no excuse whatsoever for his breach of flying discipline and bad flying. Disciplinary action is proceeding.
He was then returned to England where he joined 183 Squadron.
On November 30, 1943, flying Typhoon 1B JR.187, Gee was involved in an accident at 1230 hours. "The port tyre burst, causing the aircraft to swing violently off the runway and turned over when it hit the soft mud" at RAF Predannack. Gee received a slight laceration of scalp and a certain degree of shock, according to the report.
F/O Gee was shot down at Caen by an ME 109, flying Typhoon 1B MN478. One of the pilots who took part in the same operation reported: "I was leading the section in which F/O Gee was flying when reported missing. I was detailed to attack enemy troop movements in the area SW of Caen. During this operation, we were 'bounced' by 12 ME 109s. I gave the order to break and one aircraft was seen to spin in and burst into flames on crashing. Two other aircraft were seen chasing two ME 109s inland. Owing to the cloudy conditions and poor visibility, it was difficult to ascertain what happened to these aircraft. I ordered the aircraft to reform, but only two aircraft joined me, three being mssing. We orbitted the scene of the crash but there were no signs of the other two or the enemy aircraft and no reply was received from calling them up. It was impossible to identify the letter of the aircraft which crashed, owing to the camoflaged paint."
He crashed in an orchard and was buried by French villagers. He was considered to be missing for fifteen months until the War Graves Commission could investigate. His remains were reinterred at Banneville-la-Campagne Cemetery. Gee Lake was named after him in 1975.
Mr. and Mrs. Gee requested that all of their son's clothing and effects be sent home to them.
LINKS: