Norman Paulle Courtenay Woodward J20138
October 20, 1922 - April 17, 1945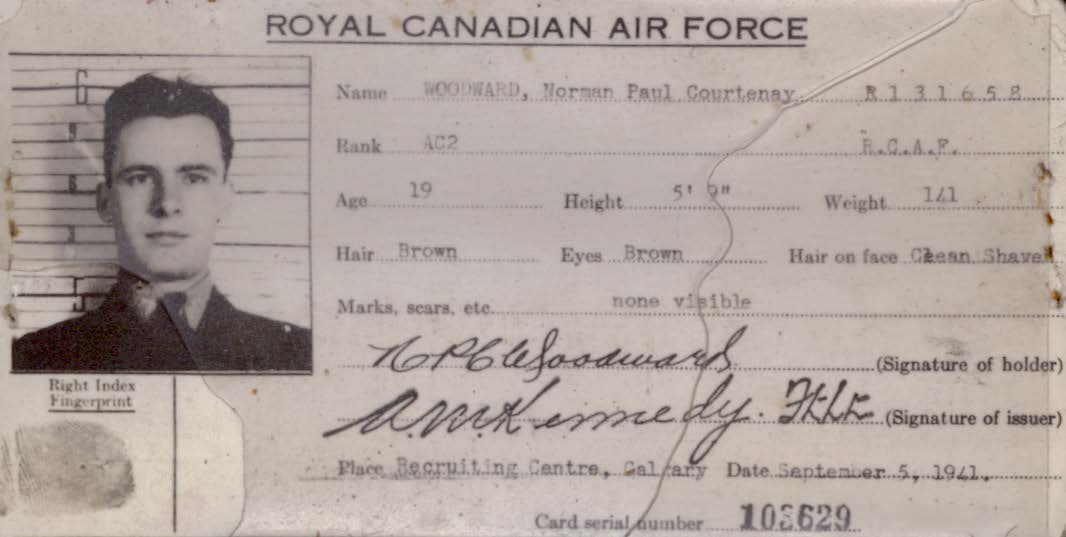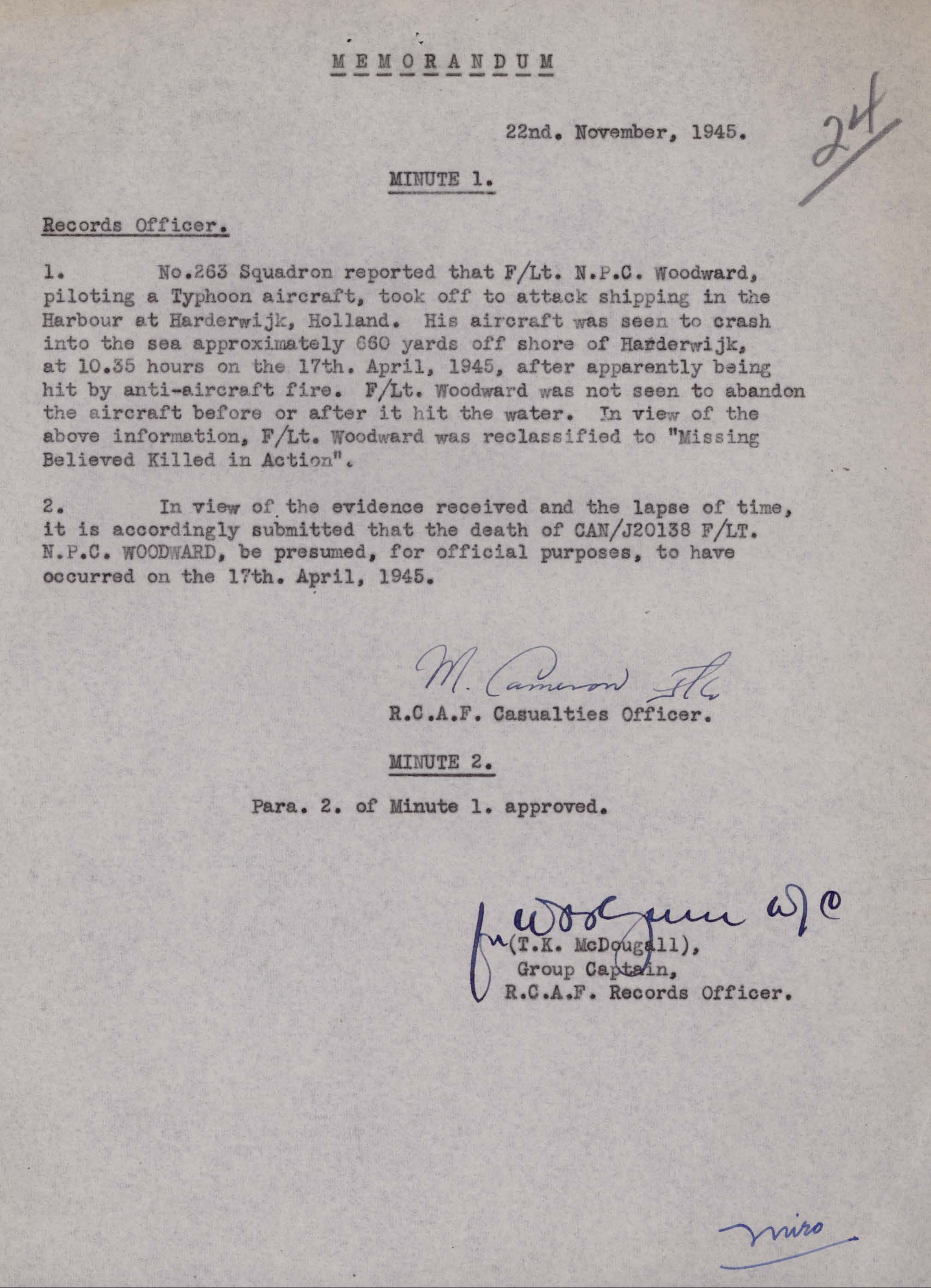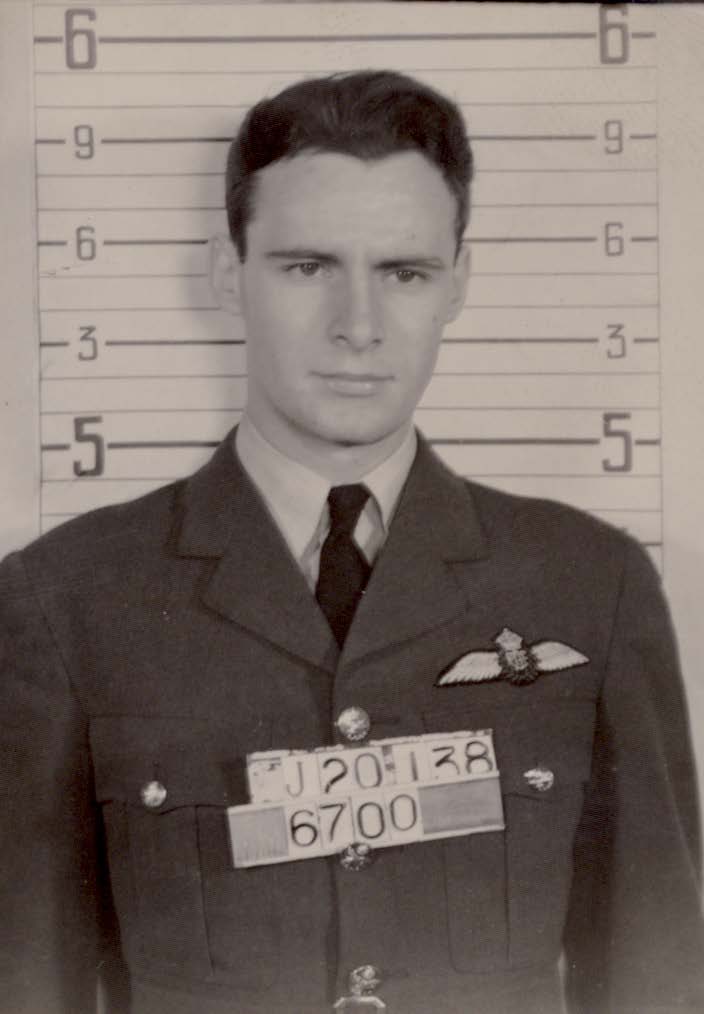 RAF 263 Squadron
Norman Paulle Courtenay Woodward was born in Vancouver but had the family moved to Calgary. Prior, they lived in 150 Mile House, Abbotsford, Prince George, BC. His mother was Ann Mary Woodward of 1208 Frontenac Avenue, Calgary; his father: Norman Paul Woodward, a veteran of WWI. His younger brother and sister remained in Vancouver.
Woodward had been an audit clerk with G. A. Touche in Calgary from 1940 but left this posting to join the RCAF in September 1941. He enjoyed golf, baseball, softball, swimming, skating, tennis and skiing. He stood 5'9" tall, weighed 141 pounds and had brown eyes and brown hair. "Very fine type of lad. Well educated. Keen to fly, nice manners, well spoken, alert, observant, good at sports. All the ear marks of Pilot material." The interview notes: "Seems stable and intelligent enough. Gives impression of lacking in strong motivation. Would rather do anything than be grounded. Should be satisfactory."
He went to No. 2 ITS and finished January 1942. "A very good mark in Link indicates he should develope into a good pilot. His intereste in flight work was keen. Anxious and keen to become a pilot. Very good prospectas a pilot." He was sent to No. 5 EFTS in High River, Alberta, where he finished at the end of April 1942. "Forced landings a little weak, otherwise no bad faults." His ground training: "Above average, clean cut, reliable, consciencious." He was sent to No. 2 SFTS, Uplands. "A keen flier with natural ability. Flies with confidence and initiative. Smooth and accurate on instruments. No outstanding faults. Link trainer and ability above average." Ground training: "Above average in intelligence, applies himself conscientiously to new problems has good judgement." He passed with Special Distinction and was 6 out of 58 in his class, despite being sick with a chest cold in July 1942. "A clean-cut likable student of excellent deportment. Courteous, cheerful, conscientious and enthusiastic. He expresses himself well and would make a very good officer. Pupil's preference: F, B, Instructor." He was awarded his Pilots Flying Badge on October 23, 1942 He then came down with acute tonsillitis.
By March 1943, he was overseas at No. 17 AFU being sent overseas in November 1942. "An intelligent and keen pilot who did well on the course and required a minimum of supervision. Average." In June 1943, he was evaluated. "Showed no great interest in ground subjects. Lacked interest in navigation. Average."
In October 1943, he had hepatitis. "This patient returned from Middle East 2 1/2 weeks ago.[In June 1943 in North Africa, he was given yellow fever vaccine, with side effects felt in July.] Felt alright until last Friday when he developed nausea, was feverish, no desire for food, etc. He fainted once after coming out of the theatre."He was admitted to hospital at West Kirby on October 27, 1943. There was concern he may have contracted malaria.
He had served in North Africa from June to October 1943.
In January 1944, he had orchitis/epididymo-vasitis He was given one month's light duty, then restricted flying duties.
His father, Norman Paul Woodward, was with the 23rd Bat. Lethbridge Tanks, England, as the Captain Paymaster, re-enlisting on January 17, 1940. On March 12, 1944, at the age of 53, Captain Norman Woodward died in England of coronary thrombosis.
On May 10, 1944, Woodward was flying Hurricane L.1917 one mile north of Jerby, Isle of Mann on a low level formation exercise. Fumes appeared in the cockpit, so he throttled back and broke formation; when opening the throttle again, the engine did not respond, so Woodward force landed on the beach on mile from Jurby. The inlet valve was broekn and white mteal was in the scavenger filters. Woodward was credited with a forced landing at short notice. "He was extremely lucky in that he had been flying at zero feet over the sea and was going down again for the return flight." No action was brought against Woodward. "He put up a good show, but I do not consider it merits a green endorsement."
In July 1944, Woodward entered the Officers Mess at the RAF Station Hurn, which was out of bounds to him and he refused to leave when requested to do so. He created a disturbance when he entered the kitchen and grabbed a breadknife and threatened to stab LAC Mason. He was given a reprimand.
On April 17, 1945, the Squadron was detailed to attack shipping in a harbour on the coast of Holland. Woodward was leading a section of four aircraft. He crashed his aircraft in the harbour, approximately 600 yards offshore Harderwijk, Holland after being hit by anti-aircraft fire.. Pilot was not seen to abandon before or after Typhoon hit the sea.
Mrs. Woodward, who had returned to Vancouver, wrote to the Secretary of the Department of National Defense on February 13, 1946, explaining that her son had given her $76/month to help educate her son and daughter still in Vancouver. She applied for the claim of all gratuities but added, "Personally, I'd so much rather have my son. However, I did receive a thank you card from the Government and People of Canada."
LINKS: