Quentin MacPhail Shippee R132528
September 25, 1920 - March 19, 1943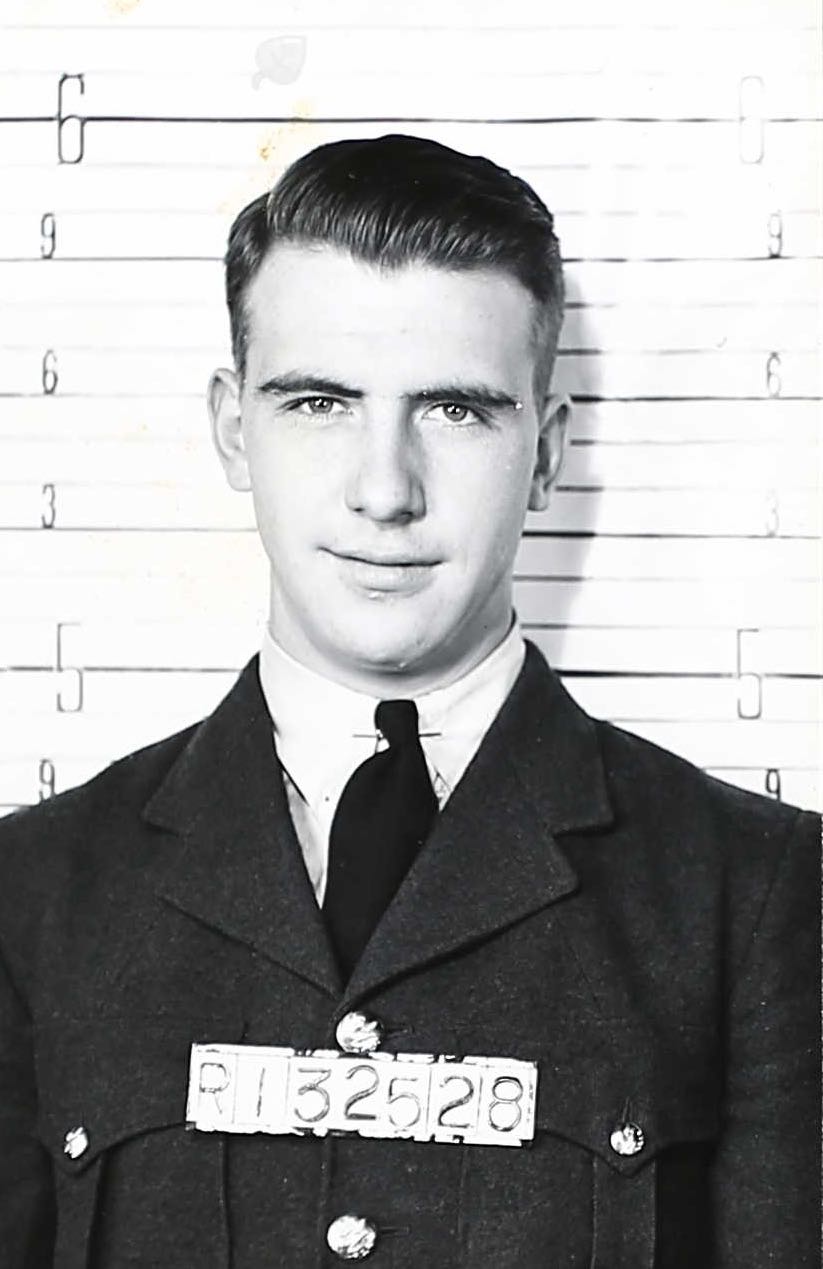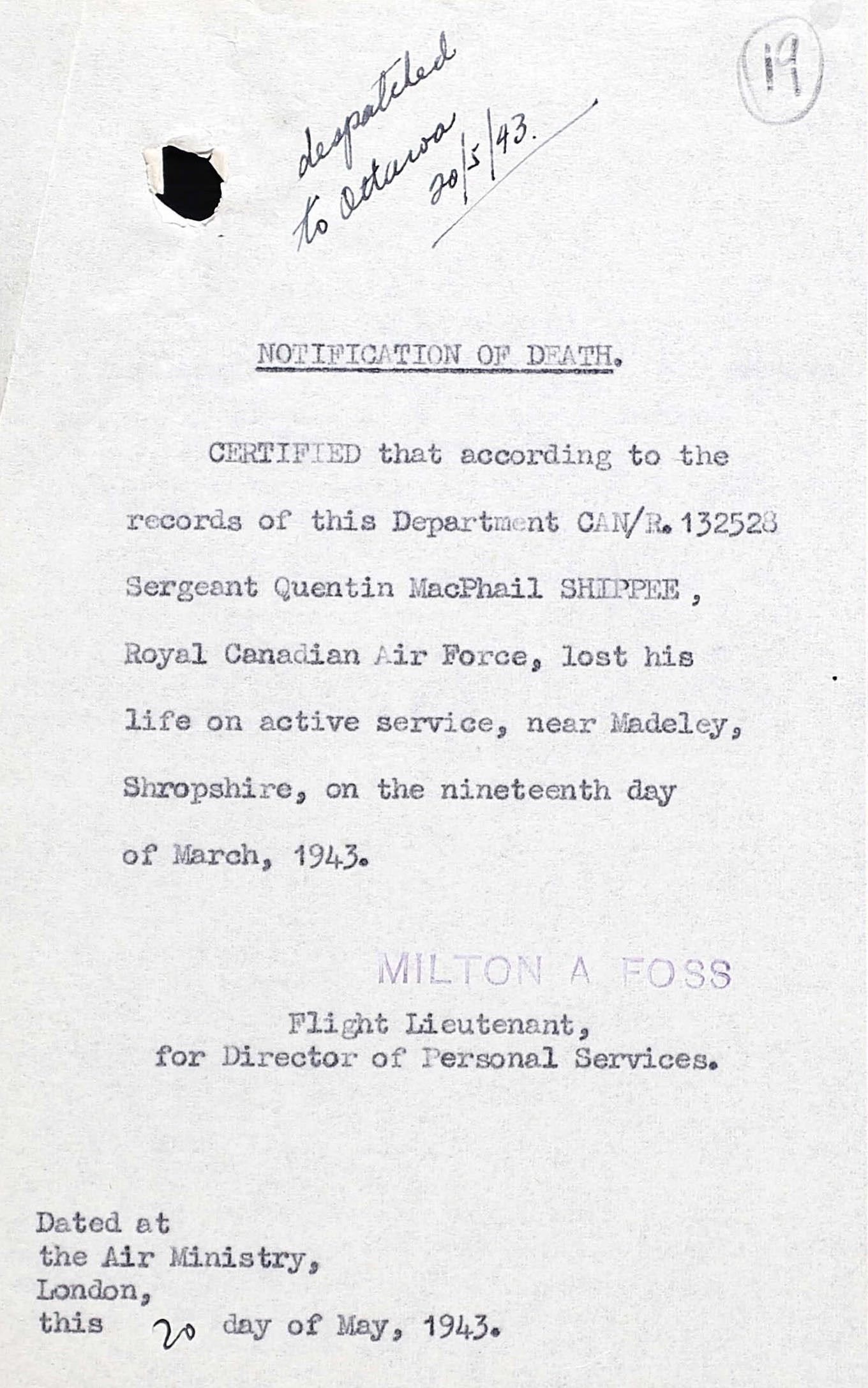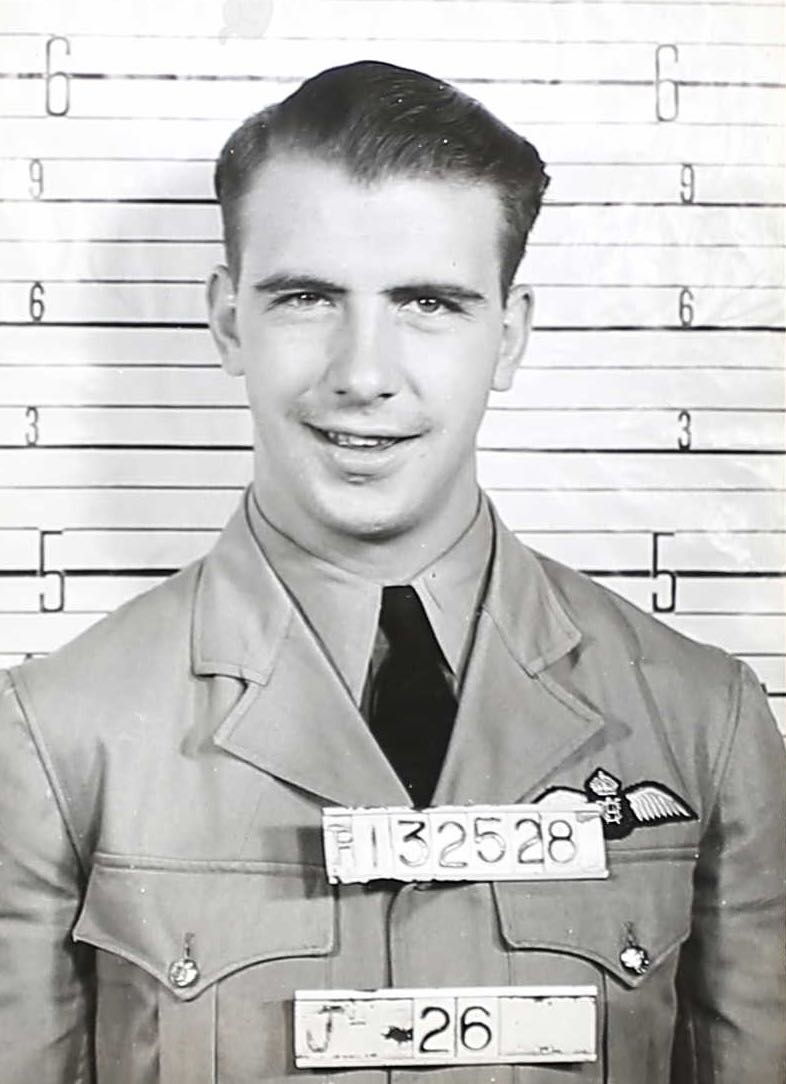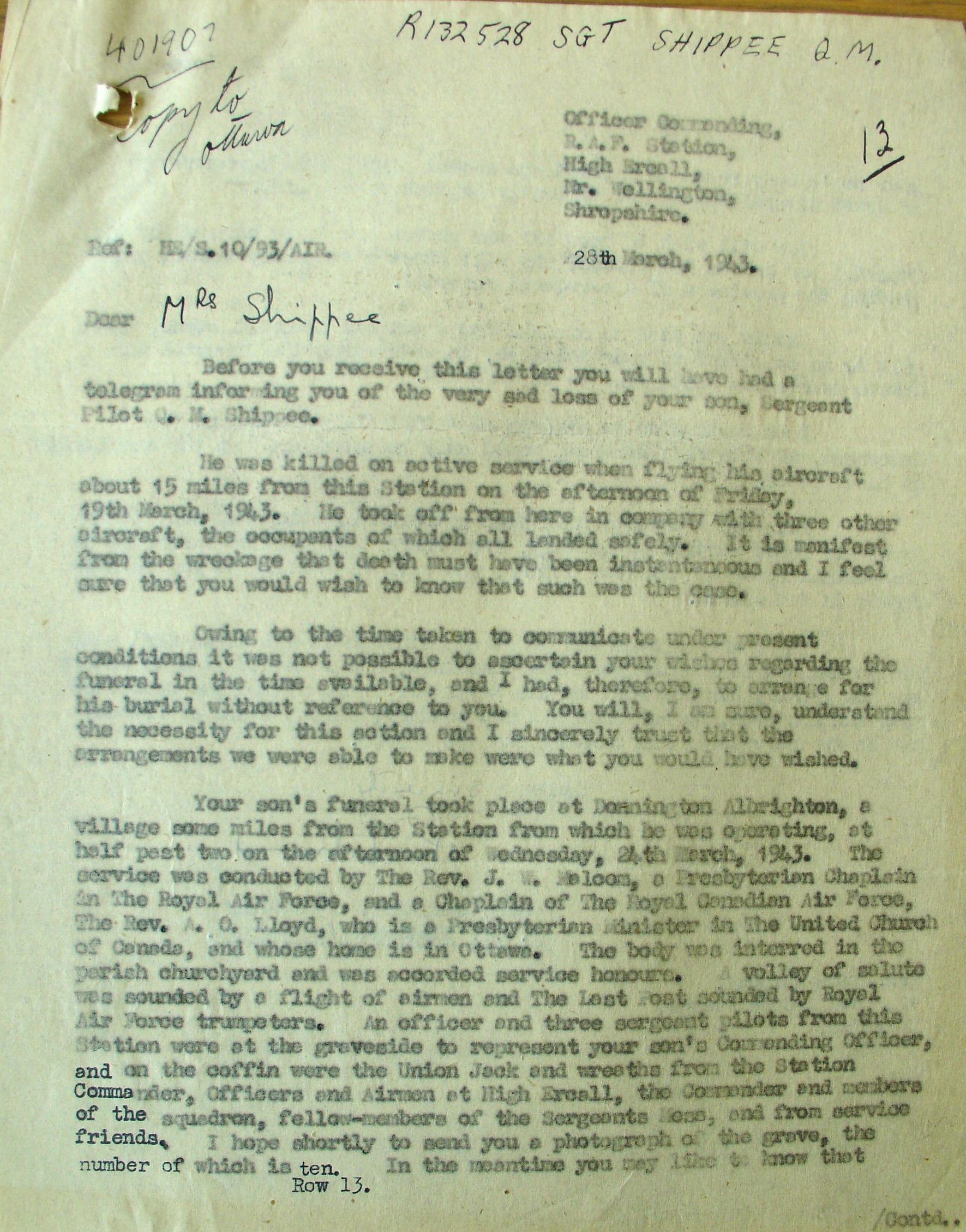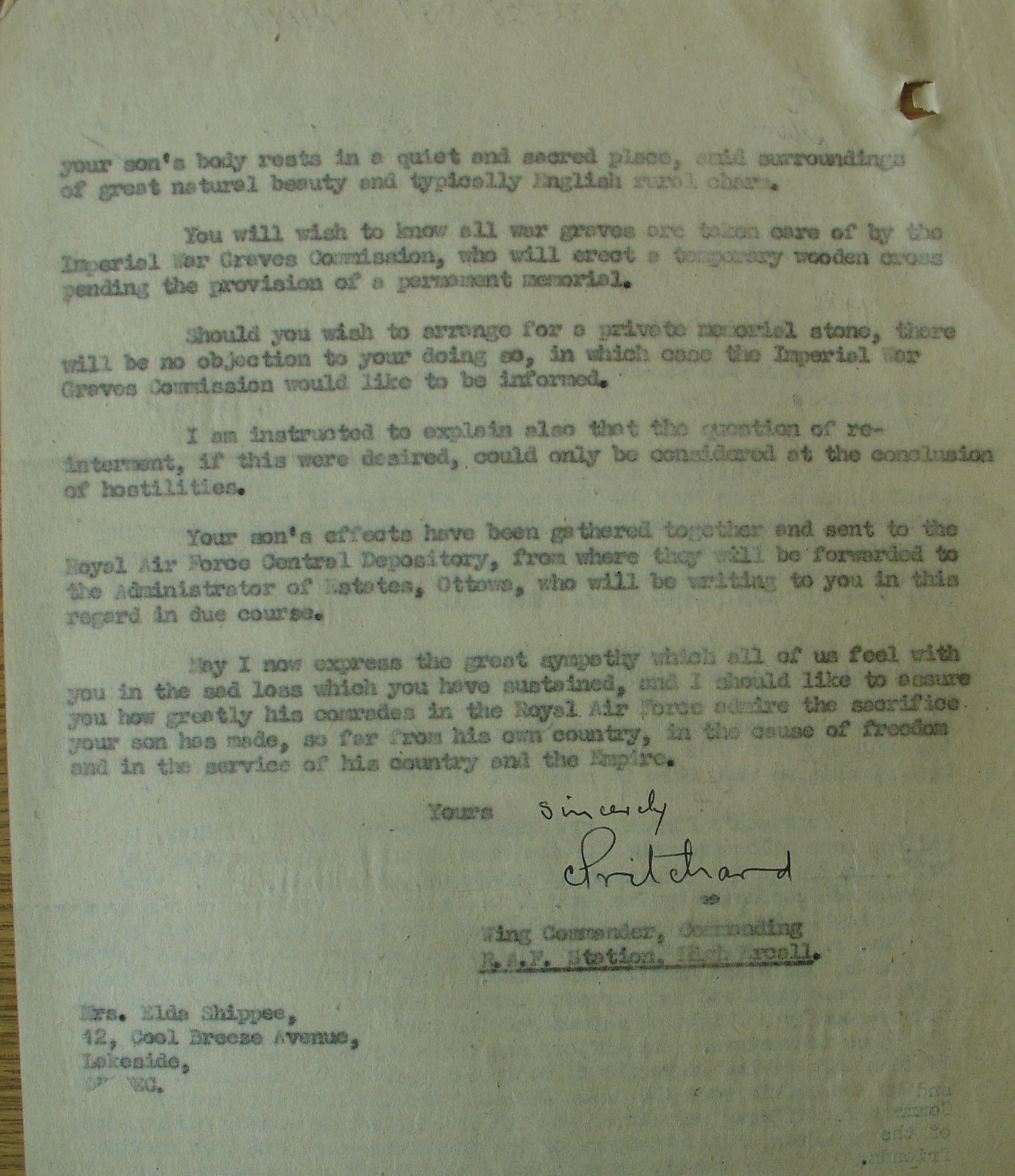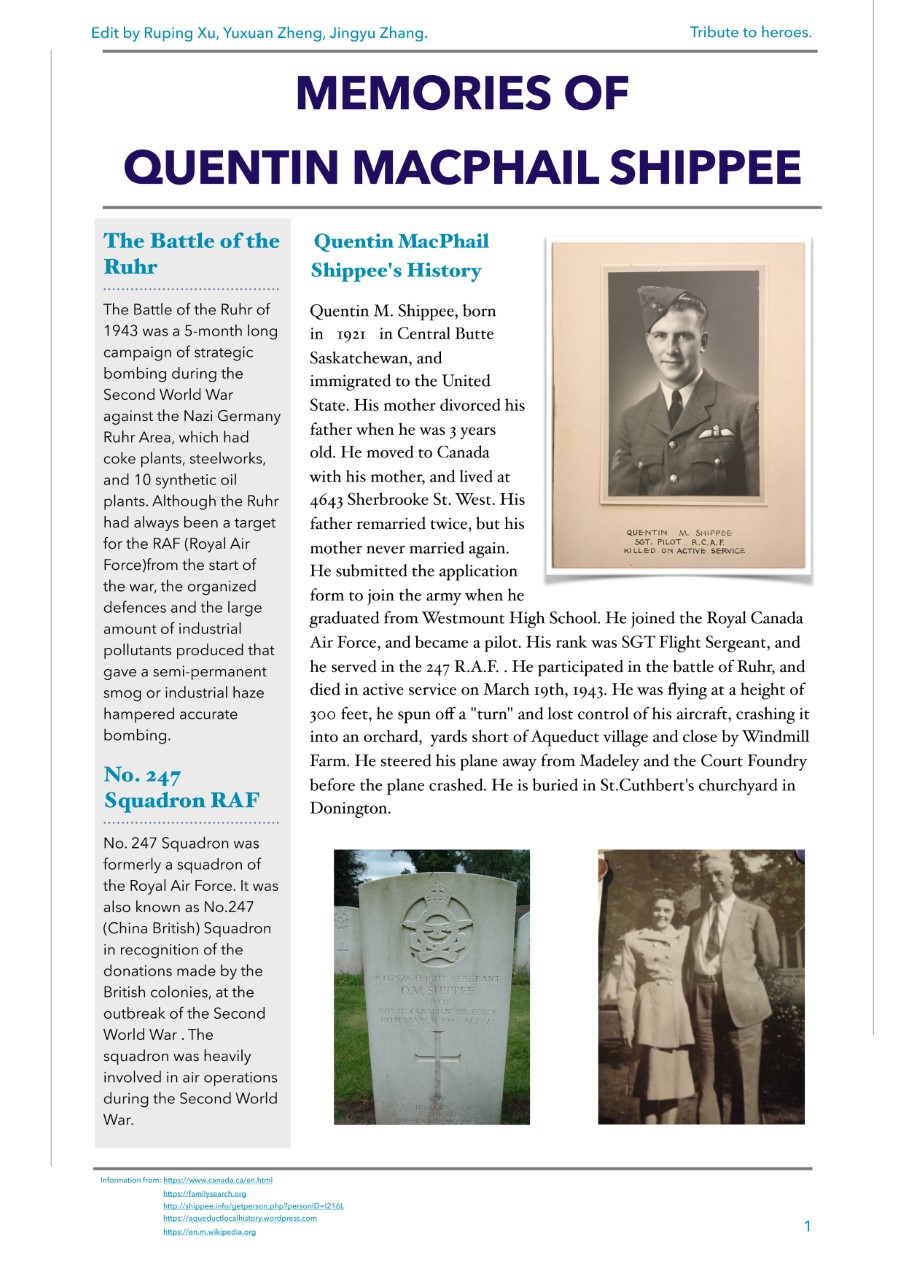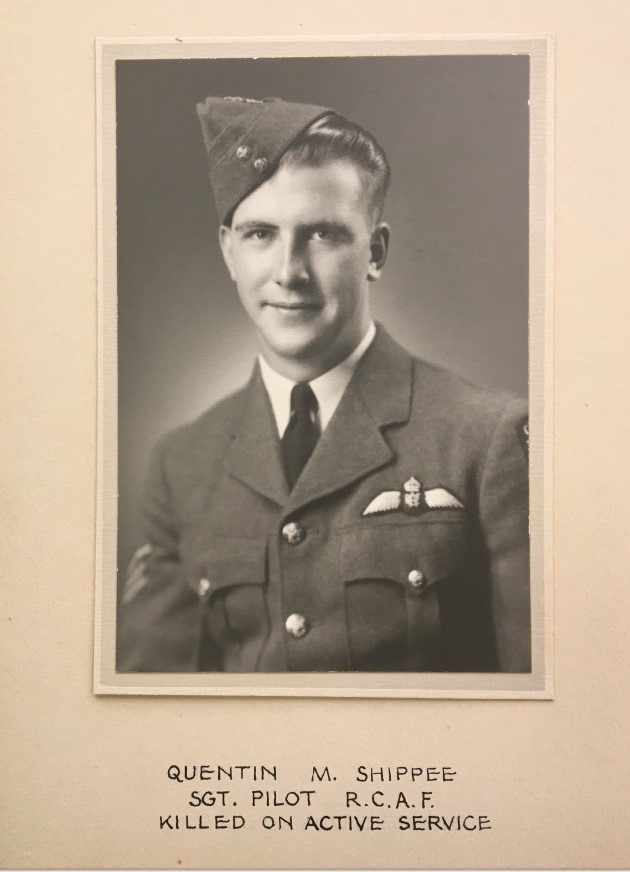 RAF 247 Squadron
Quentin MacPhail 'Mac' Shippee was the son of Frederick Earle and Elda Levina (nee Mac Vagh) Shippee of Pointe Claire, Quebec. He was born in Central Butte, Saskatchewan, but had American citizenship. He had one brother, Sgt Frederick Shippee, 26, Troop J, 5th Light a/acraft Btry, Canadian Army, and one sister, Iona, 25. Shippee indicated he was Presbyterian.
His work experience included assistant shipping clerk for two years, a time keeper and an welfare officer, both for two months. Shippee was a student at time of enlistment in Montreal in September 1941. He had attended the University of Utah for one year. (His father had lived in Salt Lake City.) He wanted to stay in aviation or return to college after the war. He was an officer for physical education and participated in all sports extensively on school teams. He said he did not smoke, nor consume alcohol. He was assessed as, "Alert intelligence, athletic physicque and does tests very well. Wants pilot."
He had Scarlet Fever at age 15. He stood 5' 9 3/4" tall and weighed 162 pounds. He had hazel eyes and light brown hair.
At 1 ITS, Toronto: November 11, 1941 - January 2, 1942: 37th out of 82 in class, with an 86%. Link Trainer: 89%. "Clean cut, pleasing energetic type. Keen and capable."
At 6 EFTS, Prince Albert: January 2 - March 28, 1942: "Good steady progress made throughout course. Should develop into good average pilot with more experience." GIS: "An average student. Very hard working and capable. Conduct good."
At 1 SFTS, Camp Borden: March 29 - July 31, 1942:"An average pilot, needs to polish up his instrument flying and practice coordination of throttle and elevators." He was 41st out of 50 in his class at GIS. "He has a quiet manner. Somewhat careless and irresponsible, sloppy worker. May improve under active service conditions." He was written up twice, once for refusing to obey an order given by a Warrant Officer and being insolent to the WO.
Shippee was in Halifax, NS August 1, 1942 and five days later, at the RAF Trainees' Pool. He was sent to 3 PRU Bournemouth August 19 and then to 17 AFU August 29. He was assigned to 59 OTU on September 15, 1942. January 6, 1943, he was posted to 247 Squadron.
At 59 OTU: "A keen NCO and an average pilot who needs pushing periodically. Once established in squadron life, he should be quite competent however. Air firing: below average." He was involved in an accident on November 19, 1942 in a Hurricane. "Swing on landing, inexperience." He was written up five times in the UK. "Certified no entry."
On March 22, 1943, F/S Shippee was flying Typhoon 1B DN 444. From the Court of Inquiry: "P/O Aitchison transfer flight from High Ercall to Middle Wallop. No special instructions but to keep in formation and to proceed independently if weather deteriorated."
The first witness, P/O Herbert Langree Van Zuilecom, Aus 403774, stated, "We had come to High Ercall to pick up aircraft sent there from Middle Wallop for 30 hour inspections. The Wing Commander asked who was to fly these four aircraft and I told him, 'P/O Aitchison, Sgt Wheeler, Sgt Shippee and myself.' ...The weather was hazy with ceiling of haze varyng from 1500 to 2000 feet, the visibility being between 4 and 5 miles. It was practically a flat calm. When we set course, all aircraft were in line astern in the same order as when we took off. I did not call up the ground station by R/T but after about 4 minutes, I endeavoured to call up the others in the formation but was only able to contact Sgt Wheeler. I continued on course and in about 3 minutes, we ran into thick haze at 1500 feet. I climbed to 1800 feet where it was a little clearer but it was difficult to see the other aircraft, the Typhoon being a difficult aircraft to fly in close formation....Sgt Wheeler called up and said he lost sight of me and was returning to base. I looked around and could see no other aircraft. I continued on course but the weather was deteriorating and I was gradually losing height until at 1000 feet I saw ground. It got still worse till I got down to 500 feet. I passed over an airfield and decided to land at Deffort at 1625 hours...."
The second witness, Sgt William Leslie Wheeler, 1425579 stated: "I am a pilot in 'A' Flight No. 247 Squadron stationed at Middle Wallop. During the morning of 19th March, 1943, whilst waiting for one of the aircraft to be finished, I went to the Met Office at High ERcall and Sgt Shippee. We had a look at the reports coming in on the tele-printer, the Met Officer wrote it down and gave it to Sgt Shippee, who later handed it to P/O Aitchison. On the morning report, I was of the opinion that we could get to Middle Wallop using homing facilities if there was any deterioration. Other than this, I took no part in the arrangements for the flight. At about 1545 hours, P/O Van Zuilecom spoke to the Commanding Officer who was riding past on his bicycle, and then came over and said that we could take off. I took off at 1600 ours as No. 2 in formation. We did two circuits of High Ercall during which time I went into line astern, and I saw P/O Aitchison and Sgt Shippee also go into line astern. The leader called me up and asked whether I could see the others and I told him that I could, so we set course. I heard the leader call the other two, but neither of them replied. There was a slight haze at between 1000 and 1500 feet between 2 and 3 miles but the ground was easily visible below me. After we had set course, I went up into my position of No. 2 in Vic formation, and I saw P/O Aitchison take up his position at No. 3. I was concentrating on getting into position and did not see where Sgt Shippee was. His position should have been in the box. I never saw Sgt Shippee after he was in line astern in the circuit. We were flying, I should say, at roughly 1800 feet. Alsmot immediately, the weather thickened up and I got about 2 or 3 spans from the leader and lost sight of him for a few seconds. He appeared again and I tried to get close by; he disappeared again. I flew along for a few seconds looking for him and I realised I was not flying normally, and the instruments were not giving normal readings and found myself losing height rapidly in the haze. I suddenly saw the ground from about 1000 feet."
Conclusions: "The finding of the Investigating Officer is noted, but I would like to stress that had the weather en route been known, permission to take off would not have been given or asked for by the pilots." W/C Pritchard. The Group Commander commented. "I concur with the findings of the cour, with the rider that the error of judgement on the part of P/O Van Zuilecom was due to his inexperience."
Shippee crashed on the Windmall Farm with 13.10 hours of experience on the Typhoon.
Shippee was buried in Donington, Shropshire, in the churchyard extension on March 24, 1943.
LINKS: