Robert Frederick Donald Smith J44196
September 8, 1922 - March 8, 1945
RAF 56 O. T. U.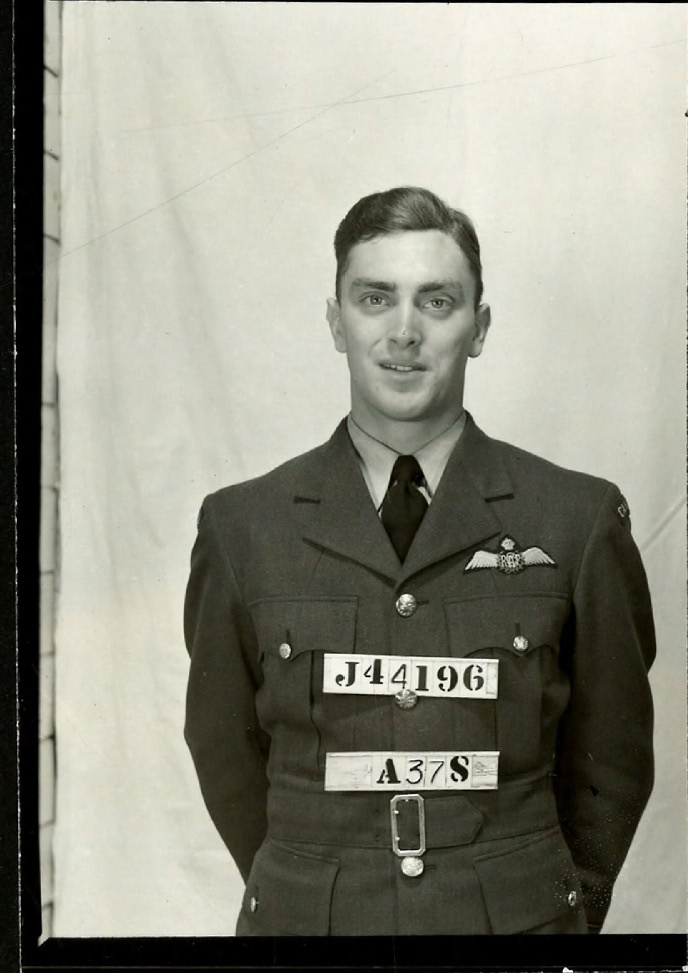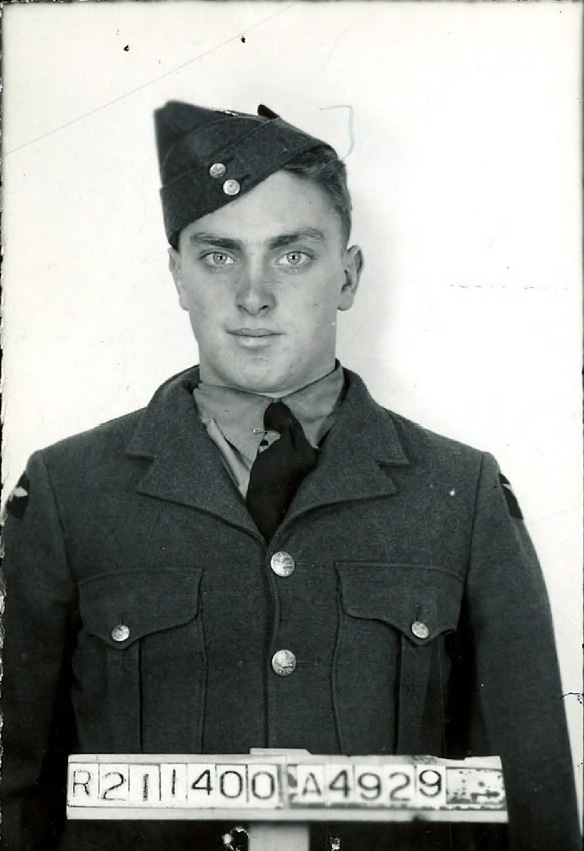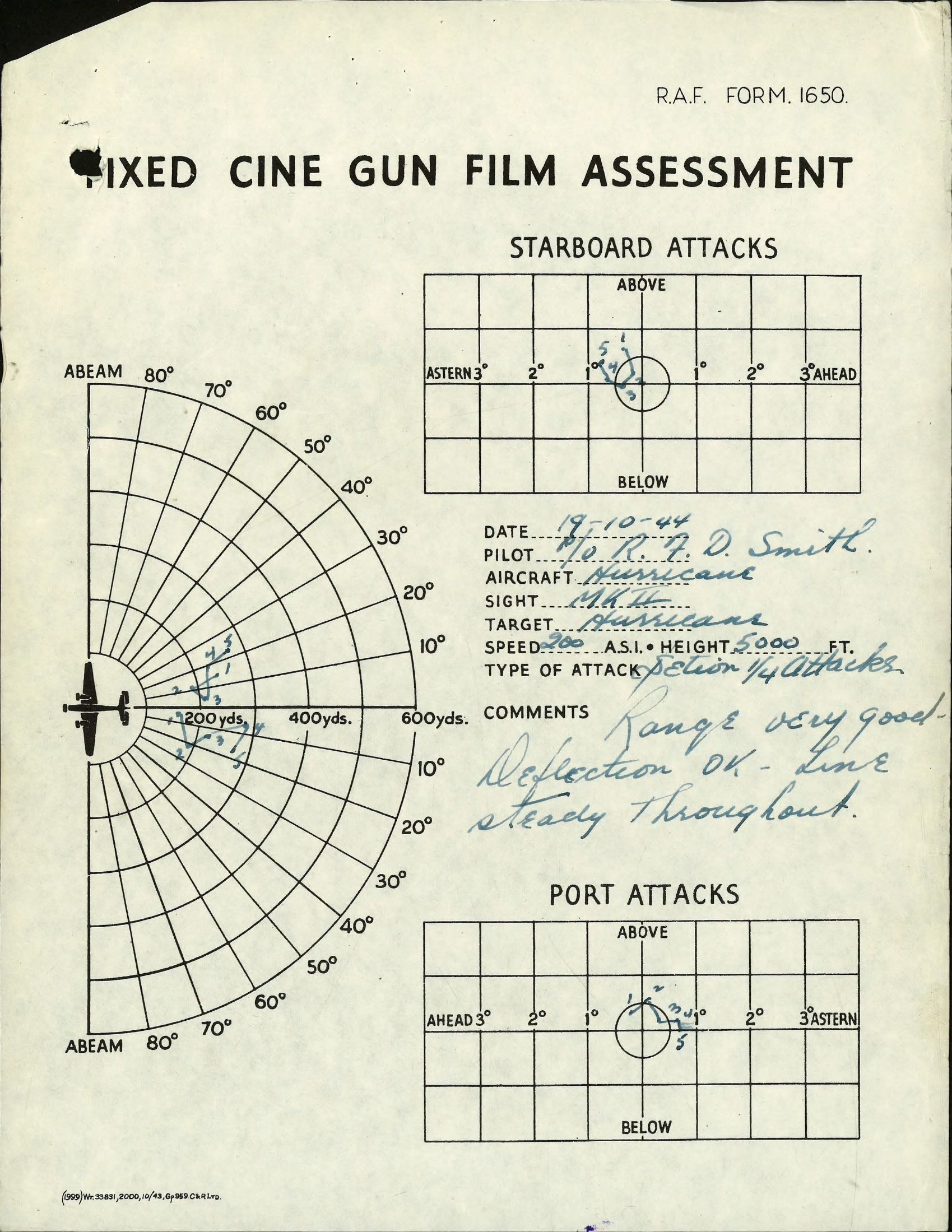 Smith was born in Toronto, Ontario, to Constance Emma and Ronald James Smith. He had one brother [Lt Smith, Engineer, combat battalion, serving with the US Forces in Europe] and two sisters. The family lived in Erie, Pennsylvania, Albany, NY, Providence, RI, Summit, NJ, Binghamton, NY and then Edgewood, RI. The family was Episcopalian.
After the war, he wanted to go into becoming a geological engineer and possibly, civil engineering, living in Arizona.
He won the State Championship for track in hurdles. He was very athletic and was on a championship football team. He drove a car over 5000 miles, and enjoyed singing. He had been a student at the University of Idaho for one year at the School of Mines, working three part time jobs, then worked managing The Dunes Club. His father indicated his son was attending college before enlistment.
He enlisted at Montreal/Lachine, PQ, December 1942.[Page 313 PDF]
On December 12, 1942, the medical officer wrote: "A wonderful specimen physically. Definitely superior type aircrew candidate and commission material." [Page 293 PDF]
On May 10, 1943: "Fit. Excellent athletic type. Average stability. Fast and smooth with fair initiative and determination. Prefers pilot. Probably will not work hard enough to make Navigator." Night vision was determined to be above average.
No. 5 ITS: Fine personality, pleasant, athletic, confident; took course in easy stride. Popular, good motivation. Has ability, is capable and dependable. August 1943 [Page 184 PDF]
No. 13 EFTS: An average pilot, rather inaccurate and sloppy in his general flying; good average instrument flying. October 5th, 1943 [Page 182 of PDF]
No. 8 SFTS: Below the average -- not suitable for flying boats. [Page 180 of PDF]; definitely suited to Fighter Type aircraft; "average clear hood pilot, high average on instruments. Recommended for immediate commissioning." April 7, 1944
No. 10 OTU: Above the average; October 1944: A very reliable, keen and conscientious pilot, works hard and very willing to learn. Has natural ability and should make a good leader in any op. sqrn. [Page 184 PDF]
TYPHOON 1B MP187, non-operational day flight -- operational training. 0955 hours. Kettleburn near Beal. Northumberland. [PDF Page 115]
Pilot was carrying out a ranging exercise and became involved in a dogfight. He turned sharply and spun into the ground.
Court of Inquiry: Nine witnesses called.
Conclusions: At the same time as Smith and Jennett had taken off from Milfield, flown east to Belford at 3000 feet, turning part into a northerly course, they commenced their exercises. At the same time, three Spitfires from 57 OTU Eshott, piloted by Howe, Hodges, and Plewes [leader] were flying south at approximately the same height, probably higher than the Typhoons. They were very close and meeting almost head on.
F/O GR Dean of 56 OTU who was flying a Typhoon about 1000 feet above, witnessed the incident and said that the Typhoons were attacked by the Spitfires. Jennett corroborated. The Spitfire pilots said the Typhoons attacked them.
F/O HR Plewes [Green 1] called break or turn starboard, this taken as an evasive measure to turn out of the line of the flight of the Typhoons. The Typhoons thought they were being attacked and Jennett warmed Smith by R/T to which P/O Smith replied, "Lets go!" seeming to indicate that he was going to dogfight with the Spitfire which proved to be the case. Smith executed two stall turns and on the second one rolled over and began to spin continuing to spin until he hit the ground.
Plewes said that he followed the Typhoons for about a minute. This justified, in the opinion of the investigator, that the Typhoon pilots assumed they were being attacked.
Disciplinary action was taken against F/O Plewes. Plewes used the shortened version Tyfi for Typhoon in his letter dated March 8, 1945. [PDF Pages: 137 - 149]
He was buried at 11:30 am on March 13, 1945 at Harrogate. A firing party was provided. The Last Post was sounded at the end. Wreaths were sent.
In July 1945, Mrs. Smith asked that the uniform of her son be sold, as it was quite new. She still wanted his heavy overcoat. On July 11, 1946, Mrs. Smith wrote to ask if she could visit where her son was buried. His father died of a heart attack February 27, 1954. Mrs. Smith asked the RCAF if she was entitled to a survivors benefit. She said how Donald was the one who took care of her and was going to make a home for her at some point, as her husband had not been in the best of health. The RCAF suggested she contact the RCAF Benevolent Fund. A letter written by her daughter indicated her brother had put away money for their mother and shared a joint bank account in Canada.
LINK TO PDF: collectionscanada.ca