Richard Michael Hastings Purdon J16351
April 28, 1922 - June 29, 1943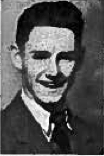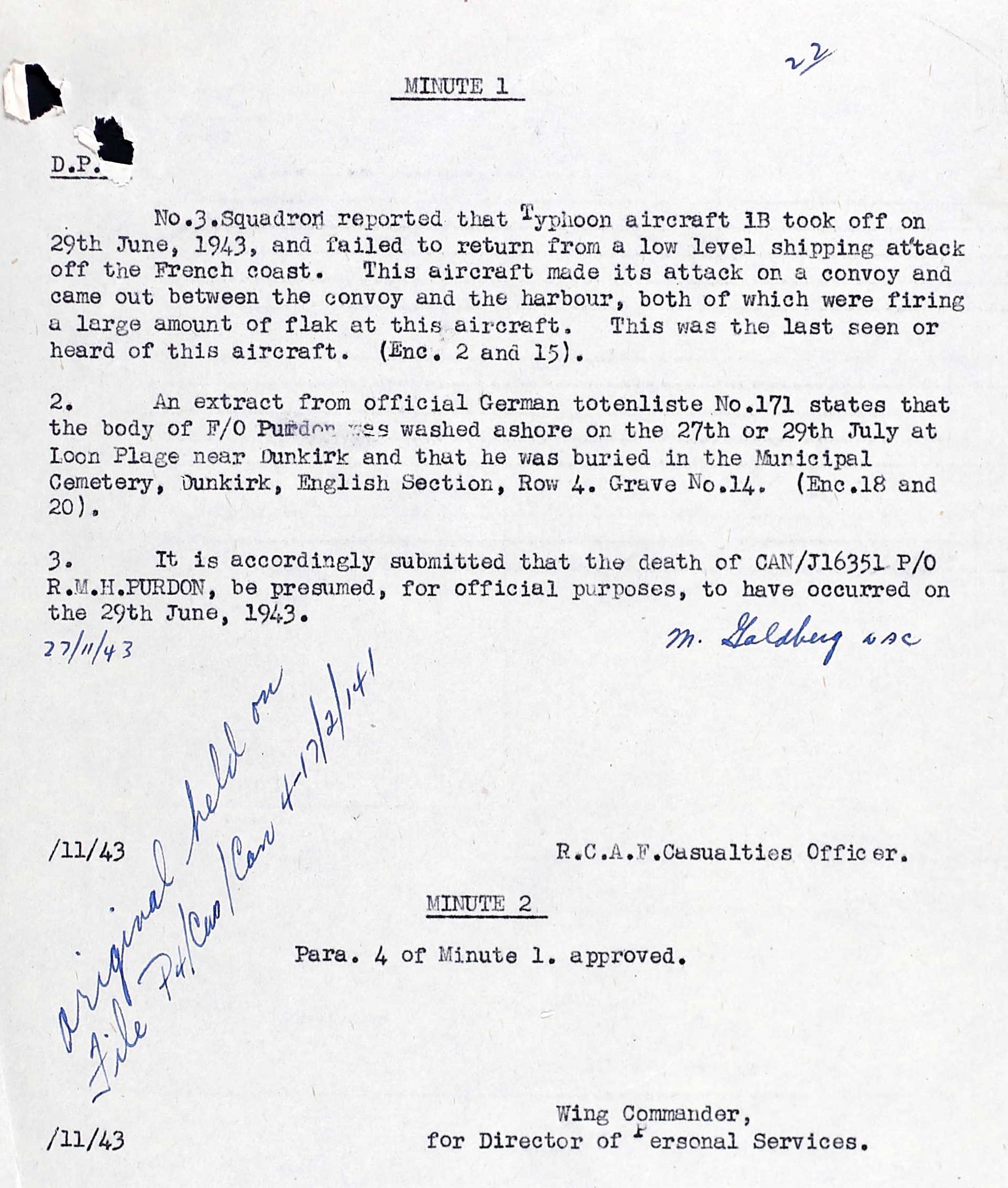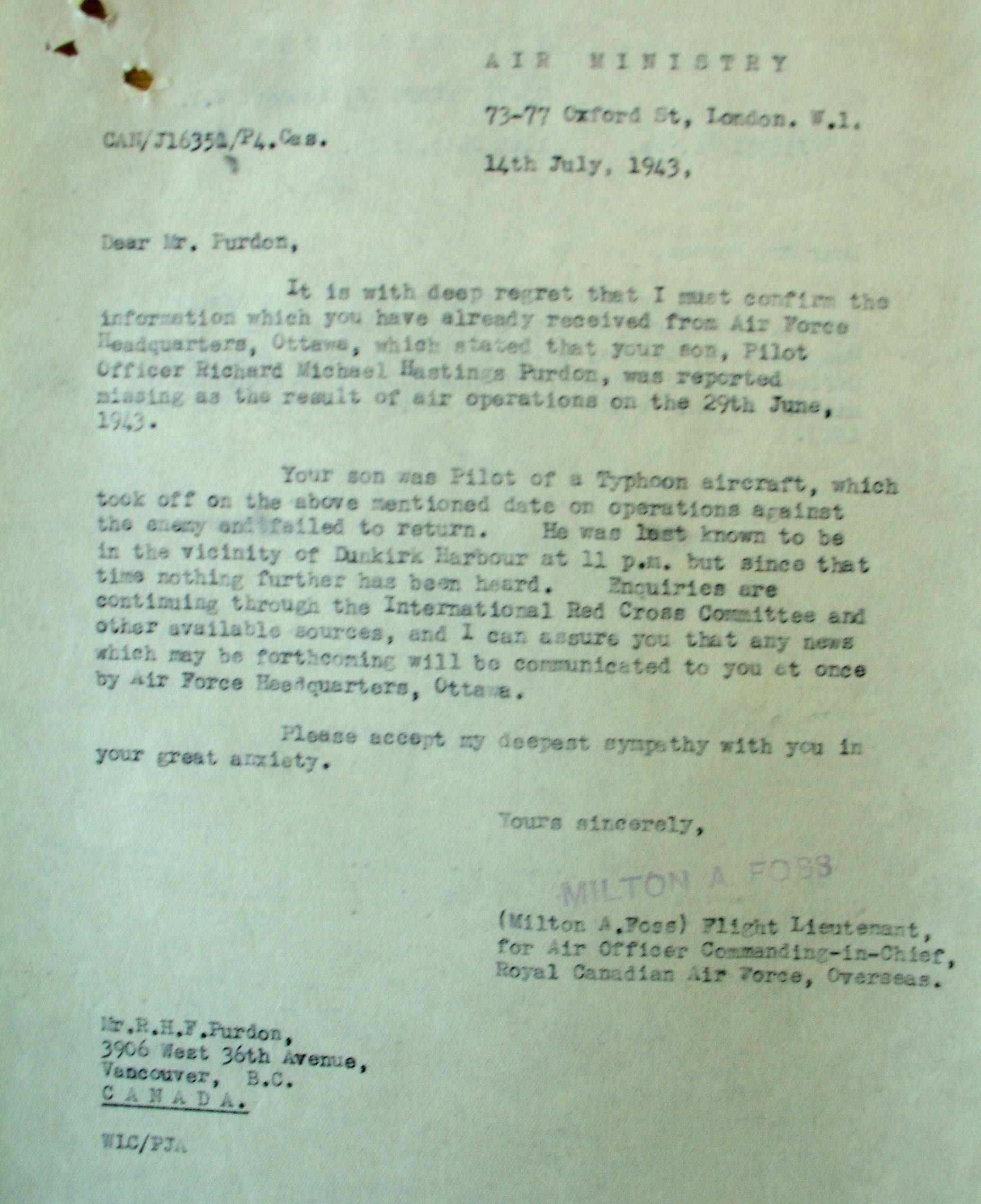 RAF 3 Squadron
Richard Michael Hastings Purdon was the son of Richard Henry Fetherstonhaugh Purdon and his wife, Mary Barbara (nee Bostock) Purdon, West Vancouver, British Columbia and brother to Mary Narcissus Gwendoline, 28, and Audrey Felicite, 26. The family was Anglican. Purdon's uncle was Major General William Brooke Purdon, DSO, OBE, MC, Queen Mary's Hospital, Roehampton, London, SW.
For three years, he was doing woodwork, drafting and had attended UBC and COTC. He was part of #1601 Air Force Cadets, LAC Rigger from January 1939 to June 1940. He had two hours of flying as a passenger.
He liked to ski and mountain climb. He listed model aircraft as a hobby. He indicated he was the President of the Model Aircraft League of Vancouver. He was also the model aircraft building and flying Wakefield Champion of BC in 1940. In September 1940, he was assessed: "One of the Air Force Cadets who comes recommended by S/L Carter. Has done well in the Cadets, at school and is model aircraft builder. Is decidedly keen, but also very young. He wants to be an observer, but seems to immature for these responsibilities. He should go forward as a pilot in which activity he would do well in pursuit aircraft. Hasn't the stamina or physique for heavy or long bombing as yet. There is no doubt as to his qualifying for admission to aircrew duties and he is well fitted for those. He does require broadening and RCAF environment in order to reach maturity, even of his years." He stood 5' 5 1/2" tall, had blue eyes and brown hair.
No. 4 ITS, Edmonton, June 21, 1941 - July 26, 1941: "Almost direct from school. First year university. Immature. Appears to be promising material. Active in sports."
No. 8 EFTS, Vancouver, July 27, 1941 - September 11, 1941: "Ground Training: Conduct excellent, average ability in class work and flying. Keen, hardworking student. Slightly immature. Should improve as time goes on."
No. 3 SFTS, Calgary, September 12, 1941 - December 6, 1941: "An average pilot. Handling inaccurage and weak on single engine practice on test. Average at GIS. Difficulty flying at first but made steady progress. Dependable and conscientious. Pleasant personality, straightforward manner. Rather immature."
Ricky, as he was known, was then sent to Halifax on December 7, 1941 and was at the RAF Trainees' Pool by February 8, 1942. He was at 9 AFU, then 59 OTU, then to 613 Squadron by April 1942. In August 1942, he was with No. 2 Squadron. He was reposted to No. 3 Squadron November 27, 1942.
On June 29, 1943, F/O Purdon took off in Typhoon 1B EJ961 and failed to return from a low level shipping attack off the French coast. "This aircraft made its attack on a convoy and came out between the convoy and the harbour, both of which were firing a large amount of flak at this aircraft. This was the last seen or heard of this aircraft. An extract from official German totenliste No. 171 states that the body of F/O Purdon was washed ashore on the 27th or 29th of July at Loon Plage near Dunkirk and that he was buried in the Municipal Cemetery, Dunkirk."
LINKS: