Robert Francis Galbraith J11978
October 1, 1922 - April 5, 1945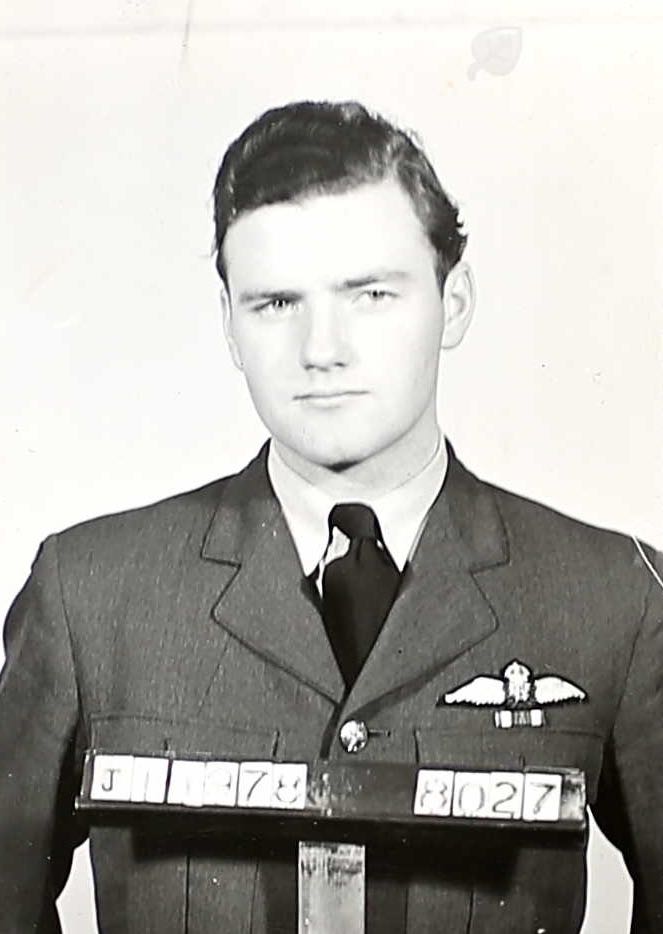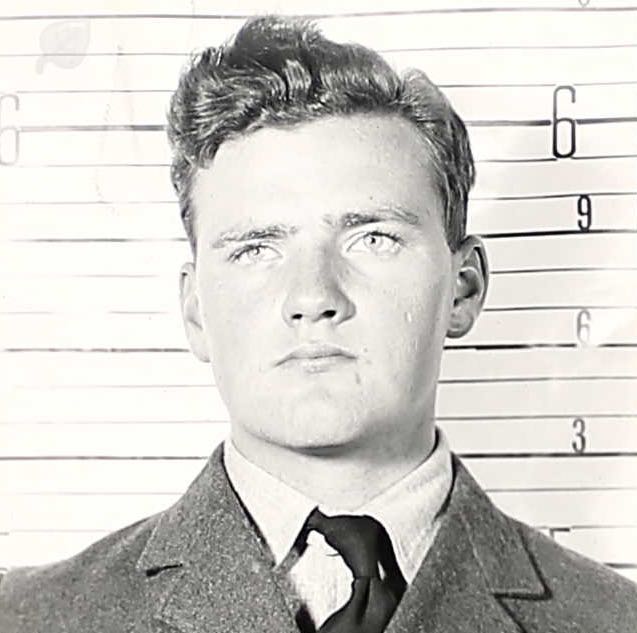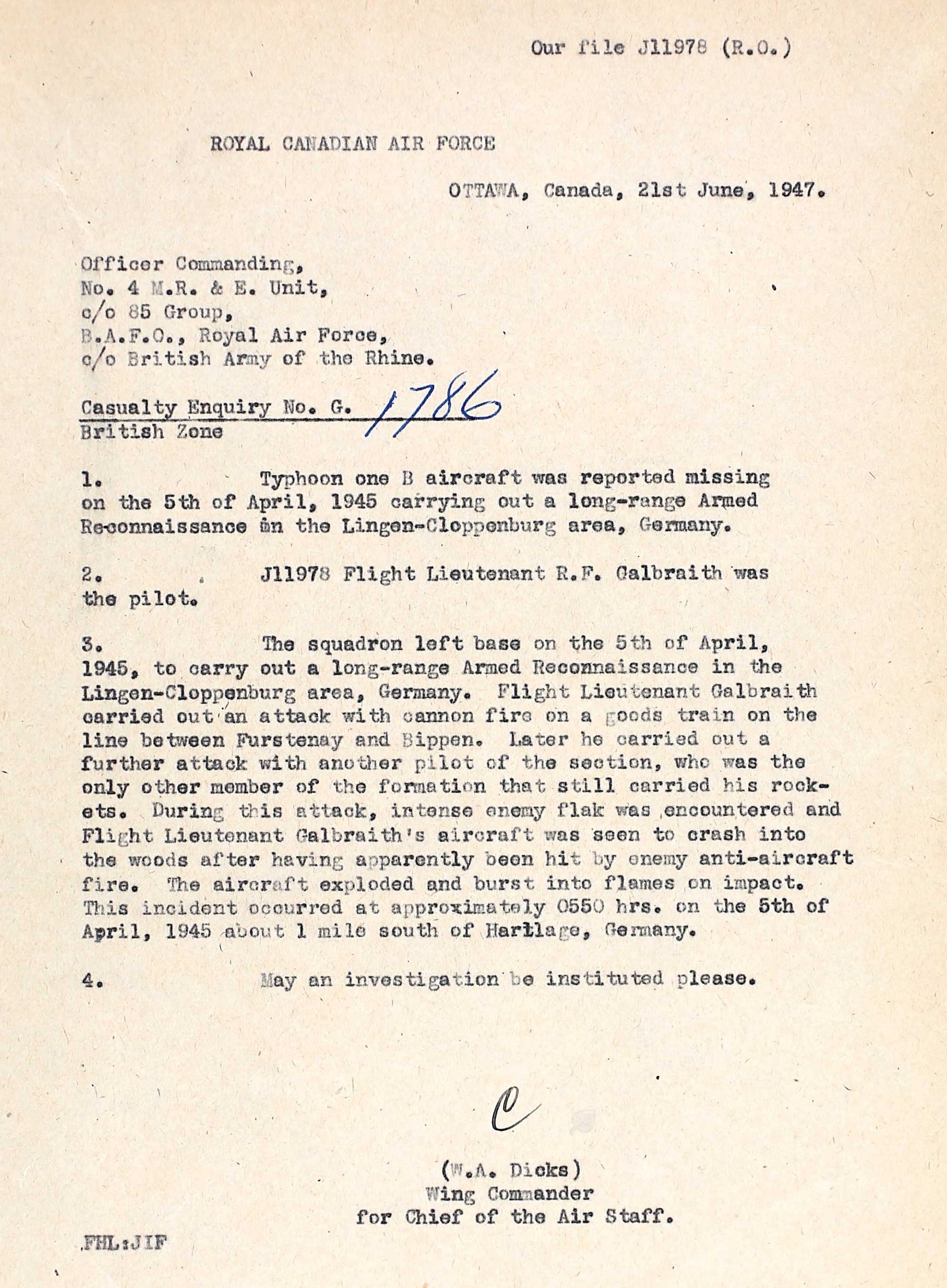 RAF 181 Squadron
Robert Francis Galbraith was the son of Robert John and Frances Irene Galbraith of Shelburne, Ontario. He was born in Melancthon, Ontario, Dufferin County. He had a little brother who died at 2 1/2 years of age in April 1923. He had two sisters: Helen Irene and Lucy Elizabeth Mary. The family was Anglican. He noted a Miss G. E. Mead (friend) in Vancouver, to be notified in case of casualty.
He worked at Ryan's Art Galleries and was an assistant salesman. He also worked as a shipping clerk for Robert Simpson Co. Ltd. in Toronto from April to July 1941. He liked skiing, snowshoeing and hunting. He enjoyed woodcraft and reading. He stood 5' 11" and weighed 168 pounds, with a fair complexion, blue eyes and brown hair. He wanted to return to school after the war.
He was assessed in October 1941: "Has Jr. Matric except for Maths, French and Latin, stopping school at 17. Helped father on farm for 1 1/2 years. Choice: Pilot, discharge to Army. Big, strong lad, quick, alert, definited and outspoken re: likes and dislikes. Younger than average. Responsible. Shows good initiative and persistence. Emotionally stable. Not better than average." F/L C. G. Stogdill
He started his journey through the BCATP in August 1941 at St. Hubert, Quebec, 4 AMD, then to Valcartier at 5 AMD. He was then at 31 OTU Debert, then to No. 3 ITS at Victoriaville by October 1941. ["Tense, determined, individualist, serious, easily annoyed, impulsive."] He was sent to No. 4 EFTS Windsor Mills in November 1941. ["This student has made very good progress and with more experience should be an above average pilot. He has a good personality."] He returned to No. 13 SFTS St. Hubert by February 1, 1942. ["This student learns quickly and remembers what he is told. Energetic and persistant. Very keen to fly. A very good type."] Recommended for Fighter Squadron.
He was awarded his Pilot's Flying Badge on June 5, 1942.
He was at 14 Squadron June 21, 1942 [August 15, 1942: This officer has only been with the unit one month...he is quite capable of carrying out his duties he is given in the Squadron." November 23, 1942: "A very quiet but competent Officer who definitely promotes harmony amongst others. A very fine pilot who should do very well." December 29, 1942: "This officer is a very quiet type oflad, but can be relied upon to do a good job."] and sent to Umnak Alaska February 17, 1943 until August 1943. [July 29, 1943: "This officer is next on our Overseas posting list and he certainly is anxious and eager about it. He has done a remarkably good job at Anchitka and is keen about operational work. He is an above average pilot and shows good judgement in action. Should do an exceptionally good job wherever he is placed in operations. A future Flight Commander."] He was awarded the US Air Medal on August 27, 1943.
He was sent to "Y" Depot September 21, 1943. He departed for the UK from New York on October 12, 1943 and arrived at Bournemouth on October 20th. He was posted to 57 OTU December 7, 1943, then to 1 TEU April 1944, then to 83 GSU June 5, 1944. He was posted to 181 Squadron July 17, 1944.
At 57 OTU: "Will make an average fighter pilot. Needs more practice in combat, had trouble at the beginning of course but has extracted digit and is now OK. He is reliable and should be OK in a squadron." He received 81% on Ground Examinations, 63% in Flying Tests, and 55% for Character and Leadership.
He was involved in flying accident on January 14, 1944 in a Spitfire while taxiing. "Carelessness."
On April 5, 1945, Typhoon 1B was reported missing, carying out a long-range Armed Reconaissance in the Lingen-Cloppenburge area, Germany. F/L Galbraith carried out an attack with cannon fire on a goods train on he line between Furstenay and BIppen. Later he carried out a further attack with another pilot of the section who was the only other member of the formation that still carried his rockets. During this attack, intense enemy flak was encountered wand F/L Galbraith's aircraft was seen to crash into the woods after having apparently been hit by enemy anti-aircraft fire. The aircraft exploded and burst into flames on impact. This occurred approximately 0550 hours, one mile south of Haulage, Germany.
LINKS: