Robert Henry Jones J85509
July 26, 1923 - December 31, 1944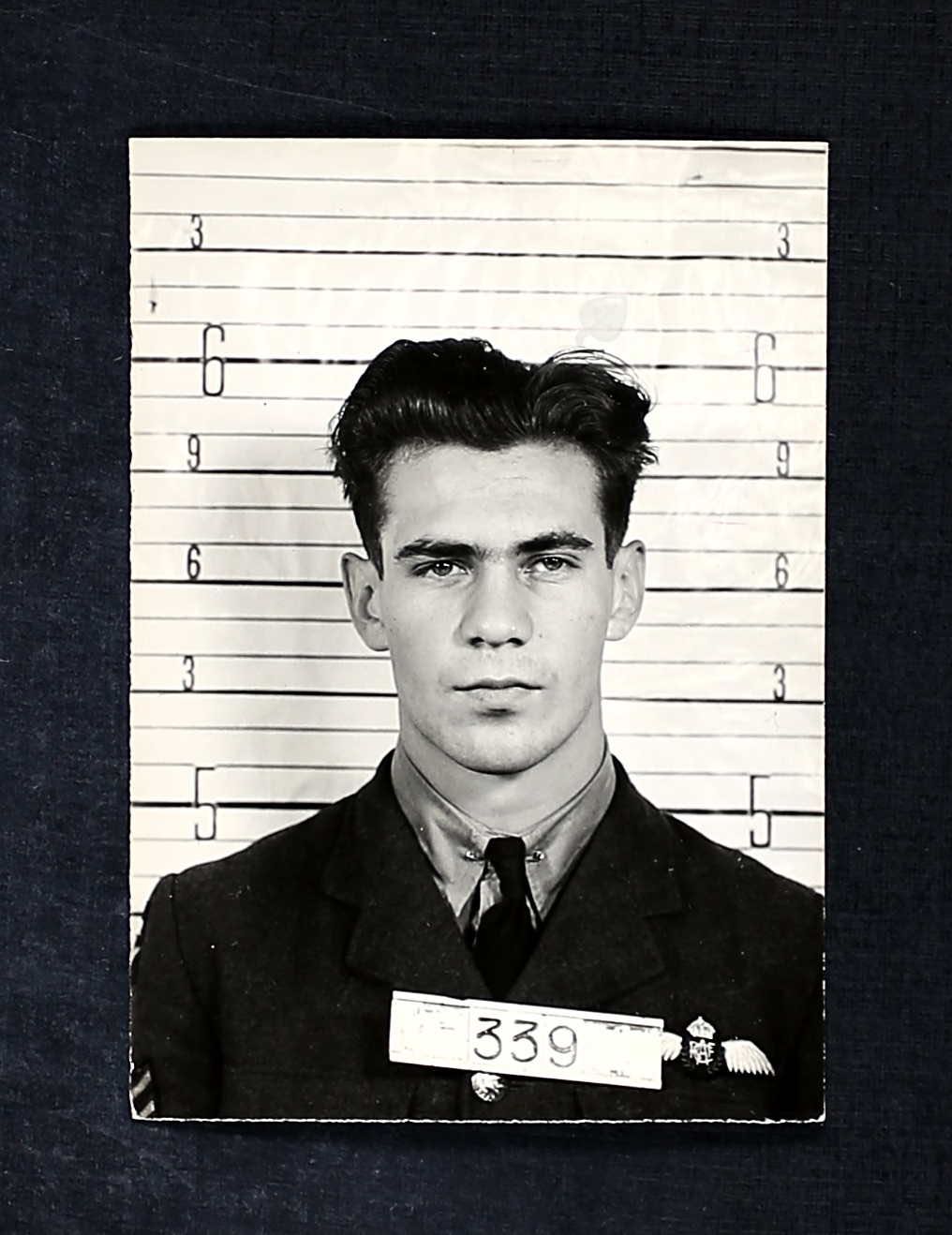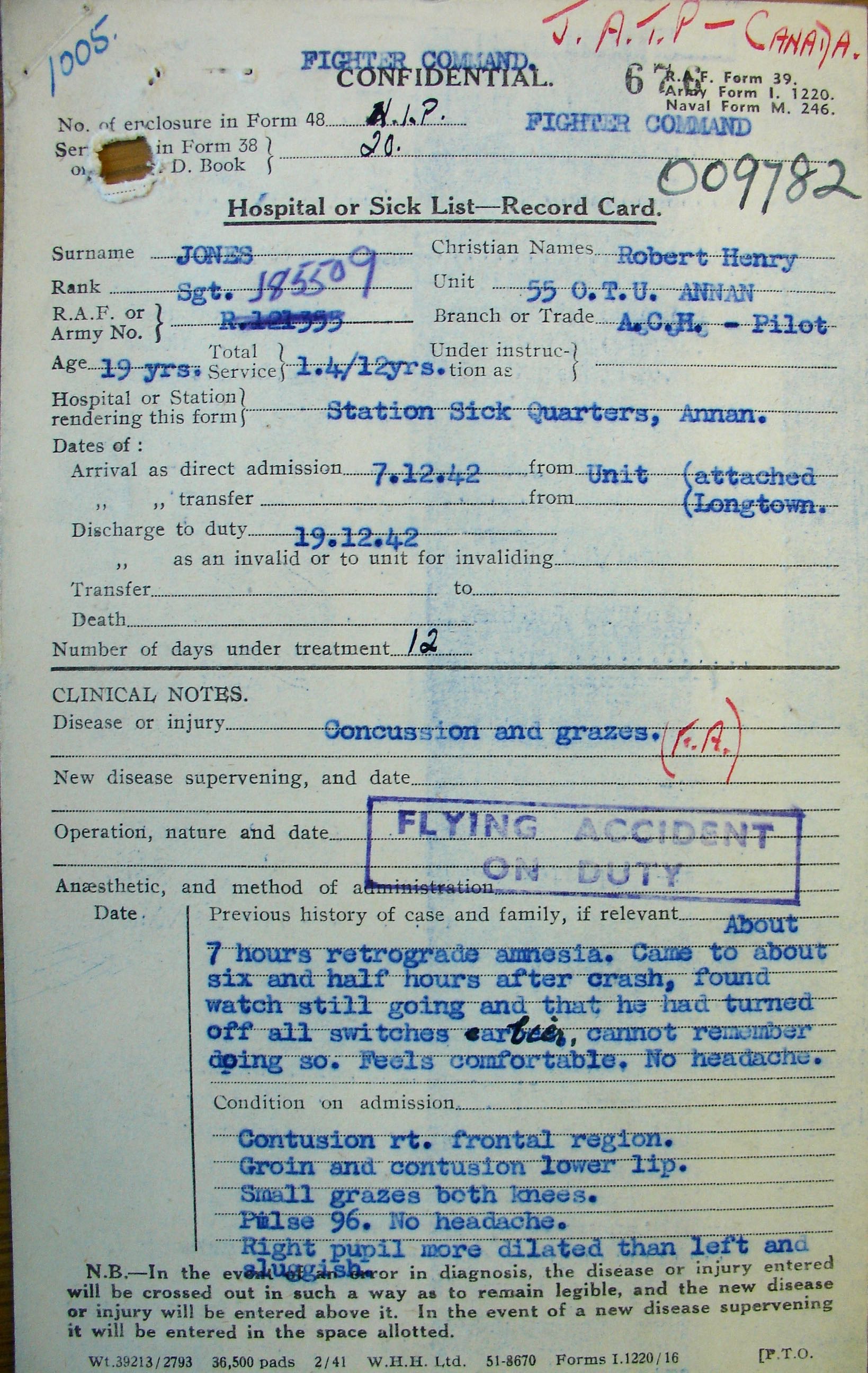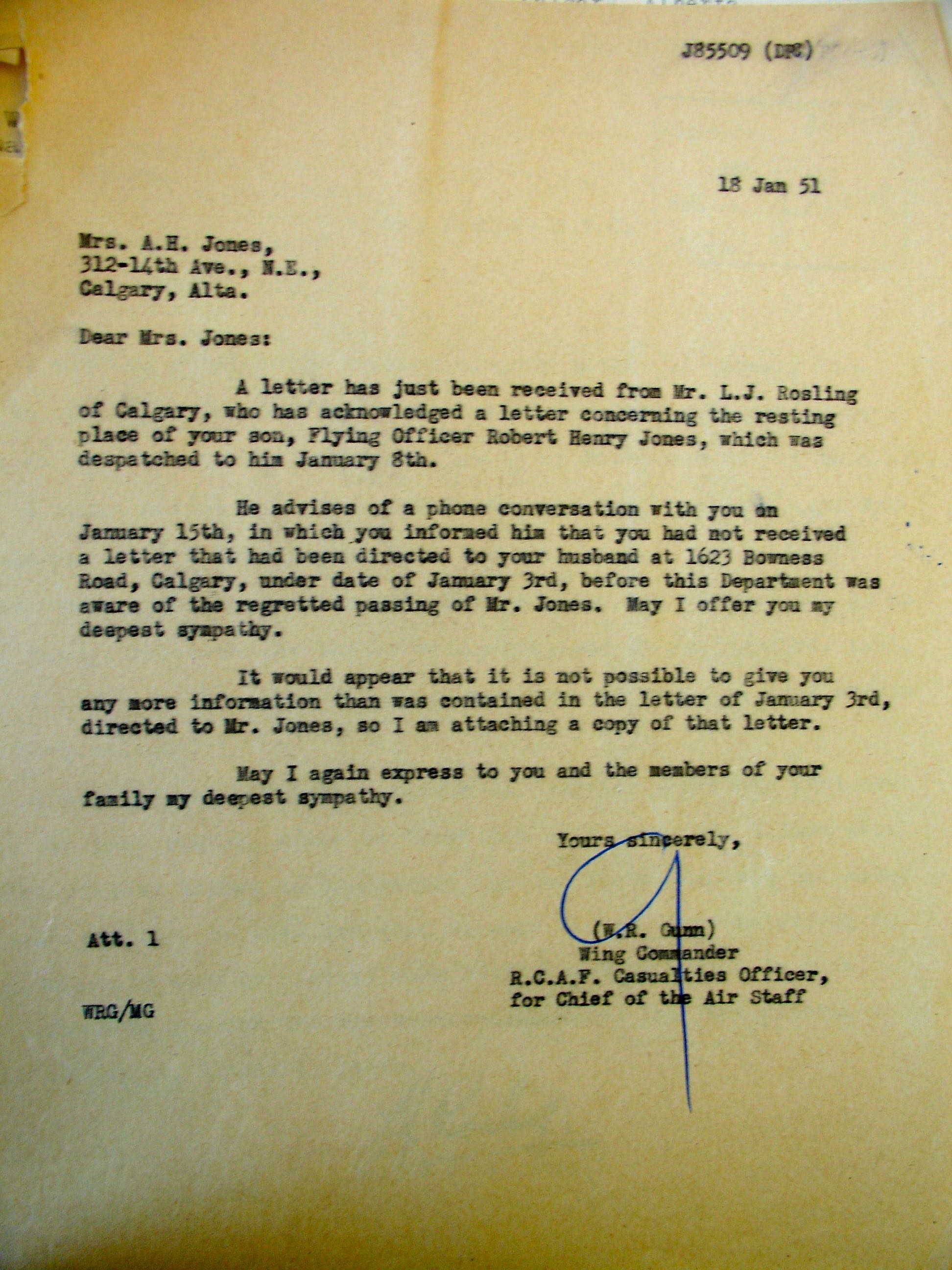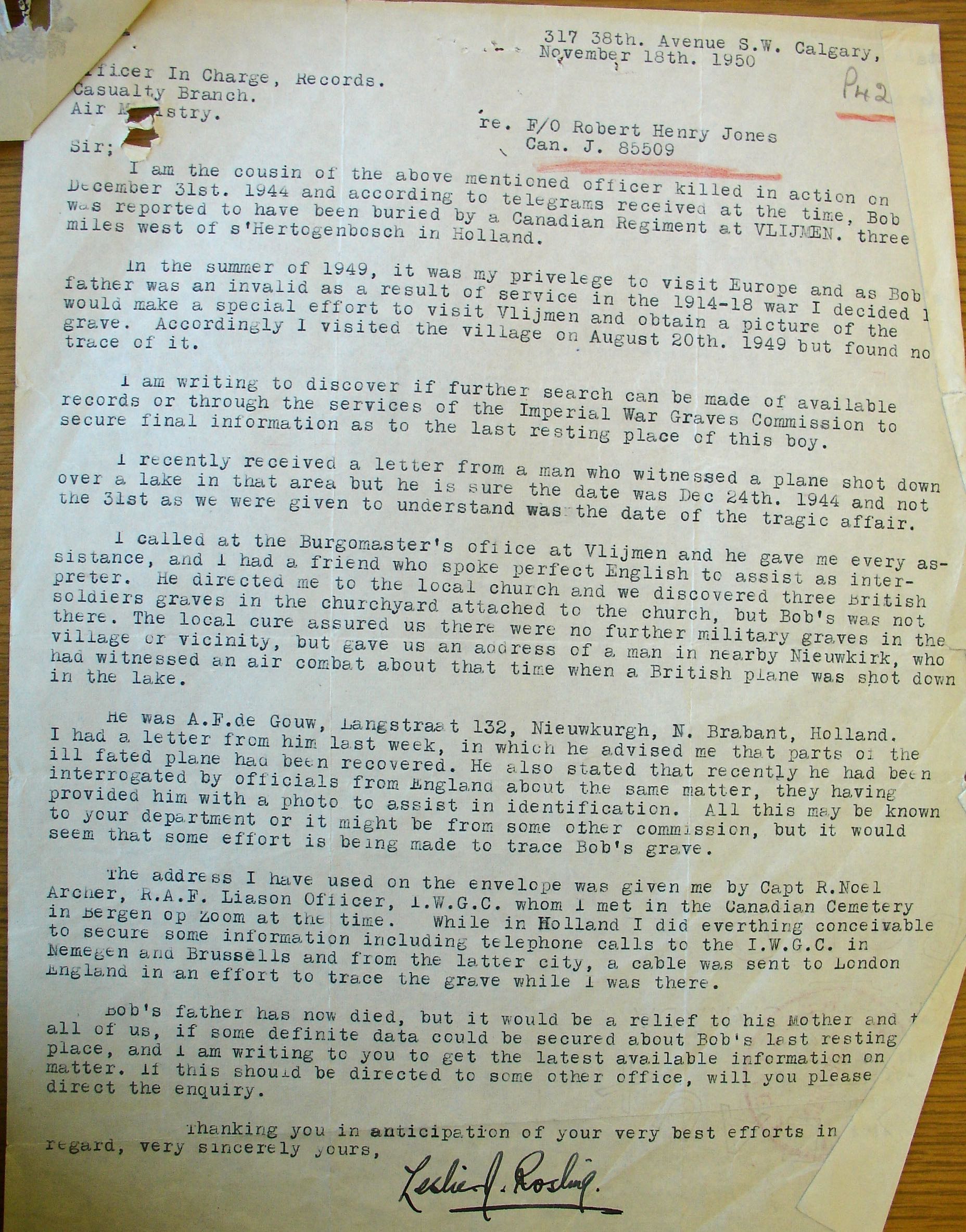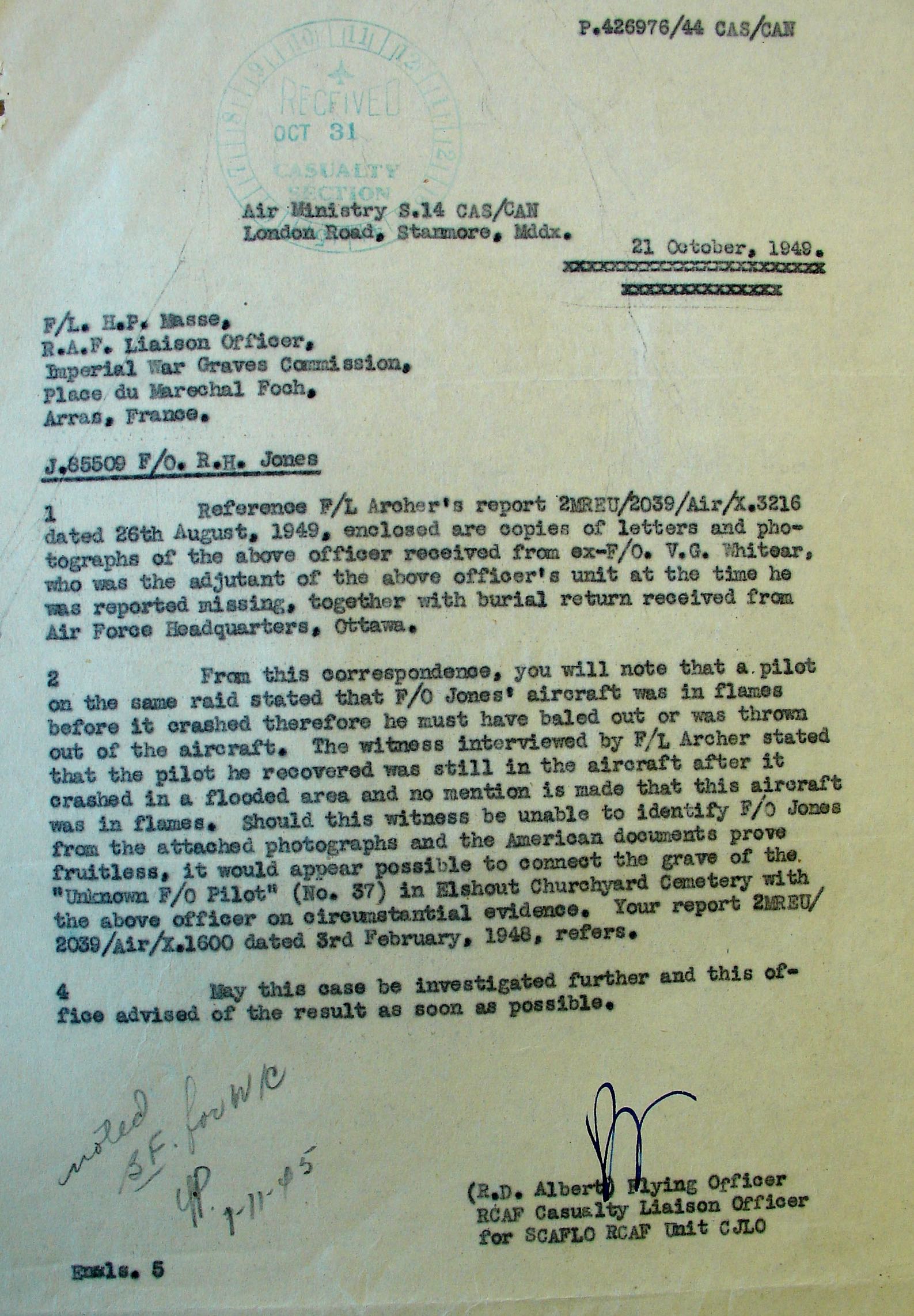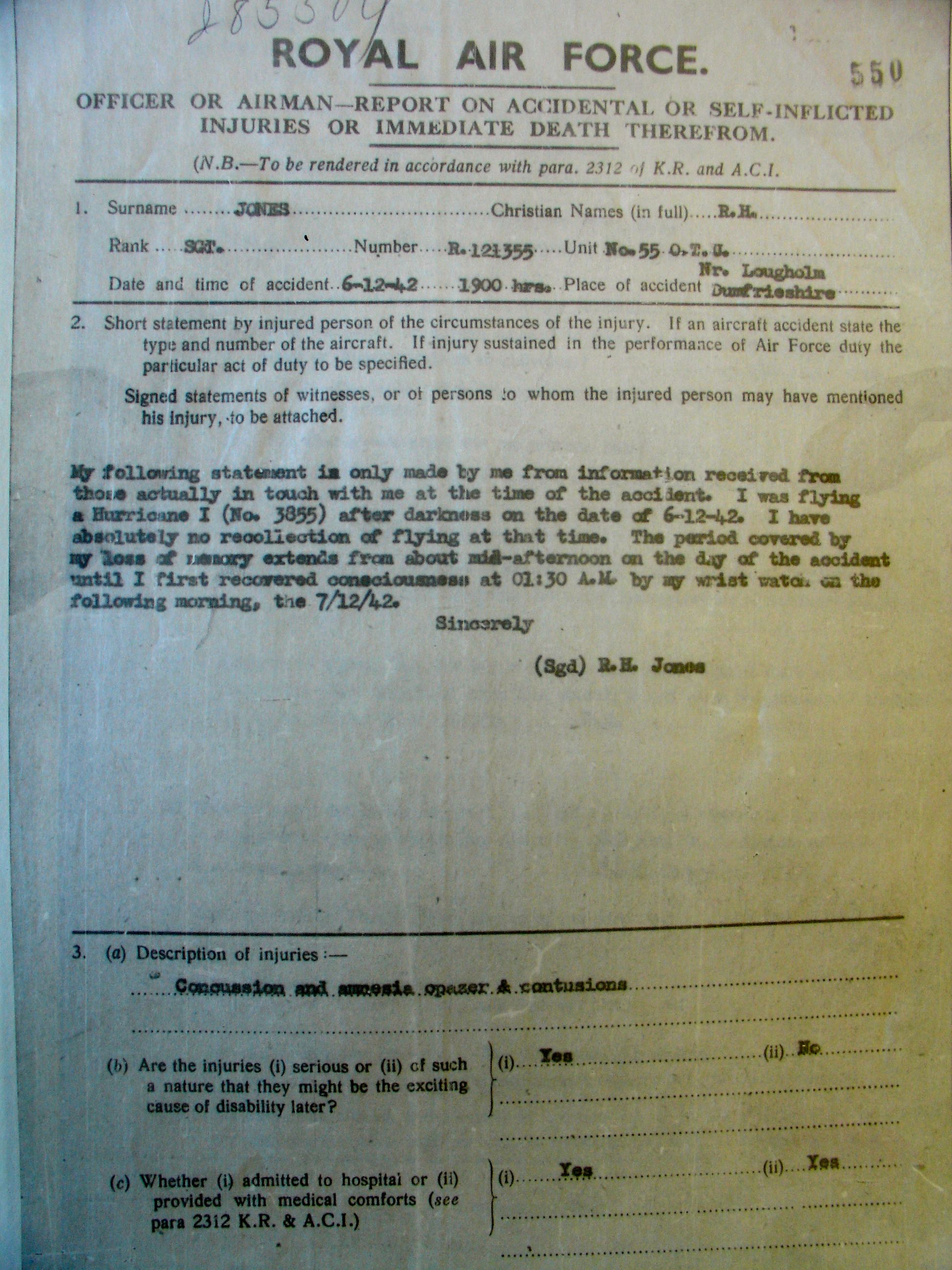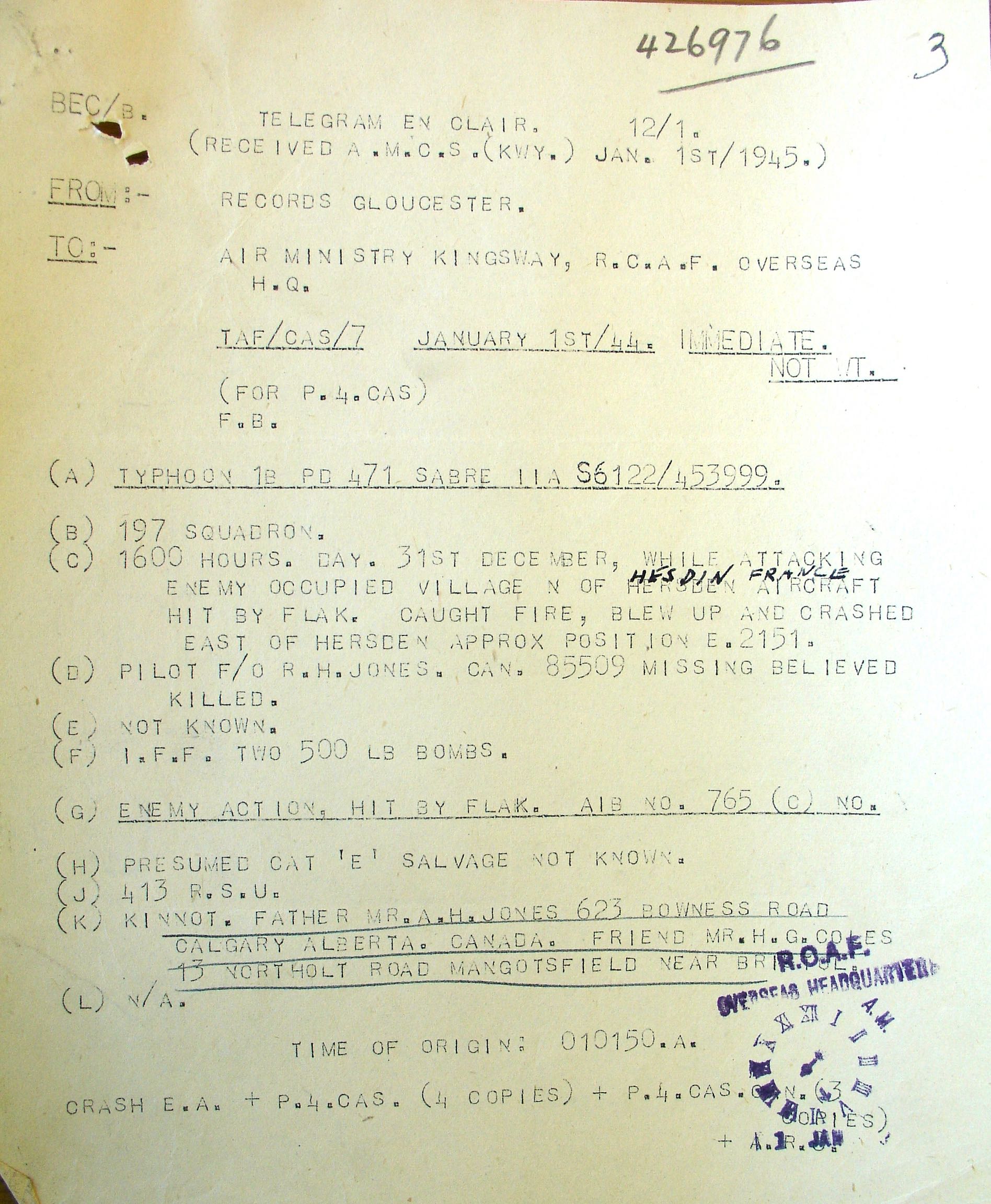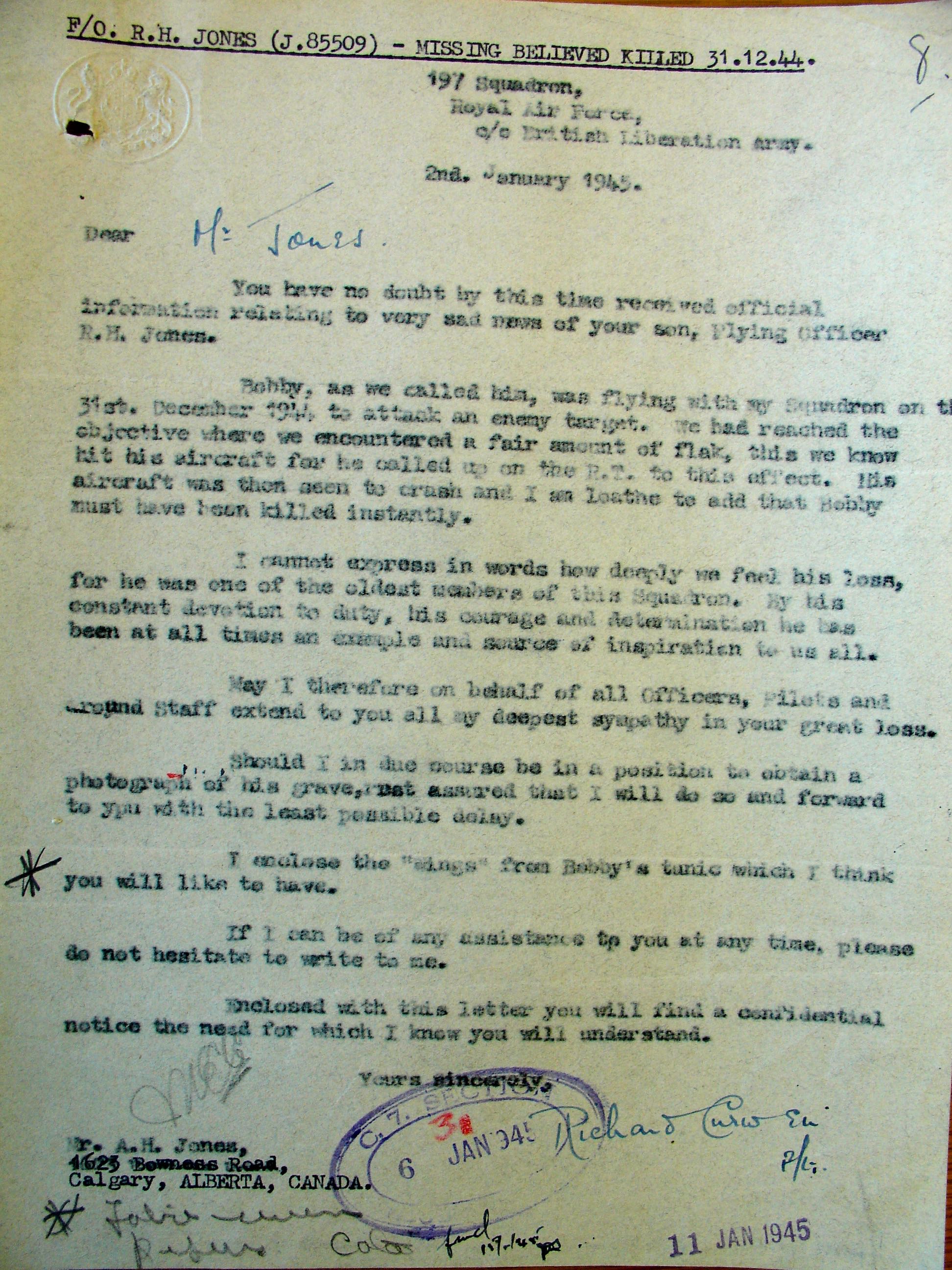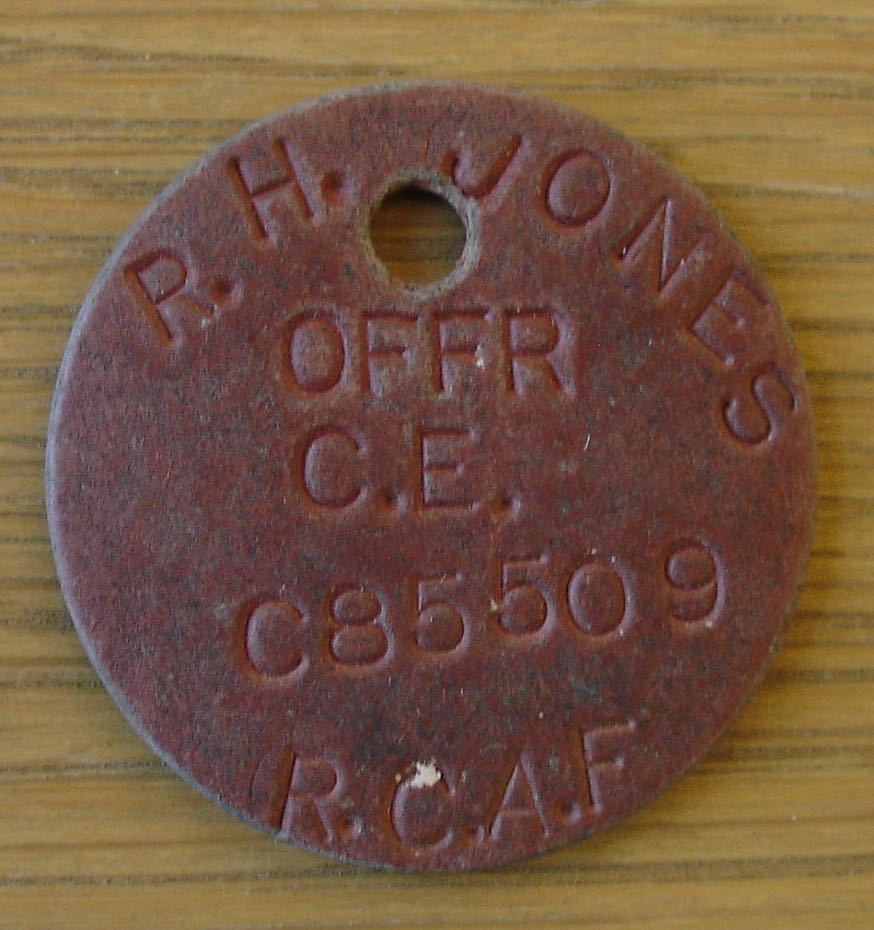 RAF 197 Squadron
Robert Henry Jones, born in Calgary, was the son of Mr. Albert Henry (electric powerhouse operator) and Emily Jones of 1623 Bowness Road, Calgary, Alberta. He had one sister, Hazel Kathleen Jones. The family was Anglican.
He started his journey through the BCATP at No. 2 ITS: October 27, 1941 to December 16, 1941: 19/140 in class. 89%. This airman is calm and self-assured. He has a quiet manner, is dependable and cooperative. Stood 19th in his class and is determined to become a pilot and a good one."
No. 18 EFTS: January 5, 1942 - March 13, 1942: "This student has made good progress in flying. Inclined to be slow. Is rough on the controls. Judgement and air sense good. Instrument flying: Average. Good on aerobatics." In Ground Training: "This student is somewhat immature and not a quick thinker. Has to have things explained thoroughly before he learns. Tries hard to improve and if encouraged, will do well at SFTS."
No. 1 SFTS: March 30, 1942 - July 17, 1942: "Link trainer: 70%. An average pupil, an average pilot, needs practice on instrument take offs." Ground Training: 35th out of 50th in class. "Slightly below average. Weak in navigation. Worked fairly earnestly throughout and should do better on active duty. Conduct good." Here he received his Pilot's Flying Badge.
He was sent overseas on August 7, 1942 and arrived in the UK on August 18, 1942. He was at 3 PRC the next day. He was then at 5 (P) AFU by August 29, 1942.
By September 22, 1942, he was at 55 OTU. He was at No. 3 Delivery Flight Detling, July 1943 and again in September and October before taken on strength by 197 Squadron on October 25, 1943.
At No. 55 OTU, he was evaluated: Ground examinations: 71.5%. Flying TestsL 59.8%. Leadership/Character: 65%. "Formation good. Quiet, a good average pilot."
Jones, at No. 55 OTU, December 6, 1942 was involved in an accident on Hurricane I N3855. "This pilot was on Dusk Flying practice and failed to receive the recall to land message on the R/T. The weather deteriorated and he crashed into a gently rising hillside. (Normal standard night flying flare path with Flood Light and angle of glide indicator. Flashing beacon NW of Longtown.) This pilot was ordered to carry out dusk landings and take offs and not to leave the vicinity of Longtown aerodrome. Unfortunately, he did leave the aerodrome circuit and at that time all the a/c were ordered to land. The weather deteriorated and the pilot became lost and eventually crashed into a hillside, which lucky for him, was on a gentle slope. The causes of this accident are considered to be 'inexperience' on the part of the pupil and also sudden deterioration of the weather." After Jones crashed, he came to several hours after landing but could not remember anything, though he had switched off, got out of the airplane, removed his parachute and re-entered the aircraft. He was diagnosed with retrograde amnesia of about 7 hours. He had a slight contusion of the right frontal region and minor grazes, plus a concussion. He was given strict rest for ten days, but his amnesia persisted. He was given ten more days of sick leave, expiring on December 29, 1942.
From November 1, 1941 to April 4, 1944, Jones had eight offences on his General Conduct Sheet, involving being absent without leave once and seven 'certified no entry'.
On December 31, 1944, Jones was involved in another accident, this time fatal. His identity discs were not found. Pieces of his tunic, thick underpants, a thick white sweater and royal blue sweater and Oxford escape flying boots, plus a mae west and pieces of a SIDCOT outer were found in a grave with "Unknown British Soldier Pilot RAF, Fallen January 6, 1945" on the wooden cross. His badly smashed remains had been wrapped in a parachute and placed in open country near Vlijmen. His remains were exhumed January 15, 1948 to the Drunen (Elshout) Roman Catholic Churchyard, Netherlands.
There was much confusion about the final burial place of P/O Jones.
In January 1951, Mr. Jones was still questioning the RCAF about the location of his son's grave. The RCAF replied: "A report has now been received from our Missing Research and Enquiry Service concerning the resting place of your son, F/O Robert Henry Jones. The report states that Missing Research had been to the cemetery at Vlijmen but could not locate a grave for your son. An exhaustive search was conducted in the area and all cemeteries were investigated but to no avail. The open countryside was also searched and finally a local resident was found who knew of a British aircraft with a single occupant that had crashed on December 31, 1944. He stated that the crash was near a place called Elshout and that the occupant of the aircraft had been buried in the cemetery at Elshout. This cemetery had already been visited but another visit disclosed an hitherto unlocated grave. The grave was not marked but on exhumation, the occupant was identified as your son....I am sorry indeed that there has been such a lapse of time before it was possible to convey this definite information to you." W/C W. R. Gunn hoped that Mr. Jones would understand that "in times of war and chaotic conditions reports do become erroneous," and that Mr. Jones would find comfort now knowing where his son was buried.
Mr. Jones requested that his son's officer's clothes be donated to the "Bureau for kit and replacement", in London, England.
LINKS: