Ronald James Currie J21861
April 6, 1919 - September 18, 1944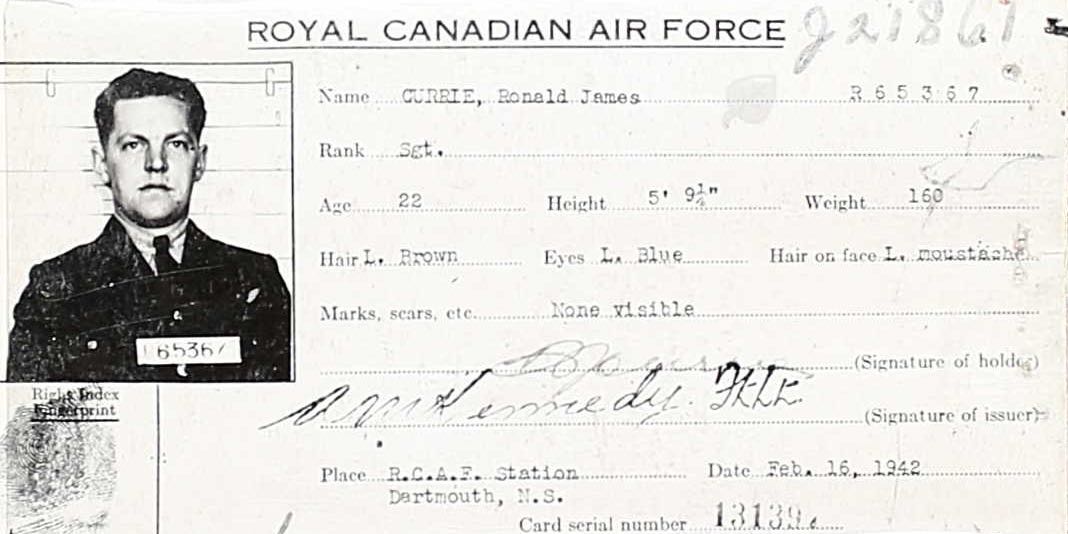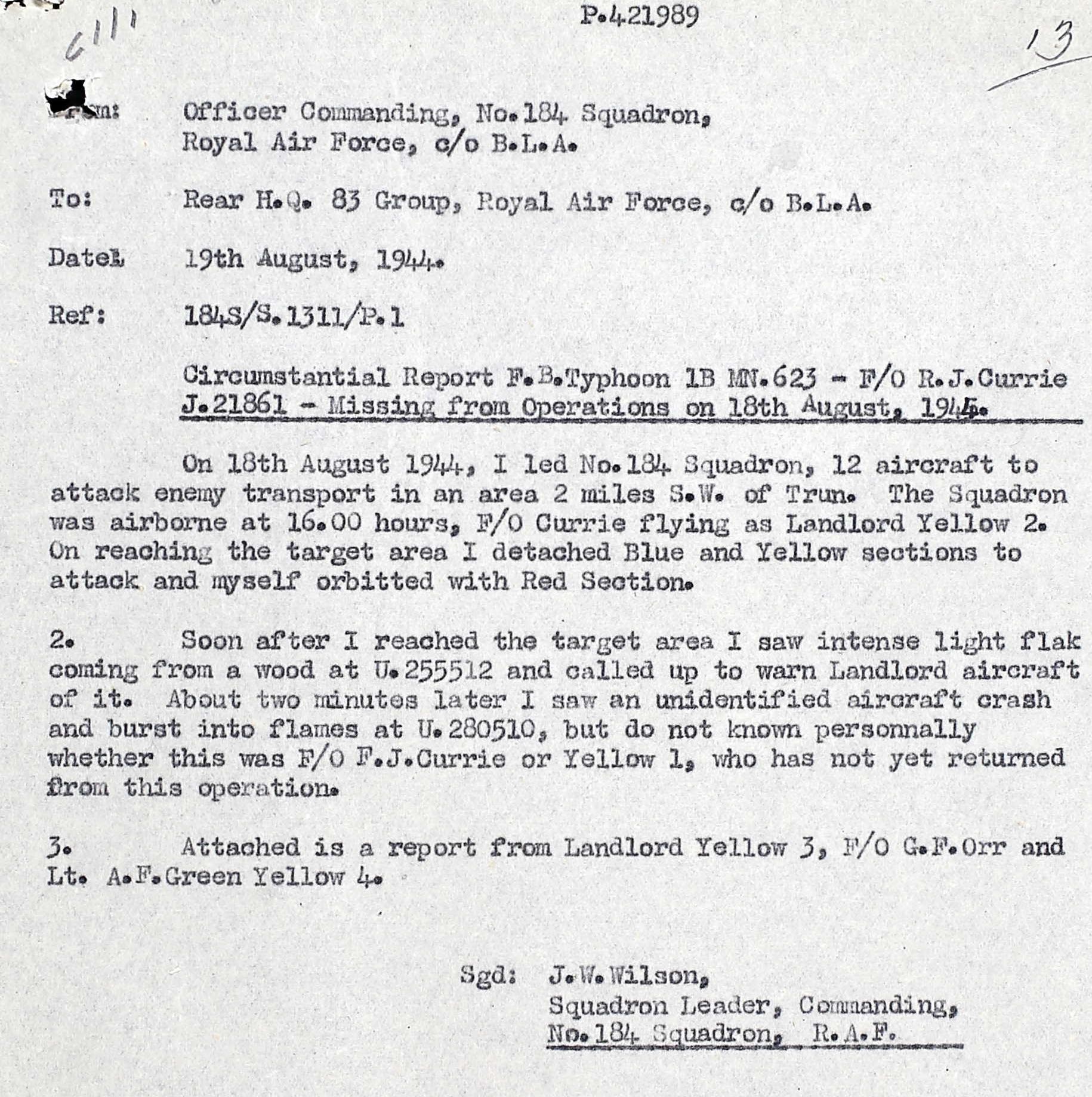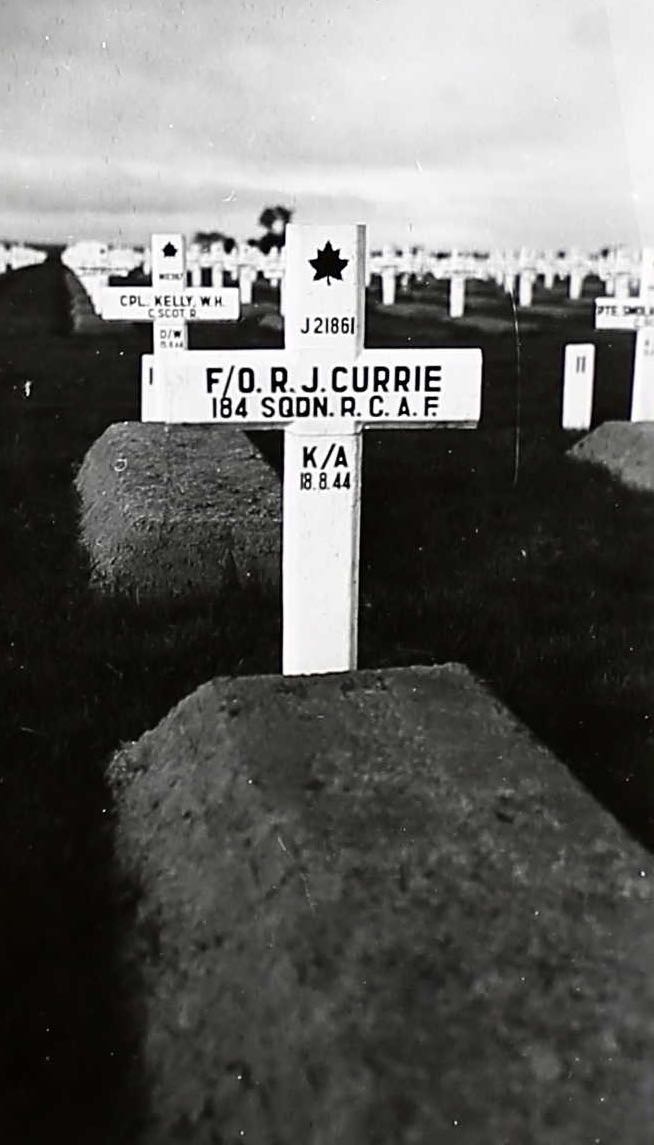 RAF 184 Squadron
Ronald James Currie was the son of Arthur Victor (general merchant) (deceased) and Gladys Annie (nee Wickwire) Currie. He had two brothers, one F/L Lloyd L. Currie and Wilfrid Currie. The family attended the United Church.
He had been a bank clerk and teller with the Royal Bank of Canada in Bridgewater, Nova Scotia for 4 1/2 years prior to enlisting in Halifax, Nova Scotia. His job at the bank was promised to him after the war. Other options he was looking at were to remain in the RCAF or take up photography.
He was assessed in August 1940: "Very good applicant for Air Crew (Gunner). Keen to serve. Well recommended." He listed baseball , hockey, golf and bowling, plus fishing and hunting as sports, with photography as a hobby. He stood 5' 9 1/4" tall, weighing 160 pounds. He had light brown hair and light blue eyes. At one point, he sported a light moustache.
He earned his Air Gunner's Badge on October 27, 1940. He earned his Pilot's Flying Badge on December 18, 1942.
His journey through the BCATP: Toronto, Jarvis, Dartmouth, Victoriaville, Cap de la Madeline, St. Hubert, then to Halifax. By January 4, 1943, he was at the RAF Trainees Pool. He was at 59 OTU by June 1943 and assigned to 184 Squadron on January 27, 1944.
During his Air Gunner training: "Good worker, keen, anxious to qualify as WAG." He specialized in gun maintenance. In June 1942, he was remustered. Evaluations: "Wants to be a fighter pilot. His brother is one in Libya and he doesn't want him to get ahead of him. Alert, intelligent lad who should make exceptionally good air crew material. Married ten days. Mother is invalid. Father dead. Air Gunner since 1940." At ITS: "Good sense of humour. Very active. Assertive." At EFTS: " Serious type, good worker, excellent student. On instrument flying, slight trouble with A/S." At EFTS: "Good steady pilot who should do very well experience. Needs more practice in aerobatics." At SFTS: Good type of pupil pilot. Recommended for commission."
Currie gave $10/month towards his mother's support.
Currie married Margaret Merriam Morse Beutel of Parrsboro, NS, in Montreal on March 26, 1942. Together, they had a son: James Arthur Currie, born May 27, 1943. She borrowed $350 from the RCAF Benevolent Fund, at 2% interest rate. She was moving to New York in 1945. She had remarried by February 1950 and had moved to New Jersey, USA.
The circumstantial report, written by S/L J. W. Wilson stated: "On 18th August 1944, I led No. 184 Squadron, 12 aircraft to attack enemy transport in an area two miles SW of TRUN. The squadron was airborne at 1600 hours, F/O Currie flying as Landlord Yellow 2. On reaching target area, I detached Blue and Yellow Sections to attack and myself orbitted with Red Section. Soon after I reached the target area, I saw intense light flak coming from a wood and called up to warn Landlord aircraft of it. About two minutes later, I saw an unidentified aircraft crash and burst into flames. But I do not know personally if this was F/O Currie or Yellow 1, who has not yet returned from this operation." G. F. Orr stated: "F/O Currie's machine was streaming Glycol white smoke. I lost sight of F/O Currie as I broke from the attack but Lt. Green (SAAF) Yellow 4, who was following me into the attack saw F/O Currie's machine crash." Green stated: "Currie was evidently unable to gain height as he remaiined at 200 feet turning slightly left in an attempt to reach our lines which were beyond the woods. He was unable to do so however, and crashed about half a mile south west in the woods, his machine bursting into flames upon impact."
On September 4, 1944, Mrs. Currie received a letter telling her of the circumstances of the loss of her son. "Your son was the sole occupant of an aircraft which took off to carry out an attack against mmotor transport and tanks on August 18, 1944. Your son's aircraft was hit by enemy anti-aircraft fire over the target and it was seen to fall to the ground near Falaise and Argentan area, France, at 4:45 pm. Your son was not seen to bale out."
Currie was initially buried in the cemetery at Miguillaume, 13 miles south east of Falaise, France. His body was reinterred at the Bretteville-sur-Laise Canadian War Cemetery, Calvados, France.
LINKS: