Ross William Clarke J26500
June 23, 1919 - October 24, 1944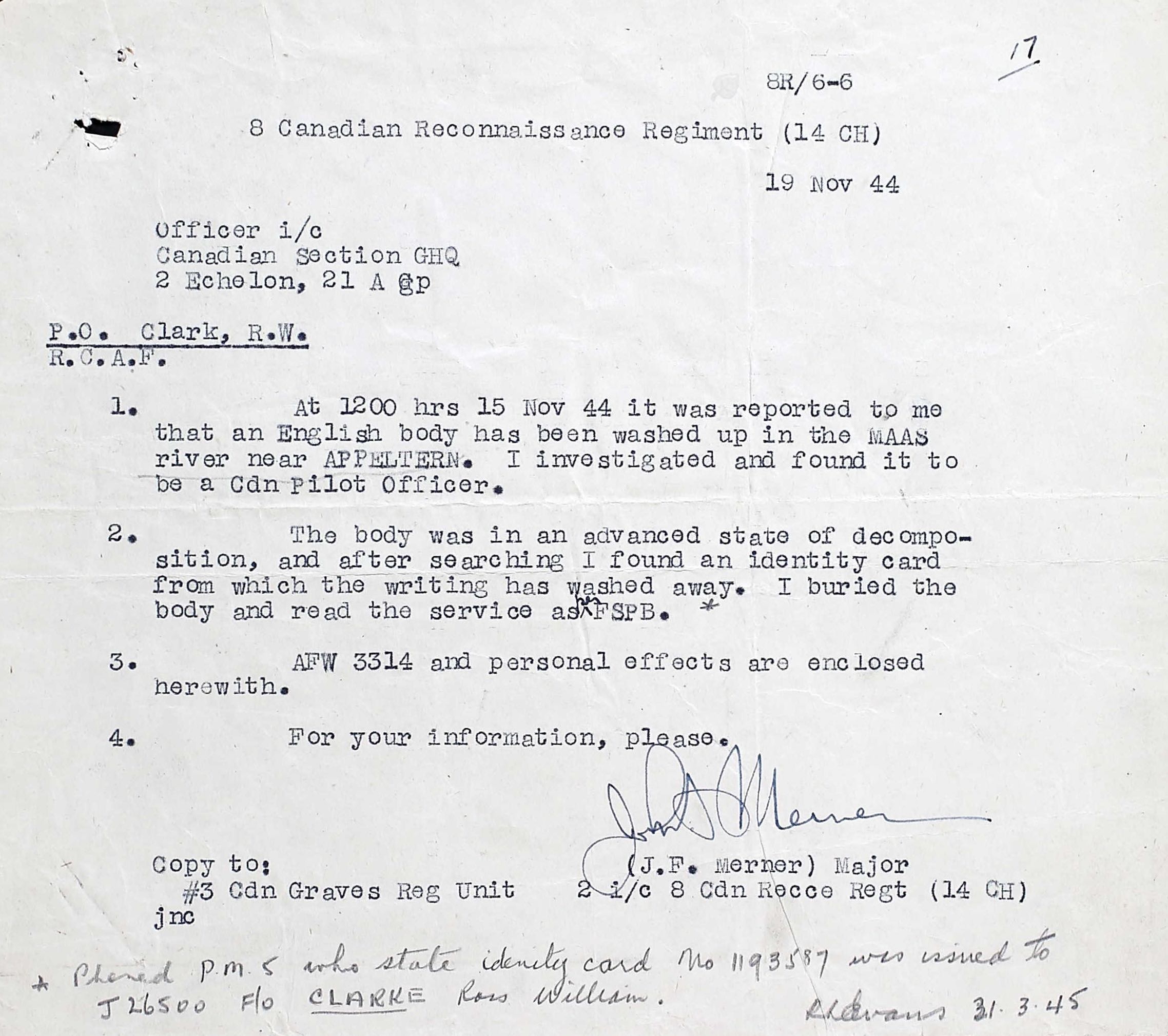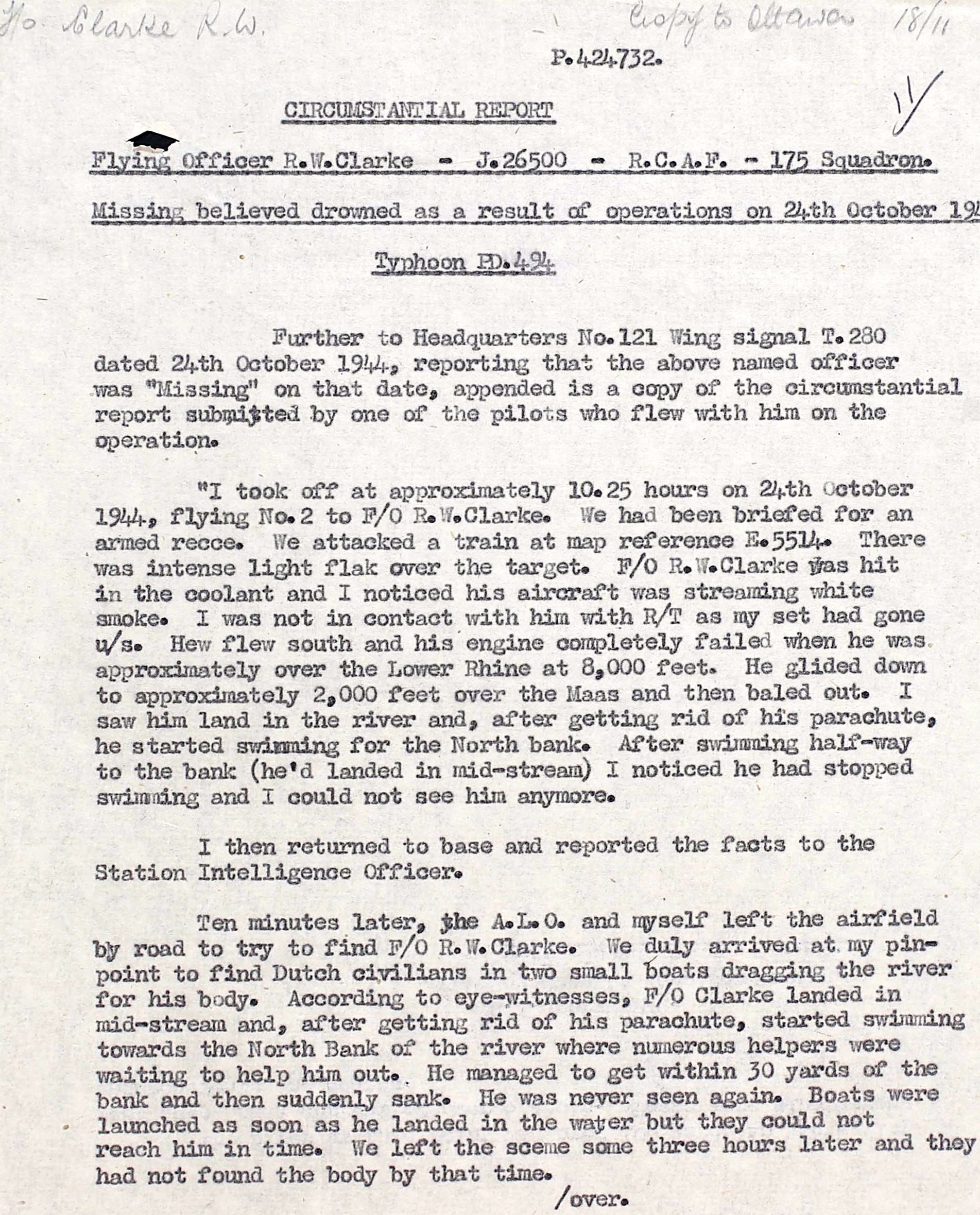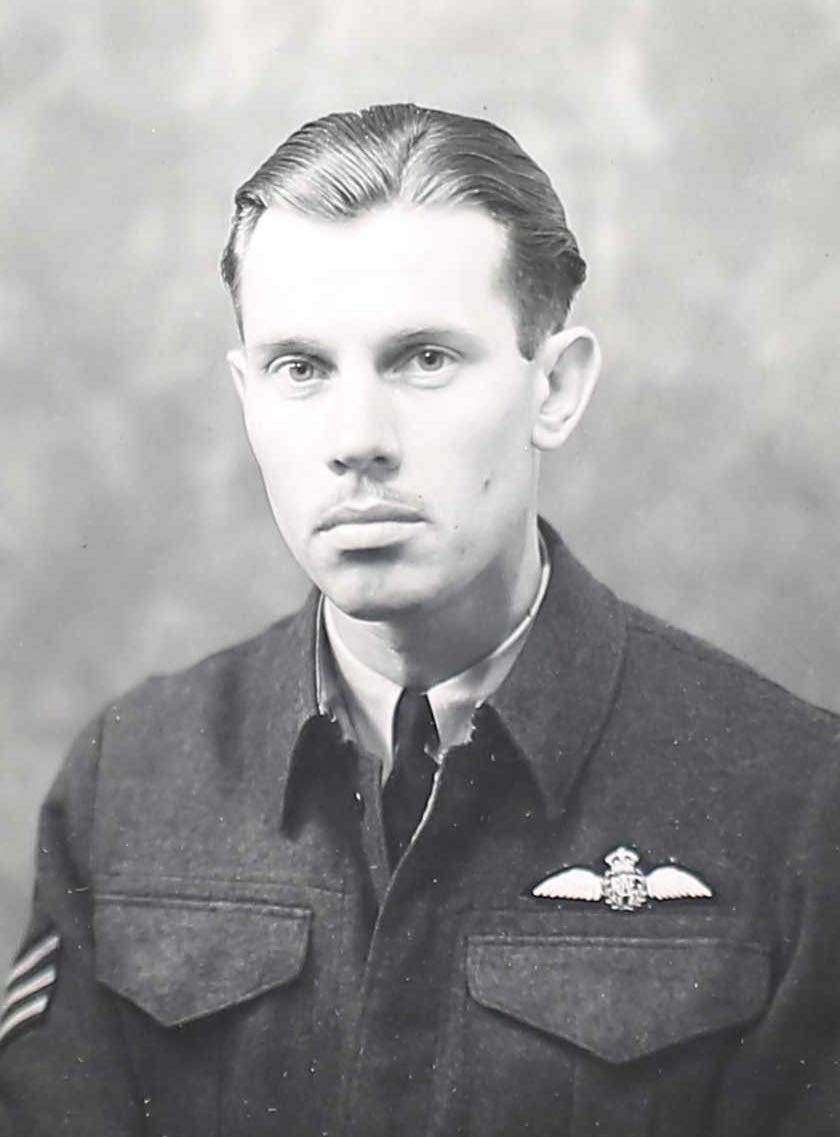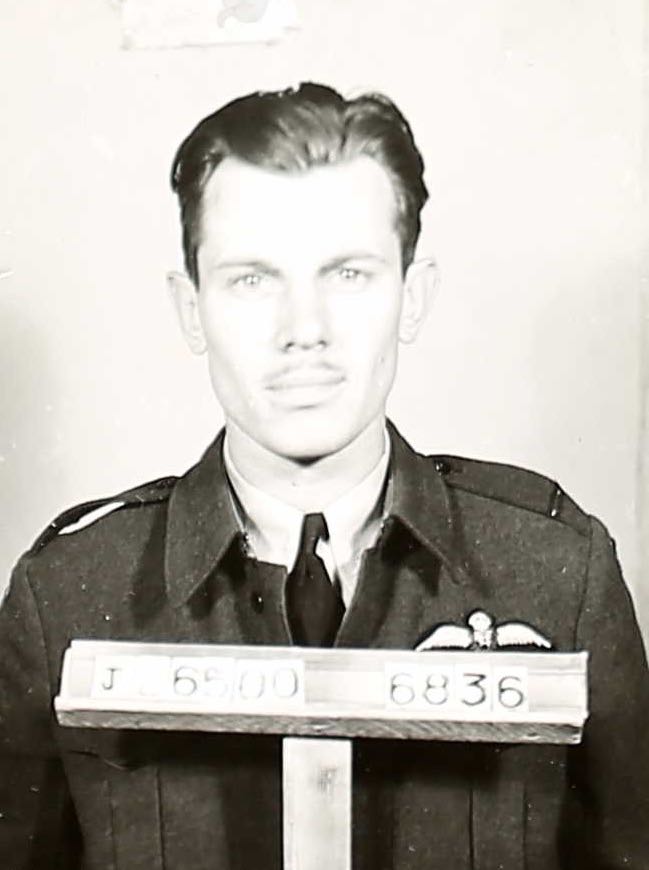 RAF 175 Squadron
Ross William Clarke hailed from Saint-Laurent, Outremont, Montreal, Quebec. He was the son of John William and Ethel Field Clarke. He had one sister and three brothers, of whom were with the Canadian Army overseas. The family was Church of England. Clarke was a clerk at Rudel Machinery Company Limited for four years. He left his position to join the RCAF. He indicated that he would like to remain in the RCAF after the war.
Clarke enlisted in Montreal in July 1941. He stood 6'1" and weighed 170 pounds. He had previous military experience, serving since July 1940 with the Royal Montreal Regiment, 2nd Bn. R. He enjoyed hockey and baseball, but did not have hobbies. "Highly recommended as to conduct, reliability, and character in general. Pleasing personality, intelligent, cheerful, keen. Should be good material."
At No. 5, ITS, Belleville, September to November 1941: 83%; 69 out of 150 in his class. "Good hardworking. Very keen to be a fighter pilot. Fine sense of responsibility. Recommend a commission." He was posted to No. 13 EFTS, St. Eugene. "Was slow at the start, but improved to average student. Aerobatics need practice. Instrument average. Keen to fly. Will become a good service pilot." In Ground Training: "Ability below average. 33/42 in class. 62.8%. Conduct good. Has sense of responsibility. Good type. Link Trainer: 81%." He was sent to No. 2 SFTS in February 1942. "Clear hood good average. Aerobatics shaky. Forced landing sequence poor. Instruments average. Weak on spin recoveries. Link Trainer progress and ability above average. 79%" In Ground Training: "Knows more than marks indicate. A convincing talker, but weak in grammar and not very diplomatic in what he says." He was recommended for a fighter squadron. "Shows attention to detail as a rule. An average student pilot with no outstanding faults. Average appearance and bearing. Pupil's preference: (F) (B) (recce)." He was awarded his pilot's badge on June 5, 1942. He spent time at Uplands and Mossbank. By October 1942, he was at No. 135 Squadron, Pat Bay until May 1943. "A smart, reliable NCO." He was sent overseas that month and sent to the RAF Training Pool by June 22, 1943. He was assigned to 137 Squadron in August 1943 and then went to 83 GSU May 1944. By June 1944, he was with 175 Squadron.
On October 24, 1944, Clarke took off at 1025 hours for an armed recce flying Typhoon PD 494. He and his wingman attacked a train with intense light flak over the target. Clarke was hit in the coolant and his aircraft was streaming white soke. He flew south and his engine completely failed when he was approximately over the Lower Rhine at 8,000 feet. He glided down to approximately 2,000 feet over the Maas and then baled out. His wingman, P/O G. A. Henry, said, "I saw him land in the river and after getting rid of his parachute, he started swimming for the north bank. After swimming half way to the bank, I noticed he had stopped swimming and I could not see him anymore....Ten minutes later, the ALO and myself left the airfield by road to try to find F/O Clarke. We duly arrived at my pinpoint to find Dutch civilians in two small boats dragging the river for his body...we left the scene some three hours later and they had not found the body by that time. The river at this point was over 100 yards in width, 18 feet deep and a current of over 6 knots. There were also strong undercurrents and eddies." At 1200 hours, November 15, 1944, Major J. F. Merner, 2 i/c 8 Cdn Recce Regt (14 CH) noted that the body of a Canadian Pilot Officer had washed up in the Maas River near Appeltern. "The body was in an advanced state of decomposition and after searching I found an identity card from which the writing has washed away. I buried the body and read the service as FSPB." Clarke is buried in the Bergen-op-Zoom War Cemetery, Netherlands.
LINKS: