Stuart Resser Shaw J19656
May 29, 1918 - December 29, 1943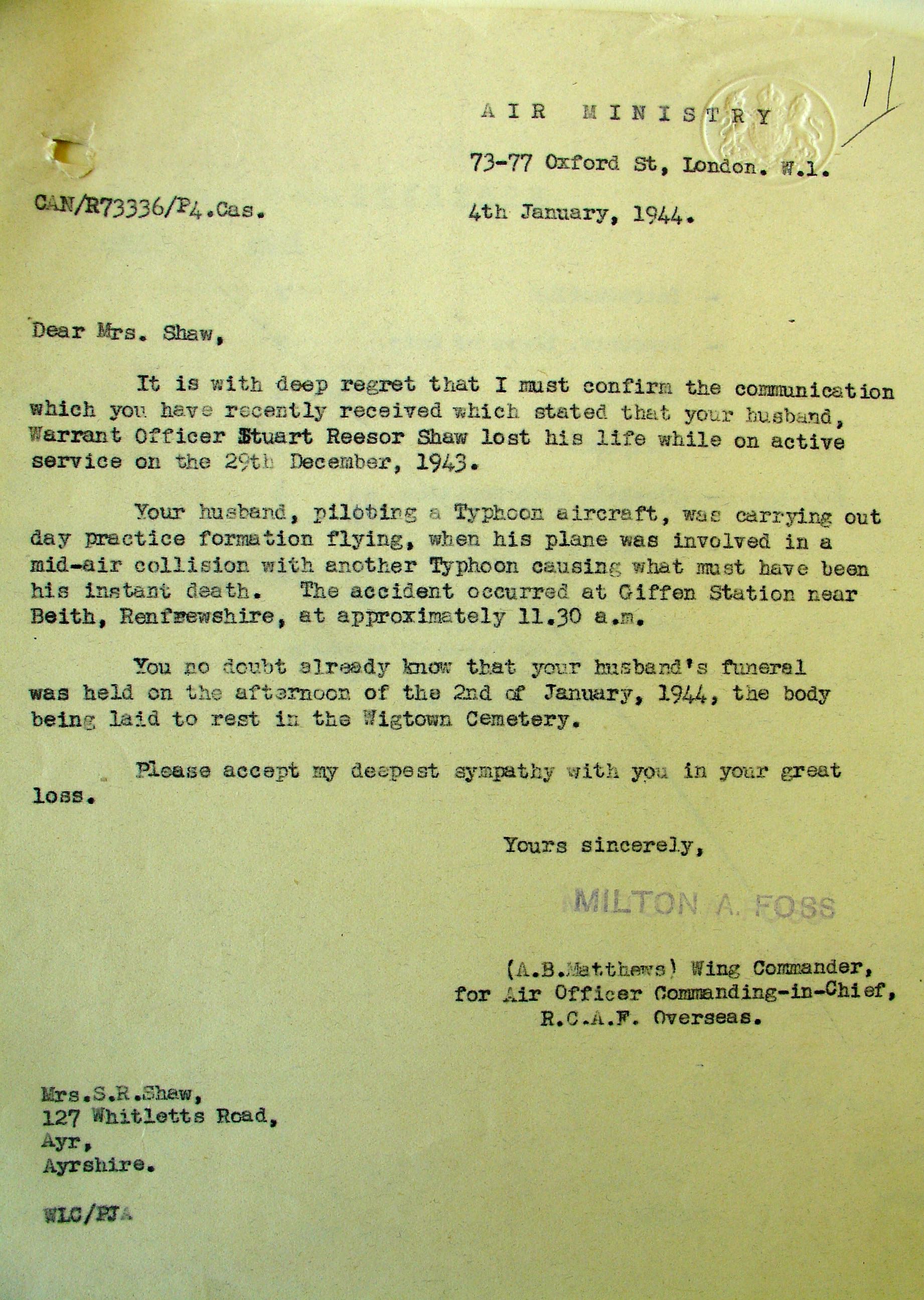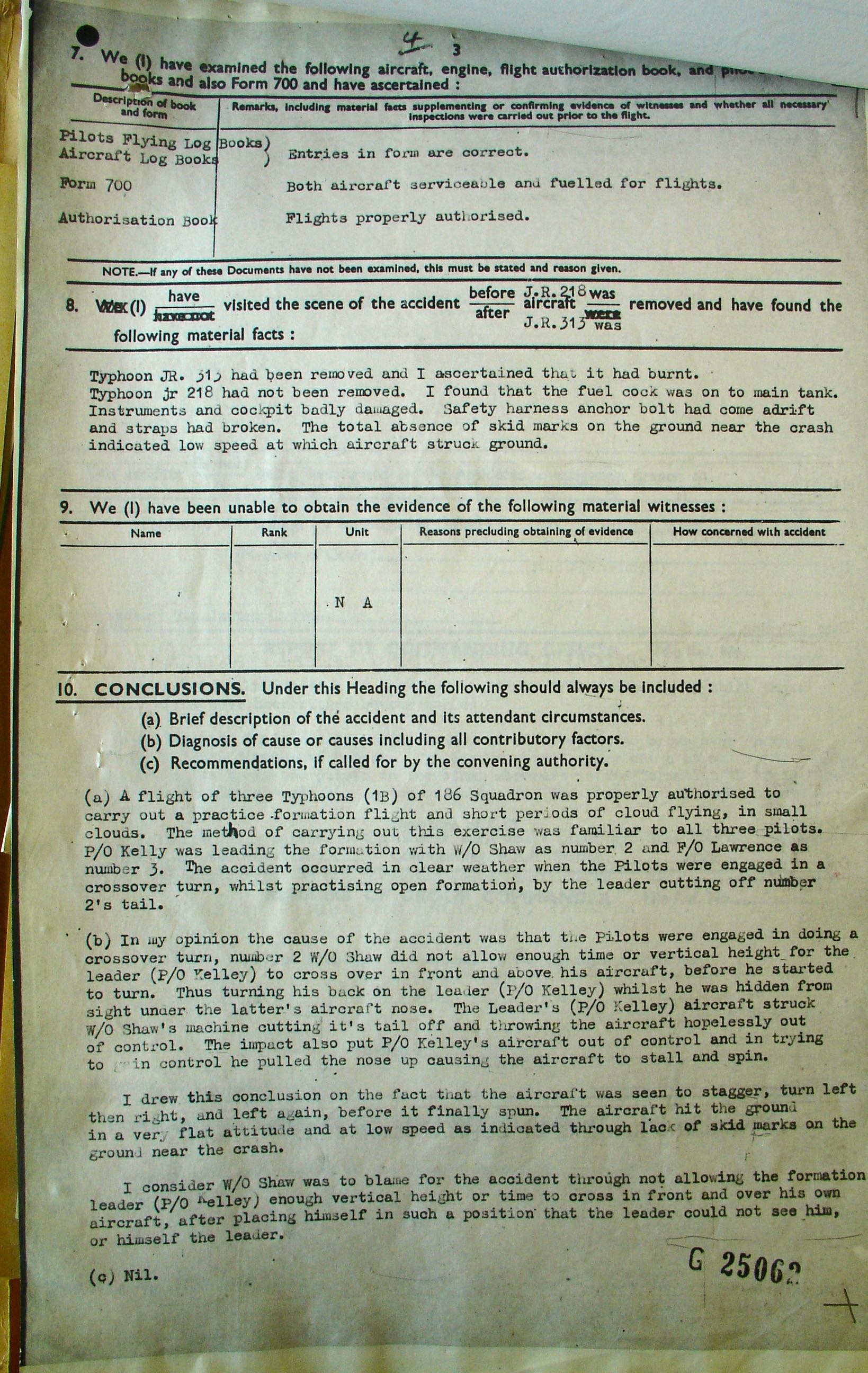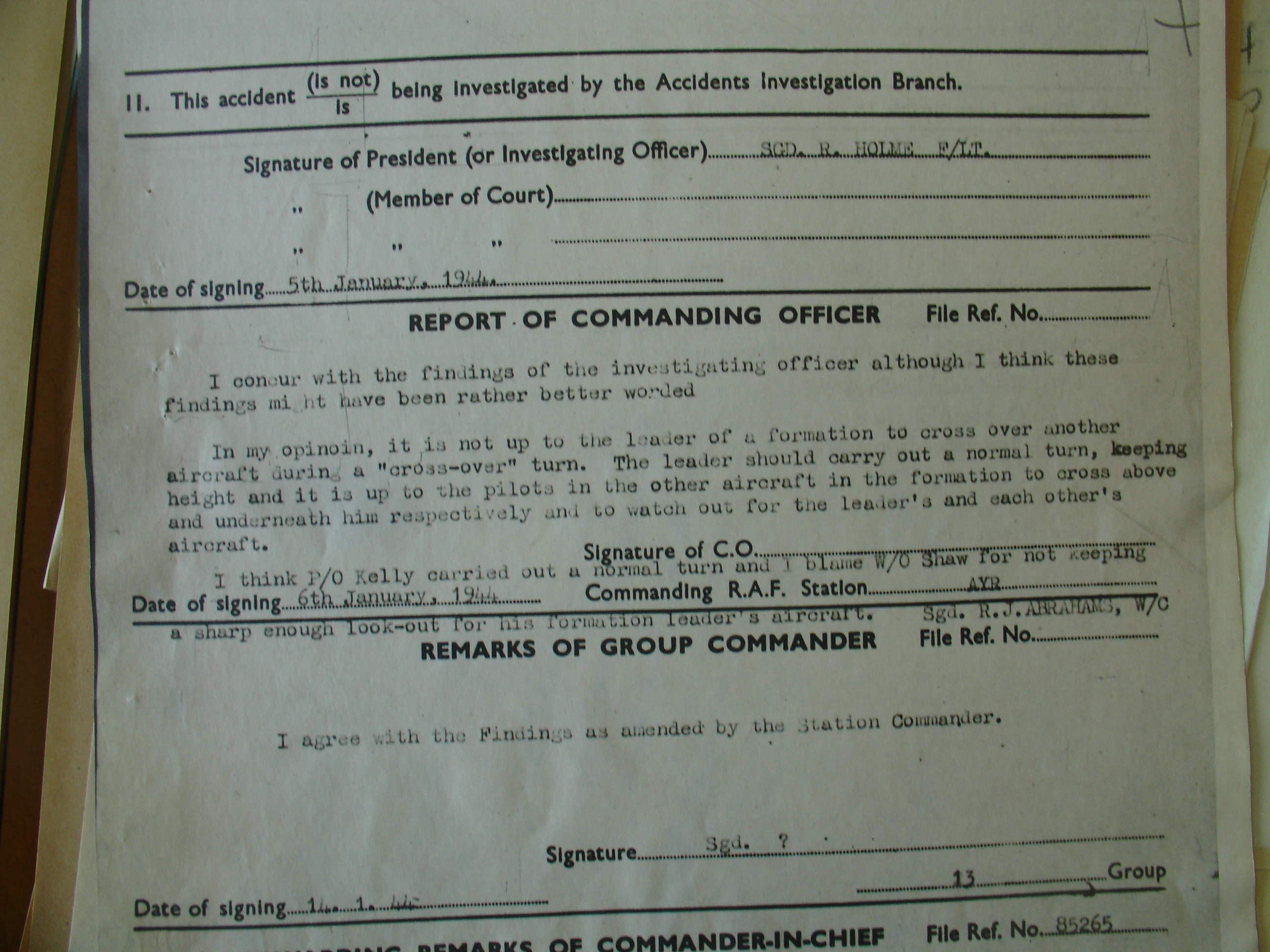 RAF 186 & 288 & 401 Squadrons
Stuart Resser Shaw was the son of Frederick Murray Shaw (deceased October 15, 1918) and Edith Marion (nee Dunlop) Shaw, of Moncton, NB. He had one brother, Sgt. T. V. Shaw, part of a base post office overseas.
He was a clerk with the Canadian National Railway prior to enlistment. He stood 5' 8" tall and weighed 126 pounds. He had green or blue eyes, depending on the form, and brown hair. He bought a car and owed $225 on it, making monthly payments. He liked to skate and swim, plus play baseball.
He married Catherine Agnes McMeekin, 22, of Wigtown, Scotland on July 2, 1942 in Newton-Steroart, Scotland at the Galloway Arms Hotel. They had a son, Thomas Raymond Dunlop Shaw, born May 7, 1943.
In February 1941, Shaw listed fishing and hunting as hobbies, with previous experience for 6 years NP Tank Reg. and Machine Gun, extensive CASF Inf. for six months. He smoked 15 cigarettes daily, but drank little alcohol.
At 2 ITS, January 28 - February 26, 1941: "123 out of 214 in class. "Average material. Former file clerk CNR. Nervous. Responsible."
At 6 EFTS, March 5, 1941 - April 22, 1941: "This student inclined to be backward; needs encouragement; perhaps a little nervous, but should develop into an average pilot." In GIS: 7th out of 29 in the class. "Flying ability only average; further flying experience should develop this airman's flying ability. Conduct was very satisfactory."
At 10 SFTS, May 3, 1941 to July 16, 1941:"Average type of pilot, rough on controls, keen but takes some time to learn. Will develop into an excellent pilot." In Ground Training: "Fails to apply himself. Average type."
He was sent to Halifax July 17, 1941 and was at 3 PRC by August 30, 1941. 5 AOS from 1 AOS: September 1941.
At No. 58 OTU, March - May 1942: "Average. Will improve with more experience."
Shaw had many offences on his General Conduct Sheet, most of them 'certified no entry'.
He was at 401 Squadron, Biggin Hill, May 1942, then sent to 182 Squadron September 14, 1942, then to 288 Squadron later that month.
On August 30, 1943, he was posted to 186 Squadron.
W/O Shaw was killed when Typhoon 1B JR 313 of which he was pilot, collided with another aircraft during a training flight, in formation practice on December 29, 1943, approximately 1130 at Giffen Station, Renfrewshire. Shaw suffered multiple injuries and burns. After the investigation, it was deemed Shaw was at fault. See files above for more information.
In March 1944, Mrs. Shaw, Stuart's mother wrote a letter to the Secretary, Department of National Defence for Air, in Ottawa. "...You say you wish to offer your profound sympathy to me in my great loss for which I thank you, but would you show it by helping me. My darling Stuart has gone. I'll never see him anymore. All I have is my son, Ted, who has been overseas since 1940. My husband died when one boy was 18 months old and the other, four months old. I love them more than life itself. Oh, please have mercy upon me and let my boy Ted come home, In the United States, they had mercy upon the poor old dog who was dying of a broken heart because he wanted to see his master, please, please give me the same privilege as the old dog. I have been ill and lonely for many years, part of me has gone since my beloved boy has gone away. Oh, please understand and help me, let my boy come home. It is in your power to do so. From a mother whose heart is breaking. Edith M. Shaw."
Catherine Shaw and her son, Thomas, moved to Moncton, NB, at the end of August 1946. Shaw had been receiving an allowance of $75 per month for herself and her son, 3 1/2 years old. She was asking, in November 1946, about the cheques that had not been sent, due to possibility of address being unknown to the RCAF, being 'very inconvenient' for her.
LINKS: