Tim Israel Pervin J35944
May 27, 1914 - September 22, 1944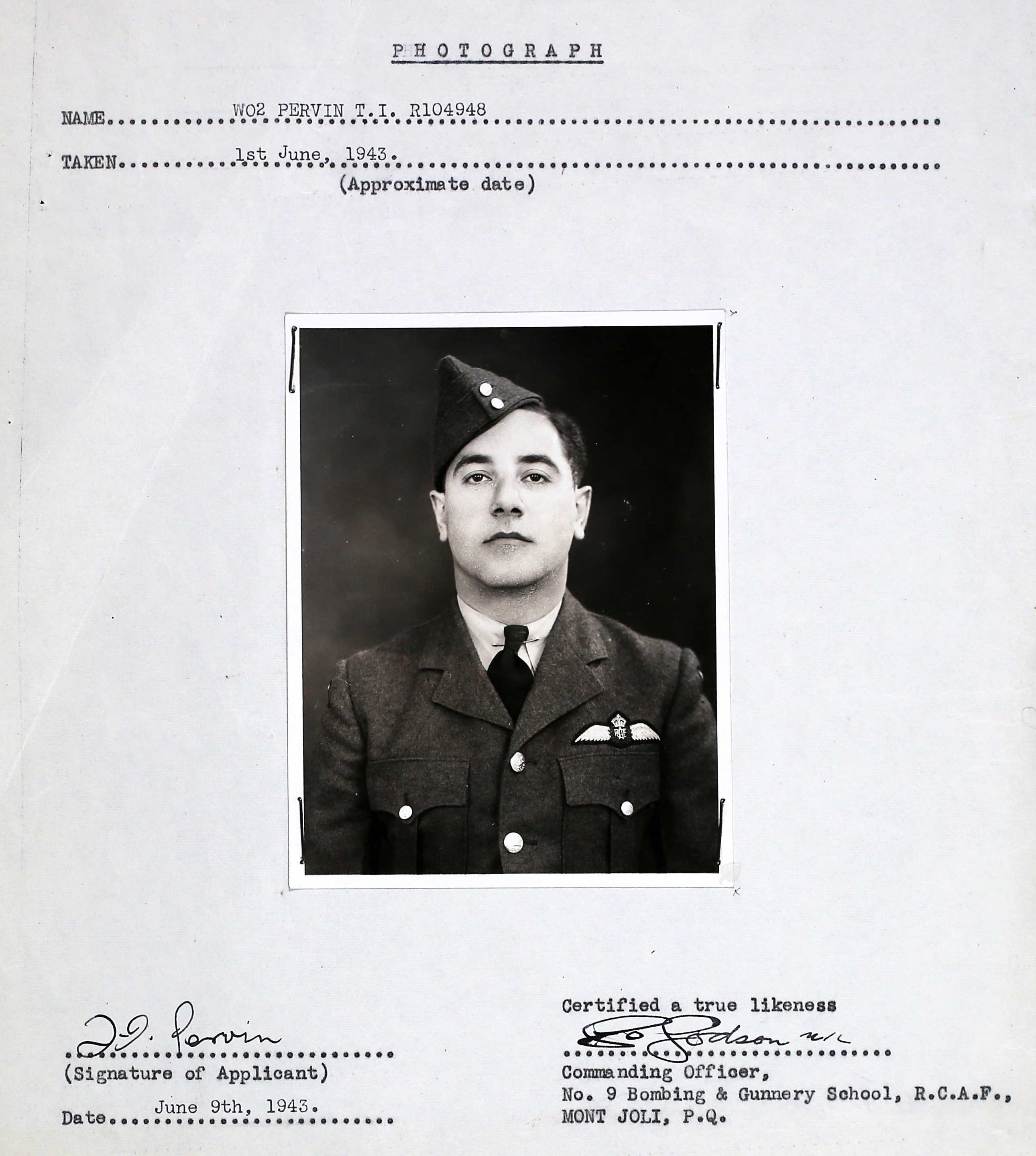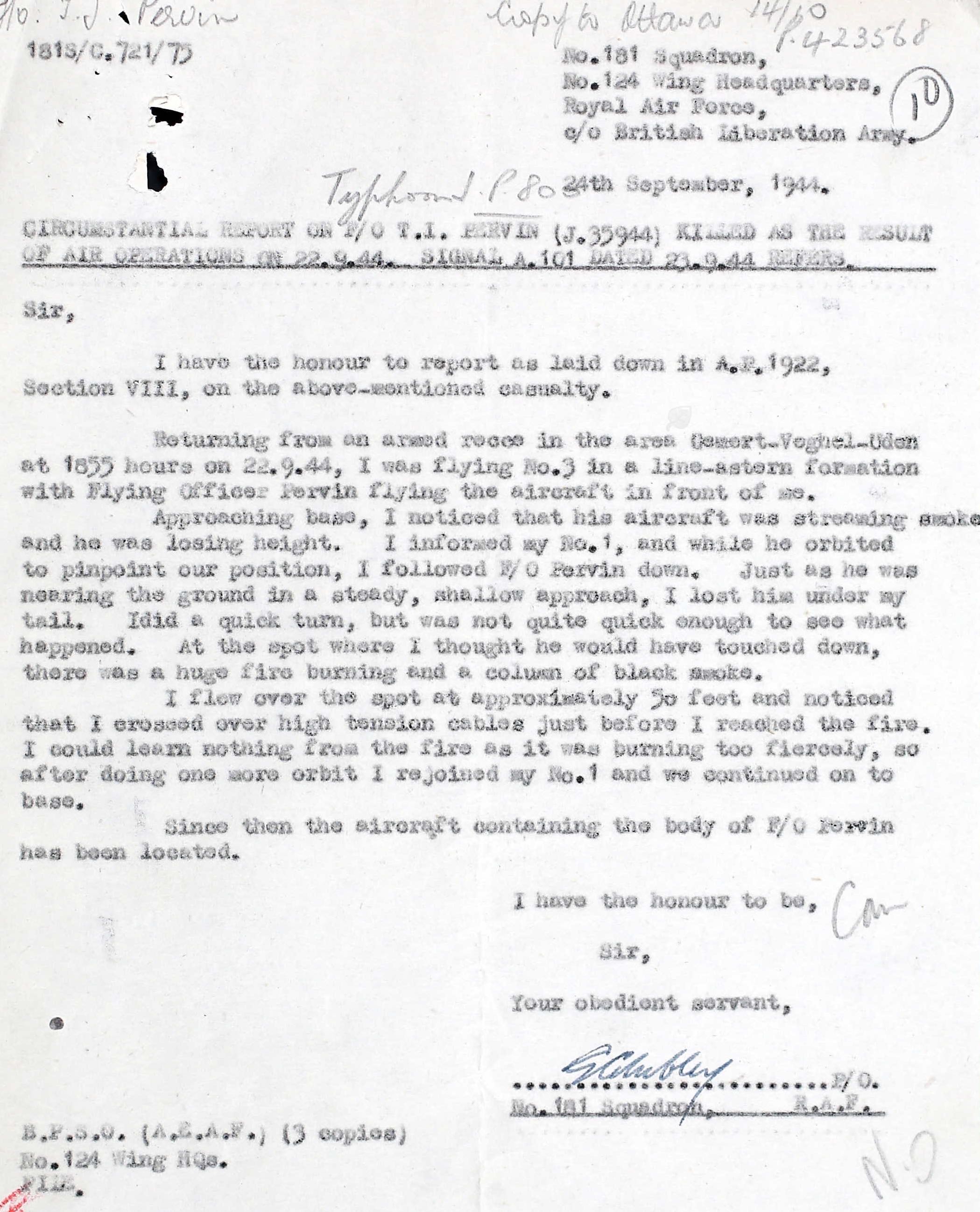 RAF 181 Squadron
Tim Israel 'Issie' Pervin was the youngest son of Aron Perone and Sarah (nee Belalofksy) Pervin of Westmount (Montreal), Quebec. (They immigrated to Canada from Russia.) Tim worked as a clerk for three years at Joe Pervin, Montreal, his brother, who then owned Capitol Pants and Sportwear Co. on St. Lawrence Blvd, Montreal. There were four older brothers: Joseph (Joe), Michael, Harris, and Hyman. He had one sister, Sophie Pervin Simcoe, 29. The family was of the Hebrew faith.
Pervin stood 5' 5 1/2" tall and had brown eyes. He had his 1940 driver's licence. He liked rugby and played halfback, played football and basketball. He indicated he thought the RCAF was the best of the three services. He felt he had the skills to get along with other men.
He was at No. 4 MD, St. Hubert in June 1941, No. 1 WS, Montreal, at the end of July 1941. He was sent to No.3 ITS, Victoriaville in August [Mature, not much education, but intelligent. Keen, serious. Calm and self confident. Has common sense. Average type], then to No. 4 EFTS, Windsor Mills by October [Makes progress by reason of hard work. Natural ability not very high. Instruments quite high. In Ground Training: Fair appearance, negative personality. Not too impressive type. Has difficulty in most subjects. Conduct fair. He was a good worker, although a little over confident at times.]. He was sent to No. 13 SFTS, St. Hubert in December 1941 and he received his wings in April 1942. [An average pilot, worked hard and took an interest in his flying. Above average in GIS. Learns slowly, but is willing and interested.] Commisssion comments: "WO2 Pervin has served at this Unit....and at all times has performed his duties in a very satisfactory manner. Well liked by his superior officers. Inspires confidence and commands respect amongst his fellows."
He was at No. 9 B&G School, Mont Joli, Quebec in June 1943.
He was sent to 1 OTU, Bagotville in July 1943, then to Halifax, Nova Scotia in October of that year, finding himself overseas by Janary 1944.
At 59 OTU, in April 1944, he was assessed: "A very keen average pilot who should improve greatly with experience. His flying and general helpful attitude on this course has been good." He received poor average on his marksmanship and low level bombing.
He was a member of 181 Squadron. He was killed on September 22, 1944 when his Typhoon crashed in the Eindhoven area. His Typhoon was hit by anti-aircraft fire during a rocket projectile and cannon attack on enemy objectives in Holland.
Mrs. Pervin received a letter dated September 27, 1944: "Your son was given a military funeral which the Squadron attended....Tim, as he was known to all of us, was an extremely popular and efficient member of the Squadron, and he had done extraordinarily well." He is buried in Groesbeek Canadian War Cemetery, Netherlands.
In a letter dated March 22, 1945, Joseph Pervin was told, "Your brother was returning home after his attack with smoke streaming from his aircraft and losing height, at approximately 6:56 pm on September 22, 1944. This pilot was following your brother down and as he was nearing the ground in a steady shallow approach, the accompanying pilot lost sight of him for a moment and made a quick turn. At the spot where he thought your brother would have touched down, there was a fire burning and a column of black smoke. The pilot flew over the spot at approximately fifty feet and noticed that he crossed high tension wires just before he reached the fire. He pinpointed the position and returned to base. Your brother's body was later recovered from his wrecked aircraft. It is possible that in endeavouring to execute a forced landing, he struck the high tension wires....and lost control of his aircraft."
LINKS: