Walter Colin Ahrens J16213
September 30, 1920 - July 16, 1944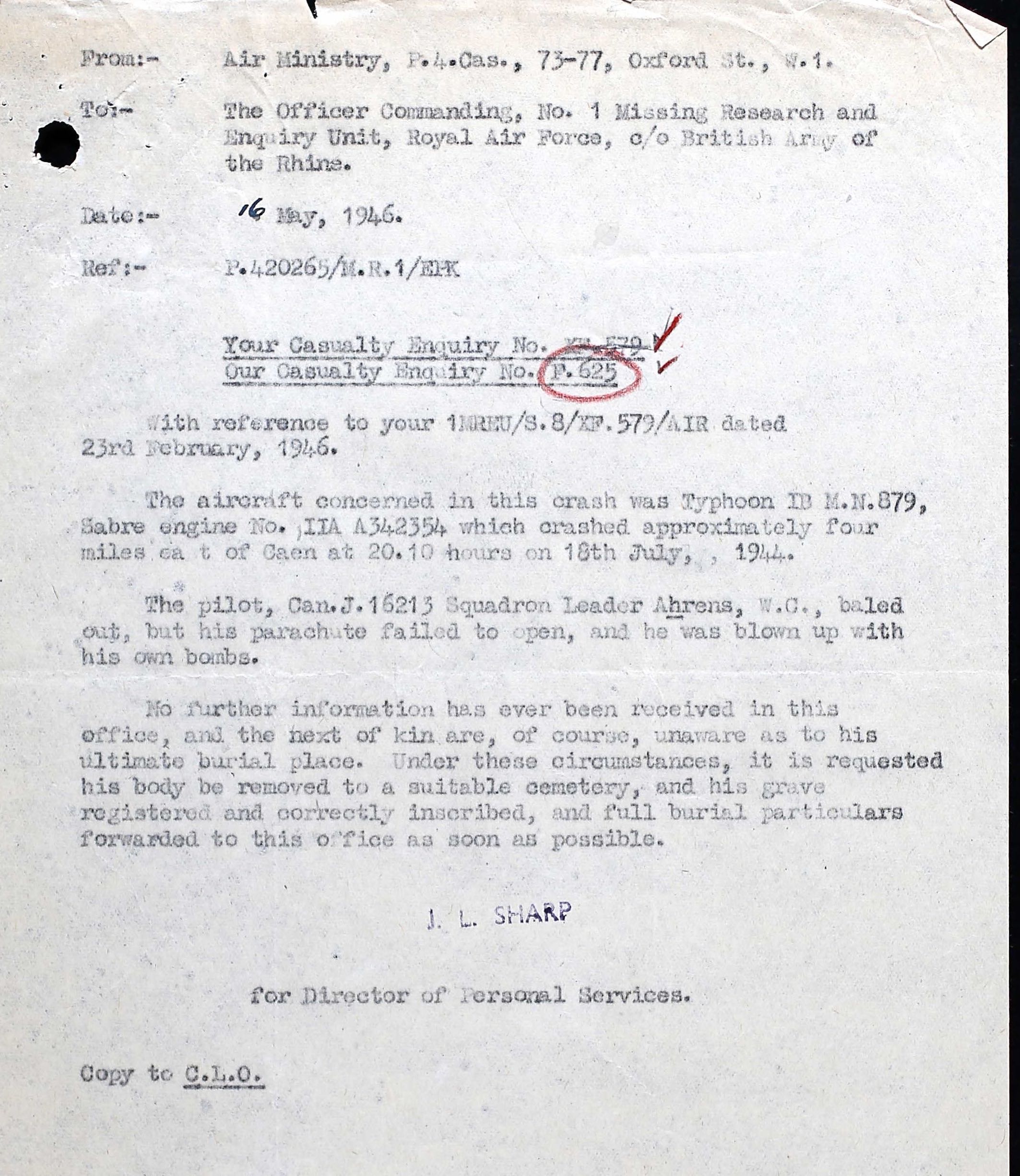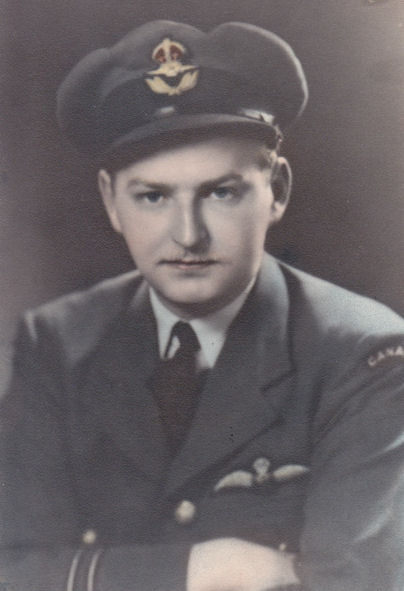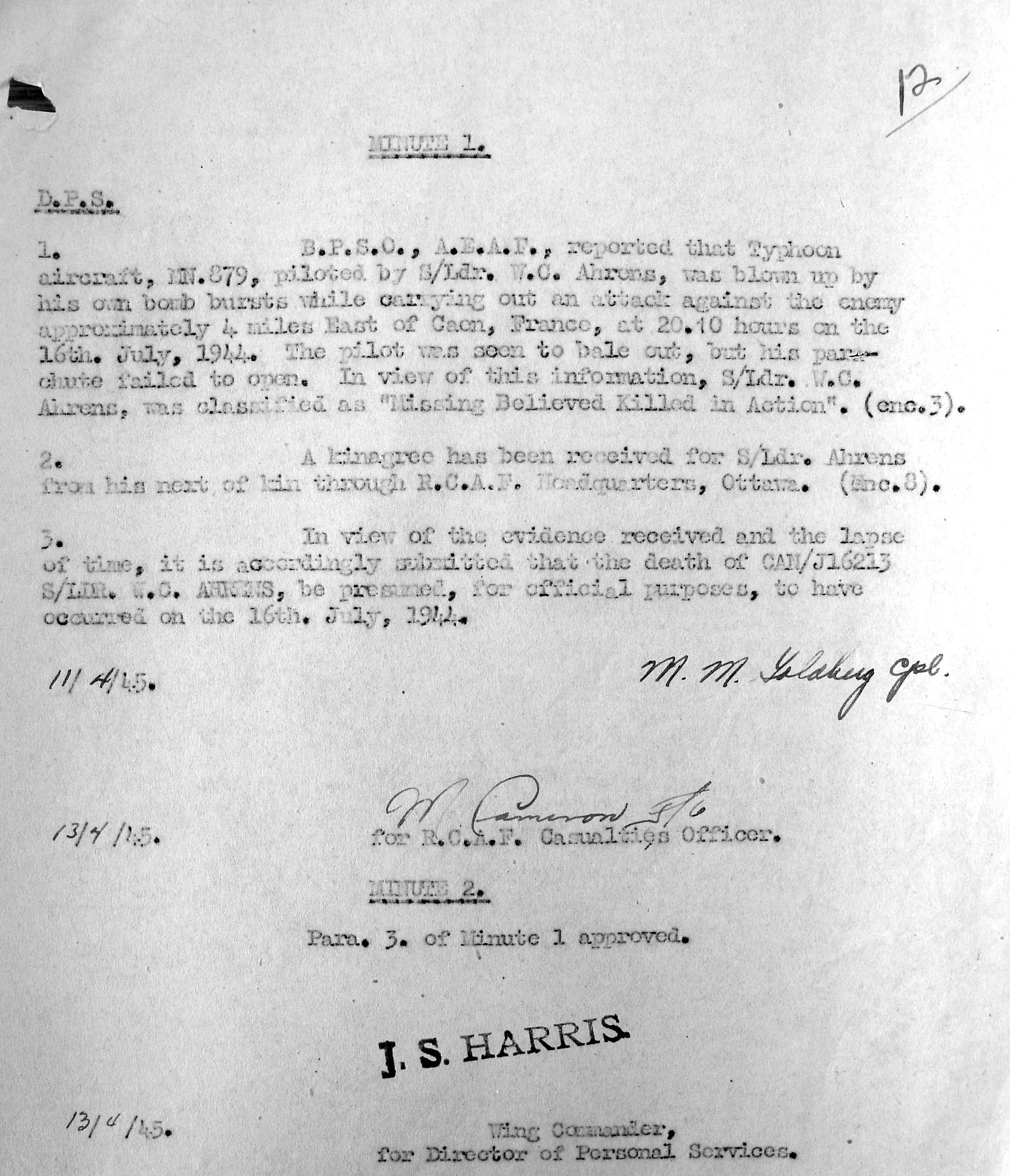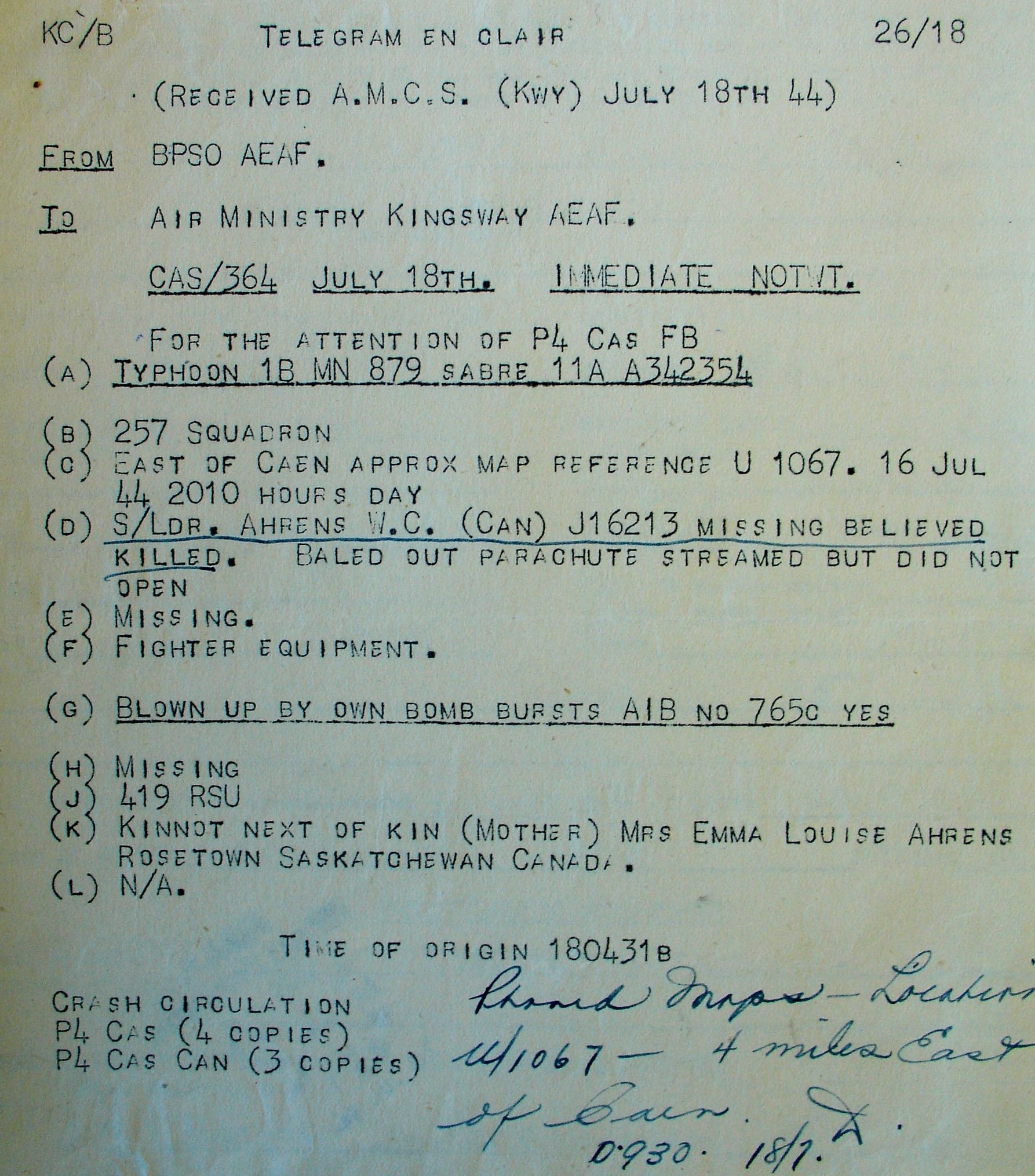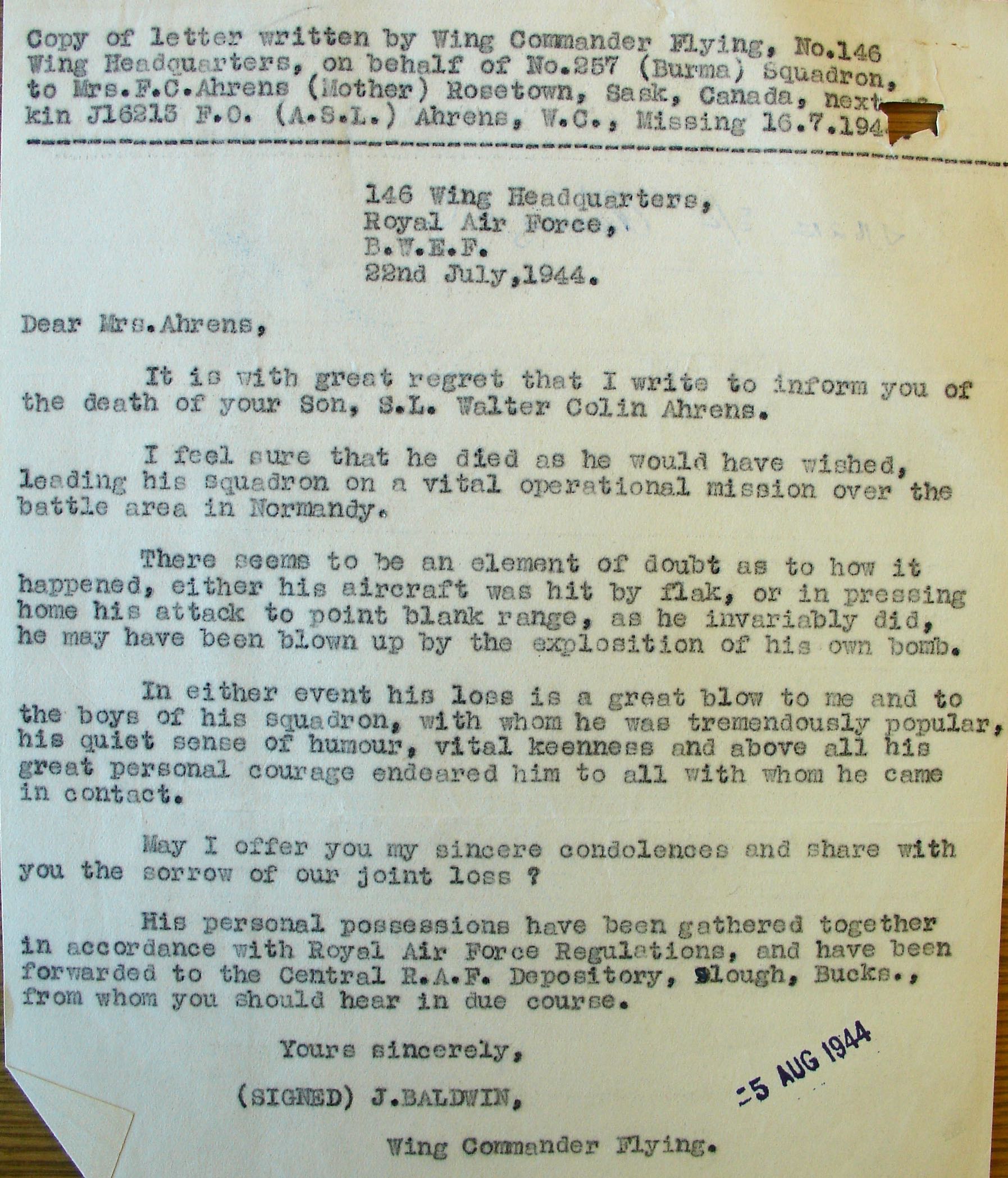 RAF 257 Squadron
Walter Colin Ahrens was born in Rosetown, Saskatchewan to Frederick Charles and Emeline (Emma) Louise (nee Holler) Ahrens. In his paybook, he kept track of the birthdays of his four sisters and two brothers: Jean, Lloyd, Amy Louise, Wilma Marion, Donald and Dorothy Joyce, as well as wedding dates of his parents and those siblings who were married.
On his attestation papers, he indicated he was a student and unemployed prior to enlistment. He had been working on his father's farm and was 'accustomed to farm power machinery.'
He enlisted in Saskatoon on October 24, 1940 and received a commision on November 29, 1942.
Ehrens listed softball, skating, tennis as the sports he enjoyed, and was on the softball and football teams at school. He liked riding, hunting of small game, fishing and mechanics.
He was assessed as "Good average type, clean cut. Tall and erect. Good intellect. Bright, modest and mild mannered. No business training other than farming. Composed, courteous and pleasing personality. Has been thinking of joining the Air Force for some time and keen now to get in. This candidate has an excellent appearance. Good carriage and physique. Is intelligent, keen, and alert. Polite and mannerly. Desirable type operational."
Locations:
No. 2 Manning Depot: October 24, 1940
No. 2 TC Winnipeg, November 16, 1940
No. 33 SFTS, Carberry, November 16, 1940
No. 2 TC Winnipeg, November 17, 1940
No. 33 SFTS Carberry, December 23, 1940
No. 2 ITS, Regina, December 24, 1940: 72%; 111/183 in class. "Good clean-cut type. Touchy on subject of his German extraction. Very keen to fly."
No 15 EFTS, Regina, January 29, 1941: 65% Flying, Instrument: 70%; average or better. Ground Training: 75.5%, 13/19 in class. "Cheerful, active, slightly irresponsible." "Made remarkable improvement during last part of course. Should do well as SFTS."
No. 2 Manning Depot, Brandon, March 30, 1941
No. 11 SFTS, Yorkton, April 11, 1941: "High average pilot. No outstanding faults." 30/50 in class. 70.07%. "Formation flying: above average; night and instrument flying: high average. Navigation and determination and initiative: average."
Halifax: July 4, 1941
UK: August 12, 1941
55 OTU August 16, 1941
253 Squadron August 30, 1941
No. 59 OTU from 253 Squadron November 15, 1941
No. 92 Squadron: December 23, 1941
No. 59 OTU December 23, 1941. Incident: Crosby-on-Eden; Master aircraft; "While giving dual instruction in Master III W.8592, I was parked on the runway not in use, awaiting instructions to disperse the aircraft when another Master III, W8642, ;piloted by Aus. 403671 Sgt. Jackson R. collided with my aircraft." Gross carelessness on the part of Jackson was determined. Accident on May 16, 1942: Crosby-on-Eden, Cumberland Master aircraft. Ground gave way under port wheel while aircraft was taxiing. Inadequate reinstatement of trench work. No fault of the pilot.
No. 1 Squadron July 30, 1942
197 Squadron December 14, 1942 -- Napier Work, Sabre Engine handling course; 197 Squadron August 24, 1943 -- flying duties; attached to Milfield Fighter Leaders' School, March - April 1944
84 GSU May 22, 1944
257 Squadron June 13, 1944
On July 16, 1944, Ehrens was noted as missing, believed killed, flying Typhoon MN879 when it crashed approximately four miles east of Caen at 20.10 hours on July 18, 1944. He baled out, but his parachute failed to open and he was blown up with his own bombs. W/C J. Baldwin wrote to Mrs. Ahrens to tell her of the circumstances. "There seems to be an element of doubt as to how it happened, either his aircraft was hit by flak, or in pressing home his attack to point blank range, as he invariably did, he may have been blown up by the explosion of his own bomb. In either event, his loss is a great blow to me and to the boys of his squadron with whom he was tremendously popular, his quiet sense of humour, vital keenness and above all, his great personal courage endeared him to all with whom he came in contact."
There was some confusion as to where Ahrens' body was buried. Initially in Bretteville-sur-Laize, France cemebery August 1945. In 1949, a letter was sent to the Ahrens to tell them that their son's body was reinterred in the Hautot-sur-Mer Canadian Military Cemetery, Dieppe, France.
Additional information about Ahrens can be found on pages 23, 24, 33, and 179 in Typhoon and the Tempest by Hugh Halliday.
LINKS: