William James Kasubeck J29254
August 11, 1921 - August 9, 1944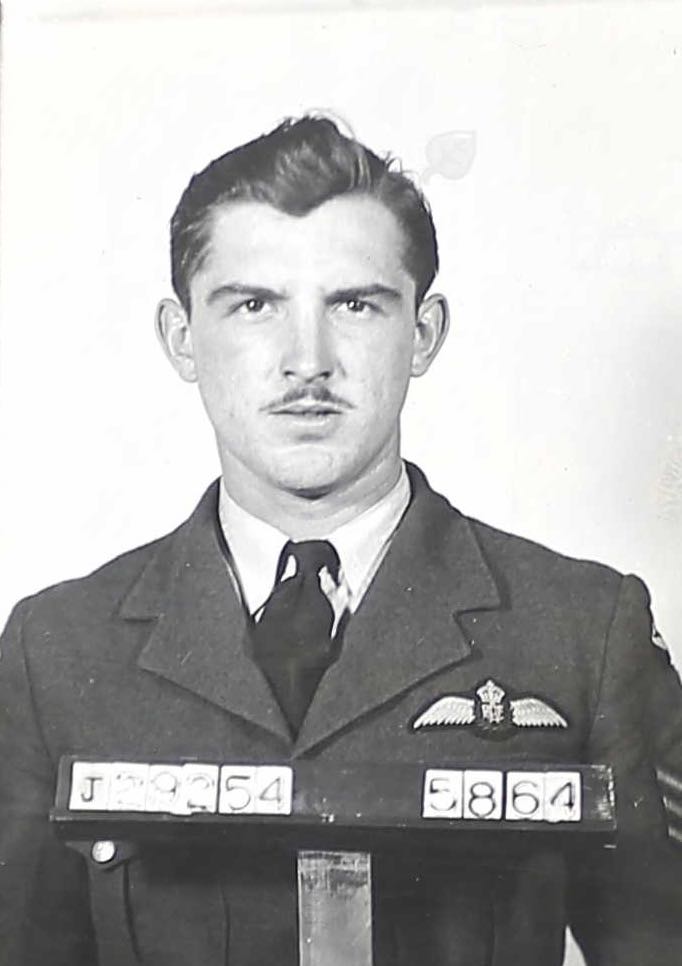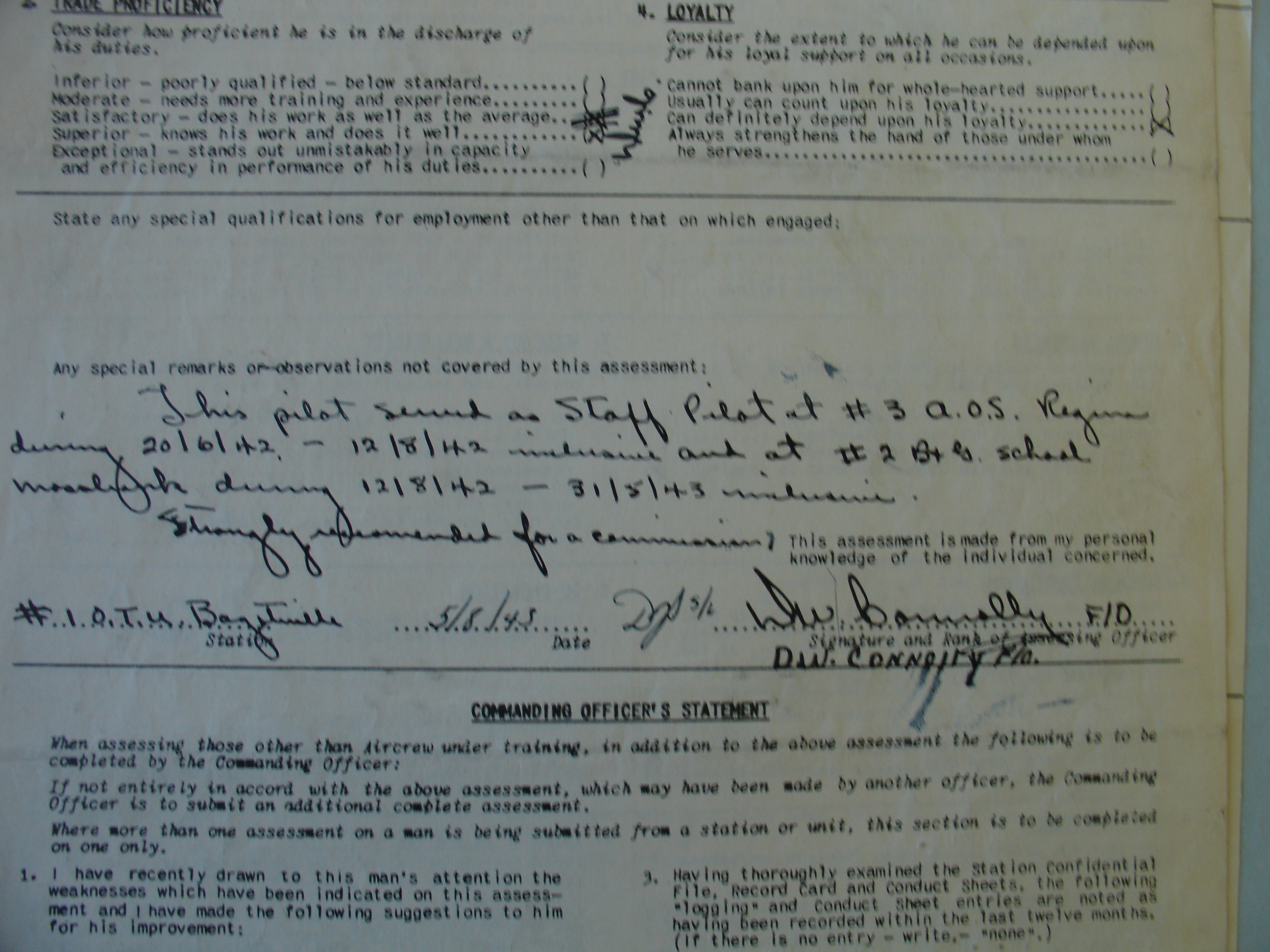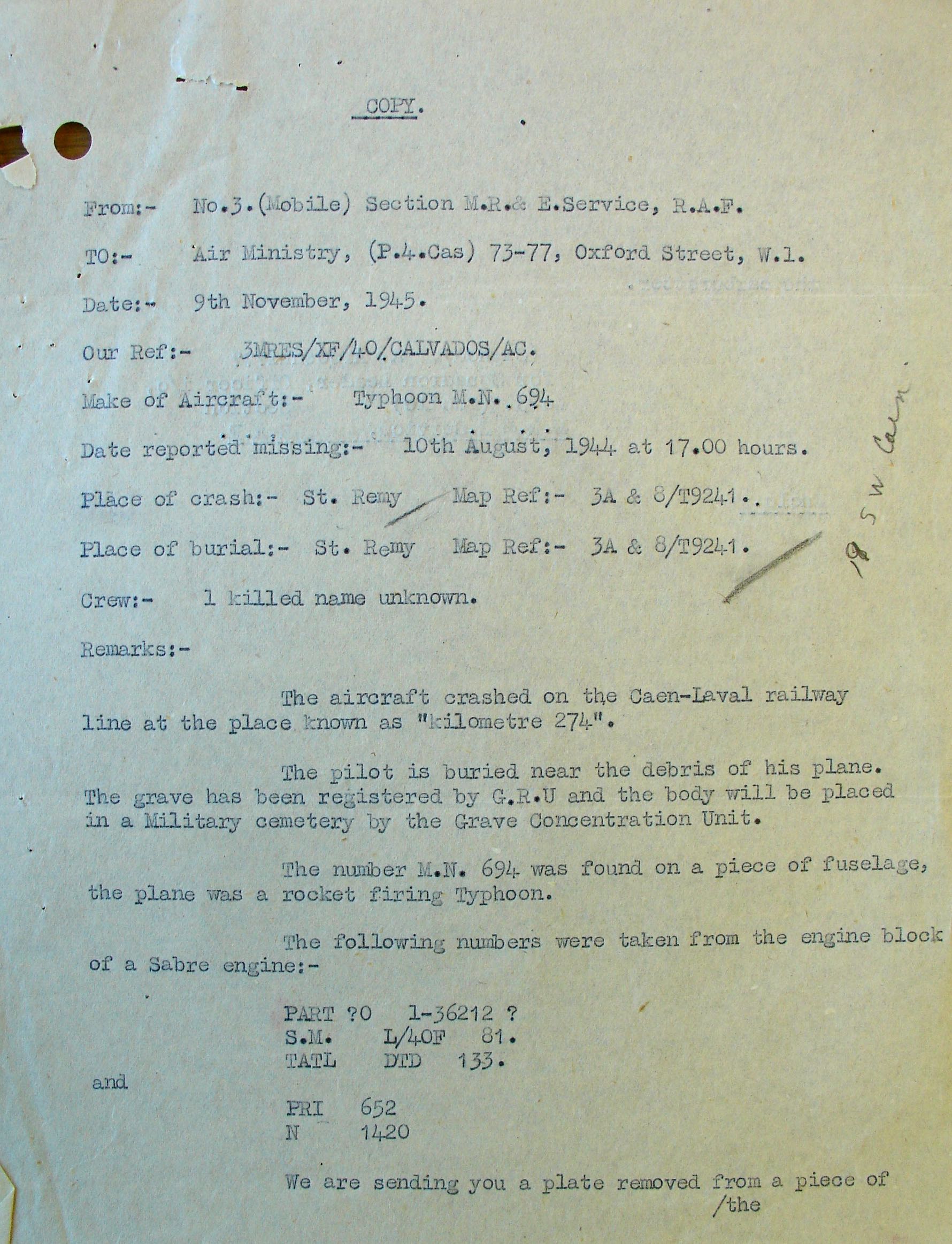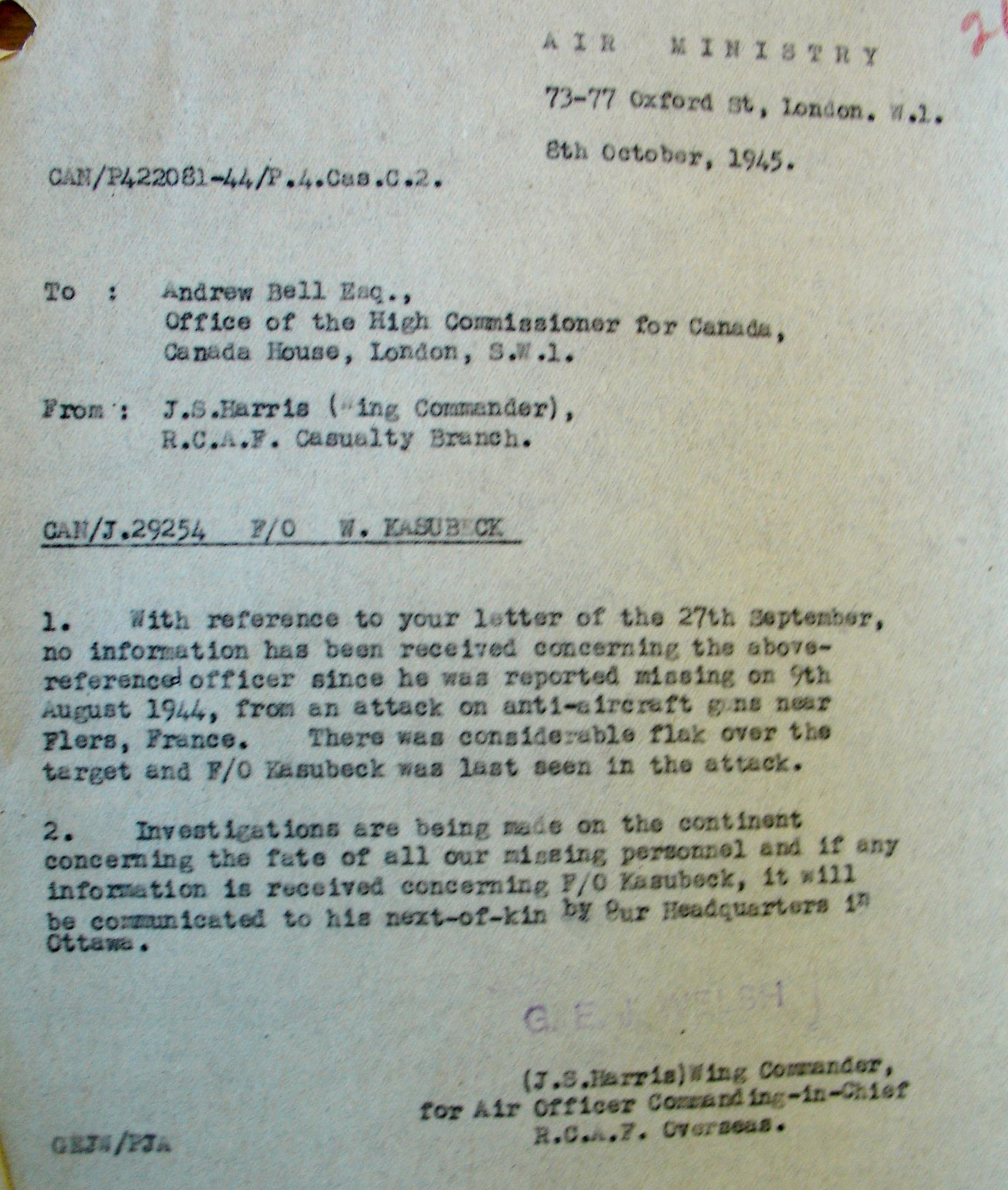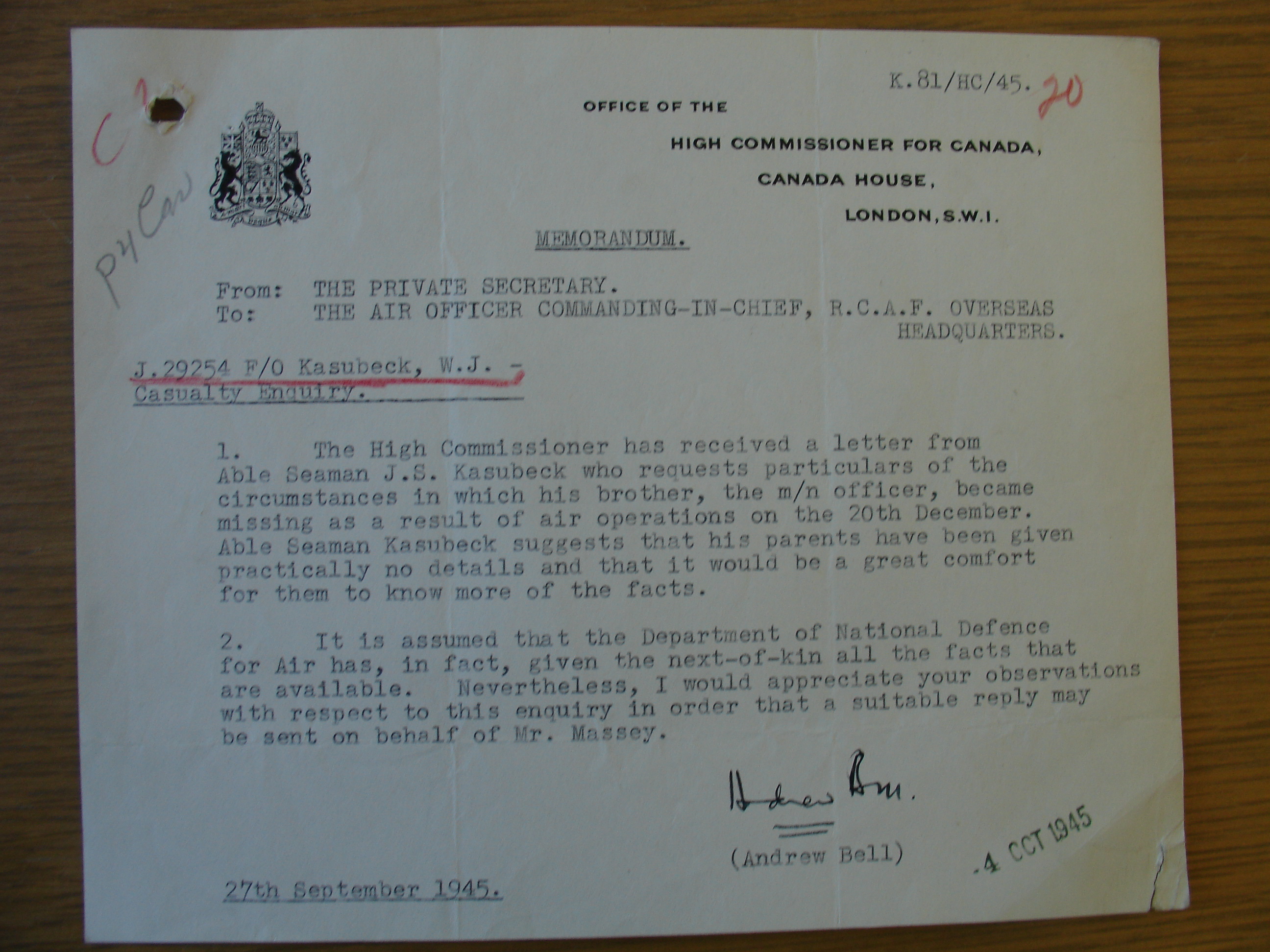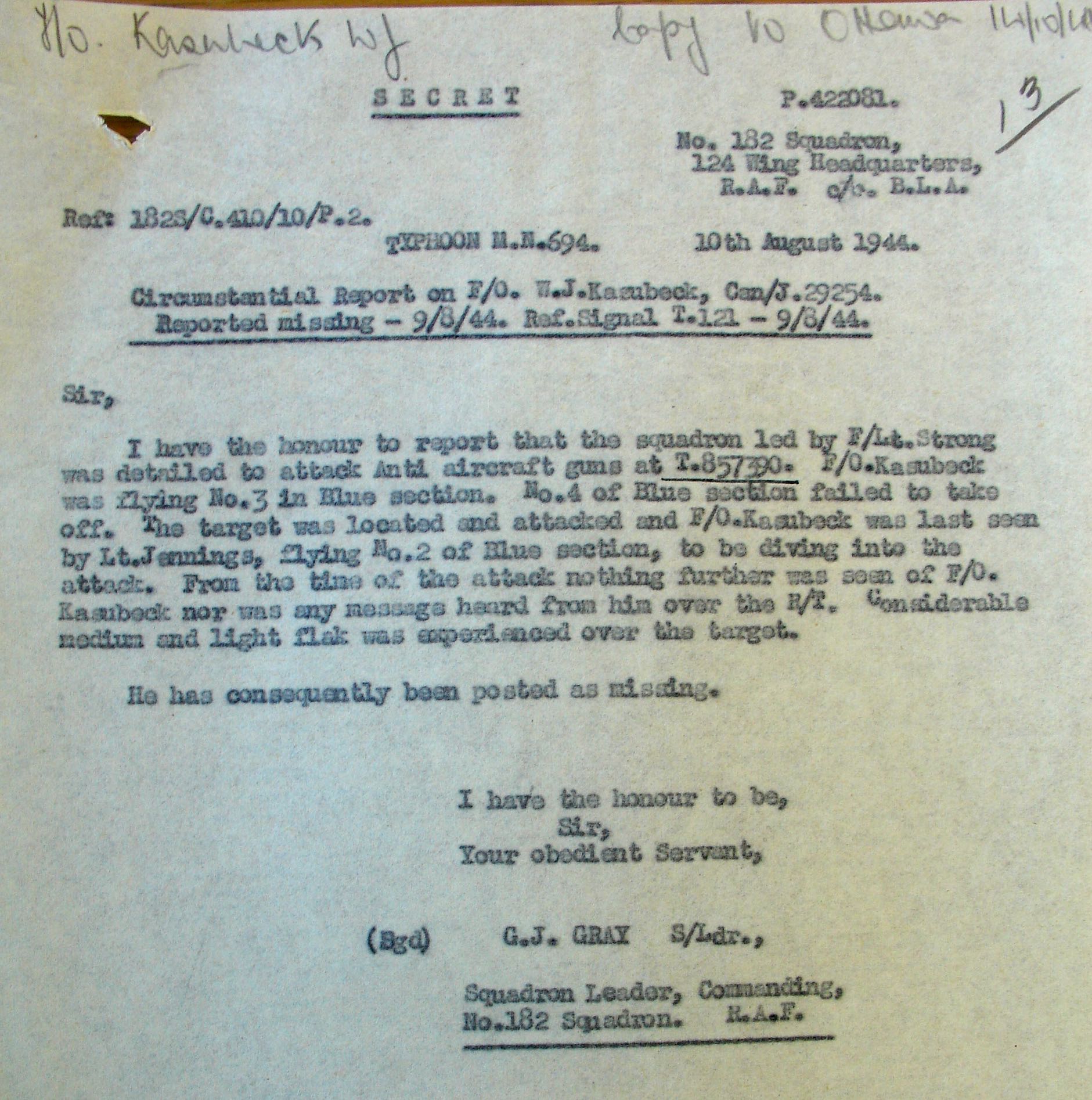 RAF 182 Squadron
William James Kasubeck was born in Sault Ste. Marie, Ontario, to John James (papermaker) and Genevieve (nee Roy) Kasubeck, of Sault Ste. Marie. He had three brothers and one sister. The family was Roman Catholic.
He was a labourer and papermaker at Abitibi Power & Paper Co. prior to enlistment. He liked football, basketball and hockey. He was missing the distal phalanx (tip) of his left ring finger.
He went to North Bay's RCAF Recruitment Centre in July 1941 and as taken on strength at No. 1 MD, Toronto August 2, 1941. "Young man in good physical condition. Keen, intelligent young man of good type. Has always been in excellent health. No disability with the distal phalanx missing. Pulse a little accelerated due to tension. Out to make good air crew material." He was sent to Trenton later that month and then to No. 5 ITS Belleville September 26, 1941. [Rugged, fine looking, self confident, adventurous. Fine, versatile athlete. Intelligence well above average. Well suited to aircrew, preferably as pilot.] He was at No. 7 EFTS, Windsor, Ontario in November 1941 [Student is very diligent and progressed well. He is interested in flying but could be an above average if he applied himself a little more. Is rather careless in carrying out solo sequences. Is average in open hood flying and average on instruments; Ground Training: A quiet retiring student. Signals was his poor subject], then sent to No. 14 SFTS, Aylmer until June 5, 1942 where he received his wings. [A smooth average pilot. Average in studies. Neat in appearance. Very well disciplined. Leadership ability very good.]
He was sent to CFS Trenton at the end of June 1942, then to No. 3 AOS, Regina, No. 2 BGS, Mossbank by May 31, 1943.
On April 5, 1943, at No. 2 B&G: "While playing touch rugby, I stepped on someone's foot and strained my knee. I reported to hospital 20 minutes later." This was a voluntary recreational activity and it was noted that personnel organized their own touch rugby game, encouraged to partake in as much recreational activity as possible, with equipment supplied for that purpose.
On June 1, 1943, he was at No. 1 OTU, Bagotville, Quebec until August 21, 1943 and was then sent to Halifax.
He arrived in the UK, September 19, 1943 and was sent to 3 PRC the next day. He was taken on strength to No. 55 OTU October 19, 1943. He was at 4 TEU in February 1944, then sent to 247 Squadron March 21, 1944, the four days later, sent to 83 Group Sup. U. He was then assigned to 182 Squadron May 25, 1944.
On August 10, 1944 at 1700 hours, Kasubeck was reported missing in Typhoon MN 694. He crashed east of the village of St. Remy on the Caen-Laval railway line at the place known as kilometre 274. He had been on an attack of anti-aircraft guns near Flers, France where he encountered considerable flak. He was buried near the debris of his plane, identified by a piece of the fuselage with the serial number of the plane, as well as from the numbers on the Sabre engine.
LINKS: