William Ralph McDunnough J5137
March 23, 1918 - July 29, 1942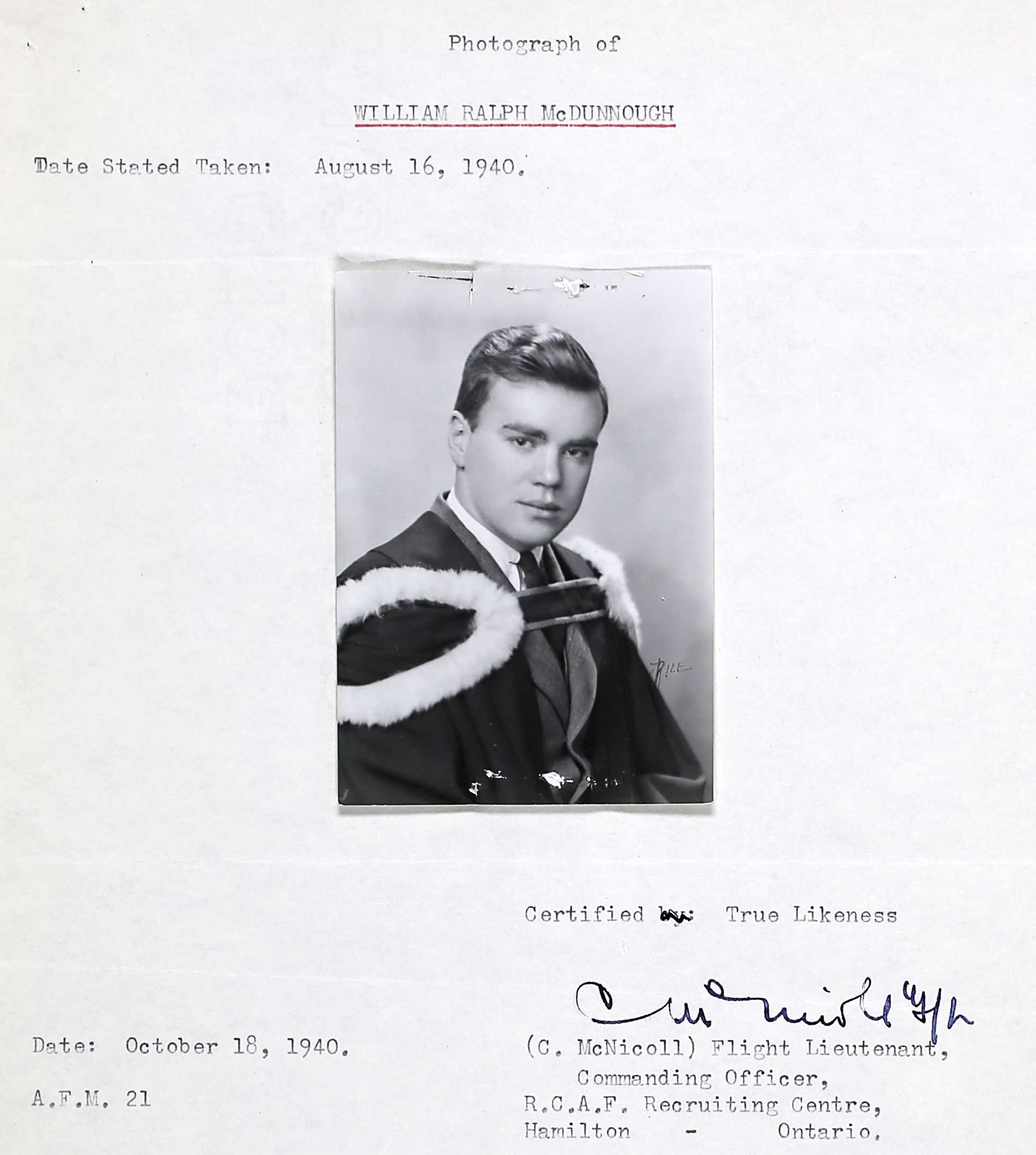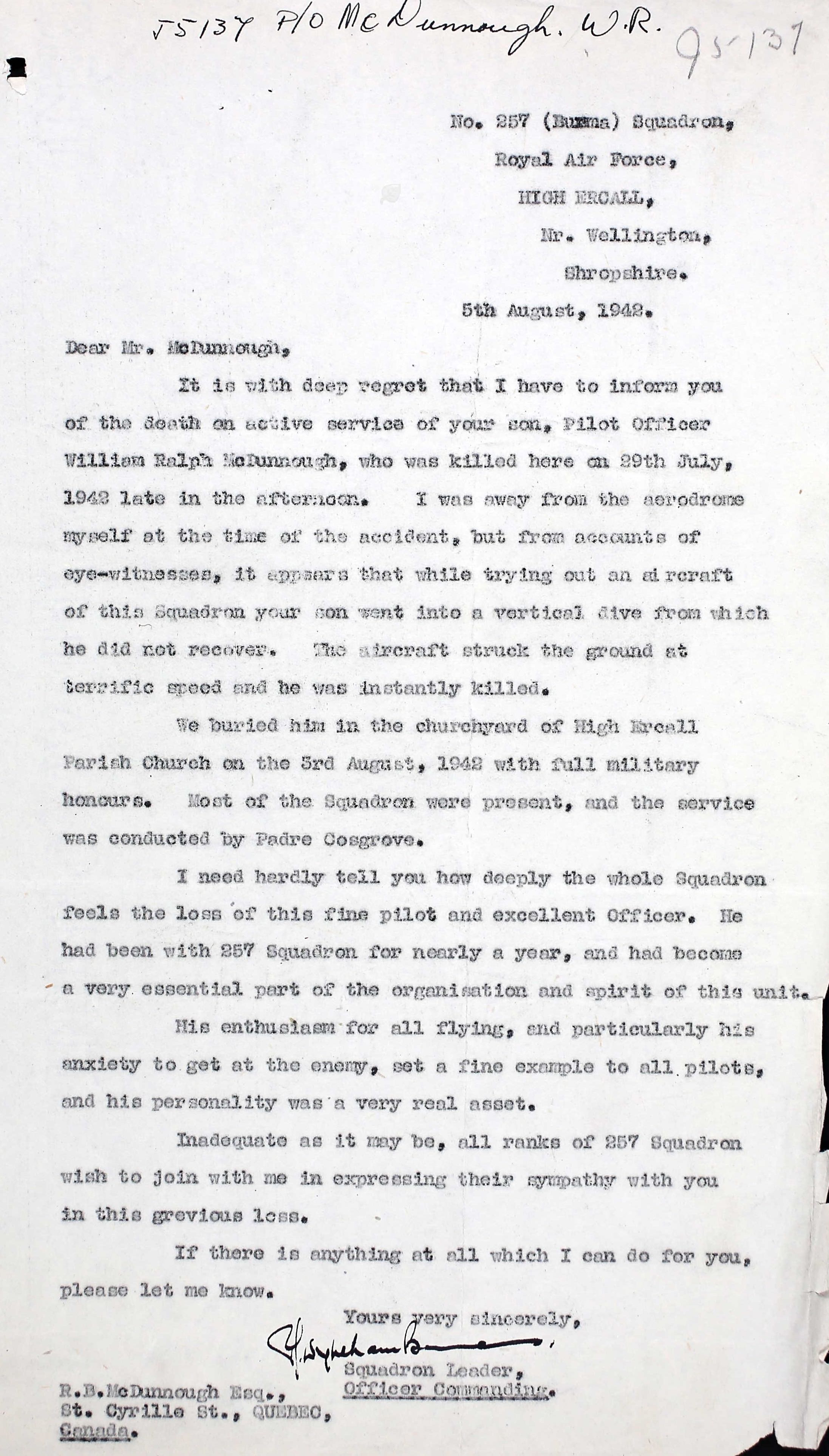 RAF 257 Squadron
William Ralph McDunnough was the son of assistant general manager of Quebec Power Company, Ralph B. and his wife Emma Leclaire McDunnough, Quebec City, Quebec. He had one brother and two sisters.
He attended McGill University, graduating in 1940 with a Bachelor of Engineering in Electrical Engineering, before enlisting in the RCAF in Seotenber 1940. He was a member of the Engineer Institute of Canada at time of enlistment in Hamilton, Ontario and worked at Canadian Westinghouse Co. He hoped to study aeronautical engineering after the war. He enjoyed football, hockey and golf. He was fluently bilingual in French and English. He smoked 10 cigarettes a day and had a bottle of beer once a week, he noted.
He stood 5' 7 1/2" tall, weighed 165 pounds and had brown eyes and brown hair.
October 7, 1940: "A very intelligent sturdy type. Bilingual of Canadian-French Canadian parents. Very good officer material. It is believed that AMAS/DS would be interested in his qualifications."
At No. 2 ITS: November to December 16, 1940: "Good background. Fine type. Probably officer material."
At No. 6 EFTS: December 23, 1940 - February 9, 1941:< "Should make a real good pilot. Above Average." Ground Training: "3 out of 31 in class. 81%. Appears to be above average in his flying ability; is willing to work hard and should develop into a valuable service pilot; conduct was very satisfactory while at this school." /p>
At No.2 SFTS: February 21, 1941 to May 4, 1941: "Average pilot, very smooth on turns. Aerobatics only fair. Slightly rough on instruments." Ground Training: "Lots of self confidence. Good student." He was recommended for Fighter Squadron. "Quiet type but very eager."
McDunnough arrived in England July 1, 1941 and posted to 257 Squadron. He assigned $85 of his pay to his father every month, which his father was holding in trust for him upon his return.
P/O McDunnough was killed on July 29, 1942, late in the afternoon in Ercall, Wellington, Shropshire, England. While testing an airplane from 257 Squadron, he went into a vertical dive from which he did not recover. The aircraft struck the ground at high speed. He was buried in the High Ercall Parish Church churchyard on August 3rd, 1942 with full military honours. "His enthusiasm for all flying, and particularly his anxiety to get at the enemy, set a fine example to all pilots and his personality was a very real asset," wrote the S/L to Mr. McDunnough.
The official report stated: "Killed in flying accident whilst doing practice aerobatics. Aircraft: Typhoon 1B, No. R8633. The cause of the accident as far as can be ascertained was the port elevator parting from the port tail plane and then the port tail plane parting from the tail unit. The tail unit broke away from the fuselage immediately forward of the joint where the rear ene of the fuselage joins the main fuselage. The exact cause of the accident is being investigated by A.I.D. Glos."
LINKS: