Wylie Murray Weeks J12579
June 2, 1914 - November 29, 1944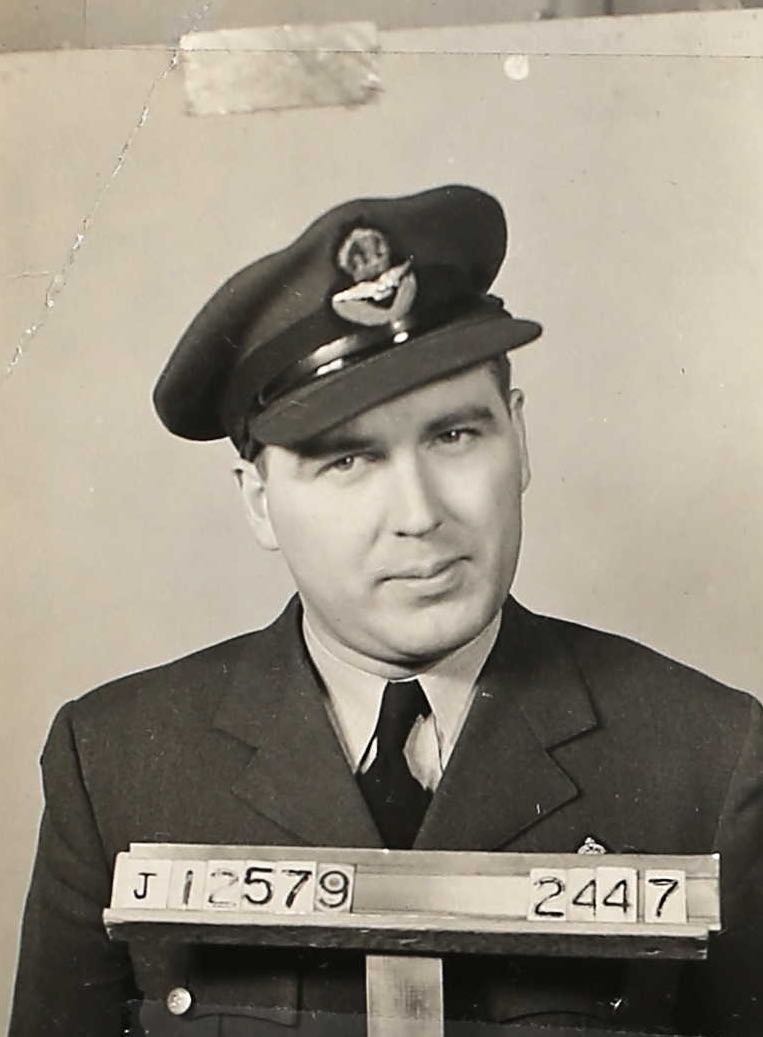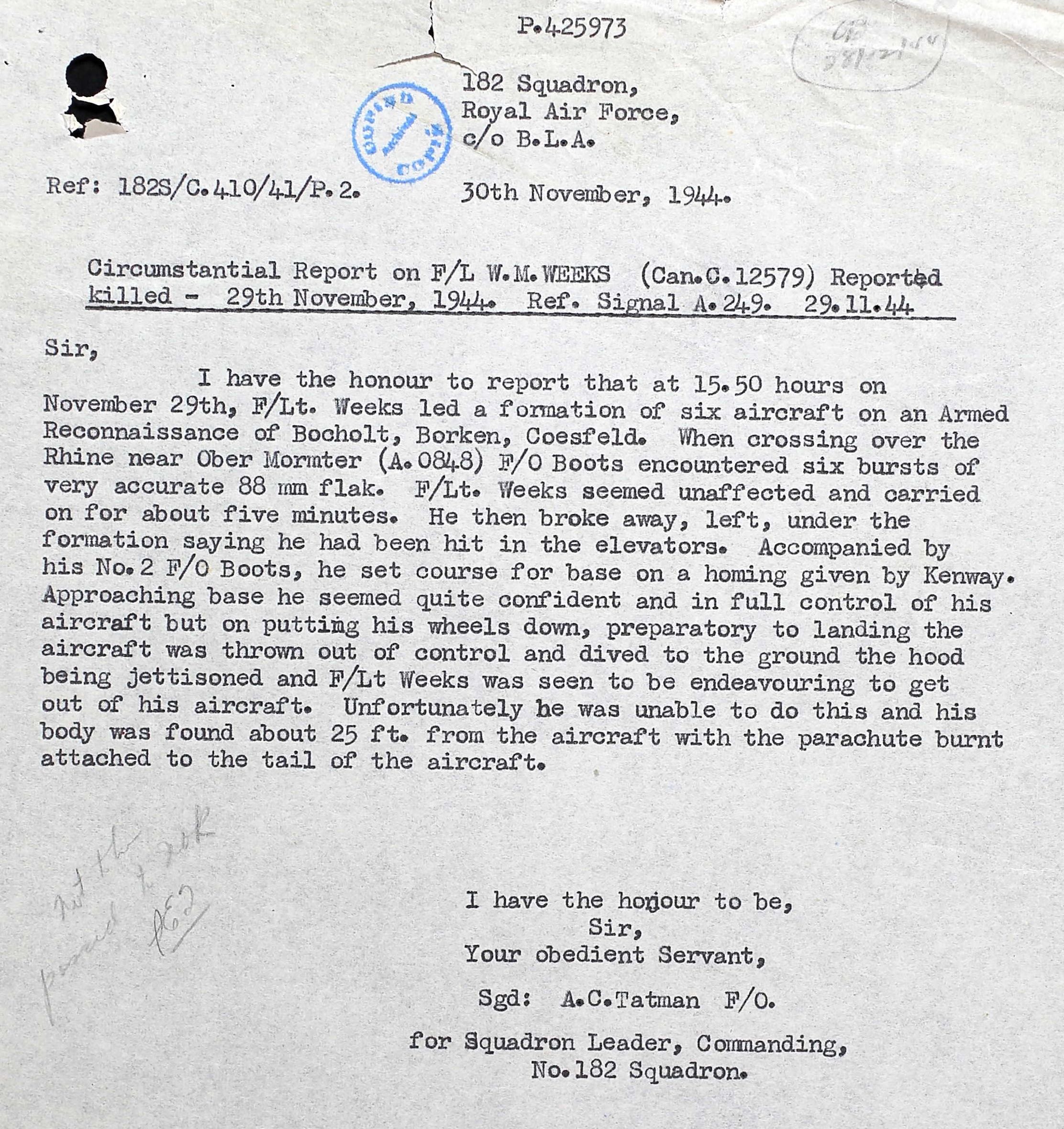 RAF 182 & 186 Squadrons
Wylie Murray Weeks was the husband of Evangeline Carmelita (nee Massey) Weeks, 29, of Moncton, New Brunswick. They were married October 15, 1935 at St. Bernard's Rectory. They had three children: Gregory Wylie, 9, Gordon George, 7, and Sandra Joan, 1.
He was the son of Harold Herbert (deceased) and Mrs. Byah Beatrice (nee Stewart) Pond (remarried). He was born in Amherst, Nova Scotia. At the age of 12, he had diptheria and at 13, Scarlet Fever. There was concern that he might have 'green blindness'. Because of this discovery in 1939, he had been turned down by the RCAF initially. He had two older brothers, Oscar, 40 and John, 36, as well as sister, Mrs. Marjorie Mabel Ouelton, 38.
He had been a hotel clerk at the New Windsor Hotel, in Moncton, then at the Carelton Hotel, as assistant manager prior to enlistment in June 1940.
He liked swimming, bowling, baseball, softball, hunting and fishing. He listed his hobbies as a commercial pilot and target shooting. He earned cups and medals for marksmanship. He had 103:10 hours solo flying and 13:45 dual. He had worked around aircraft and at flying schools. He noted that he was working at the Moncton Flying Club. He wanted to do aircraft factory work after the war.
In Montreal, in July 1941, he was assessed as "Potential officer type. Possesses commercial air pilot's certificate, light aeroplanes only. Speaks English only. Has purchased approximately 40 hours flying time since April 1940 with object in view of becoming flying instructor." He was considered to be conservative, neat, organized and accurate. He stood 5' 9 1/2" tall, weighed 170 pounds and had blue eyes and brown hair with a ruddy complexion.
He was at CFS, Trenton, July 1940 for a month. He was given an indefinite leave without pay and then was at No. 8 SFTS Moncton in Feruary 1942, then No. 21 EFTS Chatham in March 1942. He was at 1 MD Toronto shortly after, the at No. 6 SFTS Dunnville in April, returning to Trenton in June 1942. He was posted to Moncton, No. 8 SFTS August 1942 until December 1942.
On October 2, 1942, Weeks was assessed: "This officer carries out his duties as a flying instructor in a capable and efficient manner." Two months later, on posting from No. 8 SFTS Moncton to 1 OTU Bagotville: "Carries out his duties in a very willing and conscientious manner."
On April 18, 1943, he was in Halifax, NS, heading to the UK. He arrived at the RAF Trainees' Pool on May 8, 1943.
On January 15, 1944, Weeks was involved in an accident in Typhoon 1B JR318 on a non-operational flight during the day for training purposes as part of 186 Squadron. [He arrived at 186 Squadron on September 24, 1943.] Conclusions: "Engine found to be seized." Weeks had been "formation flying at approximately 3000 rpm plus 2 boost having changed over to main petrol tanks to nose tanks about five minutes prior to failure," reported Weeks. "When engine failed, I tried changing tanks and also pumped throttle. The fuel pressure warning light went on, coolant temperature was 110 degrees engine failed to restart. No spluttering or temporary starts. The propeller windmilled until just after landing. Due to not being able to make the runway in use, I was forced to make a short approach to an out of the wind runway, turning in low at 130 mph. When almost levelled out from turn and at an altitude of approximately 8 feet, the port wing stalled and dropped, hitting runway aircraft settled on belly and came to a steady stop. Wheels were down." W/C A. Gadd commented: "What would have been a skilfully executed forced landing was marred by the pilot letting his speed drop too low as he was levelling out and consequent stall on to one wing."
Weeks was posted to 182 Squadron on February 21, 1944.
The circumstantial report on F/L W. M. Weeks, written by F/O A. C. Tatman: "I have the honour to report that at 1550 hours on November 29, F/L Weeks [in Typhoon PD552] led a formation of six aircraft on an Armed Recconnaissance of Bocholt, Borken, Coesfeld. When crossing over the Rhine near Ober Mormter (A.0848) F/O Boots encountered six bursts of very accurate 88mm flak. F/Lt Weeks seemed unaffected and carried on for about five minutes. He then broke away, left, under the formation, saying he had been hit in the elevators. Accompanied by his No. 2 F/O Boots, he set course for base on a homing given by Kenway. Approaching base, he seemed quite confident and in full control of his aircraft by on putting his wheels down, preparatory to landing, the aircraft was thrown out of control and dived to the ground, the hood being jettisoned and F/Lt Weeks was seen to be endeavouring to get out of his aircraft. Unfortunately, he was unable to do this and his body was found about 25 feet from the aircraft with the parachute burnt, attached to the tail of the aircraft."
Mrs. Weeks and Mrs. Pond both received letters dated December 1, 1944 from S/L G. J. Gray. "Wylie's aircraft was hit by flak over Germany, and he called up over the radio to say that he was alright and would try to make the aerodrome. In the circuit, he appeared to lose control of the aircraft and it dived straight in, and I am convinced, killed him instantly. He had done a magnificent job with the squadron and was extremely popular with everyone and I had come to rely on him very much. His loss has now made a gap in the squadron that will be very hard to fill."
LINKS: