Arthur Eugene Miron J5144
January 23, 1919 - August 17, 1944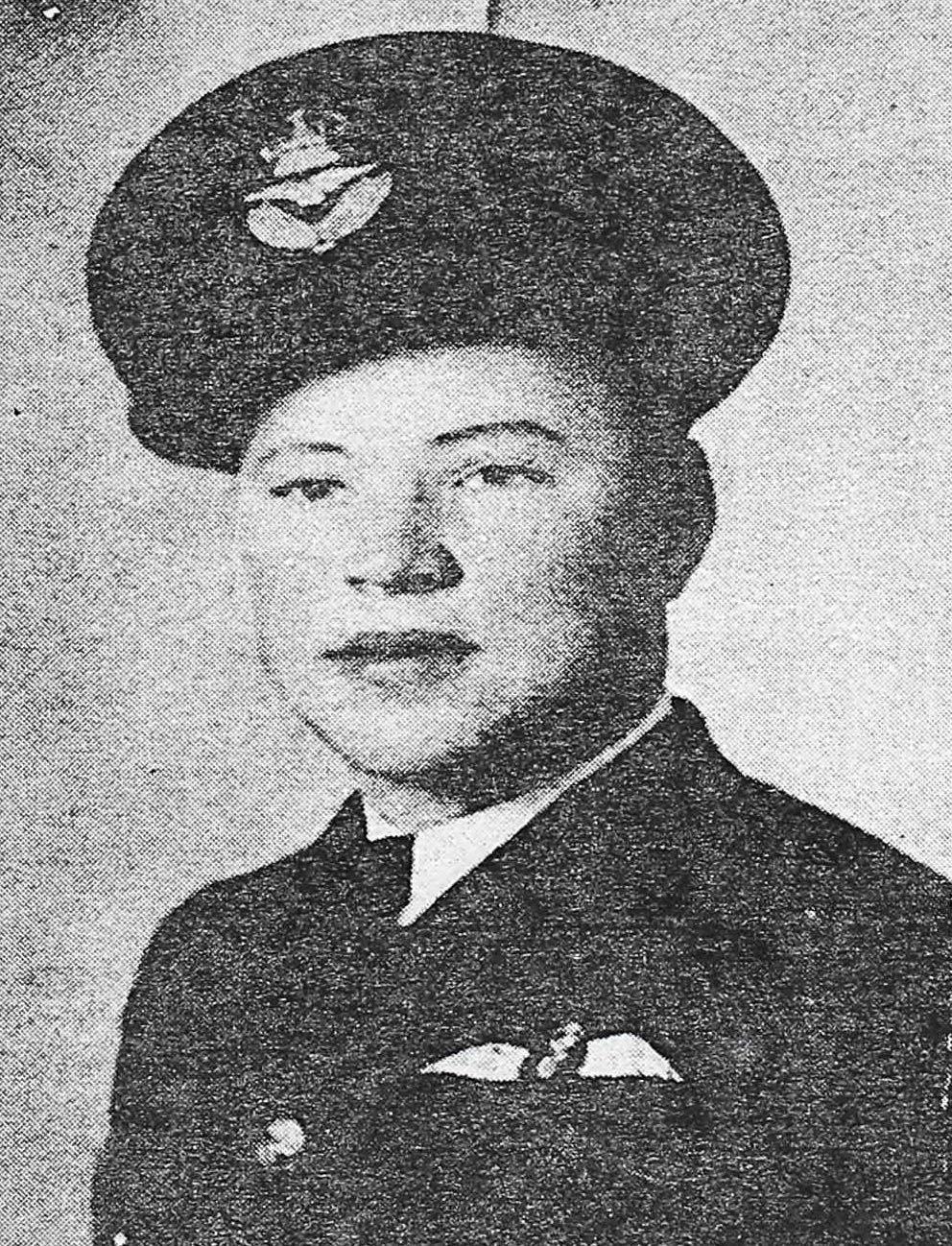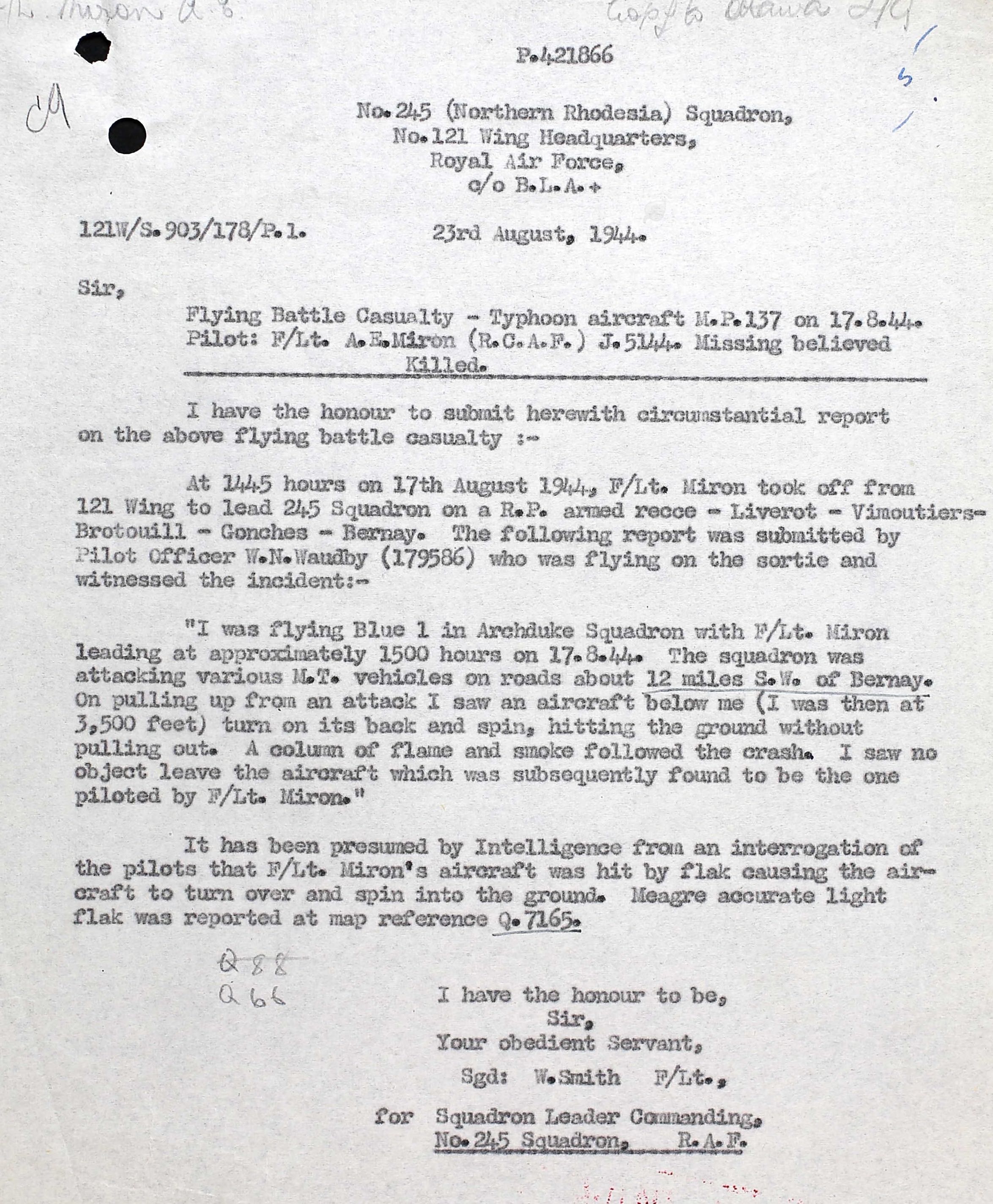 RAF 245 Squadron
Arthur Eugene Miron was the son of Alphonse Oliver and marie Jeanne (nee Demers) Miron of Sudbury, Ontario. His father died on May 22, 1945 at the age of 68. His mother passed away as well, and his medals were held until applied for. His log book was also returned to the RCAF in May 1947. He had six siblings. Two siblings had died, one a still birth and another from influenza. One brother, Rodolphe, was with the CAOS, F/O Ernest Joseph was with the RCAF in England, and his youngest brother, Gerald, was a Private in England with the Army. The family was Roman Catholic.
He spoke English, and French fluently. He stood 5' 5 1/4" tall, weighing 142 pounds. He had hazel eyes and brown hair. He liked rugby, swimming, baseball, basketball, hockey, skiing and badminton. "Nice youngster, well mannered, pleasing, very keen to become a pilot and should be good subject for training as such." He had had 15 hours as a passenger in a plane.
He was working at Inco Employees Club in Sudbury prior to the war as the assistant manager. He hoped to stay in aviation after the war.
He went to ITS in Regina in November 1940. He was 13th out of 84 in his class.
He was at EFTS in Prince Albert in December 1940 to February 1941. "Good steady type. Needs encouragement." He was 6th out of 31 in his class. In Ground Training: "An average pilot, found to be rough on controls at times; should develop with more experience; conduct quite satisfactory while at this school."
He was at SFTS in Uplands, Ontario from February 1941 to May 1941 and received his Wings on April 18, 1941. "Nice control in flying, possibly not very fast in reactions." He was a very good student in Ground Training. He was very popular with a sense of humour.
When he was an instructor at Bagotville in March 1943, he carried out his duties satisfactorily, but lacked drive. In February 1944, he was "a good pilot and capable officer."
After his first tour, he was sent back to Canada for seven months. He requested to return to Europe and his wish was granted.
On August 17, 1944, F/L Miron, flying Typhoon MP 137, took off from 121 Wing to lead 245 Squadron on a RP armed recce -- Liverot - Vimoutiers-Brotouill-Gonches-Bernay. The following report was submitted by P/O W. N. Waudby (179586) who was flying on the sortie and witnessed the incident. "I was flying Blue 1 in Archduke Squadron with F/L Miron leading at approximately 1500 hours on 17.8.44. The squadron was attacking various MT vehicles on roads about 12 miles SW of Bernay. On pulling up from an attack, I saw an aircraft below me (I was then at 3500 feet.) turn on its back and spin, hitting the ground without pulling out. A column of flame and smoke followed the crash. I saw no object leave the aircraft which was subsequently found to be the one piloted by F/L Miron. It was been presumed by Intelligence from an interrogation of the pilots that F/L Miron's aircraft was hit by flak causing the aircraft to turn over and spin into the ground. Meagre accurate flak was reported at map reference !.7165."
In April 1946, F/L Mortimer filed this report. "I went to Les Autels, St. Bazile on April 17, 1946 and saw in a field belonging to Monsieur Laliselle of Les Autels St. Bazile, the remains of a fighter which crashed on or about August 15, 1944. A Gendammerie report says it is a Typhoon, but the actual state of the wreck could not allow me to verify it....the body is definitely buried under the aircraft which is badly submerged in water....arrangements will be made in the near future to clear the wreck and have the body removed." There had been considerable burning below the ground shown by the amount of ash and melted down metal removed from the hole. The whole incident of the crash had been witnessed by local people. They saw the Typhoon hit by flak and they were sure the pilot did not get out. The plane hit a tree of approximately 18 inches in diameter just before hitting the ground so it did not penetrate more than 8 to 10 feet and burned for three hours.
In December 1989, F/L Miron was buried. "A recent recovery of member's remains confirmed and presently held in Vendez, France. HQCFE is tasked with the responsibility to have remains buried in St. Charles de Percy Cemetery, France as per Commonwealth War Graves Commission Recommendations." There was quite a bit of media coverage about this. John Thompson, F/L Miron's Wingman was located and he was invited to the ceremony, along with Miron's surviving brothers and sisters. The ceremony was scheduled for December 5, 1989 and it proceeded as planned. After the internment, the family party remained to tour in the Normandy area.
LINKS:
Canadian Virtual War Memorial with additional information about his family, along with photos of 1989 ceremony